Okay, so I am really happy to be back with the first official installment of How to Shop Yard Sales Like a Pro.
Lesson one – have a plan.
Yes, it is possible that one magical day you will simply be driving around town minding your own business when you stumble upon a treasure trove of amazing antiques and vintage pieces being sold for pennies.
But it isn't very likely.
Like most things, to have consistently good "luck" with yard sales, you need to plan ahead.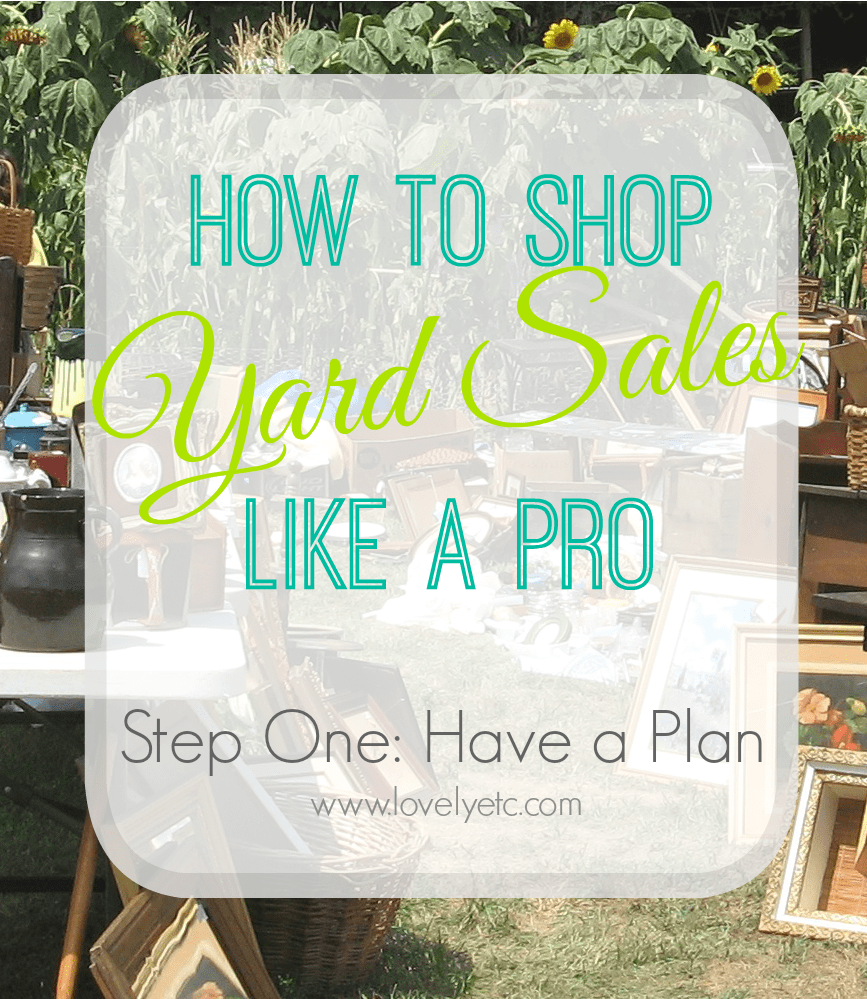 Search for sales. Search out the places where yard sales are advertised in your area.  Where I live, I always check the online classifieds for our local newspaper as well as Craigslist.  Some other places you might check include www.estatesales.net, www.garagesalestracker.com, and other similar websites.
Narrow down your list.  There will (hopefully) be a wide variety of ads to choose from so now it is time to weed out the dinky sales and concentrate on the most promising ones.  I always notice sales that are advertised as estate sales, multi-family sales, and church yard sales.  They usually have more stuff which makes them more likely to have good stuff.  I also look for the sales that advertise things I am looking for like antiques, old stuff, lots of furniture, etc.  I've also found with experience that certain neighborhoods tend to have more of what I want than others.  This is something that you should be able to figure out after a few weekends. It may be the wealthier neighborhoods but around here I find the best stuff at the neighborhoods full of older homes. (People with old houses tend to also like other old stuff).
Map out a plan.  Make a list of all the sales you plan to stop at and figure out the best route so you aren't back-tracking a lot.
Get up early – yes this is a must.  Most sales start around 7 or 8 am.  It is very important to get there early – if there is really cool stuff for sale you can bet it will be sold first.  And if you are home sleeping in, you will probably never even see those awesome things – they will be long gone.  Yard saleing is definitely an activity for the early bird.  Now I know some prefer to go at the end of the day for the absolute lowest prices.  But I have found most of the good stuff is long gone by then and I have no trouble getting great prices first thing in the morning.  Most people having a yard sale honestly just want their junk gone and will give you a deal.
Be flexible. This may seem completely contradictory – but be open to a change of plans.  Even though I always start out with a list of yard sales I want to hit, I've been known to be a sign-chaser from time to time as well.  Especially if I see a yard sale sign in one of those neighborhoods that usually comes through for me.  Planning can take you a long way but you just never know when the next great sale is right around the corner.  There have definitely been days when my very best finds came from unexpected stops.
Go ahead – do a drive-by. And finally, the drive-by – is it okay or not?  For anyone who is clueless –  I am talking about the drive by to scope out whether or not a yard sale is worth stopping at.  I am all for the drive-by myself.  If I come up to a yard sale that was advertised as huge and find that is nothing but a couple of tables of baby paraphernalia and 80s furniture, there is absolutely no reason for me to stop.  So rather than waste the precious early morning minutes, I drive on to the next promising sale.
And that my friends is how I do it.  Any tips you would add?
Be sure you don't miss the rest of the series:
Shop Yard Sales Like a Pro
What I Buy
The Nice Girl's Guide to Haggling
See the Potential
Happy searching.