You guys – I finally made some real progess on our hall bathroom! After a good six months of nothing much happening in this bathroom, I am so very happy to see things finally getting finished. Apparently I'm useless without a deadline.
Luckily, I definitely have a deadline this time around – the $100 room challenge ends next week! For anyone who missed it (or just has a terrible memory like me), the $100 room challenge is pretty much what it sounds like. I'm working to refresh one room in our house on a $100 budget in only four weeks. And a bunch of other talented, penny-pinching bloggers have joined in to do the same thing.
You can see where our bathroom started right here. Thankfully, I had already done all of the heavy lifting last year before I totally stalled on all bathroom progress. So all that was left was adding a bit of life and personality – along with a few important details like towel hooks and toilet paper holders!
Last week I shared my freshly painted walls along with my formula for picking the perfect paint color. And since then, I have come so, so close to finishing the board and batten walls. I still need to do a bit of caulking and pull out the touch up paint, but all the hard stuff is done.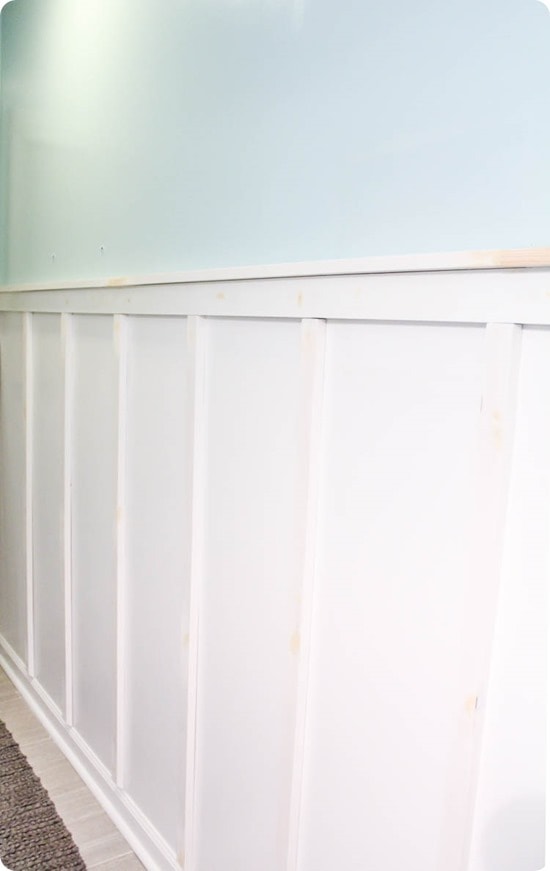 Some paint and trim may not sound like that much progress, but let me tell you, board and batten may not be difficult but it is pretty time consuming. Especially when you are working on it alone with two kids underfoot. In those circumstances, progress slows to a crawl. So I am extremely proud of the progress I've made so far. (And I will have a tutorial on easy and inexpensive board and batten for you guys soon.)
And thankfully, I was able to use quite a few things that I already had on hand, so the budget is looking good so far.
Budget
paint – $0 (I actually chose and bought my paint months ago, I just needed some extra motivation to get it on the walls. Thank goodness for this challenge!)
wood for board and batten – $37 (I was able to use some wood I already had on hand. If I'd needed to buy all of the wood necessary, the total would have been $74)
caulk and wood filer – $10
tools, nails, sandpaper – $0 (I already had these).
Total: $47
Still left to do
Finish touching up the paint.
Bath towel hooks, toilet paper holder, hand towel hooks (these are absolute musts!)
Some sort of art on the walls. I'm planning to repurpose some things from my stash for this or do some DIY art.
Add a stool for my boys, something cute to hold toothbrushes, and some other simple accessories. Basically add personality and functionality!
I can't believe there is only one week left but I am so excited to finally get this bathroom finished and free up some space in my brain and on my to-do list!
Ready to see what everyone else is working on this week? Just check out the links below.