I used to be afraid to decorate our home. Seriously. Now before you start worrying about my mental health, I wasn't afraid that I would get hurt or that something terrible was going to happen. Mostly I was just afraid I was going to screw up – and in the process waste lots of time and money just to end up with a home that didn't really look any better than when I started.
The irony is that's basically exactly what happened. I thought that there were right ways to decorate and wrong ways to decorate. And since I was 100% certain that I did not know the right ways, I stuck with the absolute safest choices. And yep, I ended up with a house that didn't feel any more like home than when I began. Whomp, whomp.
Eventually I started to get braver and slowly started making changes. A bit timidly at first. But then a couple of years ago, I made a resolution to just put it all out there. Take some big risks and see how they panned out. Basically, I resolved to be bold, to learn how to fail.
You can read my whole epiphany here, but here is the Cliffs Notes version:
"This year, my goal is to learn to fail. To learn that it is really okay to try for something awesome and end up with something awful. It is easy to make sure you never, ever fail at anything. But when you do that, you miss out on pretty much everything great. I'm done with mediocre. I'm ready for lots of awesome. And a bit of awful as well."
And I truly made it happen. I got bolder and took bigger risks and a lot of the time the results have been spectacular….and other times, yes, they were totally awful.
But overall, taking risks has made me happier and less fearful. It has made our home a million times better. One thing is for sure – it isn't boring anymore! And it no longer looks like it could belong to any anonymous person who happened to shop at Target. It's uniquely ours in the best way. In fact, my first big project after resolving to put on my big girl panties and take some chances was the beautiful plank wall in our entry – one of my absolute favorite parts of our home.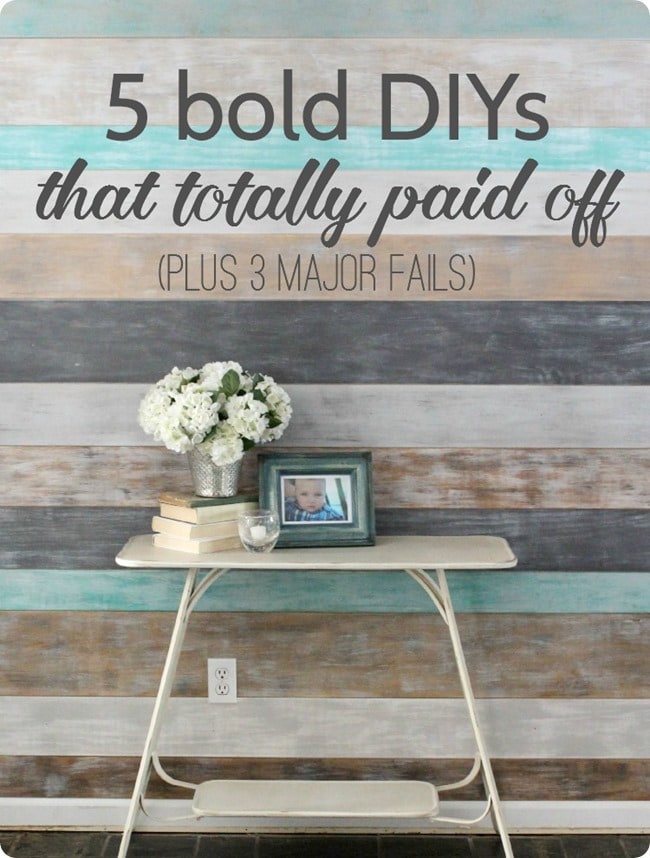 Funny thing, being a bolder DIYer also spilled over into all kinds of other things: like when I took the big step to quit my job to stay home with our kids – not something I ever imagined I would do!
So today in honor of letting go of fear and just going for it, I want to show some of what really happens when you get bold and just go for it in your home. Both the good and the bad.
3 decorating risks that really didn't work
Ok, so I thought about starting with the good stuff. But instead let's start with the things that went sadly wrong.
Ok, so this first one is from quite a few years ago. Before I even resolved to get bold – but I think you will probably agree it was a bold move. When we moved into our house several years ago, we bought a pair of red shag rugs from Target. I can't really explain why. Honestly, I don't even like the color red, but some friends of ours had the same red rugs and they looked great in their house… So yeah, big mistake. But that wasn't even the fail. (I don't exactly consider that a bold move, since I was just copying someone else). After a couple of years, I wanted to freshen up the room and I really wanted to incorporate some turquoise (my favorite color). So I went for it. I found a cheap buffet at a thrift store, painted it turquoise and added it to the room. And it was awful! (Eventually I repainted it white and then finally ditched the red rugs.)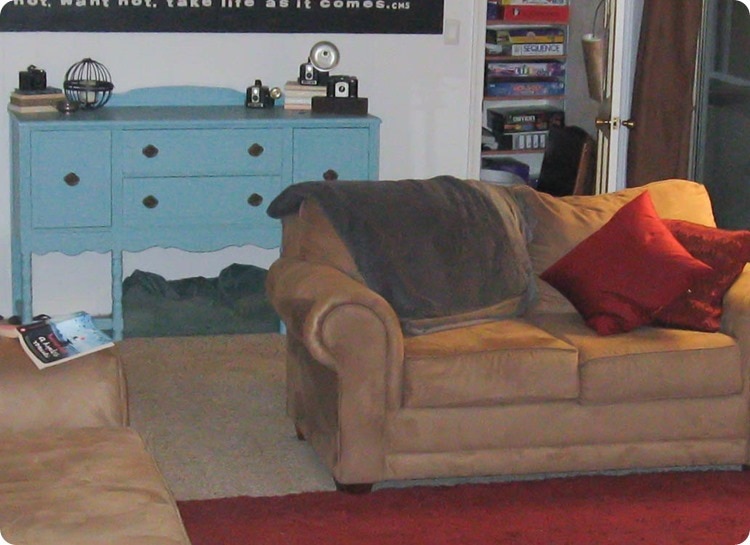 I have had this secretary desk with hutch for a few years now. It was a nice piece of furniture but the upper shelves were super dark and the wood was in rough shape. So I decided to give the shelves a fun update with herringbone. I actually loved the combination of paint and wood stain, but the pattern did not work. It clashed with basically everything in the room. Oh well. (Since then, I simply removed the top and now it works great.)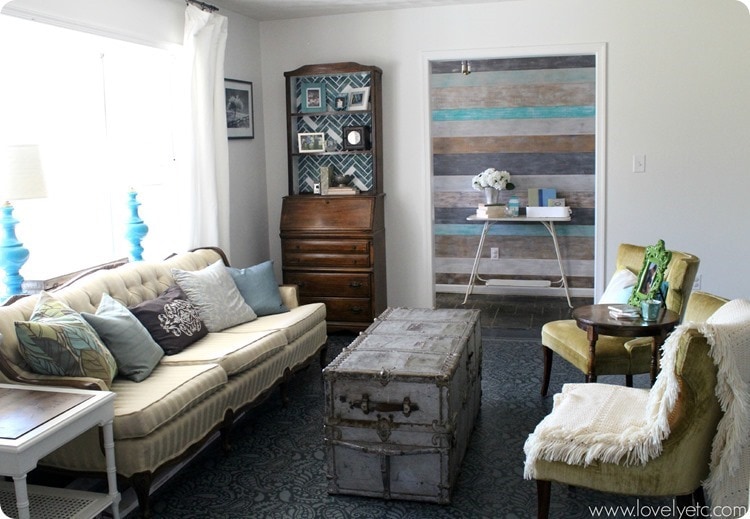 When I was working on flipping our nursery to get it ready for Asher, I decided to paint some fun art directly on the wall above his crib. Originally I had the great idea to paint a framed piece of art directly onto the wall, frame and all. The idea was super creative – but in execution, it looked horrible. Luckily, I was able to figure out an alternative plan which turned out amazing. (It's coming up below!)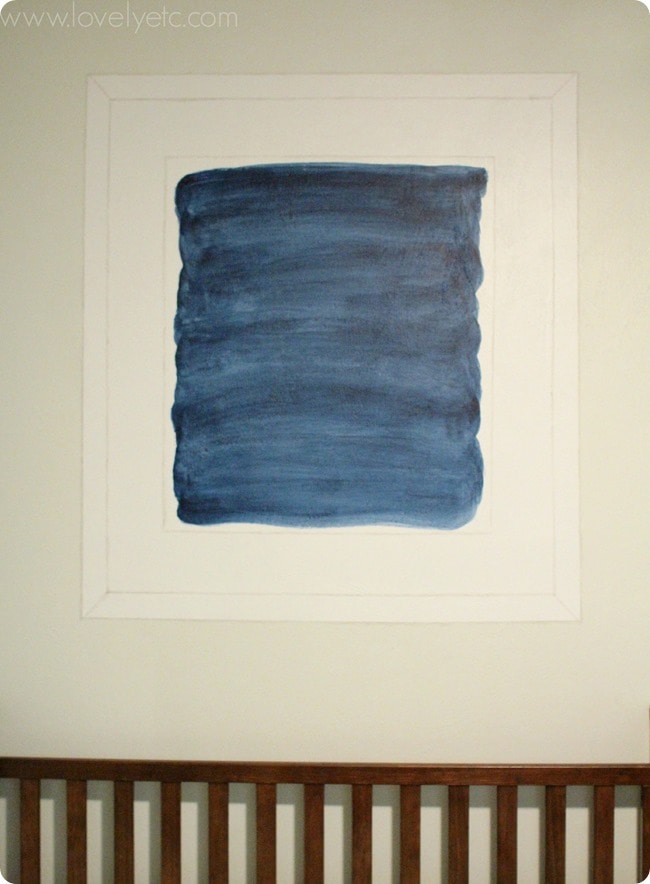 5 decorating risks that totally paid off
Ok, now it's time for the good stuff. The crazy ideas that actually turned into something completely awesome.
Ok, so first up. The project that inspired my resolution to be bolder to begin with: my painted plywood subfloors. I painted these way back in 2011 when almost nobody would even consider painting plywood and calling it a floor. But we were strapped for cash and I couldn't stand our carpet another day so I went for it. And they were amazing! We have since covered them up with new hardwood flooring, but for three years these painted floors were a daily reminder that sometimes trying something crazy is the absolute best thing you can do.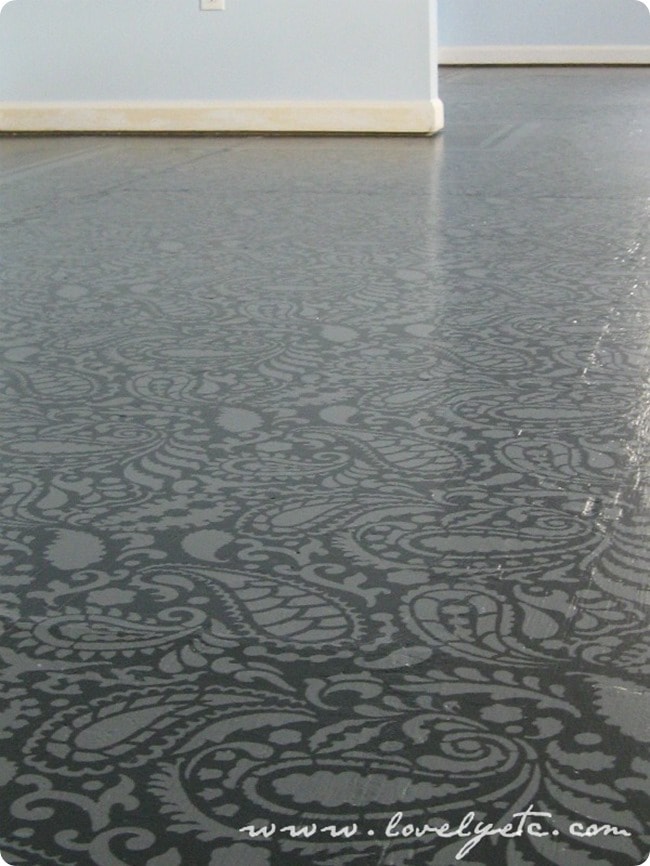 After the nursery art fail I shared above, I decided that I needed to go even bolder in the nursery. I started thinking a bit bigger and this was the result. I still have all the heart eyes for this wall.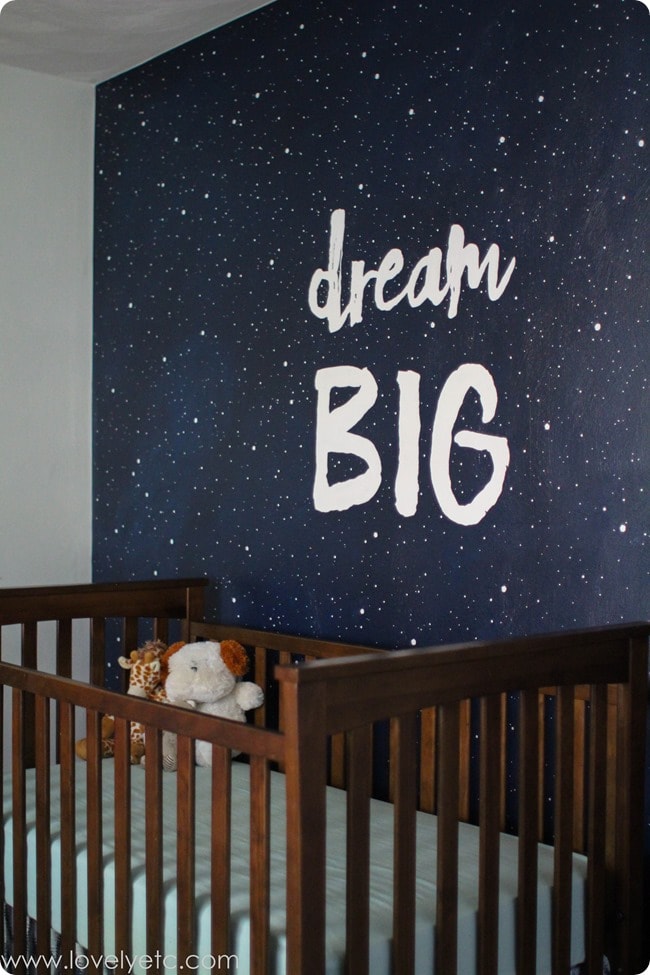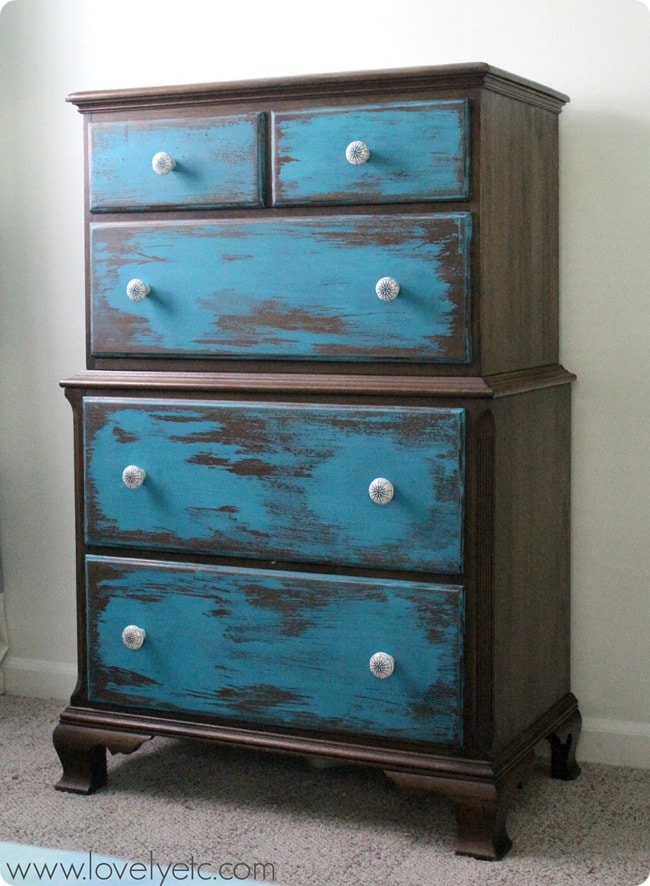 Next up, the dresser I repurposed to use in our bathroom. This might not seem like an obviously bold decision – it isn't some crazy color and I certainly am not the first person to turn a dresser into a vanity. But this was my first bathroom makeover ever and it would have been sooo much easier to attempt to paint the vanity we already had or find some other cheap replacement. But instead I went for something I knew could be amazing – even though it meant learning how to do plumbing and adapt drawers and all kinds of other stuff I had no idea how to do.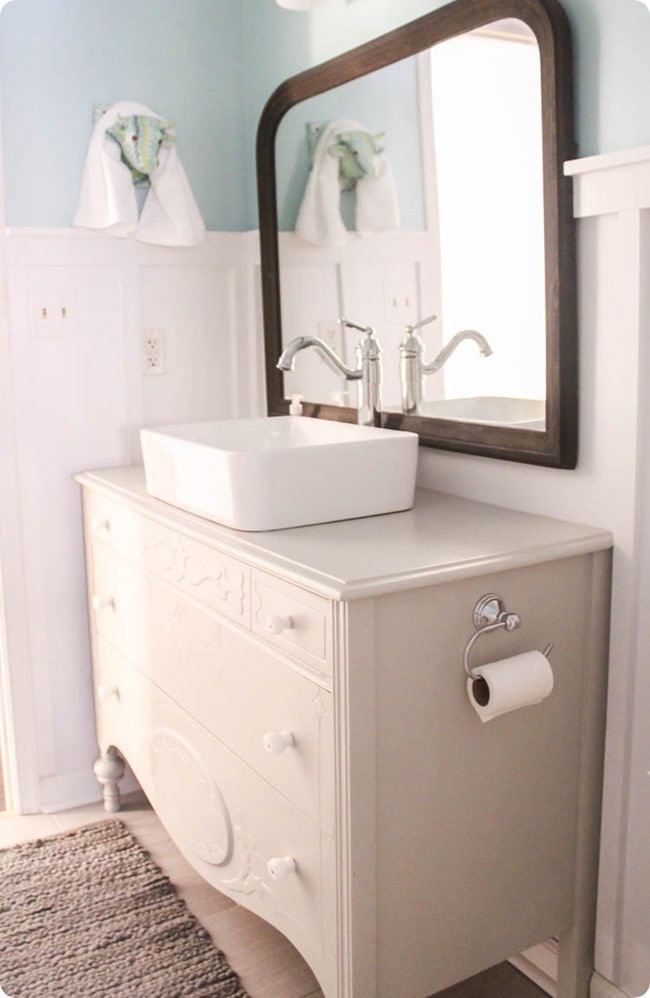 And lastly, our blue fireplace. I don't even know how I came up with the idea to paint our brick fireplace navy, but I did…and I love it. I had no idea how it would turn out, but it looks gorgeous!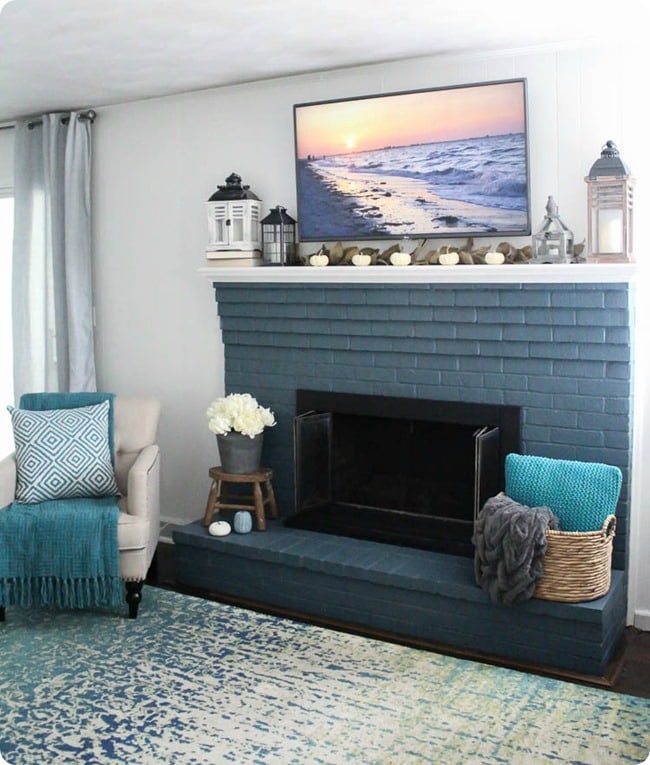 I'd say all in all, the good definitely outweighs the bad. So here's to risk-taking. And yes, even failing in the process – it turns out, it's really not that bad after all.