Today I have my first guest-poster here at Lovely Etc. It just so happens that I know this guest extremely well. I'd like to introduce you to my hubby Mitch, the mastermind behind this awesome Christmas tradition.
_________________
So, let me just say that Carrie is an exceptionally talented genius person. I don't mean that like 'she is my wife so I have to say nice things', more I mean that she actually is smarter and more talented than anyone I know. I also have to say that I am not those things. I could not redo, refinish, revamp? anything before Carrie started doing all these projects. Of course living with said super genius has some perks and I have learned a little over the past few months.
Carrie got this rough table at a yard sale over the summer for $5. She was really excited about the find and I was not so excited about the extra junk in our basement. I didn't give it much thought until my mom saw it on a visit and thought that it was great.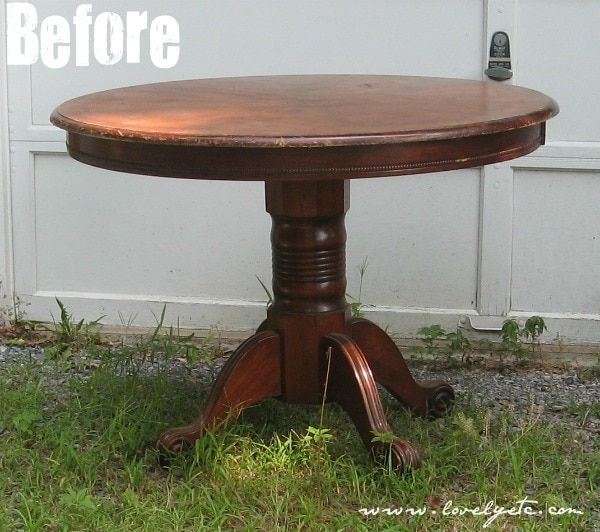 Carrie and I talked about how to redo the table for her and I was satisfied with how she was going to do it. Well, one night she was telling me about how busy she was and was worried about getting the table done. I figured I was ready to try my hand at a redo and it gave me a chance to make something for my mom better than the junk I made in elementary school.
It turns out this stuff takes a long time and an hour into sanding I was questioning how my little wife got so tough. I'm proud to say that I finished sanding in spite of my screaming arms. After that I threw some dark stain on the top, which it turns out was pretty nice, and painted the base white. Add a little sanding on the base, which I'm told is light distressing, and some polyacrylic and the project was done. Hallelujah!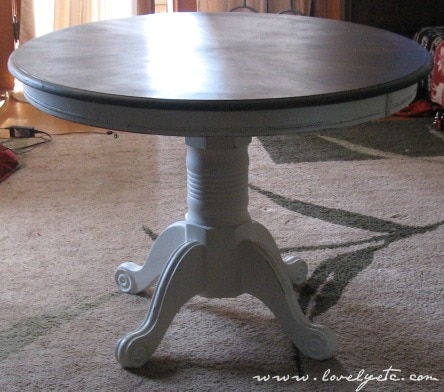 Lucky for us my mom forgot about the table so when we brought it to her house on Christmas she was genuinely surprised. So in the end my devious plan to spread Christmas cheer worked.

(and Mitch)