Babies cost a lot of money. They are also sweet and soft and make your heart melt and all kinds of other good stuff. But there is no denying they cost a lot of money. Between the crib, changing table, swing, bouncy seat, boppy, bumbo, diaper bag, clothes, diapers, formula, pack n plays, bibs, high chairs, strollers, car seats, blankets, burp cloths…. things can really add up fast.
Thankfully there are ways to lessen the costs.
I've seen several people give the advice that the best way to save money with a baby is to just not buy all the baby stuff. All a baby really needs is a safe place to sleep, a carseat, and some diapers. That may very well be true (especially when you consider they didn't even have half of this stuff a few years ago), but I can tell you from experience that some of it is very nice to have. And on a long night, a good swing can be a real lifesaver.
But there are ways to save money while still getting all of the handy equipment…as well as plenty of adorable little outfits. Now that I have survived my first year as a parent, without going broke, I thought I would share some of my best tips with you.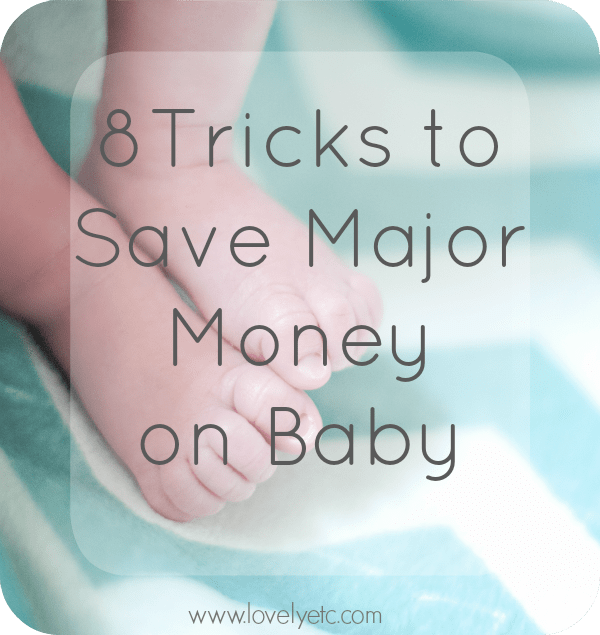 Warning: this post contains lots of talk about gross stuff like poop and pee. It is really just unavoidable when talking about babies.
Cloth Diapers
Before you turn up your nose at the idea, just hear me out. I know cloth diapers have become popular in some areas, but I do not know anyone in real life who even considered using them.
What you may not know is cloth diapers these days are nothing like they were twenty years ago. You don't have to fool with pins or rubber pants these days. In fact a lot of cloth diapers are pretty similar to disposable diapers – except you wash them and reuse them. (And yes, I know washing dirty diapers sounds really gross. But if you have a baby, you are going to be dealing with poop no matter what kind of diapers you use. You kind of just have to accept it and move on).
Cloth diapers are actually fairly expensive up front – especially if you get the really convenient, easy to use kind. But using cloth diapers can save you lots of money over the first few years of your baby's life. Once you have bought a stash of around 20, you don't have to buy diapers again. Ever. Not even if you have more kids. You can use the same ones. (Plus cloth diapers these days are so stinking cute.)
My personal secret for saving even more money on diapers is to buy used cloth diapers. My favorite brand is BumGenius (affiliate link) which cost about $18 each new. But I bought all of mine used from Craigslist or Ebay for $3-$9 each. Which means I only spent a couple hundred dollars on diapers – that is a huge savings when you consider that most parents end up spending a few thousand dollars on diapers by the time their child is potty trained. (I know there are some out there who are turning their noses up at used diapers. It does sound strange, I know. But as long as you wash your diapers thoroughly, it is completely sanitary. And if you buy used baby clothes, chances are they have also had pee and poop on them at some point 0 so it really isn't that big a deal.)
Cloth Wipes
Yes, really. I know you are probably starting to think I am some kind of crunchy, hippie sort right about now, but I'm really not. In fact, when I first decided to go with cloth diapers, I thought using cloth wipes was taking things way too far. You have to draw the line somewhere, right?
Well, it turns out when you are using cloth diapers, it is just easier to use cloth wipes as well. That way you can just throw everything in the same laundry pail after a diaper change. Plus, they are sooo cheap. You can buy special cloth diaper wipes, but of course I had to figure out a cheaper way. I bought a bunch of baby washcloths at a consignment sale for around $4 and that is what I use as wipes. I have a spray bottle I keep above the changing table full of a water, soap, and coconut oil mixture. I just spray the washcloth and wipe. And I've gotta say – I love them. They are thicker than regular wipes, so one wipe pretty much always gets the job done. Plus they are much softer on little man's sensitive bits.
And best of all, you did read the part about how I only had to spend $4 on enough wipes to get us to potty-training, right? That is amazing people!
Breastfeed…or at least save on formula
This tip alone will save you hundreds of dollars. Trust me, I think about this every single week as I pay more than $20 at the grocery store for a container of formula. My plan was always to breastfeed, but unfortunately, it didn't really work out for us. I'm sure you've heard all about the health benefits of breastfeeding, but perhaps you haven't considered the fact it will also save you some major moolah.
If, like me, you end up having to buy formula, there are some ways to bring the cost down a little. If you sign up with the major formula companies, they will send you free samples and coupons in the mail. Not little piddly coupons either, $5 off coupons. Very much worth it. Be sure to let other people know you are thinking about using formula too. I had lots of friends and coworkers pass on formula coupons to me that they had received in the mail.
Make your own baby food
Once your little one is old enough for baby food, you can save lots of money by making your own rather than buying dozens of those little jars at the store each week. Unfortunately, this also didn't work out so great for us. My little guy had some sensory issues and he hated all of the food I made for him. I just couldn't get it as smooth as Gerber can. But if you want to give it a try there are lots of tips at Wholesome Baby Foods and Hello Little Scout.
Save money on the nursery
Who doesn't dream of creating the perfect, adorable little nursery? It may not be a need, but I can tell you planning the nursery was one of the things I was looking forward to the most. (Well, other than actually having a sweet little baby – that was just a bit more important). Putting together an entire room can add up quickly, but it is possible to have an amazing nursery for very little money. My own nursery cost less than $400 including the furniture. To keep costs down, repurpose and DIY as much as possible. For lots more inspiration and ideas for an inexpensive nursery, check out this post on my son's super-inexpensive nursery.
Buy second hand whenever possible
Babies grow and change very quickly. Which means that most of their gear, toys, and clothing really only get used for a few months. Instead of spending hundreds and hundreds of dollars on brand new gear that you will only use a few months, take advantage of the great deals you can get on used stuff. There are lots of great places to find used baby clothing and other gear – there always seem to be tons of families out there trying to unload the baby items they no longer need. Yard sales and Craigslist are great places to look for baby items in great condition. Consignment sales and stores are also really great. Most cities have huge consignment sales exclusively for baby and children's items every fall and spring. To find sales in your area, you can check out http://consignmentmommies.com/
I was able to buy a really nice swing for $10 (consignment sale), a baby bathtub for $5 (yard sale), and a jogging stroller for $15 (Craigslist). I also bought pretty much all of Griffin's clothing this way. (I think I have bought him two new pieces of clothing ever.) But even so, he is one of the best dressed babies I know, if I do say so myself. (Just make sure you don't buy a crib or car seat used for safety reasons.)
Oh, and of course, hand me downs are always a very good thing. If you want to save money, accept any and all hand me downs. You can also donate or pass along anything that you can't use.
Enter giveaways
Ok, I realize this one is from out in left field, but it really worked for me! I entered any and all baby-related giveaways I came across, mostly on blogs. By doing this I was able to win a brand new crib, eco friendly crib mattress, high dollar diaper bag, and a huge box of miscellaneous baby stuff. All completely free.
Make a baby registry
Finally, you can save some real money by registering for baby gifts. Not only will you save yourself some dough when people buy things you need off of your registry, it is also a good way to buy any expensive items you weren't able to find on used. Most stores will give you 10-20% registry completion discount off any items you buy from your own registry close to your due date. If there is something specific you really want, this is a great way to get it on sale.
Whew, that is quite a list. Babies can be finicky and it is quite possible some of these tips just won't work for you. (Heck, some of them didn't work for me either). But they are worth a try and they can really add up to some major savings. (Which your kids will be more than happy to use up later.)
What are your best baby money-saving tips? I'd love some new tricks to try next time around! And if you are looking for other money-saving tips, you might want to check out my Ten Tips for Tightening the Budget.