Okay ladies (and gentlemen? are there any gentlemen reading this?), I am really on a roll here! I have already finished two awesome furniture transformations this year and I am so excited to share the first with you today!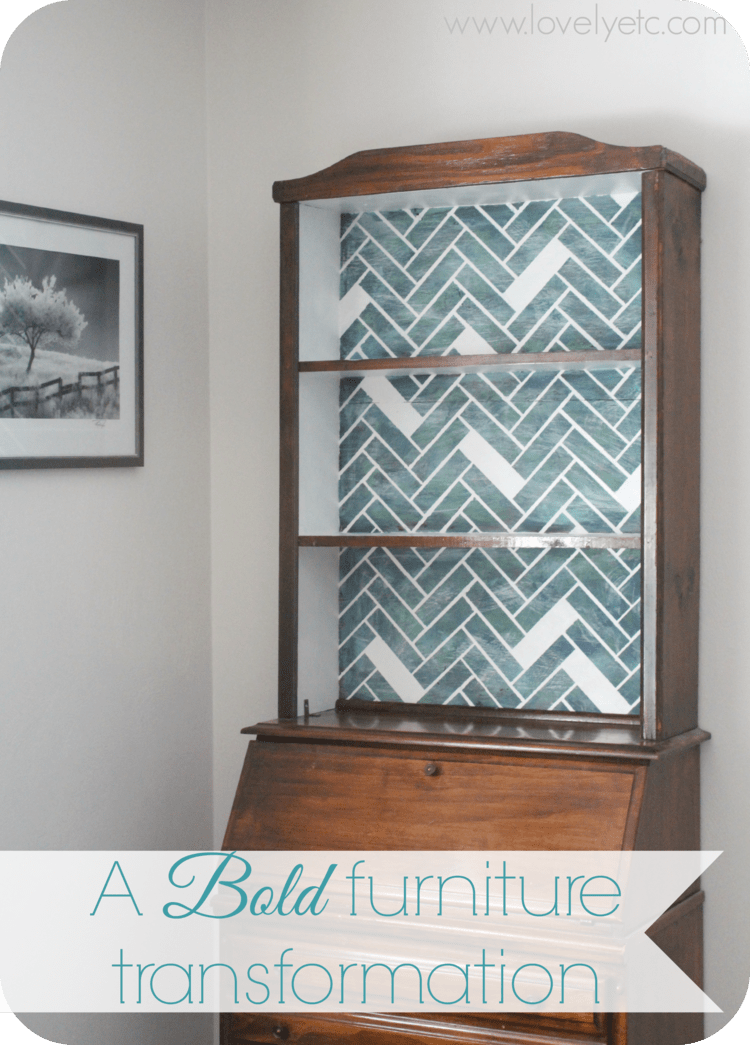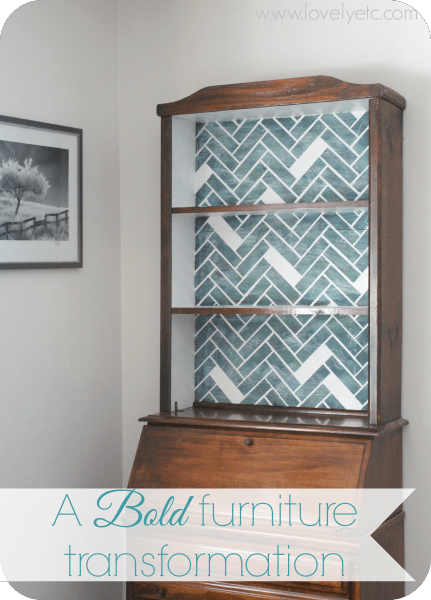 It began with this secretary desk/bookcase combo. It was a really nice desk – and free! But the top section was so dark, it was a bit like a black hole. Plus the backing on the bookcase was a very heavily grained plywood that I wasn't loving…but did I mention it was free?!?
I wasn't ready to paint the whole thing – (I'm not usually a fan of painting nice wood) – but I definitely wanted to lighten things up a bit. After two years of staring at its dark caveiness, it was definitely time to do something!
I had been trying to figure out exactly what to do with it for weeks when I came across this gorgeous piece of digital art by Cozamia via Pinterest.
Fabulous right? When I saw it, I knew exactly what I wanted to do with my bookcase.
I started by taping off everything that was not being painted with painter's tape. (I was able to separate the upper half from the base for painting which made everything so much easier.) I chose to leave the outer frame and the font of the shelves wood toned to tie in with the desk portion of the piece.
Then I primed the inner boxes of the shelves. I dry-brushed various shades of blue and green paint on the back of the bookshelf and painted the sides, tops, and bottoms of the shelves white. (By the way, you can read more about dry-brushing here if you need a few pointers.)
Then came the tedious part – taping off the herringbone pattern. I cut 5 inch strips of 1.5 inch painter's tape. Tip: For a traditional herringbone pattern, your strips should ideally be three to four times as long as they are wide.
I found a great tip at Project Possessed that saved a ton of time when cutting my strips. Place long strips of tape on a cutting mat as close together as possible. Then use a straight edge and craft knife to cut your strips. This way you can cut lots of same size strips at once.
As far as the taping itself, I started out trying to use various rulers and even string to keep things lined up but was getting nowhere fast. So I just eyeballed it, making sure to keep the spacing between tape strips even.
To get the look of the inspiration piece, I removed a few random pieces of tape to create some all white sections. I used my fingers to firmly press down the edges of your tape so no paint crept underneath and then painted over the whole thing with white paint. I did three coats of white paint to get good, even coverage. Just be sure to remove the tape before the last coat of paint fully dries. (This helps keep the paint from peeling).
And here she is now! I'm in love. This piece started out as a free hand-me-down from a family member and now it is completely my style – classic with a fresh dose of color and texture.
I am really loving this herringbone pattern, what about you? And do you have any other great ideas for livening up a dark cave of a bookcase? Perhaps some fabric or even wrapping paper? I'd love to hear what you think.
Have a great day!