Every year I love to look back at everything I've shared at Lovely Etc. and see which posts and projects were the most popular.
This is one of my favorite blog posts to write each year.
It's a fun way for me to look back and see what I've actually accomplished throughout the year and it's also a good way for you to catch up on any great projects you might have missed.
Usually I share a list of my top 10 projects of the year, but as I was looking back at all my posts this year I was surprised to see I didn't post as many new DIY projects as usual.
I still shared tons of new posts including new printables, lots of roundups of fun DIY ideas, and plenty of DIY how-tos and tips.
But fun project reveals have been a bit lighter than usual. So instead of my usual top ten list, I decided to go with a top 7 this year instead.
When I looked over all of my DIYs from the year, these seven are the ones that really stood out as being worthy of the best of the year list. This year's top seven includes simple woodworking projects, creative trash to treasure projects, and inexpensive home improvement projects.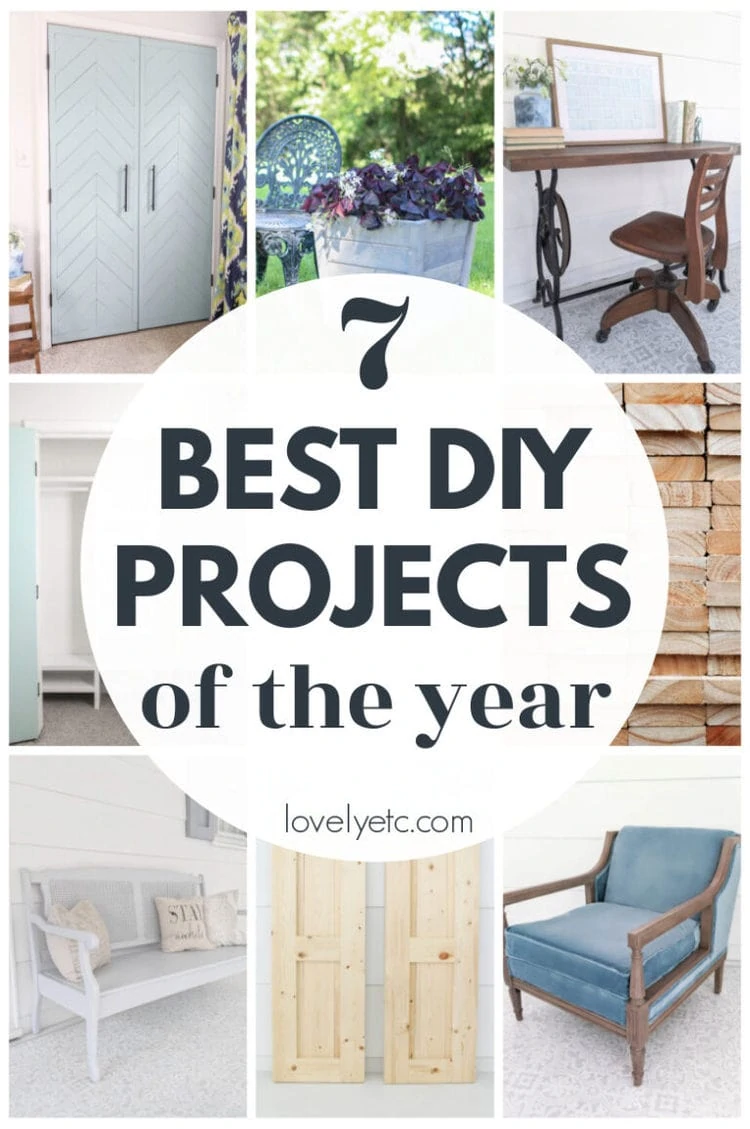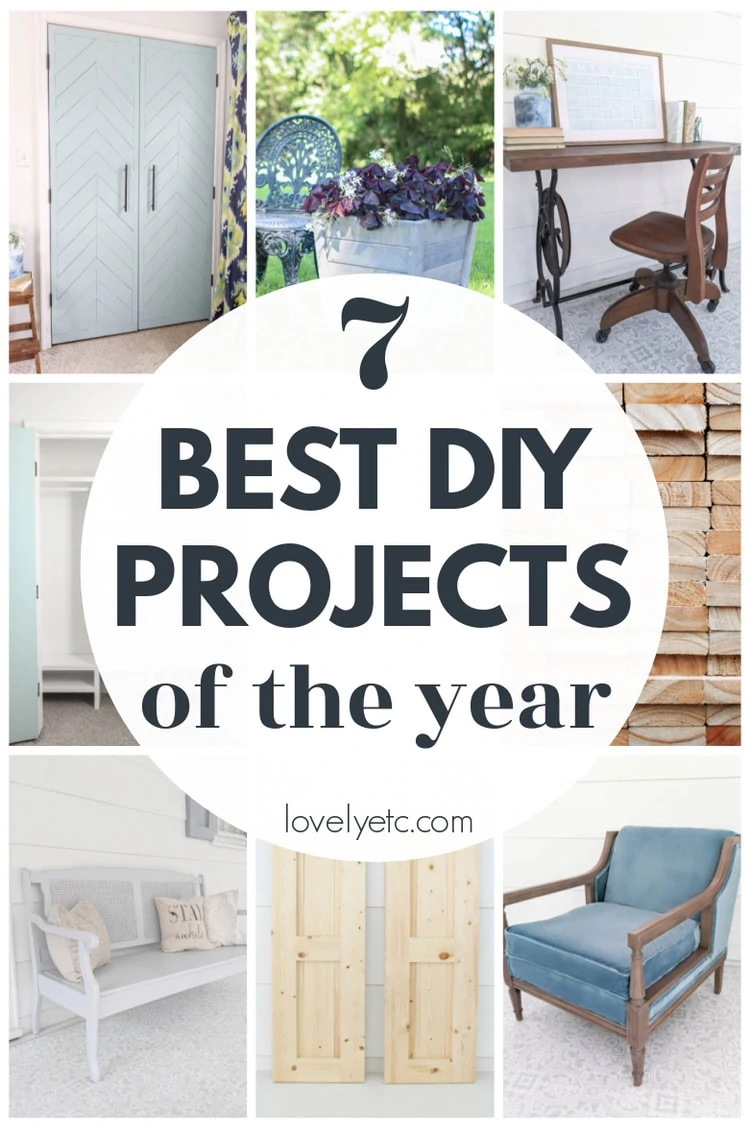 As far as why my year was a bit light on awesome projects, I think it mostly comes down to the fact I didn't make a specific list of DIY/house goals this year.
Sure it was also affected by this crazy never-ending pandemic and all kinds of life factors. But a huge part was not having a written list of goals.
I'm not planning to make the same mistake this year! So along with my top DIYs of the year, I'm also sharing my house goals for 2022.
Top 7 DIY Projects of the Year
In no particular order, here are my top 7 DIYs of the year.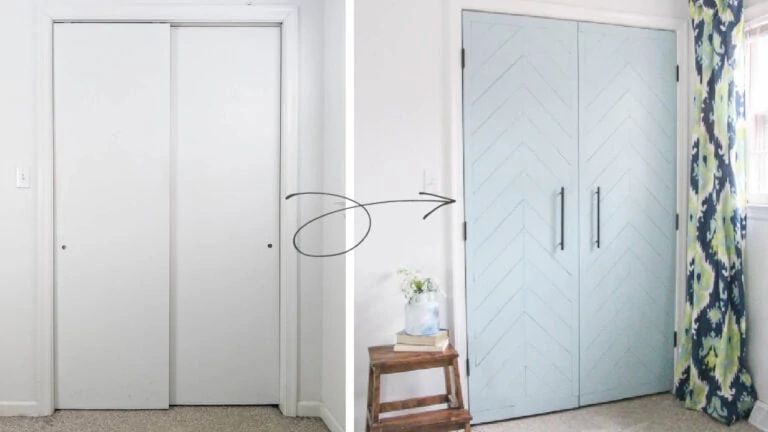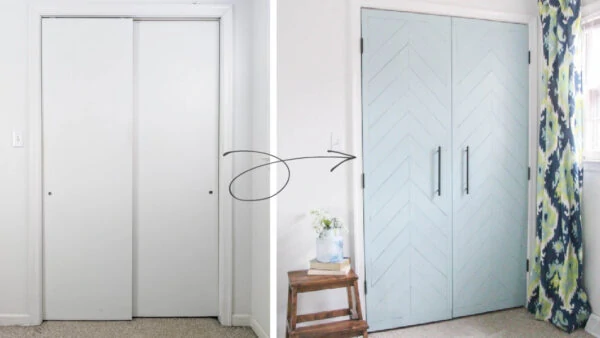 I've hated these sliding closet doors since we moved in years ago. I didn't love how they looked, but even worse, they were a pain to use. Because of the way the doors worked, you could never see both sides of the closet at the same time.
So this year I finally did something about it. I converted our old sliding doors into hinged doors that fully open and then gave them an inexpensive makeover with chevron wood paneling and new paint.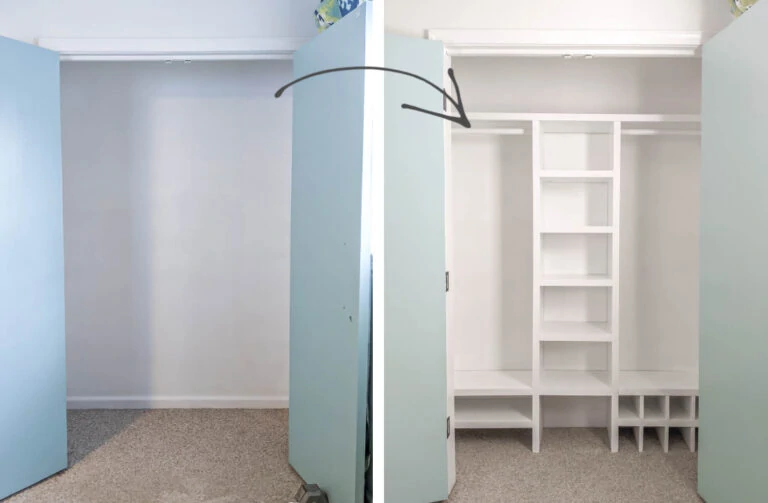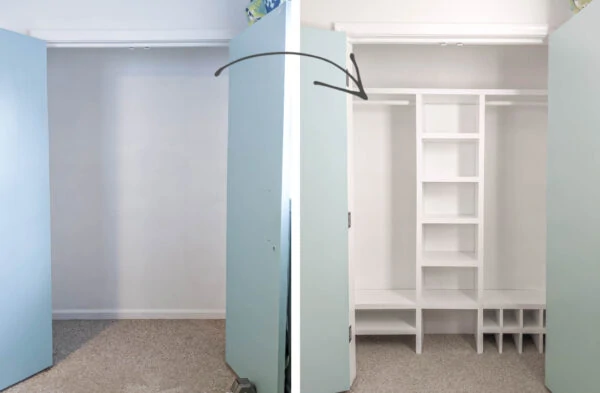 Once our closet doors were transformed, I decided to tackle the mess inside our very basic master closet.
I used inexpensive wood to build a simple DIY closet organizer and it has made all the difference in our closet! Now it's super easy to know exactly where everything goes and find everything we need.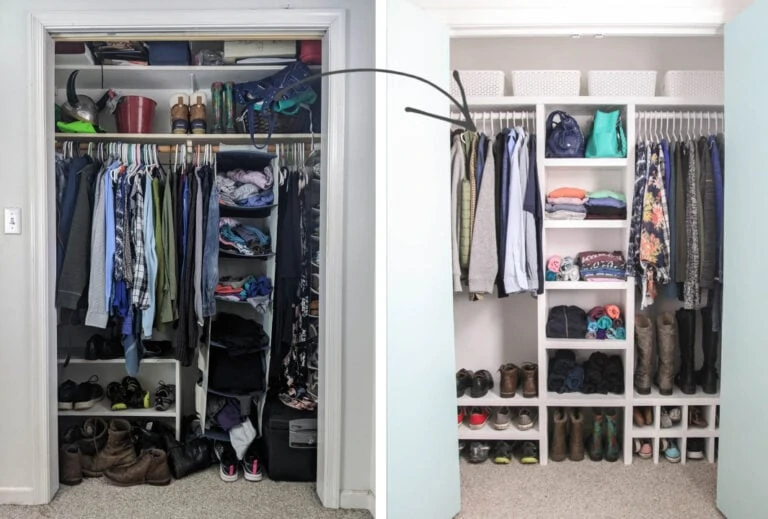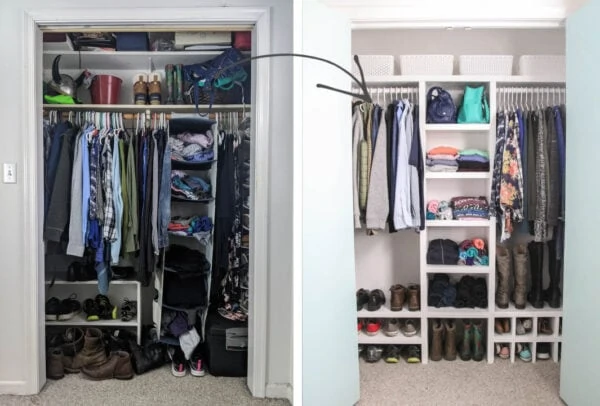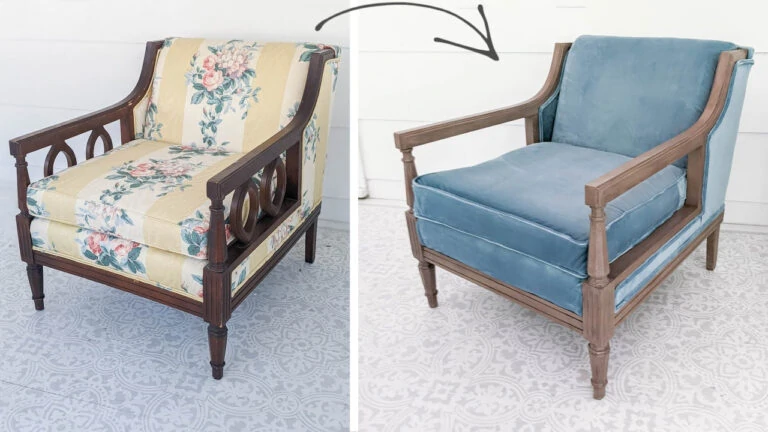 I got this pair of armchairs for a great price and loved their proportions and lines, but that floral fabric had to go.
This spring I refinished the wood frames and reupholstered the chairs and now I love them! They're super cozy and look great in our living room.
I also reupholstered our dining room chairs this year. If you're thinking of taking on an upholstery project for the first time, that would be a great first project.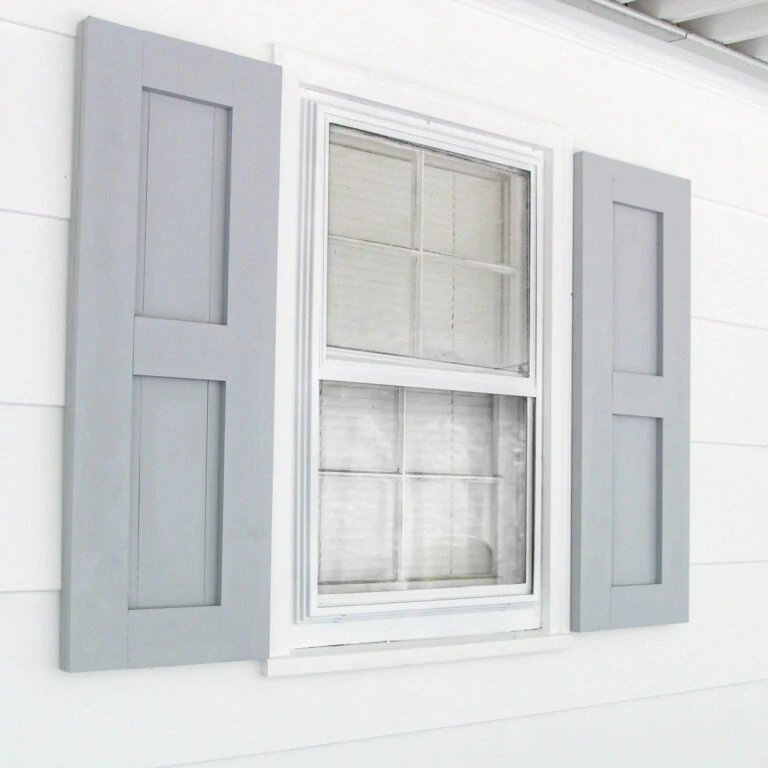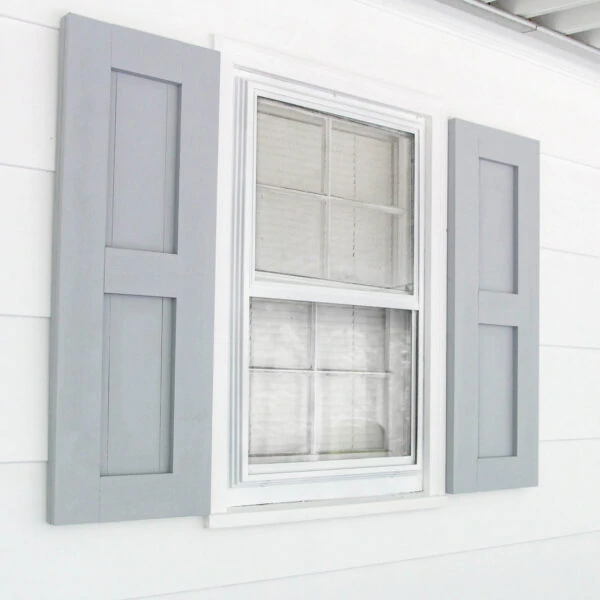 I really wanted to upgrade the shutters on the windows on our back porch, and after seeing how expensive shutters are, I decided to make them myself.
These DIY wood shutters were super simple to make, they cost way less than buying new shutters, and they look beautiful.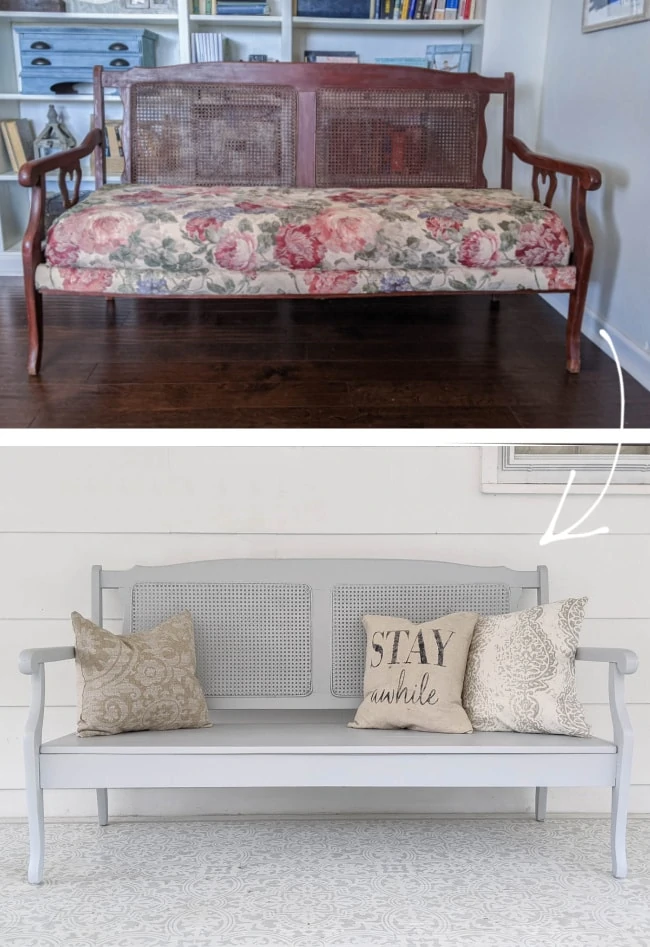 When I needed some new seating for our front porch, I knew that with a bit of work, this upholstered bench could be the perfect fit.
I removed the old upholstery and the heart details on the arms and gave it a new finish that could hold up to the outdoors. And now it looks like a totally different piece of furniture.
The post includes all the details of this makeover along with helpful tips for refinishing all kinds of furniture to use outdoors.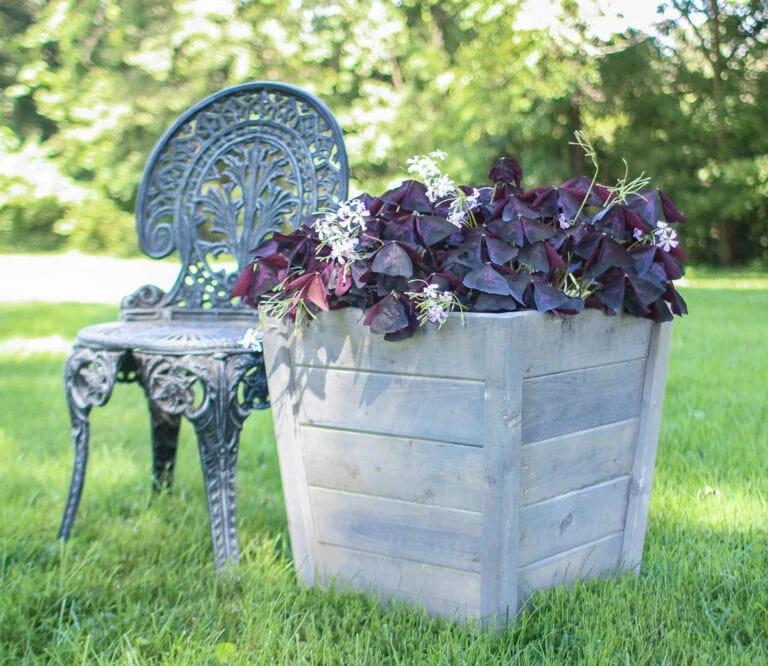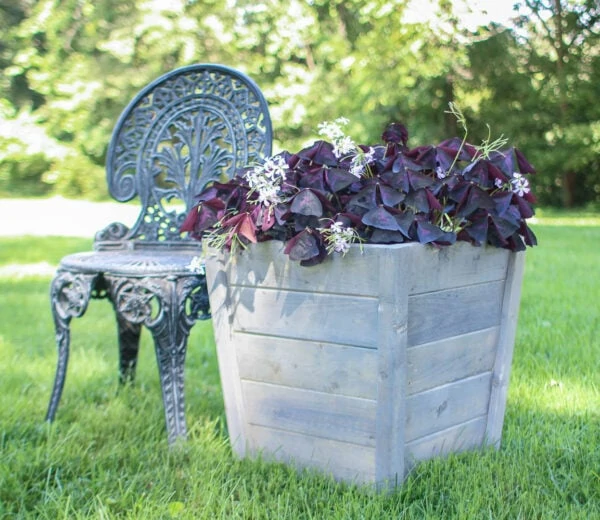 This DIY planter box is big, beautiful, and incredibly inexpensive to make using cheap rough cut lumber. In fact all of the lumber for this planter cost less than $15!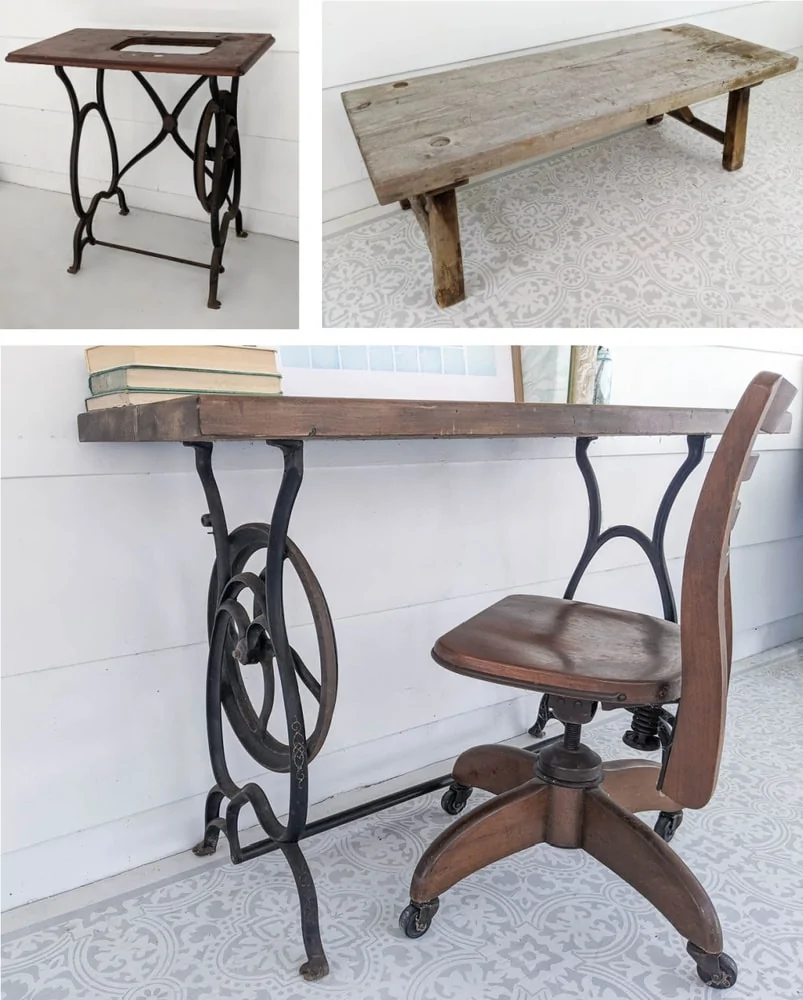 Trash to treasure projects are always my favorites and I love how this repurposed desk came together. It was repurposed from not one, but two worn out furniture pieces – a broken sewing machine table and an old wooden bench. Combined, they made the perfect little desk for my office.
And I had to throw in one more bonus post. This one isn't an actual project, but it was incredibly helpful and popular this year.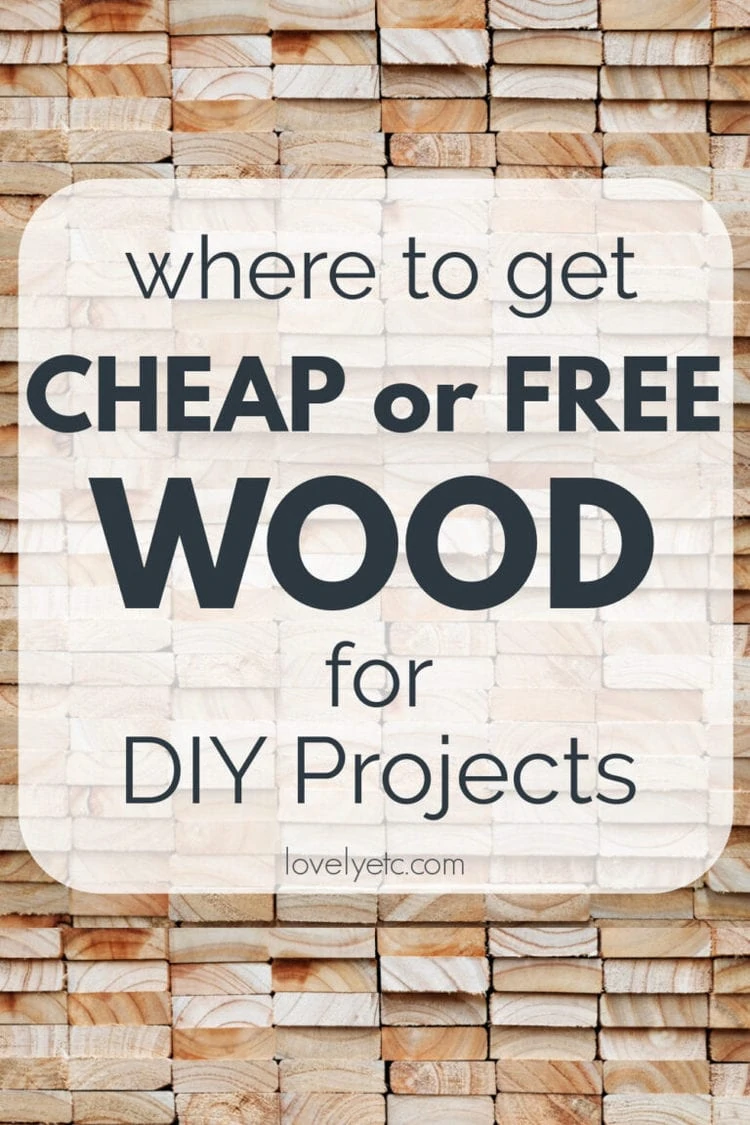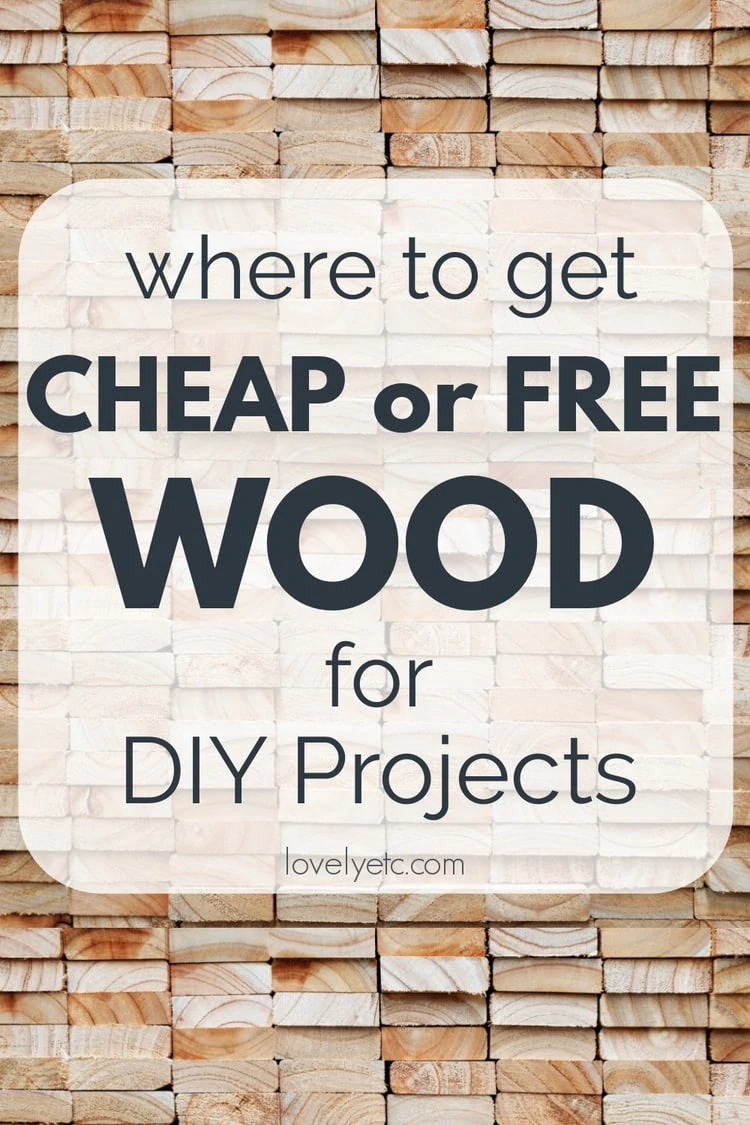 Wood for DIY projects is never as cheap as I would like, but this year in particular, wood prices have been crazy.
It seemed like the perfect time to share my favorite tricks for finding super cheap and even free wood for DIY and woodworking projects.
My 2022 DIY and House Goals
Over the past few years I've noticed that when I actually take the time to plan out my house goals for the year, I get a heck of a lot more done.
Taking the time to sit down and really think about the projects I want to prioritize helps keep me from getting distracted by other random projects and ideas.
Goal 1: My home office
This blog has grown into a full time job over the years and I've turned our small third bedroom into my home office…sort of. It used to be my youngest son's nursery but he moved in with his older brothers at the beginning of this year. The three of them love sharing a room and I love having a quiet space to shut the door and get some work done.
All year I've been meaning to make my office into a functional, cozy home office but I still haven't done it. The current state of the room is part remnants of the nursery, part office, and part storage room.
I know I will feel better and work better if I really pull it together, so I'm making this my first priority for this year.
Goal 2: The Master Bathroom (again)
I gave our master bathroom a $100 makeover in 2019 and even though I did everything on a tiny budget, I truly love how the room came together.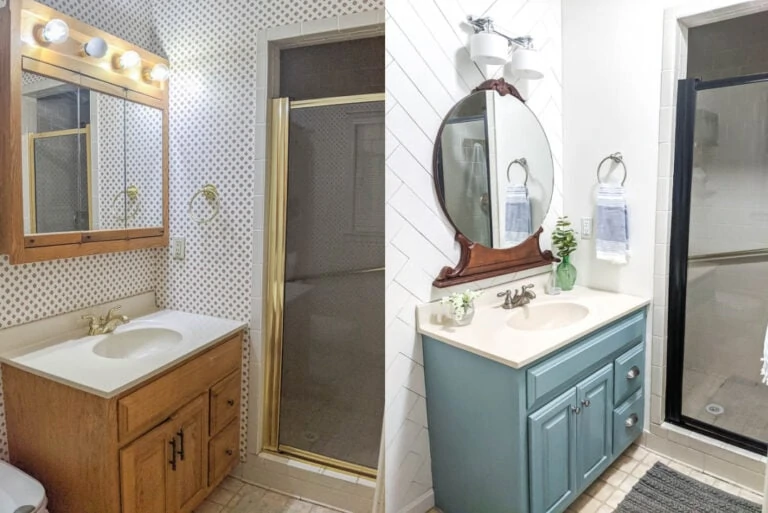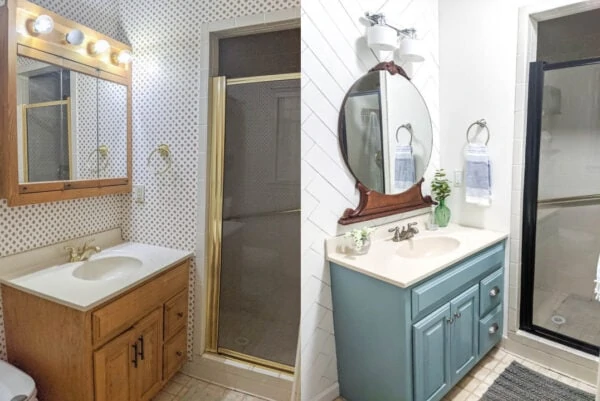 Unfortunately, I knew from the beginning we were going to eventually need to gut the shower and floor to deal with some old water damage. And then in the fall, we had a toilet leak that led to even more issues. So currently the room has a half torn up floor and I know it really needs a gut renovation.
I'm planning to do as much of the work as possible myself and I definitely want to incorporate some things from my original $100 makeover as well as some new ideas. I know it is going to be a ton of work, but I'm really looking forward to seeing how it all comes together.
Goal 3: Curb Appeal
I've mentioned before that I really don't love the exterior of our 1973 brick ranch.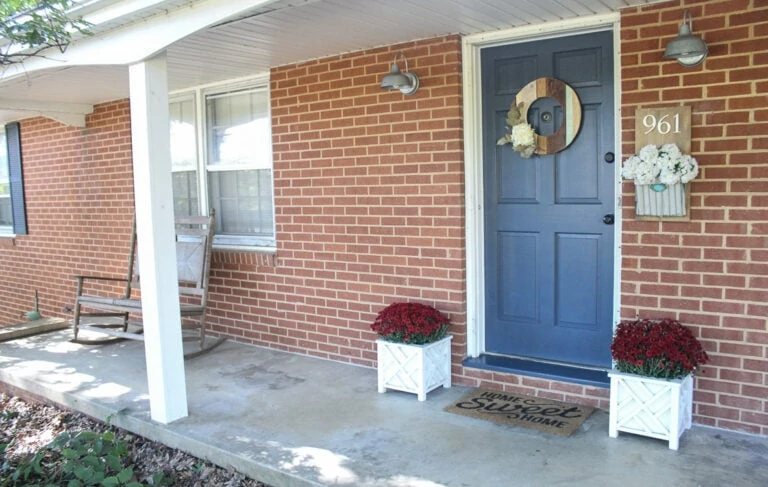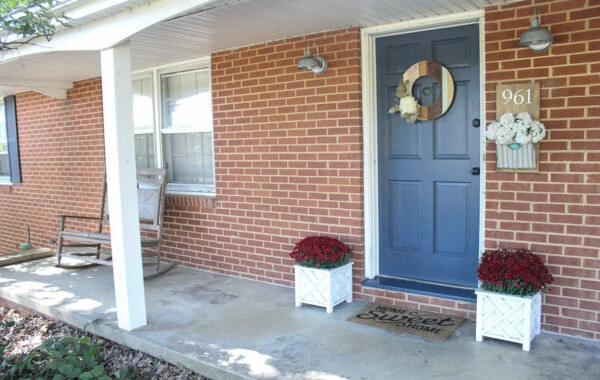 I've added quite a few small touches over the years that have really helped including painting the front door, changing out the lighting, and removing the ancient intercom speaker.
But I've never really given our super long front porch a true makeover and I think I'm ready to tackle it this year. This one is definitely outside my comfort zone, but I'm excited to finally do something about it.
There are also a bunch of other small projects I want to tackle around our house and I could definitely add more goals to the list. But I think sticking with just the three most important goals will make it a lot easier to stay focused and make sure I actually complete them by the end of the year.
Here's to a great 2022!
More top DIY posts:
This summer was my 10 year blog anniversary and I shared a roundup of my top 10 DIY projects from the past ten years. I definitely recommend heading there next!
I'd love for you to share this post on Pinterest!