Somehow this year is already halfway over and I can't decide how I feel about that. I mean how can we already be halfway through the year!? And at the same time, thank goodness we are!
At the beginning of 2020, I shared a list of my house goals for the year. Needless to say, 2020 has definitely not gone the way I anticipated! This year has basically been a big reminder that things can change at a moment's notice.
Even so, I haven't completely thrown out my goals for the year. I'm always happiest when I have a good project going and DIY projects have definitely helped me feel a sense of control even when everything else seemed crazy.
So now that we've reached the halfway point, it feels like a great time to check in on how my goals are looking. Partly, because it's always great to look back and see that I have actually accomplished some things and partly as encouragement to keep going.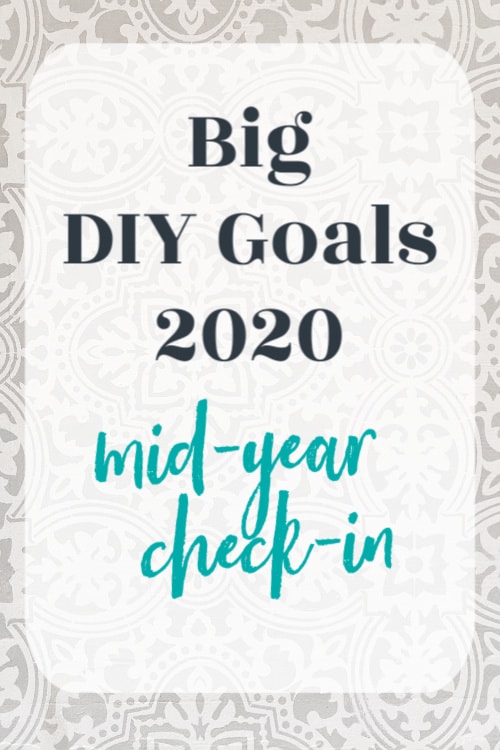 This post contains affiliate links which means if you make a purchase after clicking a link I will earn a small commission but it won't cost you a penny more. Click here to see my full disclosure policy.
Master Bathroom
The goal: Our master bathroom is the one room in this house that I haven't updated at all. It is tiny and cramped and outdated and I would love to change basically everything in there. I've been putting off redoing it for years because there is some water damage involved and it really needs a full gut job.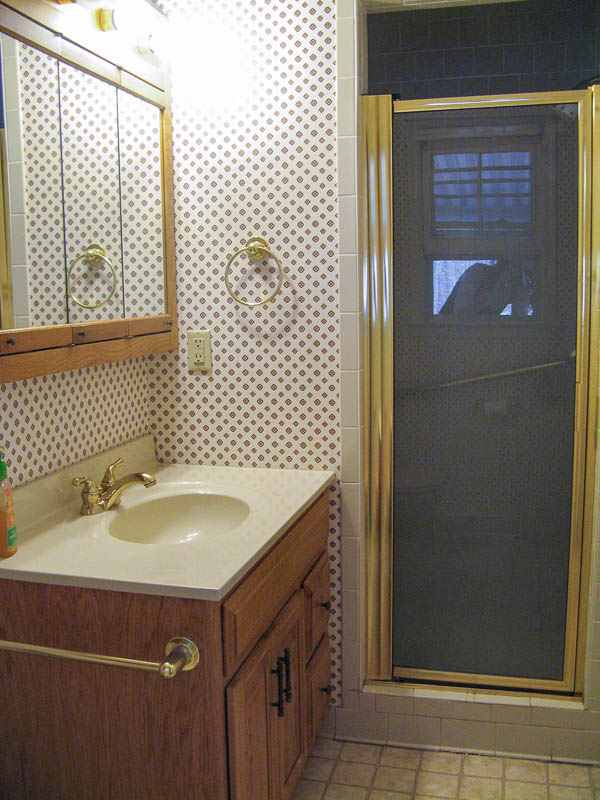 The update: So where are we now? Well, it still looks exactly like this. Sigh. This makeover is going to involve working with, at the very least, an electrician and a plumber, and this just hasn't felt like the best time to try to schedule a bunch of people to come work in our house.
Current Status: 0% finished. Whomp, whomp.
Screened Porch
The goal: Update our screened porch. This is an amazing space and not terrible, but after 10 years all of the paint was definitely ready for an update. And I was ready to make a few other changes as well.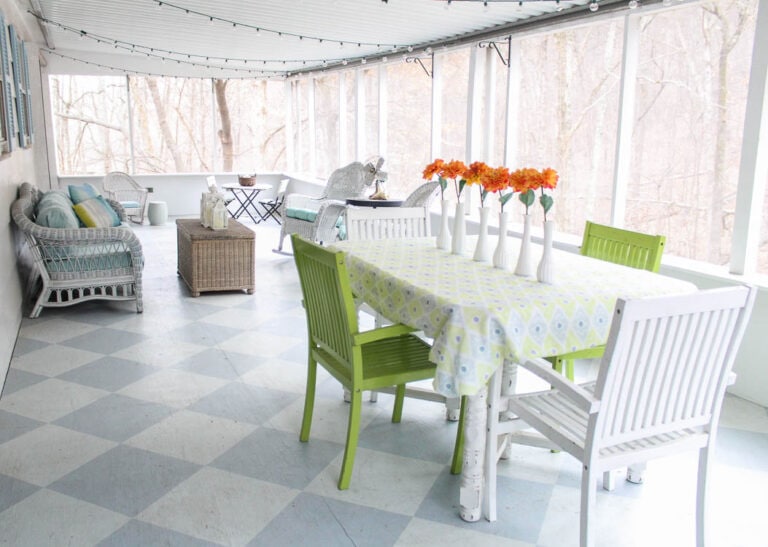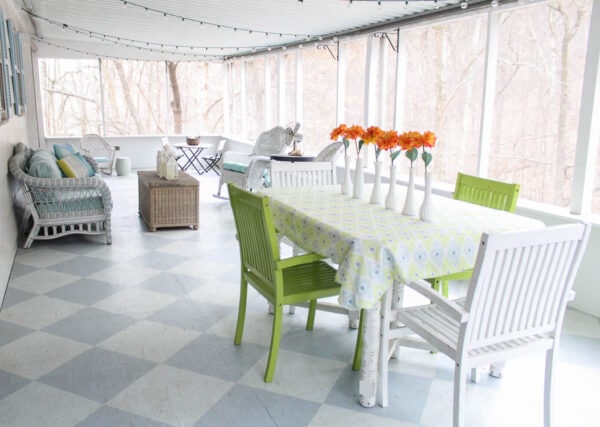 This photo was taken 4-5 years ago. Everything was definitely showing a lot more wear since then.
The update: I actually started working on our porch last summer so lots of progress has been made! So far I've repainted the walls, the floor and the aluminum windows and doors. I switched out the light fixture, built new shutters, built a new table, built a daybed, and repainted the wicker furniture. I'm working on a bunch of finishing touches and then I'm excited to share the new fresh space!
Current Status: 90% finished! Now I just have to keep myself focused so I don't lose momentum before I finish that last 10%!
Our Camper
The goal: Last fall we bought a 1986 travel trailer from my parents.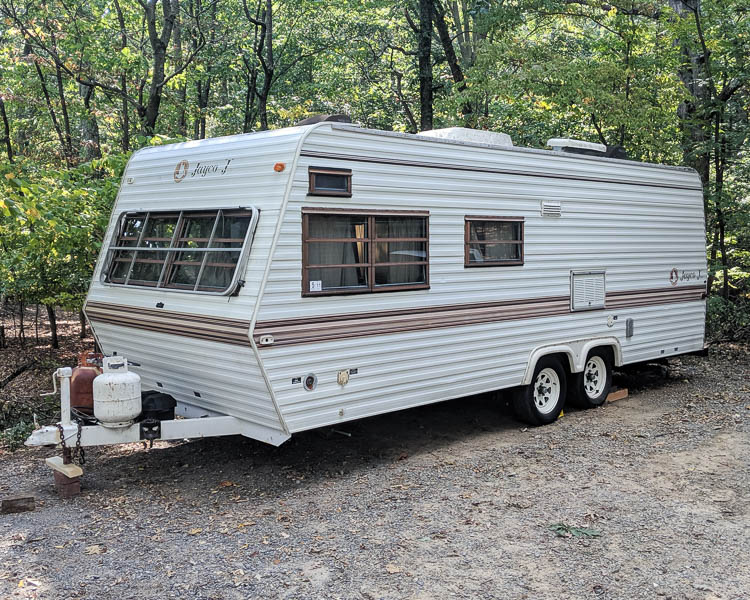 I knew it was a fixer upper, but I definitely underestimated just how much work it was going to need.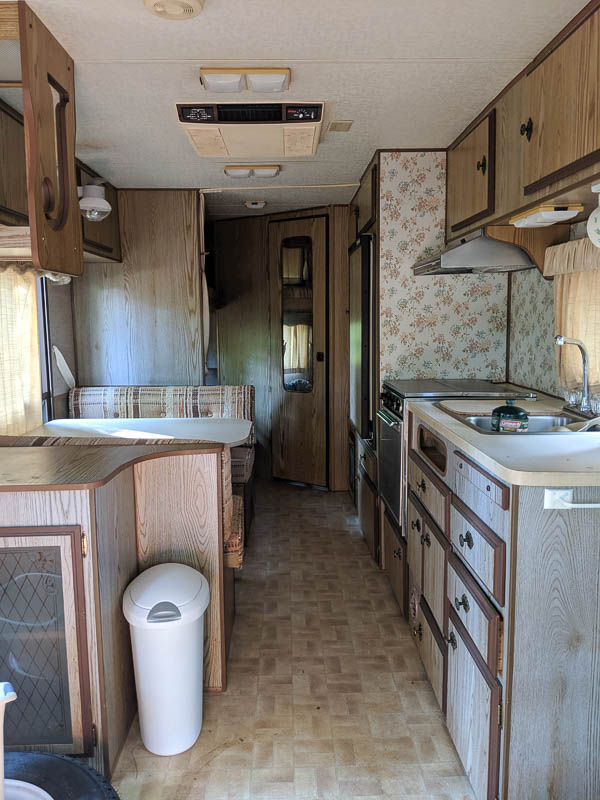 The update: To be honest, right now things are not pretty. There was quite a bit more water damage inside the walls than I expected. I've sealed up all of the places that water was getting in and started repairing the damage to the frame.
But there is still a long way to go before I can even start on fun things like replacing flooring and painting cabinets. Right now, this project is NOT fun and I have seriously considered just scrapping the whole thing. But for now, I am still plugging away slowly. Even though it's turned into a headache of a project, I still see tons of potential in this little travel trailer.
Current Status: A hot mess. This one's really hard to judge. Maybe 10% done if I'm being generous.
Our Boys' Rooms
The goal: Figure out the best way to make our three bedroom home work for our family of five.
For the past couple of years, our 5 year old and 7 year old have been sharing a bedroom and our 3 year old, Lincoln, has been in the smaller nursery. I knew that they were going to be ready for a change this year, I just wasn't exactly sure what it would look like.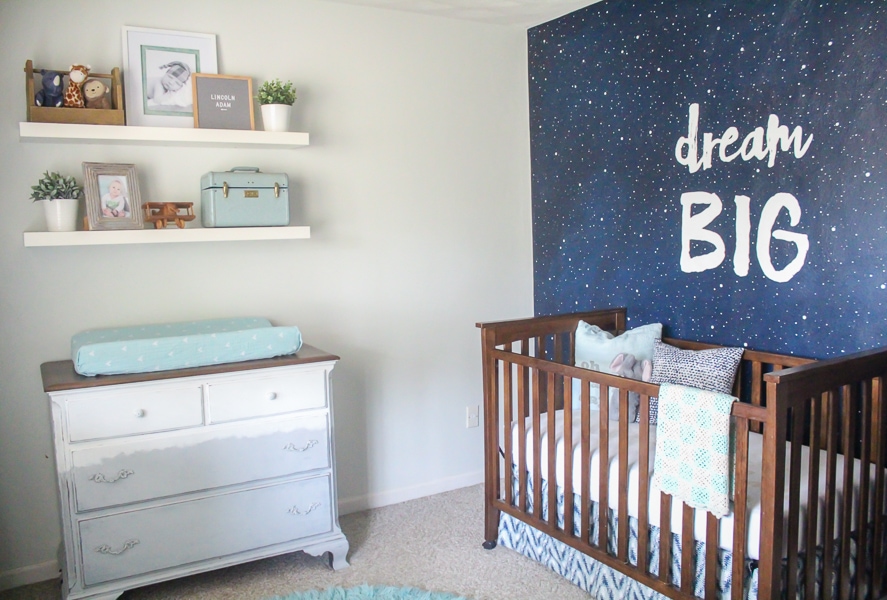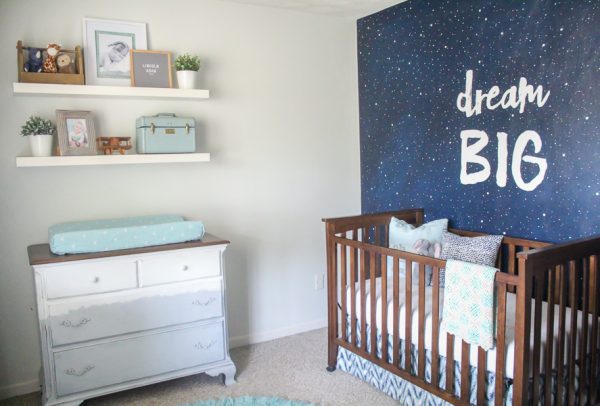 See all the nursery details here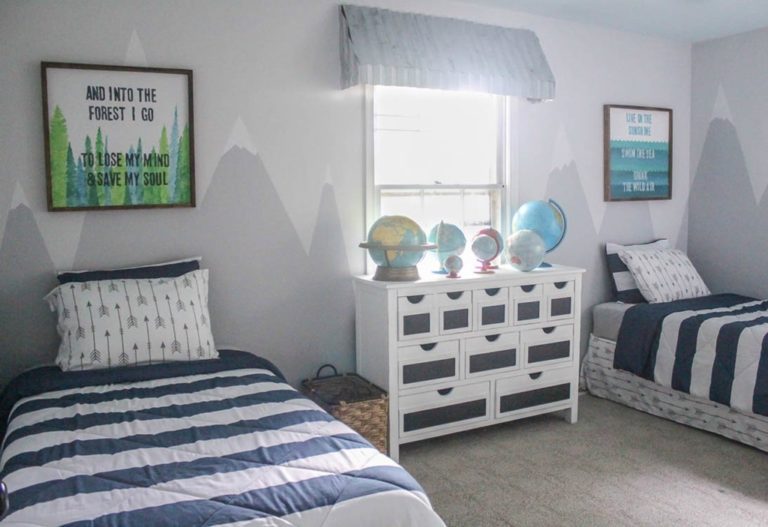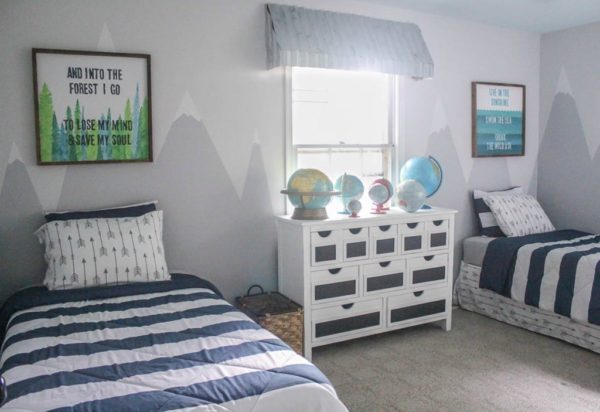 See the boys' shared bedroom here
The update: A few months ago, Lincoln made it clear he was ready to ditch the crib. I moved a twin bed into his room, but he had no interest in sleeping in his new bed and chose to sleep in the floor with his blanket instead.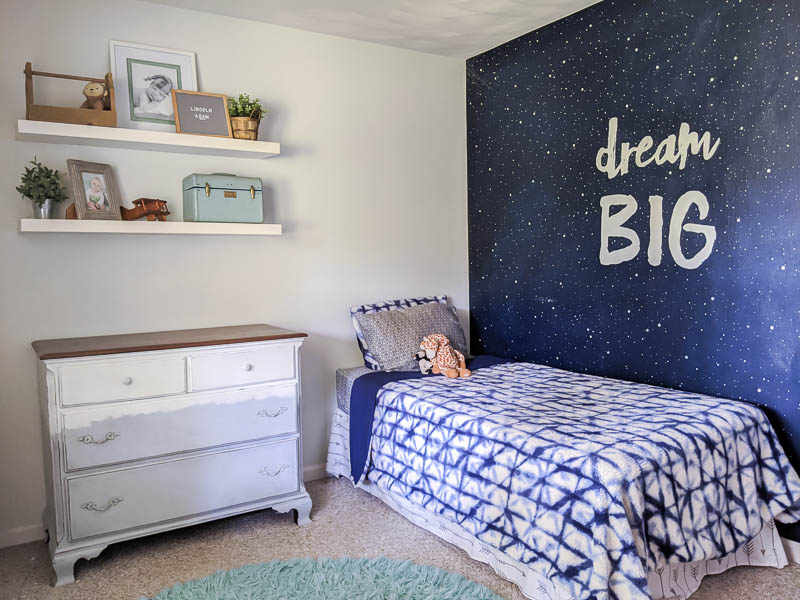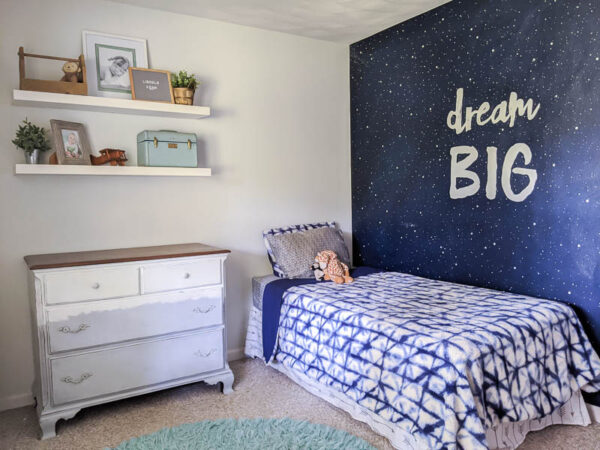 Link to that gorgeous shibori duvet cover, wall mural tutorial, painted dresser tutorial
Then a few weeks later, all three boys decided they wanted to sleep in the same room together. So I got bunk beds for the two older boys and put a toddler bed in the same room for Lincoln.
Now he's been happily sleeping in the room with his brothers for a couple of months…still in the floor with a huge stuffed bear as a pillow. I'm not really sure why he prefers to sleep in the floor, but as long as he stays in his room and sleeps all night, he can sleep anywhere he wants!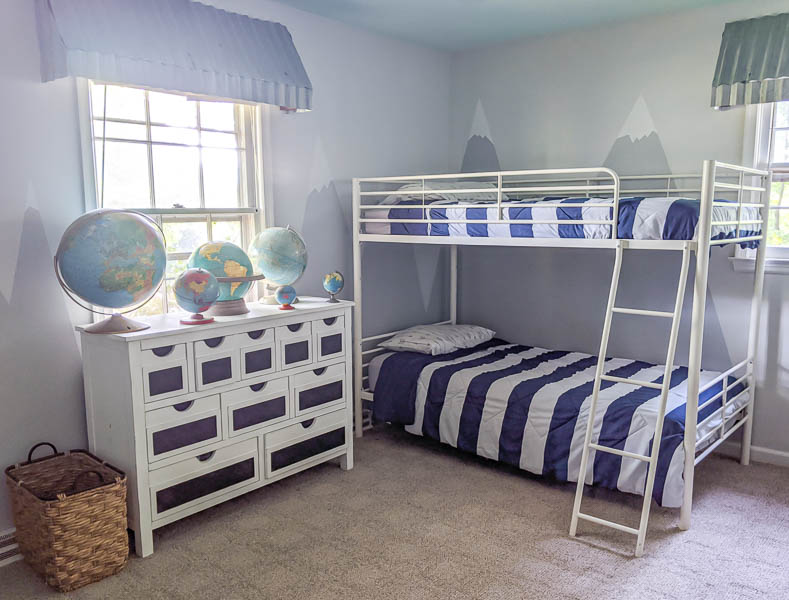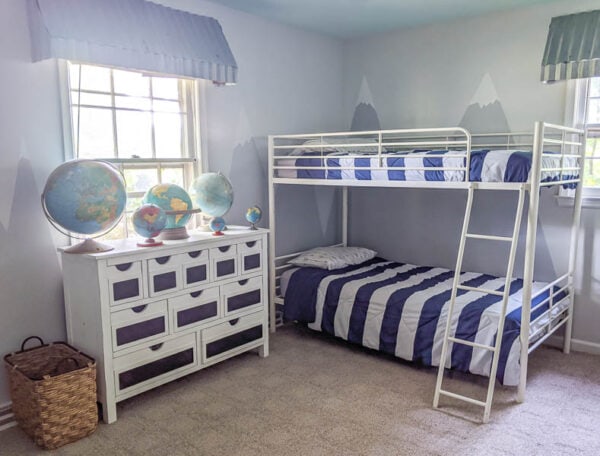 You can find the bunk beds we bought here. So far we really love them, window awning tutorial
All three boys are pretty thrilled to be sharing a room so it looks like that may be the plan for the next couple of years at least.
Now I'm just trying to figure out the best use for the old nursery. It will probably end up as a home office, guest room, or small playroom or some combination of the three for now. Once I get it all figured out, I'll be sure to share pics.
Current Status: 40% finished, but we are definitely getting somewhere!
Other projects
I've also finished a few other smaller projects that have been nagging me for the past few years.
I gave our tiny pantry a makeover and a major organization overhaul.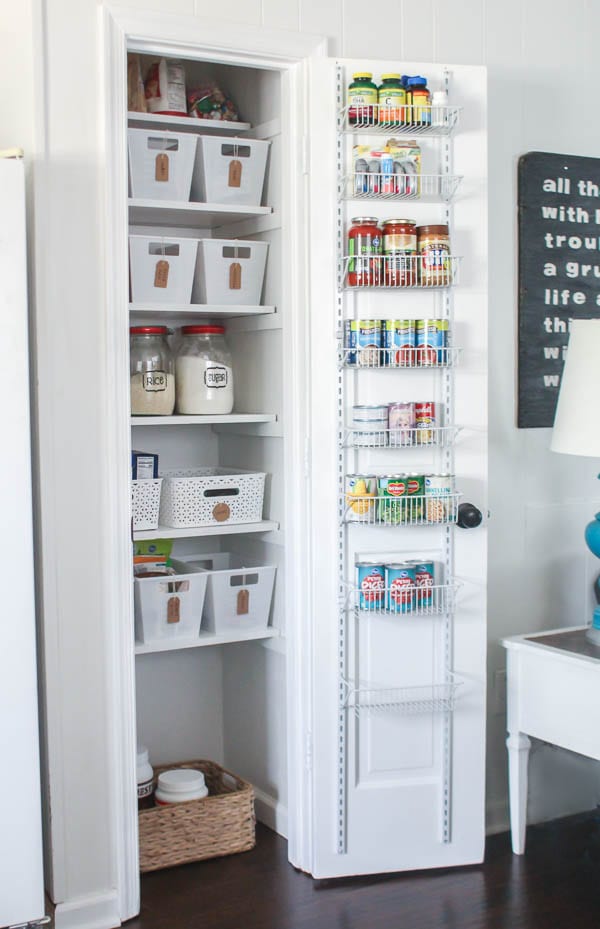 And I finally figured out furniture and art I love for an awkward wall in our long family room.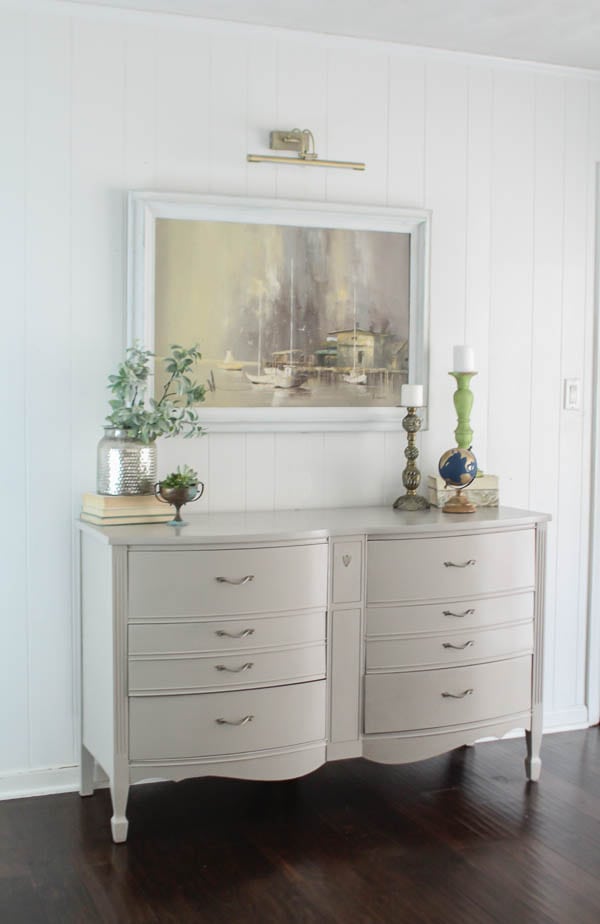 Overall, I had four big goals. One is almost met, one is about halfway there, and two are far, far from being completed.
Considering how this year has gone (and the sudden lack of childcare and addition of homeschooling this spring), I'm actually pretty happy with what I've accomplished. And once the porch is finished up, I'm going to steel myself to really dive into camper renovations.
Here's to the rest of 2020! Anyone else have projects you're hoping to accomplish?