So earlier this week I talked (rambled?) a lot about what I want Lovely Etc to be all about in 2015.  I'm planning to get back to big, bold projects that make a big, bold impact in my home.  And of course I plan to do it for as little money as possible.
Well in the spirit of big bold projects coming up in 2015, I do have some news to share.
Wait for it…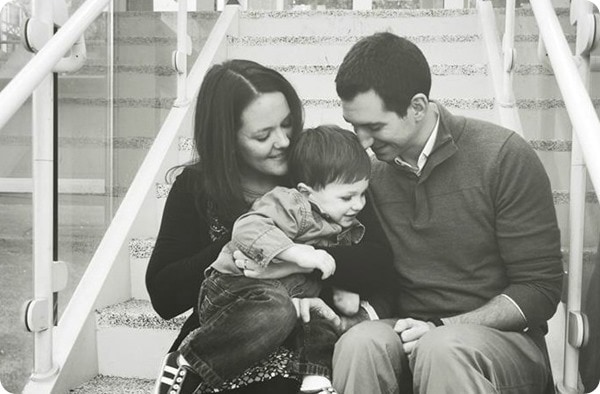 We're having a baby!
The biggest, best kind of project of all.
Our little tadpole is due to join us at the end of July and we are over the moon excited!  Griffin will be two and a half when the new baby comes and so far he has declared that having a new baby "is cool".  We'll see what he says when he sees the reality.
Clearly this is my biggest, most important project of the year.  But assuming that things go smoothly, there are lots of other big, bold projects I would like to tackle around here.  When I was pregnant with Griffin and particularly when he was a newborn, I strongly considered giving up blogging to take something off my plate.  But I just couldn't do it.  As a new mom lost in a world of diapers and spit up, I needed that creative outlet more than ever.  So I'm anticipating keeping the projects rolling around here.  But I'm also prepared that the best laid plans just don't always work out.  And I'm totally ok with that.
So my wildly ambitious plans for this year include:
The Kitchen
I have been planning to do something about our kitchen since we moved in more than six years ago.  I hate it.  The oak cabinets, The mis-mash of appliances that include something from each of the last four decades.  The horrible white and gold speckled countertops and backsplash. The rusty sink and leaky faucet.  Things have got to change.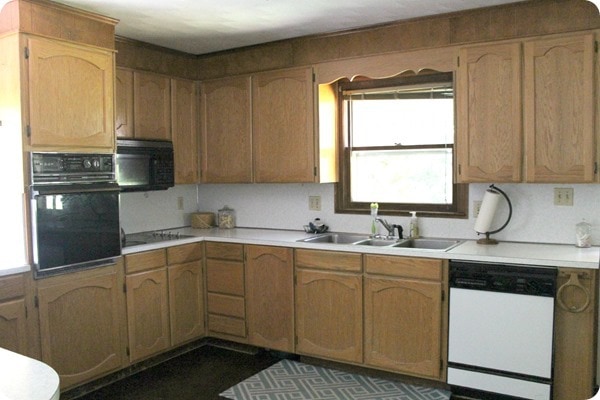 I'm not totally crazy – I'm not planning a full scale renovation.  We don't have the time, money, or patience for that right now.  But I am planning to see how much of a difference we can make with some inexpensive upgrades and DIY endeavors.  And on the bright side, I did managed to change out the old tan vinyl for hardwoods a couple years ago so at least one thing is already done!
Griffin's Big Boy Room
We're planning to move Griffin out of the tiny nursery and into what is currently the guest bedroom.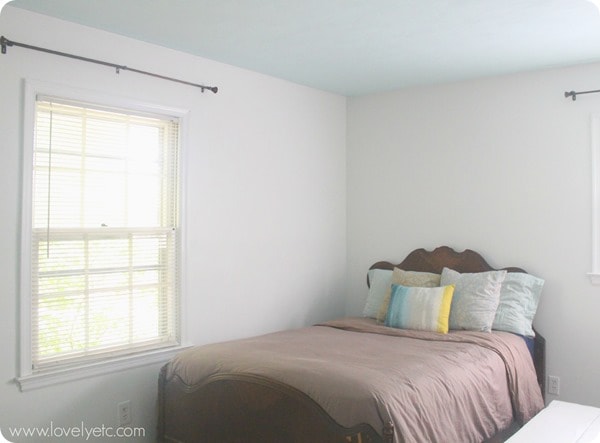 The tentative plan is for him to use the full bed that we already have in there.  (I am always up for reusing what we have instead of buying something new).  To start out, we will probably just put the mattress on the floor so he isn't too high up.  Other than that, the room is pretty much a blank slate.  Some of the décor will be moving with him from his current nursery but I'm really excited about decorating his new room.  There are just so many fun possibilities!
The Nursery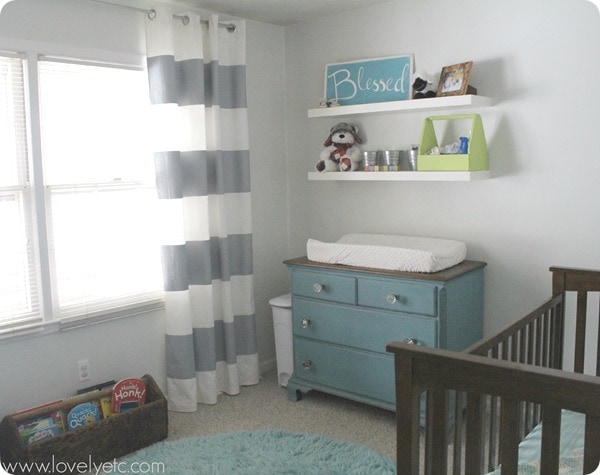 Our current nursery will also serve as the nursery for the new baby.  Most of the furniture including the crib and the glider will stay.  Some other things like the rug and curtains might stay or they might go.  My plan is to keep a lot of the basics that are already in there but bring in some new colors and details to make it feel like a whole new room.  Once we find out if the baby is a girl or a boy, I'll be able to really figure out more about what I want to do in there.  But even if we have another boy, I'm going to want to change things up.  I have no problem with hand me downs and boy or girl this kid is going to get plenty.  (Who am I kidding, pretty much everything Griffin has is from a yard sale or consignment sale – so technically they are hand me downs too).  But it just feels wrong to whip up a whole new room for Griffin and just shuffle the baby into his old one.  (And yes, I do realize that the baby could care less how his or her room looks.  But still.)
Master Bedroom
And finally, I am going to finish the master bedroom makeover I started over a year ago.  This one shouldn't be too difficult.  There is really only one project left to tackled – replacing that awful accordion door leading to the master bath.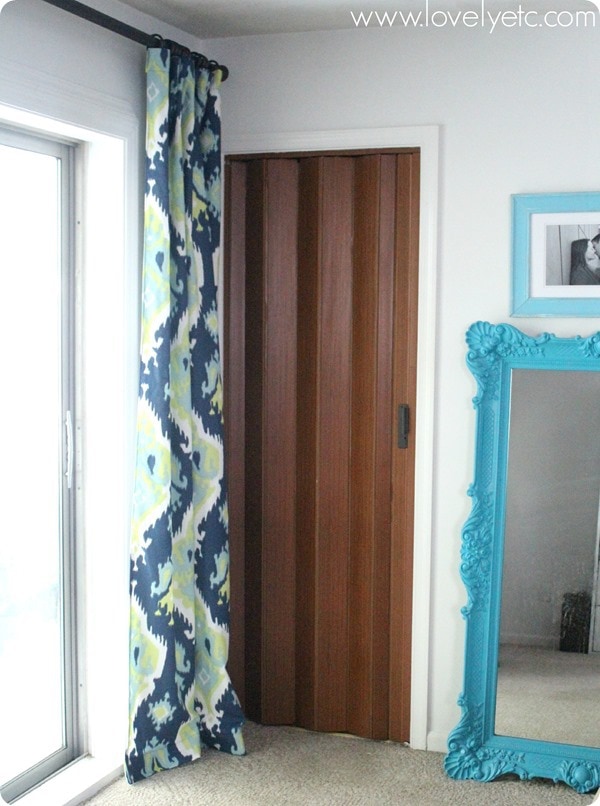 I really put that one off last year because, honestly, I was a little afraid of it not going well.  So I never even started. Lame.  This winter, the door is coming down!
And those are my plans!  I'm sure there are other little projects that will work their way in.  And, unfortunately, I'm also pretty sure that I won't completely finish all the rooms I want to.  But I'm still going to go for it.  And be happy with what I do accomplish.  And know that the rest will get done when the timing is right.
Here's to a great year!