Woohoo! It's room makeover time!
I've decided to join the One Room Challenge y'all and I am excited, nervous, and beyond ready to get started. For those who don't know, the One Room Challenge is a room design challenge hosted every spring and fall by Calling it Home. The challenge is to completely make over one room in your home start to finish in only six weeks time. Yikes!

I know all of those design shows on HGTV make it seem like two days is more than enough time for an awesome room makeover, but that's not reality! In the real world, six weeks is nothing. Especially when you are a DIY budget-conscious kind of girl like myself.
If you've been with me for awhile (and have a mind like a steel trap), you may recall that I also joined the One Room Challenge last spring with the intent to fix up our family room. And then…I dropped out about two weeks in. Whomp, whomp. As I began making some repairs and working on our fireplace, I quickly found serious water damage and even a bit of mold in our family room walls that had to be dealt with by professionals. And then two days later, Better Homes and Gardens called to set up a photo shoot of my DIY play kitchen in that same, torn-up room. Yikes! So the whole quick turnaround room makeover got pushed right off the to-do list.
But I have full confidence that I will be finishing this time around. I happen to have a very motivating little deadline named baby #3. For the challenge this time, I am turning my 4 year old Griffin's bedroom into a room that he can share with soon-to-be 2 year old Asher. Asher's old room will become the new baby's nursery. And since that new baby is due to join us in just a few months, I have every reason to get this party started – and finished!
The Starting Point
Ready to see what I'm working with? This is what the room looks like now: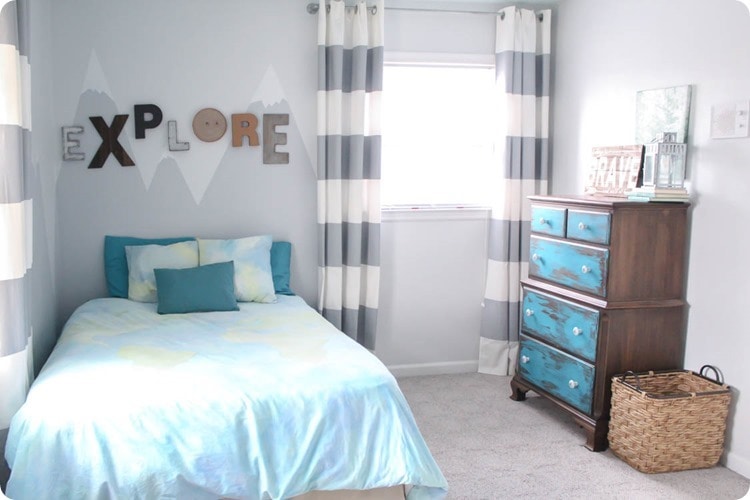 It is actually already a super cute room – it just isn't going to work for two without some major changes. Plus, what you don't see from this angle is how bare and empty the other side of the room is.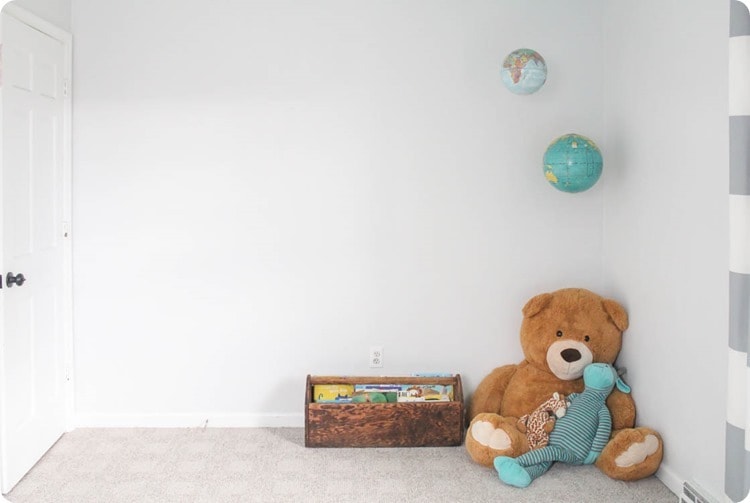 Here's a bit of truth in decorating kids' rooms. It doesn't always work the way you planned!
When I first put this room together two years ago, there was a lot more to see on that far wall. There was a whole gallery wall, a cute vintage chair, and a third globe hanging from the ceiling. Unfortunately, a few months after finishing the room, Griffin went through a rather destructive toddler phase. And rather than dealing with a huge battle of the wills, I just removed everything nonessential from the room. And then I never got around to putting most of it back.
So that is where we are starting. Time to see the new plan for the room!
This room makeover has three main goals:
1. Modify the room to work for two. As in two beds, storage space for two kids' stuff, and space for two kids to play.
2. Add back some of the character that was packed away to prevent toddler destruction.
3. Make it fun! Kids rooms are by far the most fun to decorate so I can't wait to add lots of creative touches! I want to stick with a loose explorer/adventure theme without going over the top themey. We'll see how I do.
The Design Plan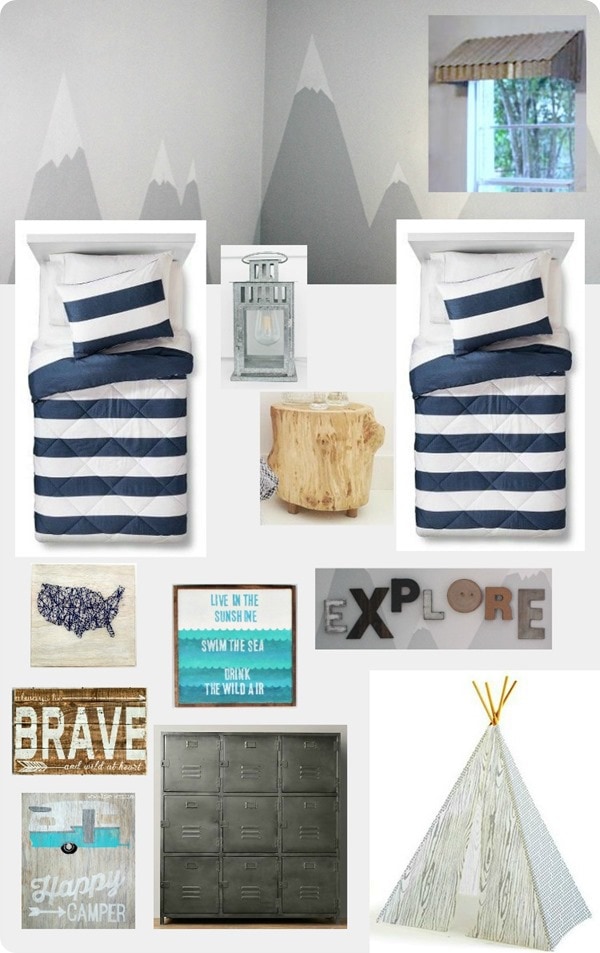 (This post contains some affiliate links. See my full disclosure here.)
First and most importantly, the full bed that is currently there is being replaced by two twin beds. For right now, we aren't going to do headboards – just a metal bed frame. When the boys are older and a bit less likely to jump on their beds, I'll revisit the headboard issue.
That also means all new bedding. I'm eyeing these striped comforters from the Pillowfort line at Target. I love the colors and I love that navy and white stripes can work with a ton of different looks. New sheets and some sort of DIY bedskirt situation are also on the to-do list.
The mountains I painted on the wall are staying. In fact I am planning to add more – at least enough to surround both boys' beds.
I want some sort of table to go between their beds. I would love to turn a few stumps into rustic nightstands, but if that doesn't work out, I'll look for something secondhand that I can repurpose.
The closet definitely needs some help. This bedroom has a fairly small closet with sliding doors. Currently, there is one shelf across the top, one tall bar for hanging clothes, and a ton of wasted space. I'm planning to build a simple DIY closet system with plenty of shelves to hopefully store away most of their clothes and shoes. If we still need extra clothing storage, I want to either reuse the dresser that is currently in the room or move the salvaged lockers from our bedroom into their room.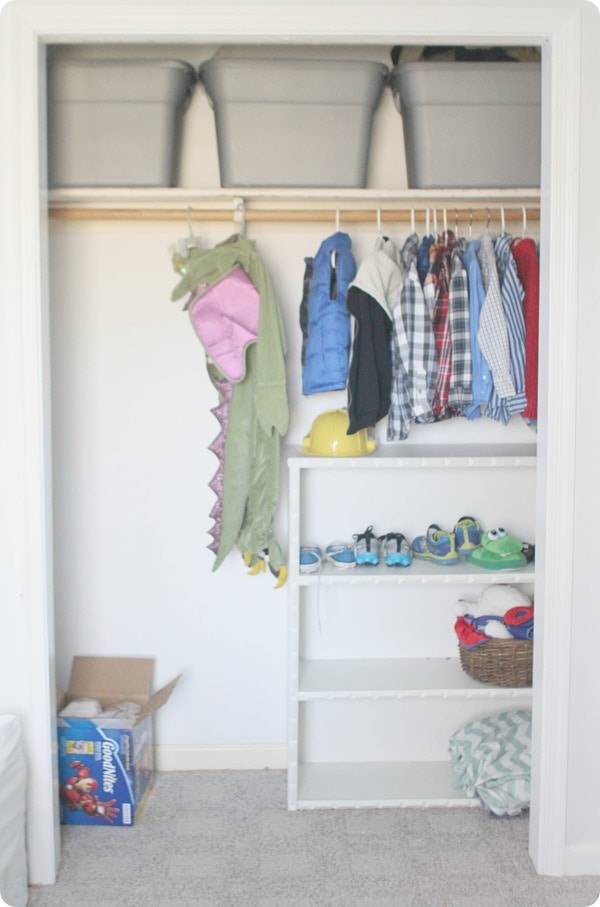 I would also love to upgrade the closet doors somehow. Right now they are plain hollow core sliding doors and extremely bland. I'm still mulling over a few possibilities, but I know I can come up with something fun.
The long curtains on the windows are coming down and new window treatments are going in. To make two beds work in the room, one of the beds is probably going to be right under a window, so long curtains don't really make sense. Instead I am planning to either make some quirky roman shades or build some sort of rustic window awnings. (The ones in the design plan above are from Joanna Gaines' house.)
The ceiling fan (and blue ceiling) are here to stay. And the cute lantern lamp I made is probably staying as well.
Which brings us to wall art. Until I have a better sense of the furniture placement, I don't know for sure what my wall space will look like. But luckily I have tons of great DIY and vintage stuff to hang in whatever space there is including lots of stuff from the gallery wall that used to be in here. The explore letters that were over the bed are also going to find a new home somewhere in the room.
And there's going to be a teepee play tent! I've been wanting one of these for the boys for awhile. Griffin adores tents and camping and has even had a few indoor campouts with our big camping tent, so I know he is going to love it. I'm working with Minted who has generously offered me one of their custom play tents for the boys' room and I can't wait to get it set up! And if I have the time and energy after all of this, I would love to make a few floor pillows to throw in the tent for comfy lounging.
So that's the plan! Now I'd better get to work!
What do you think of my plan? Does anyone have any tips for creating a shared room? To be completely honest, I'm most concerned about both boys continuing to sleep all night in the new room – but having it all look cute will be a huge bonus!
You can see all of the other great bloggers who are taking on the one room challenge right here.
SHARED BOYS' ROOM MAKEOVER
In case you missed anything, here are all the rest of the posts about my boys' shared room makeover along with the big reveal!
The Big Room Reveal! Boys' Shared Modern Farmhouse Bedroom
Boys Room Makeover plans (you are here)
How to Make Fabric Storage Bins
Inexpensive DIY Closet Shelves
Painting Furniture White: Secrets to the Perfect Finish
How to Make a Bed Skirt from a Flat Sheet
How to Make Gorgeous Farmhouse Window Awnings