So our boys' room makeover is halfway over. Hypothetically anyway. As I shared a few weeks ago, I decided to join the One Room Challenge for a bit of extra motivation to get this makeover finished quickly.
The One Room Challenge is a challenge hosted by Calling it Home for bloggers (or anyone) to completely redo one room in their home in only six weeks. And since this is week three, it doesn't take a math genius to figure out the challenge is already halfway over! Yikes!
Thankfully I have been working hard and I've managed to make real progress in the room. On the flip side, DIY is not exactly the fastest way to get things done and there is still a ton to do!
If you want a reminder of what the room looked like before (cute but fit for one little boy, not two!) and the plan for the space, you can see those here.
The first big decision for the space was figuring out where the furniture was going to go in the room. And since this is a bedroom, it's all about the beds.
At almost 2 and 4 years old, our boys are still a bit young for bunk beds (in my opinion), so the big question was where to put two twin beds. After weighing all of the options, I knew the beds were going to work best on the short wall farthest away from the door so that's what I planned the rest of the room around.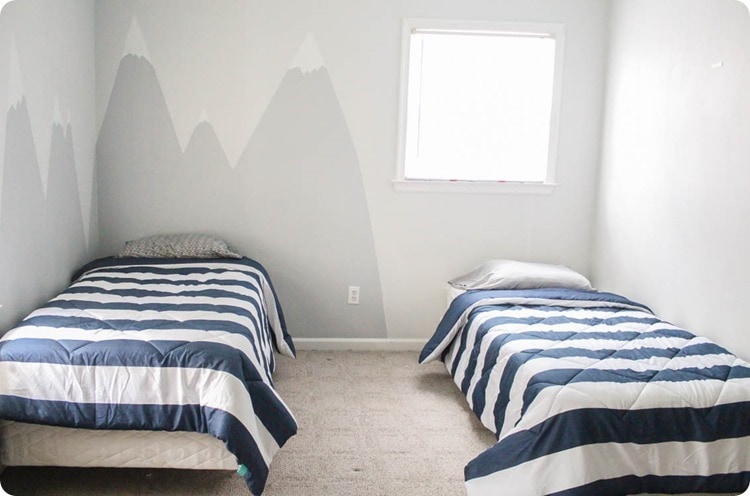 But….then I thought I would try the beds in a different spot just to be completely sure. Even though I already knew it wouldn't work.
And I'm sure you've probably already figured out, the new spot not only worked, it was so much better. In my head and based on my measurements, the other layout was so much better. But in real life, not so much.
Moral of the story: it's always worth moving the actual furniture. Yes, it's kind of a hassle, but just do it. It's just too hard to try to guess how things will look in a different arrangement.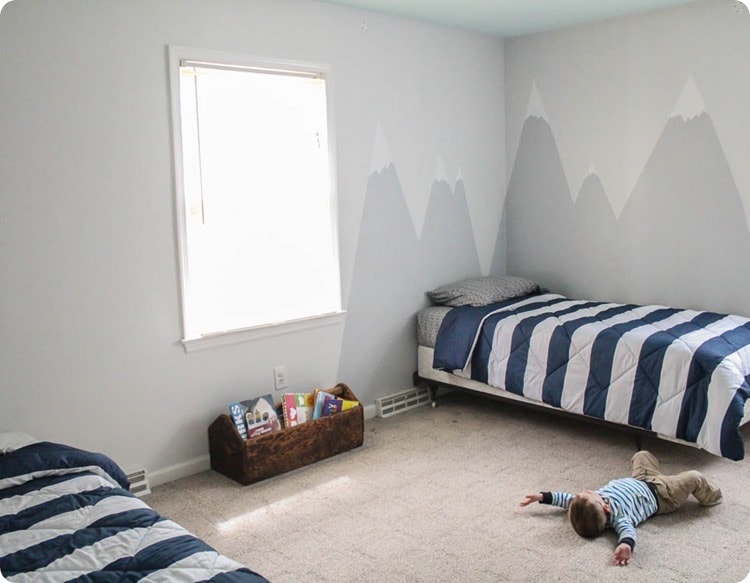 Now there is tons of open space in the middle of the room for the boys to play (or roll around in the floor). And also one of the beds was directly under a window before which I didn't love.
The downside to this arrangement (and the reason I didn't think I would like it) is the door opens directly into the foot of one of the beds.
It's not perfect but in person, it really isn't that big of a deal.
Of course this new arrangement also raised a few other questions. Like what in the world am I going to put between the beds now. Part of me wants to do some awesome window seat/storage combo.
But most likely I will find a pair of nightstands to paint instead. I don't want to do anything too drastic/permanent until I see how well the room layout is working. (I'm learning!)
My other major accomplishment so far is turning the sad, dysfunctional little closet into an organized, storage machine ready to handle all the stuff that kids manage to accumulate.
I was hoping to share the full closet reveal today, but there are still a few last details to wrap up, so I'm saving it for next week. In the meantime, here's a sneak peek of the custom cubbies I built.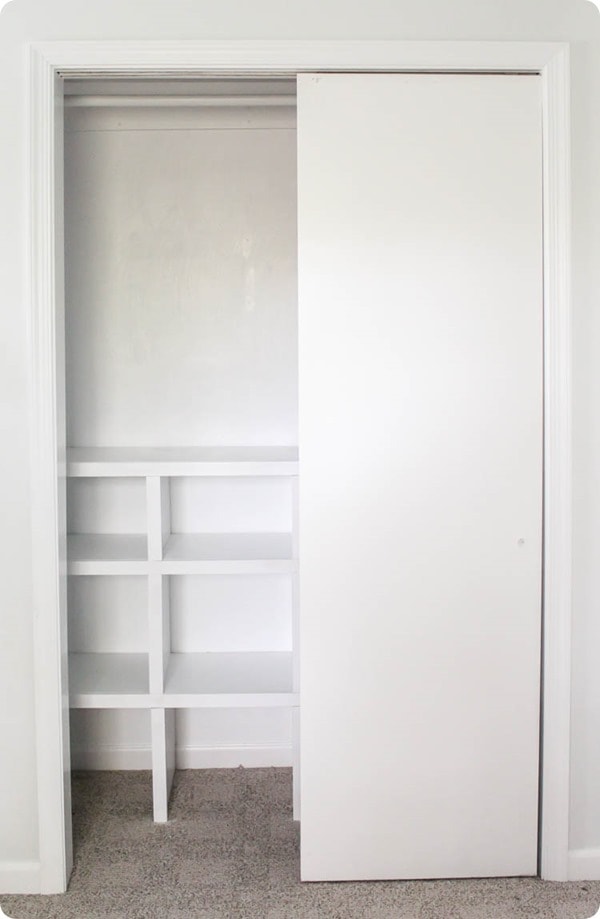 I can't wait to see the DIY storage cubes I shared last week all lined up neatly in those cubbies!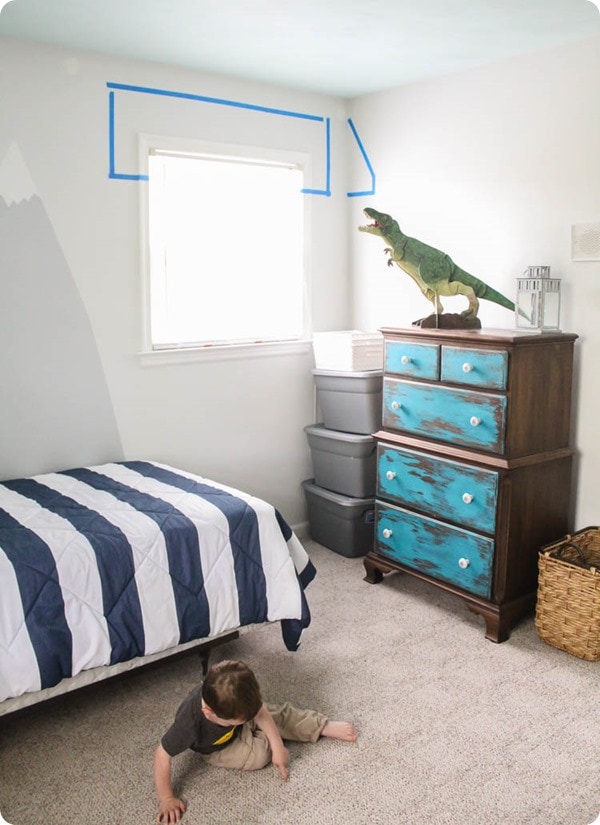 And as you can see by the tape on the wall, I've started planning out my next DIY project: DIY window awnings inspired by these awesome ones in Joanna Gaines' farmhouse. I'm pretty excited about these!
(And apparently, that is Asher's favorite spot to hang out based on these pictures! He definitely approves of the new room layout.)
As for the rest of the room, here's how the to-do list is shaping up. Looks like I need to get cracking!
Boys' Room Makeover To Do List
Figure out bed placement

Buy two twin beds, comforters, sheets, pillows

Make bedskirts
Paint more mountains on the wall around the second bed
Build rustic window awnings

Build custom closet organization system

Make fabric storage boxes for closet

Update closet doors
Buy or make nightstands
Buy or make nightlights/lamps
Add art to walls
Add tent, book storage, stuffed animal storage
Make or buy floor pillows for tent
And here are all of the other posts about this makeover in case you missed something!
ONE ROOM CHALLENGE: SHARED BOYS' ROOM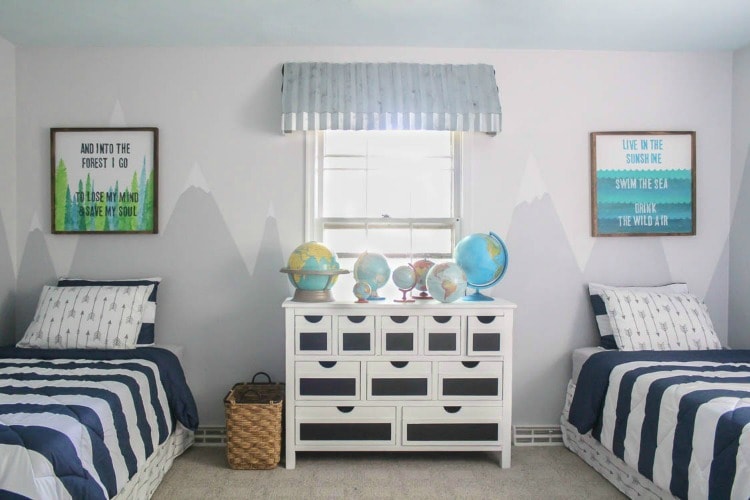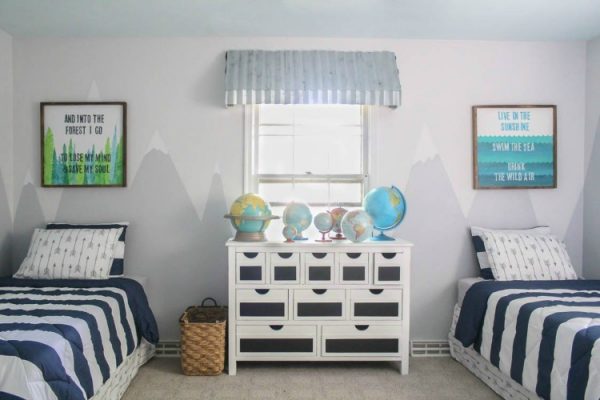 The Big Room Reveal! Boys' Shared Modern Farmhouse Bedroom
How to Make Fabric Storage Bins
Boys Room Progress (you are here)
Inexpensive DIY Closet Shelves
Painting Furniture White: Secrets to the Perfect Finish
How to Make a Bed Skirt from a Flat Sheet
How to Make Gorgeous Farmhouse Window Awnings