I'll be the first to admit, the nature of a DIYer is not exactly to do things the simplest way.
First of all, DIY requires lots of stuff. Tools, paints, craft supplies, wood, old furniture ready to be rescued. Not to mention every old piece of junk is just full of potential and certainly can't be thrown away.
Secondly, I don't think anyone is going to argue that the easiest way to get what you need is to make it yourself. And it certainly isn't the fastest either.
Earlier this week I shared the painted world map duvet cover I made for my son's room. It would have been so much easier if I had just gone to Target and bought a new comforter for his bed. It would have been unbelievably faster. And to be honest, if I went for the cheapest thing I could find, it might just have been cheaper as well.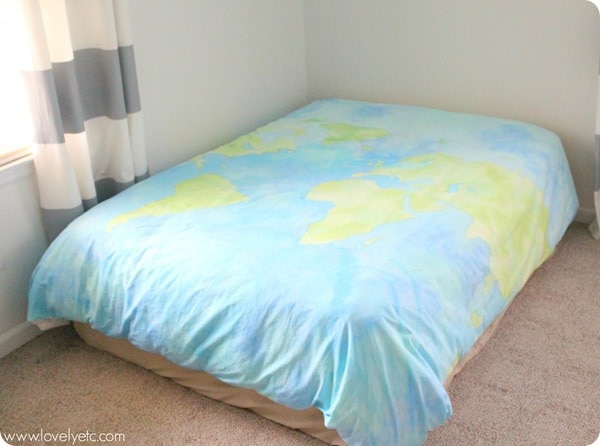 But I didn't do that because creating an adorable room for my son is something that brings me joy. I love to DIY, I love to create, I love to put my personal stamp on every little thing in our home. That painted duvet cover may not have been the simplest way to get him the bedding he needs, but it was certainly the way that brought me the most joy. And I know I will continue to feel that joy every time I see it spread on his bed. (Or crumpled in the floor, whichever it may be.)
So can a DIYer like myself live a simpler life?
I'm never going to be the type to go with the fastest, cheapest, most convenient way to do things when it comes to my home. I mean, yes, if there is a super fast, cheap, convenient way to get the laundry washed and put away each day, I'm all for that. But not when it comes to decorating.
It may seem silly to some, but my home is my retreat. It is my place to express who I am and what I love. I want it to be comfortable and functional and beautiful. Quite possibly in equal measures. My logical side knows that it doesn't really matter one bit if our home looks beautiful or not. And yet somehow, it does matter.
I think living simply is about choosing to use your time, money, and resources on those things that truly matter to you, that bring you joy. And for me, one of those things is creating. DIY. Decorating.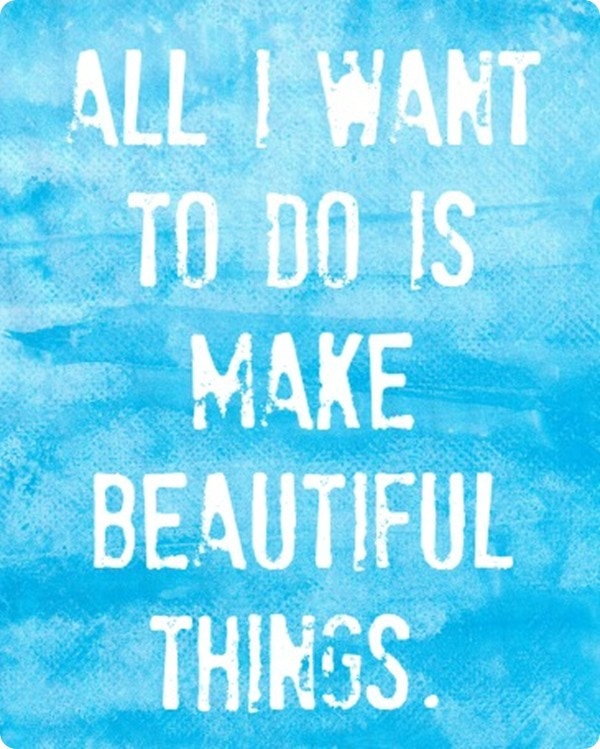 So, yes, I do think a chronic DIYer like myself can live a 'simpler' life. Although I'll be the first to admit, I have failed on that front many, many times.
Exhibit A: My 'craft' room from a few years ago. Filled to the brim with all the wonderful things from all the yard sales everywhere. Perhaps, a wee bit overboard.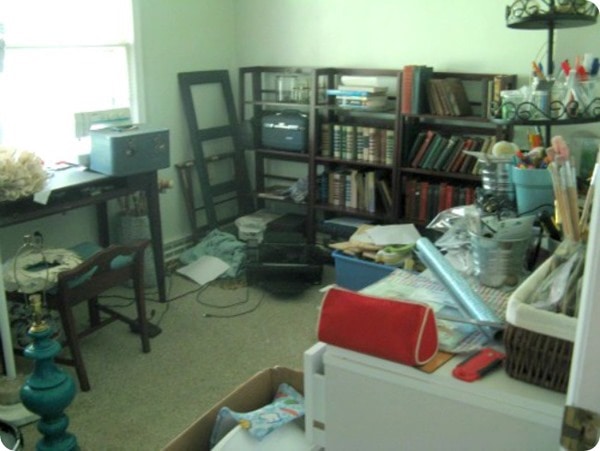 Exhibit B: All the times I made something rather than buying it simply because I could. And if you can make it why not? (Other than the fact it will take up tons of time and possibly even cost more in the end than just buying it in the first place.)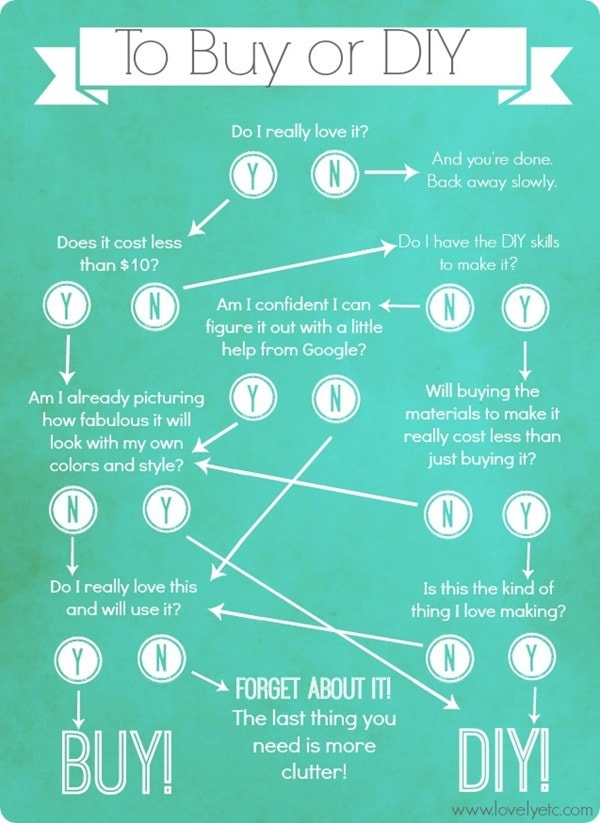 I could go on and on. But I'm learning to balance the desire to create with the desire to live more intentionally. As much as I love to spend time creating something new, I don't want to waste all my time wading through piles of craft supplies to find what I need. And as much as I love to make everything myself, I really don't need to sew every pillow and paint every picture frame that finds its way into our home. I love to DIY but I want to have time for all of the other things I love as well: making my son laugh, hanging out with my husband, disappearing into a good book.
I haven't got it all figured out yet. But I'm getting there.
If you want to join me on this mission to declutter in a brand new way that actually changes how your home functions, don't miss the other posts in this series so far:
Tricks, tips, and the right mindset to actually get rid of clutter once and for all
What to do with the stuff you want to get rid of: