Some people love to make cookies at Christmas time; I love to make gifts. (But don't worry, I'll be more than happy to eat everyone else's extra cookies!)
One of my favorite gifts I made last Christmas was this cheerful set of DIY Christmas tea towels. These are the best kind of handmade gift – easy, inexpensive, and gorgeous. Plus, the simple gold and white design would match almost any kitchen style which makes them a great gift for people dear to your heart as well as people you don't know quite as well. (I'm thinking teachers, neighbors, coworkers…all the people you still want to show a little love to at the holidays.)
This post contains affiliate links – you get to buy stuff you want and support future projects on Lovely Etc. at no additional cost. See my full disclosure here.
Materials needed
Iron
Hole punch
Gold fabric paint and paintbrush
DIY Christmas Tea Towels
Making these is super easy thanks to the magic of freezer paper. If you've never used a freezer paper stencil before, let me tell you, it is amazing. You can buy freezer paper from your local grocery store in the aisle with the wax paper and aluminum foil. I have no idea what freezer paper was originally used for but it is absolutely perfect for stenciling on fabric.
To make the Merry and Bright tea towel, I started by creating my design in Picmonkey using the fonts Thirsty Script Bold and EcuyerDAX. (If you would like to use the same template, simply right click the image below and choose save image as.)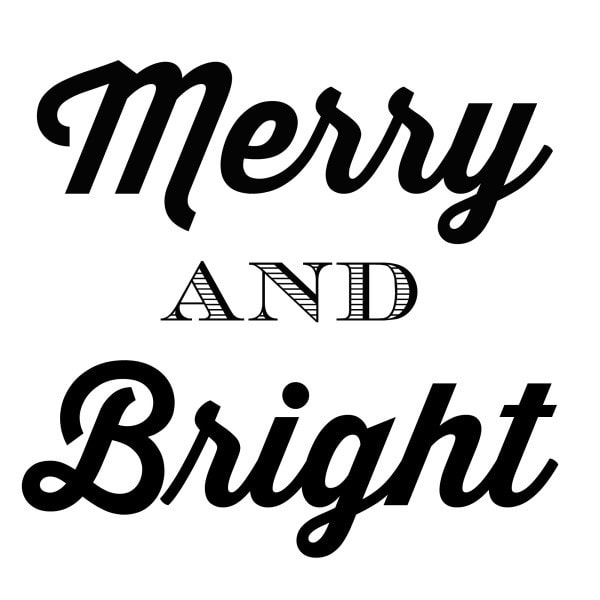 Once everything was looking good, I printed out my design. Then it was time to carefully cut it out.
You don't need any fancy cutting machines to make freezer paper stencils (though if you have one, it will definitely make it faster!) I didn't use a cutting machine at all – just a good old fashioned craft knife and cutting mat. This can be a bit tedious but is not difficult. Just lay your freezer paper right on top of your printed design and carefully trace around each letter with the craft knife. Be sure to save the little dots that go in the centers of letters like o – you will need them for your stencil.
Line the freezer paper up where you would like it on your tea towel with the plastic side down. Iron the freezer paper stencil onto the fabric. You only need to hold the iron on each section for a few seconds. Be sure to iron on the little dots and other letter centers as well. Ironing seals the stencil to the fabric so that when you paint it, the paint won't seep under the edges.
Then using a paintbrush, paint on two coats of gold fabric paint.
To make the polka dot tea towel, I simply used a hole punch to punch random dots all over a sheet of freezer paper.
Then I ironed it to the tea towel and painted the dots with gold fabric paint.
Carefully peel off the freezer paper stencil and you're done! All that's left is to marvel at how well freezer paper stencils work!
Love these – I might just need to make a set for myself this year!