I am so excited to share my Christmas tree with you guys today!
I've joined up with an awesome group of bloggers led by Stephanie from Casa Watkins to share our Christmas tree style this week as part of the My Home Style Blog Hop. If you are here visiting from Little Red Brick House, welcome! Be sure to stick around at the end of the post to see everyone else's unique trees.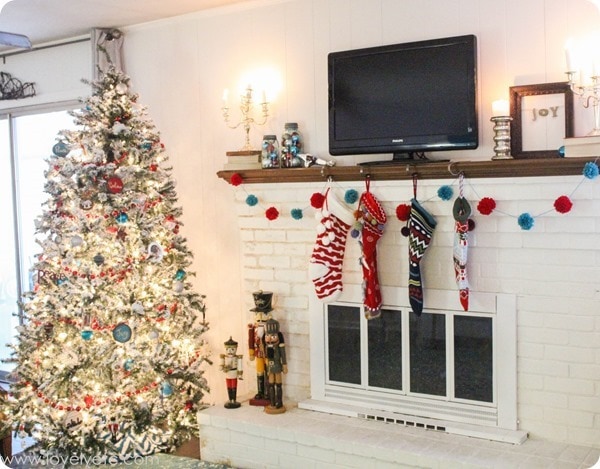 I've always thought there are two kinds of people – people who have gorgeous coordinated themed Christmas trees and people who have Christmas trees full of ornaments they have collected through the years to remember Christmases past.
When I was a kid, we definitely had a mish mosh of a tree full of all kinds of ornaments that had been collected here and there or even better, made at school. When I got married and had my own Christmas tree, I put myself firmly in that same camp.
First of all, I was not about to buy all new Christmas ornaments every year. Second of all, I love to reflect back on years past at Christmastime more than any other time. So my tree was definitely going to be a collected, eclectic kind of tree rather than a really pretty one.
Or so I thought anyway.
I didn't realize until about two years ago that it doesn't have to actually be an either/or situation after all. This may seem obvious to some of you, but to me it was a mind-blowing realization. Now I would consider my tree both beautiful and coordinated AND a collection of all of our Christmas memories throughout the year. Winning!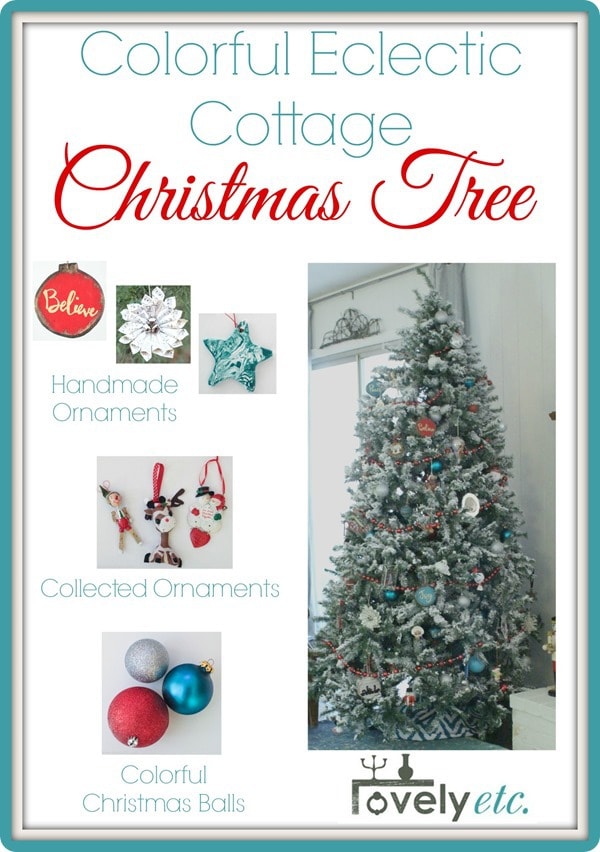 Okay so first of all, let me just say that the snowy flocking I added to my tree the past two years definitely adds to the beauty factor. I love it so much. But even without the pretty white powdery snow, a few simple additions made all the difference.
When it comes to the Christmas tree, I've come to realize that more is always better. When we bought our first house and I had my very first grown-up Christmas tree, I bought what I thought was a great collection of about 25 ornaments at a thrift store. But once I got them on the tree, it still looked completely naked! Ever since I have been adding more and more to the tree every year without ever taking anything away and it just keeps getting better and better.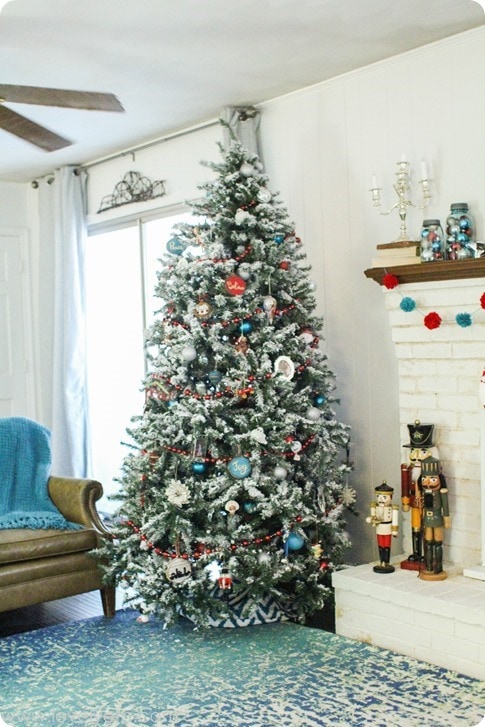 The tree also has tons of lights and some simple red beaded garland, which make a great backdrop for the real stars of the show – the ornaments.
There are three types of ornaments on our tree – handmade, collected, and colorful. And that is my secret for having a tree that is both meaningful and beautiful.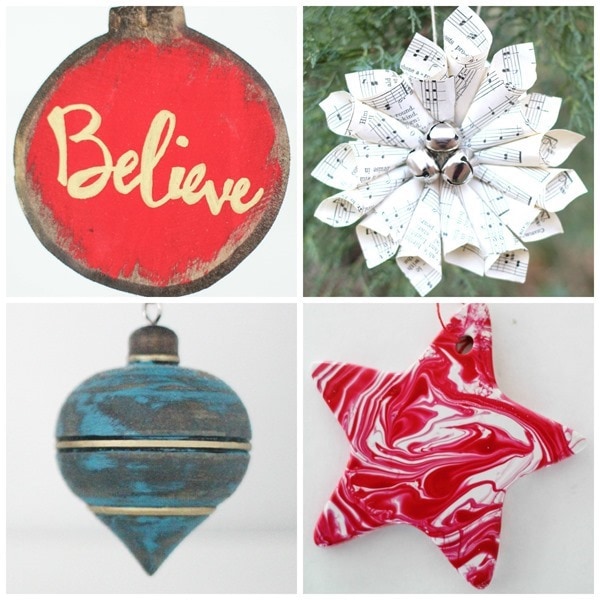 I love making handmade ornaments so every year I add a few new ones to our stash. This year I added some rustic glam ornaments, distressed wooden ornaments, and gorgeous marbleized ones. If you love handmade, you might want to check out my entire gallery of more than a dozen handmade ornament tutorials.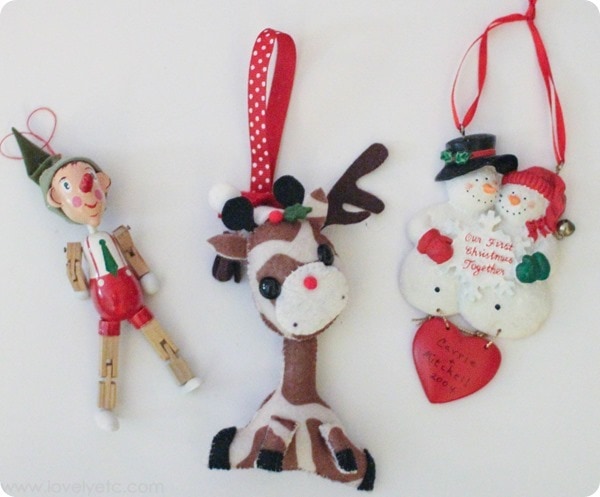 We also still use all of the ornaments we have collected throughout our lives on our tree. Yep, even the not so cute ones that have been with us since childhood.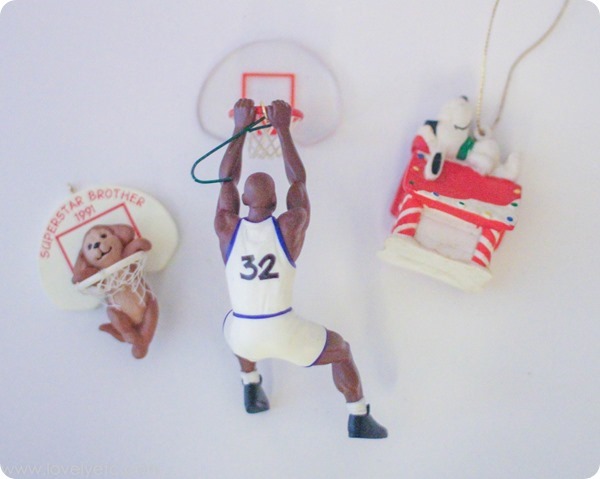 I can't say I'm a huge fan of that gigantic Shaq ornament but it has been my husband's since childhood so on the tree it goes. (That is Shaq right?)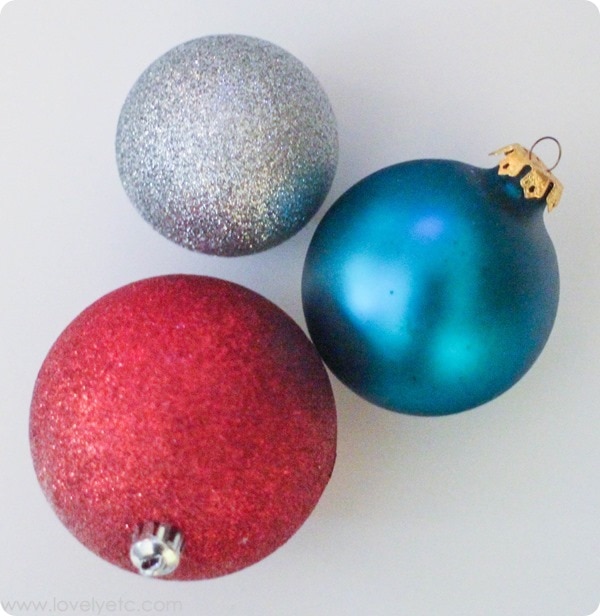 But the design magic comes from adding a ton of Christmas balls in my favorite Christmas colors – aqua, red, and silver. I have a huge collection of sparkly, matte, and shiny ball ornaments in a bunch of different sizes that I fill the tree with each year. The coordinating colors make it look pretty and put together even amidst the hodge podge of collected ornaments that make it meaningful.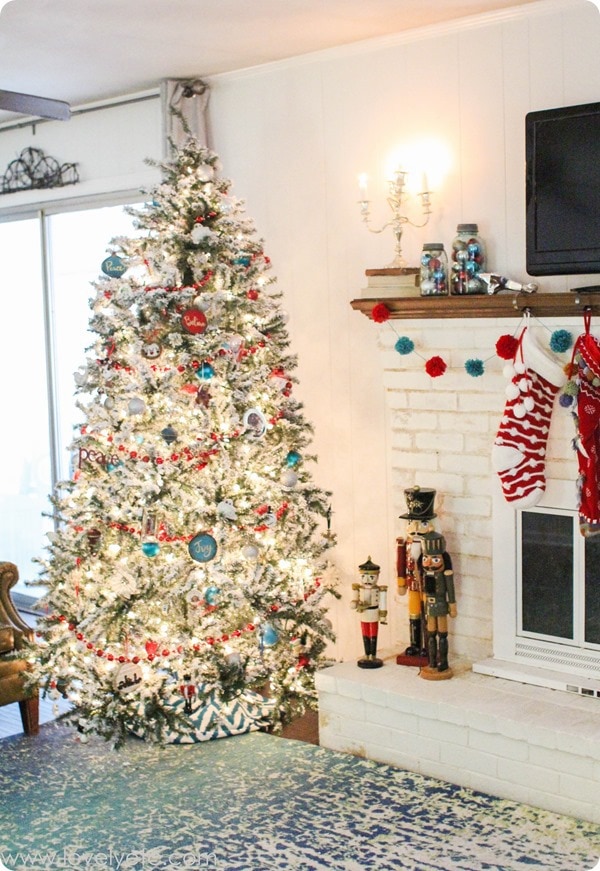 And that makes me very happy every Christmas!
Ready to see more Christmas Tree styles? Check out the Christmas Tree stylings by these amazing bloggers. You can head to Farmhouse 40 next and then continue on to check out all of the other gorgeous trees in the group.
Monday:
Tuesday:
Wednesday:
Thursday:
Friday: