Completely redoing our bathroom on a budget is both exciting and scary.  I cannot wait to have a new bathroom and I have to admit that dreaming up a cottage bathroom design for this outdated room has been pretty fun!
I think I might even not dread bathroom cleaning quite so much when everything is fresh and pretty.  But I am dreading the work it takes to get it that way.  Especially the parts where I have to trust someone else to get things done.  (And pay them to do do it!)  I'm starting to think half the reason I like to DIY might be because I like to be in control!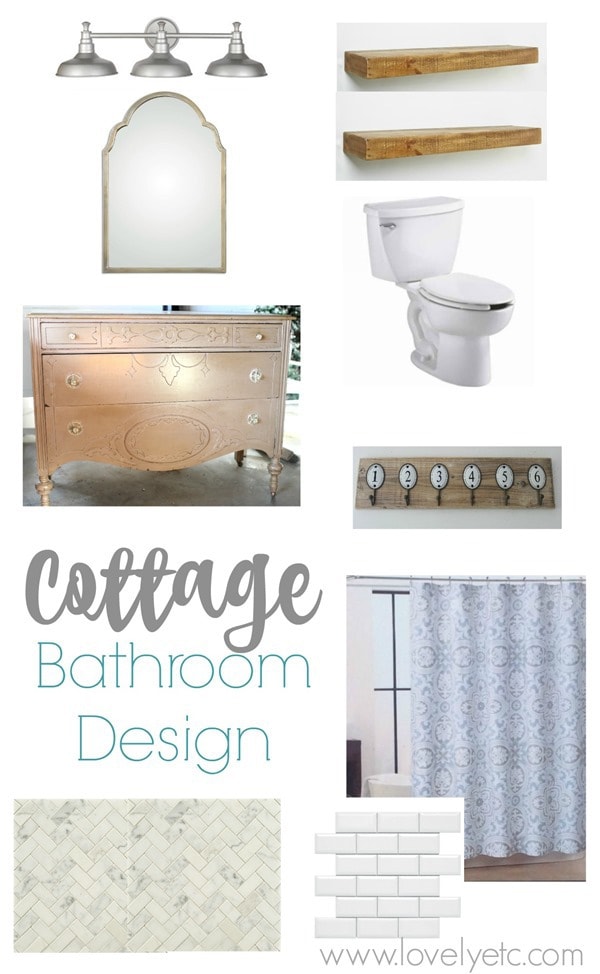 When you are planning a renovation on a budget, you have to be really flexible. Like big old bendy straw flexible.  I'm still searching Craigslist and the Habitat for Humanity Restore, and the clearance section at my favorite home stores for the perfect pieces to bring everything for our cottage bathroom together without spending a ton so I can't say for sure what will end up in the final room.
But at the same time, how am I going to find the best deals on great stuff if I have no idea what I am looking for?  Even though I don't want to spend a lot of money on our bathroom redo, I also don't want it to end up looking like a big mess of bargain finds.  I may want to keep this reno cheap, but I certainly don't want it to look cheap!
So I've put together a loose plan for the bathroom.  I've already rounded up several of the key pieces, but there are several things I am still hunting for and this plan will help me keep me on track as I pull everything together.
This post contains some affiliate links – when you buy stuff you like, you also support Lovely Etc. at no additional cost.  See my full disclosure here.
As a reminder, this is what we are starting with: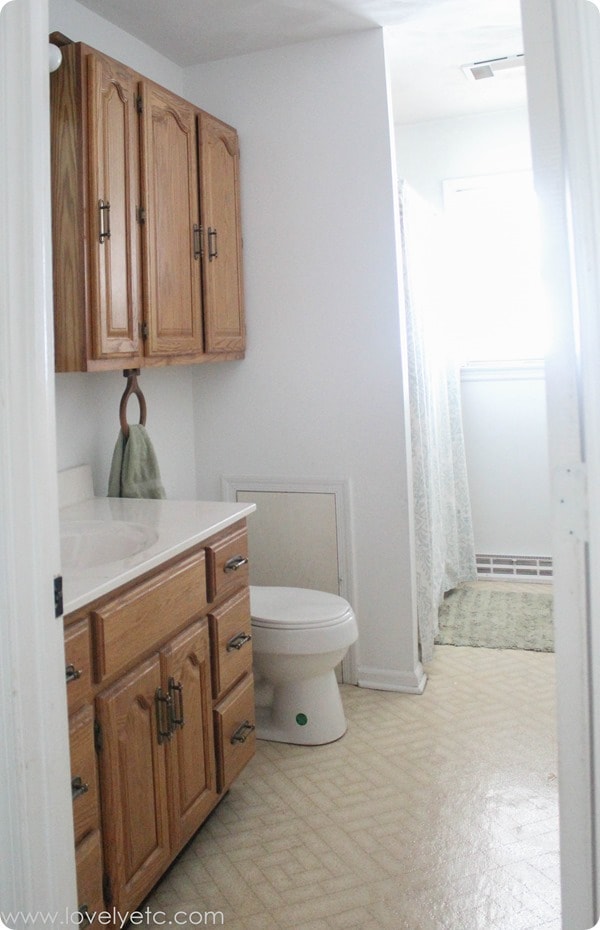 Very little of what you see is staying.  The shower curtain is a keeper and I have no problems with the toilet. :)  But pretty much everything else is outta here.
I shared a couple weeks ago that I was debating about what to do with the upper cabinets.  After cleaning all the junk out of our bathroom cabinets, I've decided we are going to be better off all around without them.  Having so much concealed storage in the bathroom has been a blessing, but it has also encouraged us to keep all kinds of junk in there just because we can.  I think having a bit less storage will actually help us keep clutter away in the end.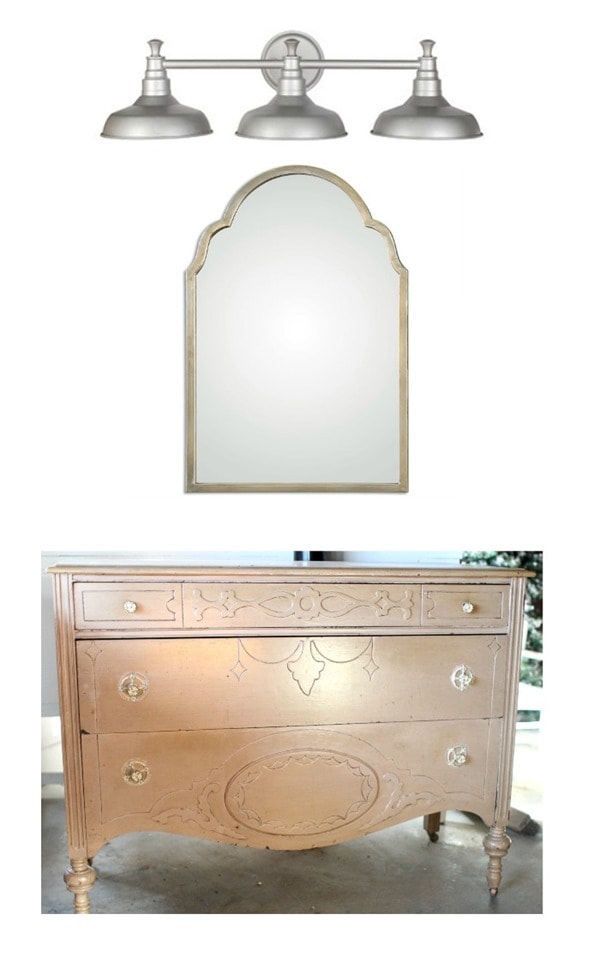 I got this old dresser for $25 when one of my grandmother's friends was getting rid of a bunch of furniture.  The current paint job is really bad, but it is the perfect size for our new vanity.  I'm planning to strip the top and paint the rest using Amy Howard one step paint in Vintage Affliction. (I'm pretty sure that is the best name for a paint color ever.)  And of course we will be adding a sink and faucet.
I'm on the lookout for a mirror with a beautiful, unique frame.  And I'm wondering how difficult it would be to add a recessed medicine cabinet behind it. And new lighting is a must.  I would love to find an old fixture that I can update, but if not, I love this three light fixture from Wayfair.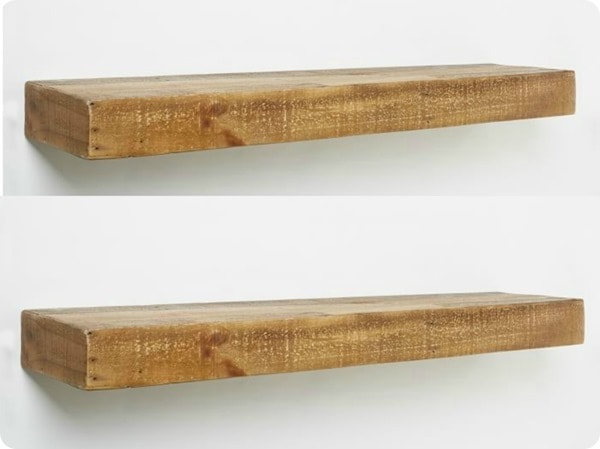 Since I decided to ditch the cabinets, I would love to install some wooden shelves over the toilet.  They seem perfect for storing extra towels (the pretty ones of course) and cute baskets to store away other necessities.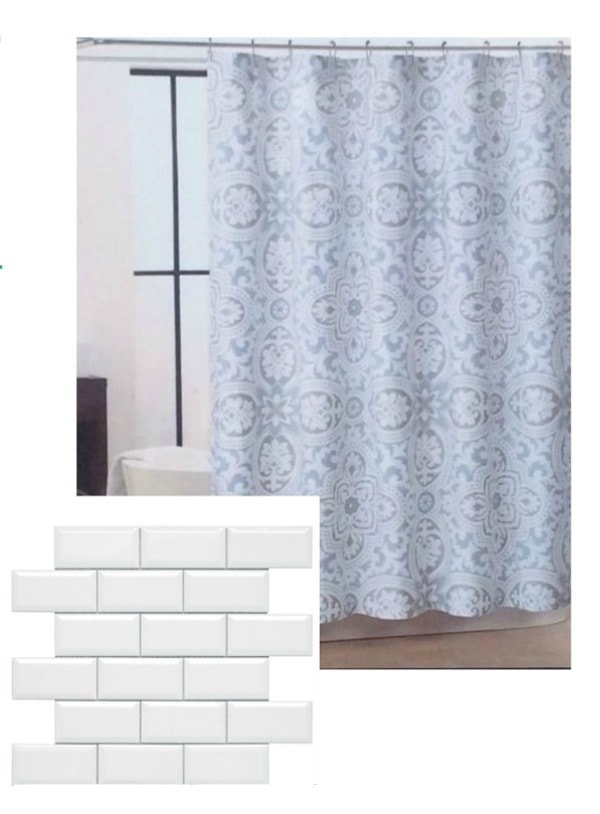 Our current bathtub is a pukey yellow model with matching pukey yellow tile, so replacing it with a nice clean, white bathtub is definitely a priority.  I also want to replace the tile surround with something very clean and fresh and you really just can't go wrong with classic white subway tile.  We already have a shower curtain almost exactly like this one and I love the subtle pattern and color.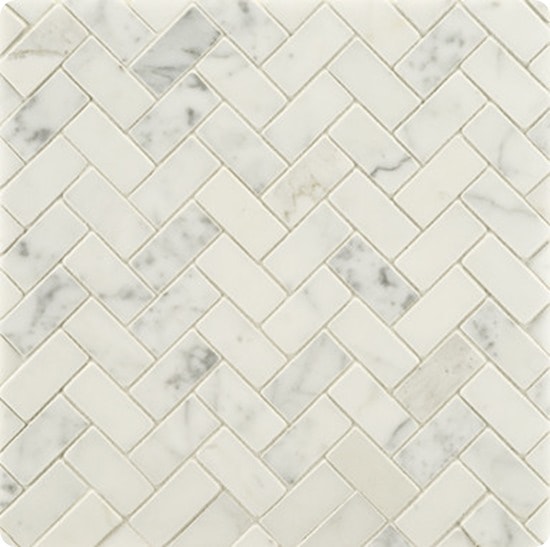 And the flooring is definitely being replace since water damage to the floor is what set this whole thing in motion.  I would love to add tile that looks like marble and I think herringbone floors are absolutely gorgeous.  Of course, if that ends up putting the budget over the top, I may just try to get a similar look using peel and stick tiles.

And finally, we have to have somewhere to hang our towels.  This guy already received a bit of an update which I will be sharing soon.
So that's the plan!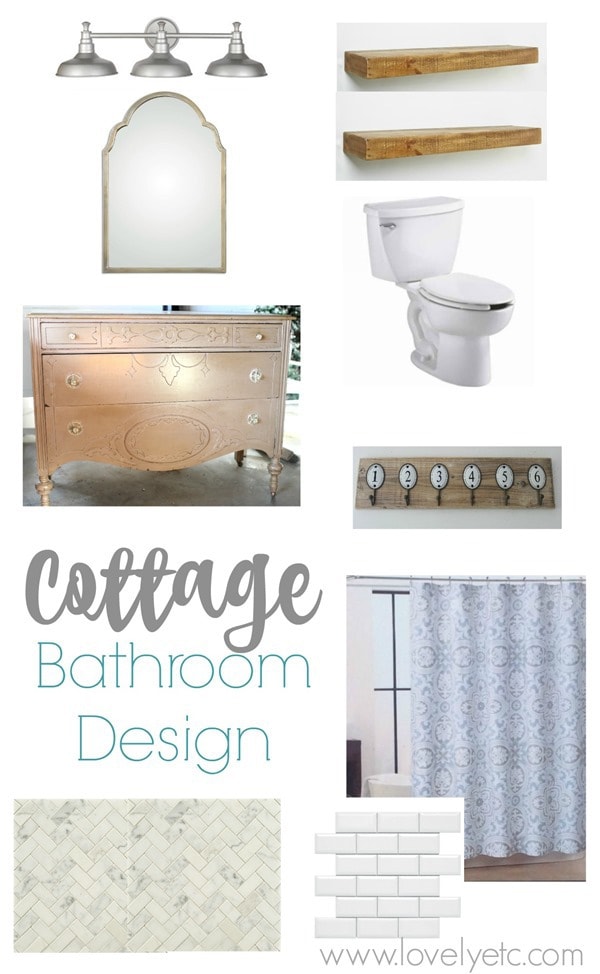 I'm excited to get started.  But I am way more excited to get finished and enjoy it!