Every month I look forward to getting a little more personal and sharing some of my favorite finds, new obsessions, and best memories of the month.  (Ok, so this is only the second month, but I have totally been looking forward to it all month!)
September has been a wonderful month for us here at the Lovely Etc. house.  We took a whirlwind family trip to the beach, I'm making tons of progress on my kitchen redo, and baby Asher finally took his first steps this week.  (Go Asher!)  Keep reading to find out what else captured my attention this month.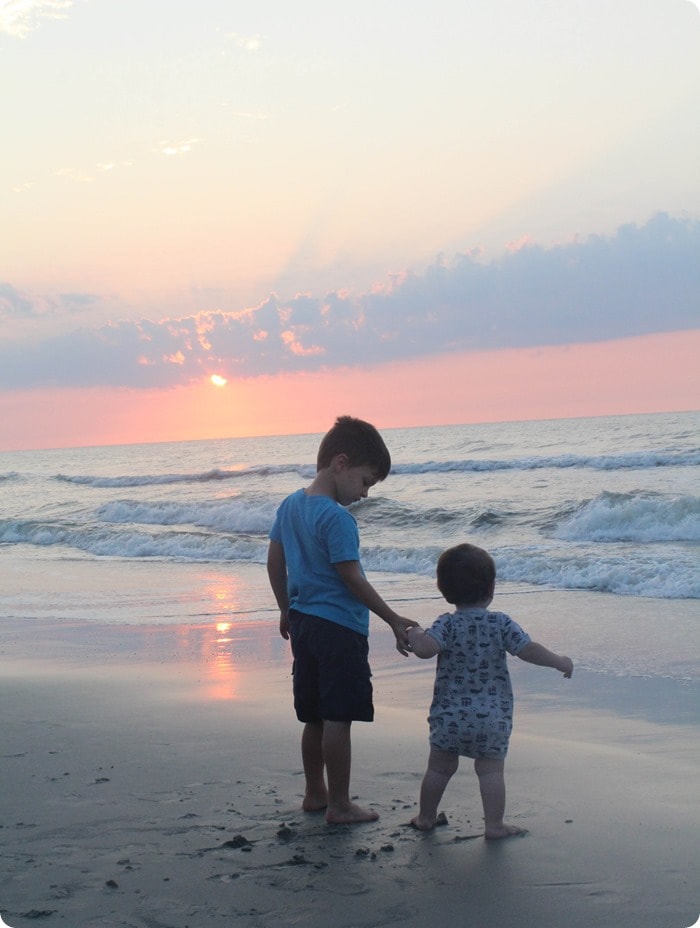 (This post may contain affiliate links.  See my full disclosure here.)
Painting: I am always painting something and right now it is my countertops.  Before I started painting, I was obsessing about whether I wanted to paint them to look like carrara marble or river white granite.  Seriously.  Then I realized that was crazy and I would be lucky for them to end up looking like either.  So far so good!
Buying: This coffee table for our family room.  Yes, the family room update I started back in the spring is still slowly rolling along.  We've never had a coffee table in our family room before because I thought it would be better to have the floor space open for the kids.  But so far I am loving it; I think having less open floor space is actually helping limit how many toys end up in the floor.
Wondering: how my new navy fireplace is going to jive with my red and aqua Christmas décor.  I know, I know, it's only September.  But I don't really decorate for fall so I am already dreaming about Christmas  It may be time to try the Christmas tree in a new spot this year.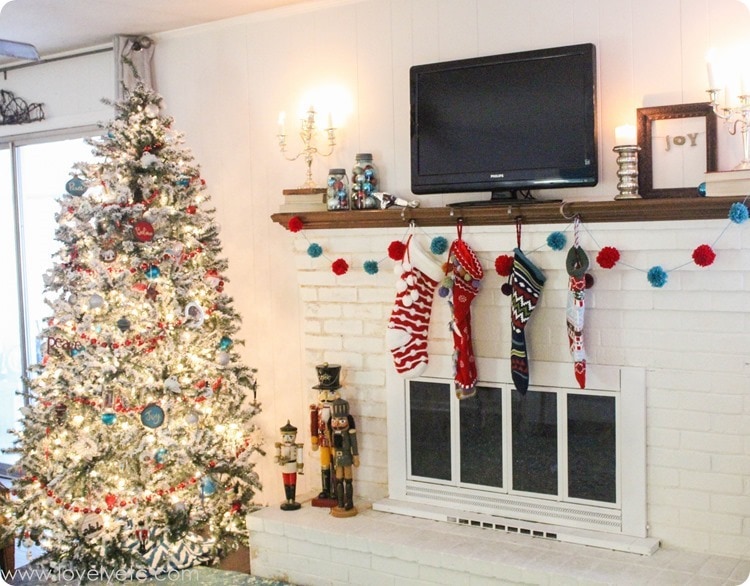 Reading: I've been reading plenty of good fiction again this month. (It keeps me sane.)  My favorites for the month:
Miss Peregrine's Home for Peculiar Children   I wasn't really sure what to expect from this one but it was excellent.  Very suspenseful in the best way.  I'm looking forward to the movie that is about to come out, hopefully it does the book justice.
Eight Hundred Grapes This was on Modern Mrs. Darcy's Summer Reading List and I almost always trust her recommendations.  And she was right – it's funny, it's serious, it's got family drama, romance, everything a good story needs.
The Summer of Good Intentions  This novel is the kind of book I absolutely love – somewhere right in between chick lit and serious literature.  The story deals with serious topics without being heavy.
Exploring: New York City!  As you read this I am checking out New York with some of my best friends from college!  I was chosen by Better Homes and Gardens magazine as one of this year's Stylemakers which means I get to attend a super cool event in NYC this week.  And meet Padma from Top Chef.  Eeek!  So it seemed like the perfect time for a girls weekend.  I'm not really a big city kind of girl but I'm looking forward to getting outside of my comfort zone.  (Also, eating real New York pizza.  Woohoo!)
Watching: This is Us.  Did you watch the premiere?  So good!  I loved it – it reminded me of the show Parenthood which I also super loved.
Pining: for a new couch.  I found a great white leather couch on Craigslist last year.  It has been fabulous, but I am longing for the day I can just buy the exact couch I really want without worrying about finding the deal of the century.  (This one would be amazing!) In the meantime, I have a plan to make my current couch a bit less modern and a bit more me.
Going: to as many pumpkin patches, corn mazes, and fall festivals as we can fit in.  I am not a fan of winter and I want to enjoy the outdoors as much as possible while we still can!
Finishing: our Summer list.  So technically summer is well and truly over.  And we did really well with checking things off our Summer fun list this year, but there are a couple of lingering things I still want to do while the weather is nice.  We are still one waterfall away from our goal of seeing five and we also haven't finished all the hikes we wanted to.  Luckily, we live only in the Blue Ridge Mountains and this is a gorgeous time of year for a hike.
Embracing: fall.  I'm not really a fall girl.  I'm too practical to buy mounds of pumpkins to decorate my porch and I don't care about pumpkin spice or chai lattes and all that.  But this year, I'm intentionally celebrating the parts of fall that I do love.  The crisp air once the humidity finally breaks.  The sound of the wind in the leaves.  And the gorgeous, gorgeous leaves against the deep blue sky.
This is one of my favorite fall photos.  Its a photo I took a few years ago using a combination of my digital camera and one of my vintage cameras in a process called TTV.
Here's to a wonderful October!  I'd love to know what is happening with you currently.  What's putting a smile on your face this month?