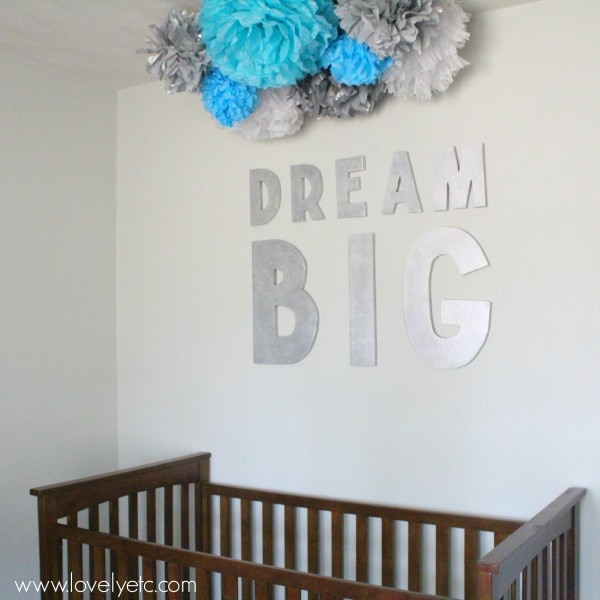 I'm sure most of us have seen the incredibly fantastic zinc letters you can buy at Anthropologie by now. They are perfection – especially the huge, oversized version. And they have the perfect industrial vibe to add a touch of manliness to the nursery. The only problem – the price. $18 each for the 8 inch tall version, $98 for the oversized 25 inch ones.
I have found many tutorials for easy DIY versions of these letters on Pinterest but I just wasn't completely sold on the results.
In my opinion there are three things that make the original letters exceptionally great.
The huge size.
The font.
The zinc finish.
Many of the DIY tutorials I found were great at reproducing that beautiful zinc finish. But they all began by using paper mache letters from Hobby Lobby that were much smaller than the Anthropologie letters and in a much less snazzy font.
That may seem like a minor detail but I have come to realize that the things that separate a good DIY project from an amazing one are the little details like the right paint shade or the perfect font.
So I decided to make my own DIY version of Anthropologie's zinc letters starting from scratch.

After exploring some different font options, I decided my favorite was the same font as the Antro letters.
(Warning: very low tech explanation ahead). Using the program Paint, I copied and pasted the letters I needed from their website and then blew them up to the size I wanted. I printed out all the letters – the larger ones took multiple pieces of paper so I taped those together to make my template. Then I used this simple pencil transfer trick to get the letter template onto my wood.
I started with a piece of 3/4 inch thick birch plywood from Lowes. I went with the birch plywood because the surface is so smooth. I cut the letters out with my little jigsaw.
Sidenote – if you are scared to use a jigsaw, don't be. This was only my second time using a jigsaw (this was the first) and it went really great. I love having the freedom to cut out any shape I want. If you've never used a jigsaw before, you should practice on some scrap wood before beginning a major project. And of course you should take proper safety precautions.
The trickiest part is cutting the little holes out of some of the letters. First, you need to drill a hole to make a starting place for your saw blade. Then slowly cut out small bits until you have cut out the entire section you need.
As you can see, I cut my letters backwards. I found the when cutting plywood with a jigsaw, the underside cuts much more cleanly than the top layer. (I have no idea why this is or if it is just a problem I have because I am a novice – if you know, fill me in please).
After cutting out each letter, fill in any chips with wood filler and sand all of the edges.
Finally, it was time for the faux zinc finish. I had read that a pearl finish paint produces a really great metallic finish. I also had a few different metallic paints on hand so I did a little test run first.
I have to agree – I like the look of the pearl finish most of all so that is what I used.
I started with a base coat of black gesso. (You could use black primer as well but I had gesso on hand already). Then using a chip brush, dry brush two light, uneven coats of the pearl pant. Finally, I mixed a little of the pearl paint with some DecoArt glazing medium and very lightly wiped it on with a rag. You could probably skip this last step but I like how it made the whole thing look a little more unified.
And this is what I ended up with…

I can't show a picture of the letters on the wall just yet, because I am still finalizing the placement of things in the nursery. But I can't wait to get these things hung. I know that it is very tough to tell the scale of these letters from this pic but the smaller letters are 8 inches tall and the BIG letters are 18 inches high.
***Update! Here is a picture of the letters on the wall above the crib. And if you are interested, you can check out the whole nursery (Which was less than $400 including furniture!) here.****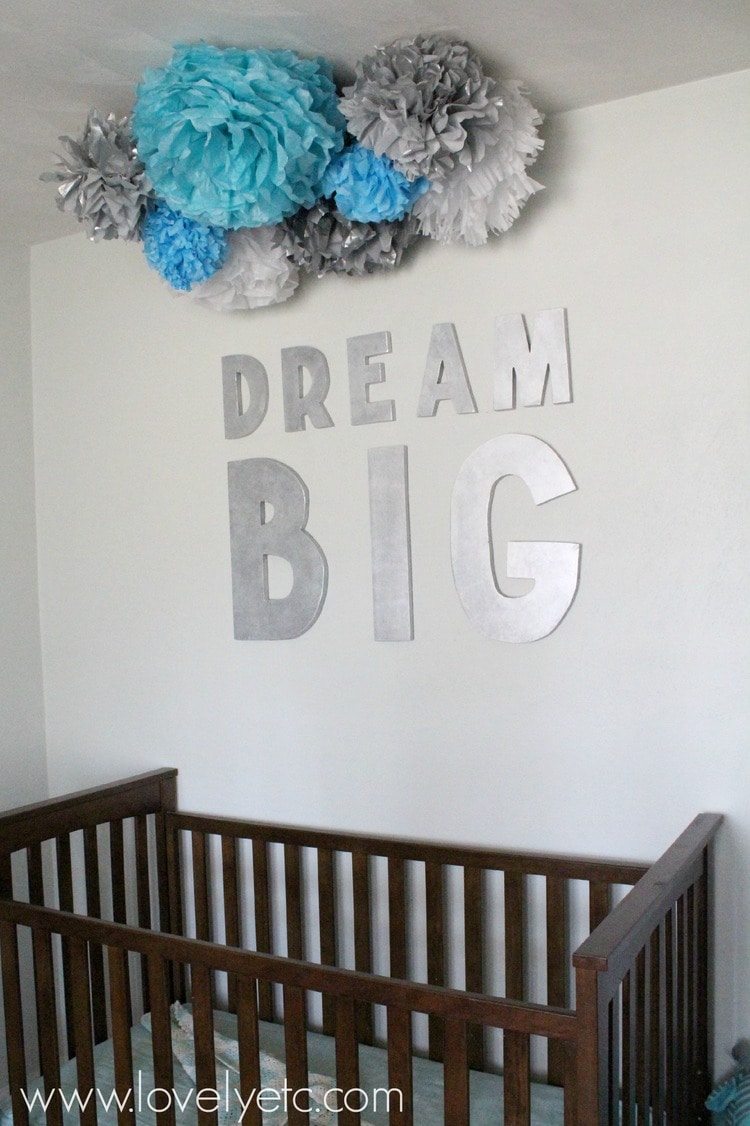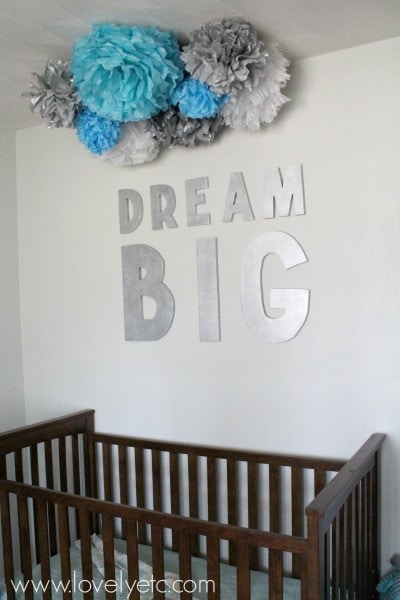 So what do you think? Have you ever tried cutting out your own wood letters? Would you? And if you are a jigsaw genius – do you know how to solve that problem with the top side of the plywood being much rougher than the underside?