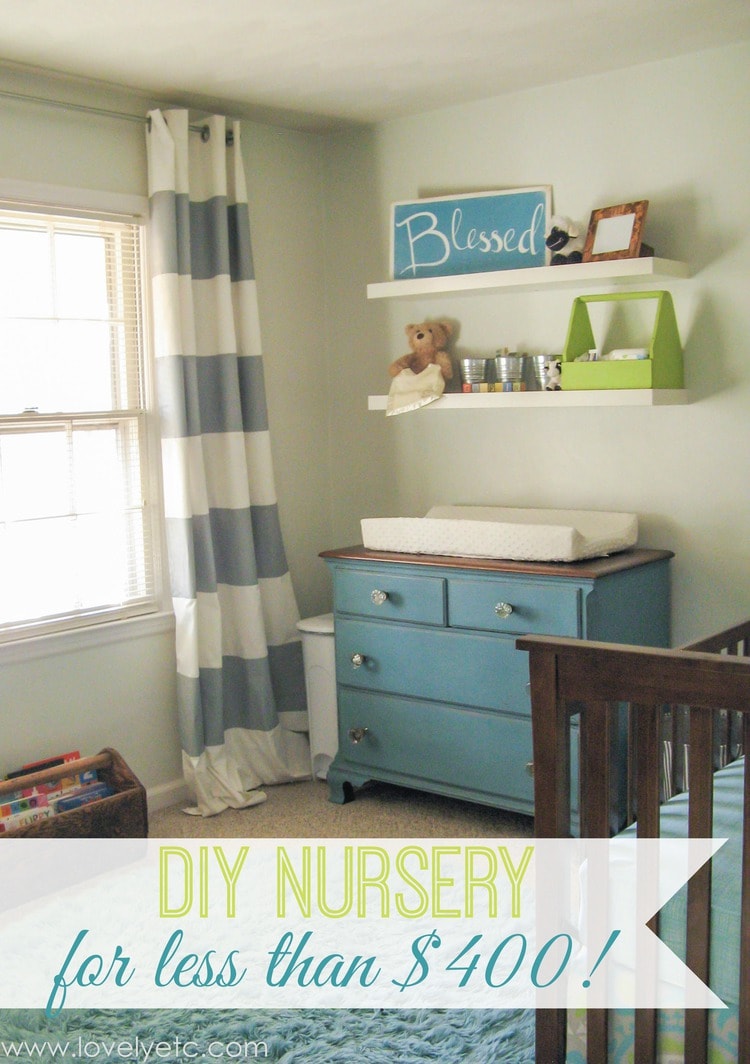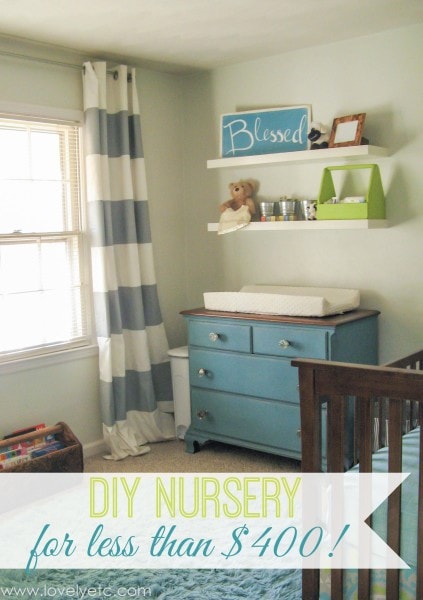 A couple of months ago, I shared the DIY/vintage nursery I created for my son. In that reveal I promised to be back soon to share my total cost, tutorials, and budget. But then it turned out little Griffin was ready to make an early appearance the next day and I never got around to following up.
It turns out taking care of a newborn doesn't leave lots of time or brain cells for blogging. BUT, now that the little guy is eight weeks old and (slept 8 hours straight two nights in a row!!) I think I am finally ready to share all of the details of his little aqua and gray nursery.
First some before and after pics. As I shared last summer, this room used to be my craft room/office. Which in real life meant that it was packed to the brim with all kinds of craft supplies, home décor, and other random stuff I might use one day.
Before and After
A major improvement for sure! This nursery was a major accomplishment for me – because so much of it was DIYed, because I actually completed it in a timely fashion, and because it was all done on a MAJOR budget. After clearing all of the junk out, the only things left in the room to be used in the nursery were a small bookcase that I moved into the closet and a sign I had previously painted.
Which means this room makeover started pretty much from scratch. Prepare to be amazed…
Nursery Sources and Costs
Crib – I was lucky enough to win the crib and crib mattress from a giveaway at Young House Love a few years ago. free
Crib sheet – DIY using this tutorial, $12 for fabric
Crib skirt – DIY, $15 for fabric
Dresser – a free hand me down from a lovely blog reader, I painted it and replaced the hardware with vintage glass doorknobs I found at a yard sale last year for ten bucks, $10
Floating shelves – Lack shelves from Ikea, $28
Dream Big Letters – DIY – tutorial here, $20 for wood and paint
Tissue paper poms – decorations from my baby shower, free
Striped hamper – TJ Maxx, $12
Blessed sign – DIY with materials on hand, free
Green toolbox – yard sale find that I painted, $3
All other accessories were already owned, free
Bookcase – a hand me down from a friend who was moving that I painted. free
Glider – I found the glider on Craigslist and reupholstered it. The fabric was ultra cheap because I used some curtains I found on clearance and dyed. $50
Chevron throw – TJ Maxx, $20
Gallery Wall – frames from Michaels, all artwork free, $42 for frames
Side table – Antique store find I painted white, $30
Lamp and pillow – already owned, free
Striped Curtains – white Ikea panels that I painted stripes on, $50
Curtain hardware – a DIY using basic supplies from the hardware store, $46
Rug – originally from Pottery Barn teen, I bought it at a consignment sale, $25
Vintage toolbox holding books – found at antique store, $10
Grand total for the entire room– $373
If you ask me, that is an amazing budget for an entire room of furniture and accessories. Admittedly I did get very lucky with the free crib. But a lot of people pay more for a nursery glider than I paid for a fully accessorized room so I still feel pretty proud of myself.
(I am also proud that I finally got this post finished! And for now, my plan is to post at least once a week so be on the lookout for more to come.)
So what do you think? Anyone else out there have some super cheap redos under their belt? I'd love to hear how you did it.