Isn't it ironic that the room where we spend the vast majority of our day is one of the last rooms to really get any attention?  I've shared my family room here very little.  To be honest, I just don't really like it.  I really only share photos of it at Christmas, when all of the Christmas decorations make everything look so much brighter and prettier.
But, finally, finally, the family room is getting some love.  I'm participating in the One Room Challenge hosted by Calling it Home.  The One Room Challenge is pretty much exactly what it sounds like – a challenge to get one room in your home completely finished.  In only six weeks.  Crazy. Especially since I am still working away on our bathroom reno, which is eating up lots of time along with pretty much all of my home decorating budget.
I almost decided it was crazy to even attempt and I would just get the family room whipped into shape on my own time.
But I've learned something about myself over the past few months.  As much as they can stress me out, deadlines really help me get stuff done.  And since I really want to get the family room done, a deadline sounds like the perfect motivation.
I would love to take the easy route and go out and buy all new furniture and get all new lighting and replace the paneling with drywall, etc.  But that just isn't going to happen, so instead, I'm going to get creative, use what we've got, and do some major yard sale shopping and DIYing to make a fun, happy room that my family can really enjoy on the tiniest of budgets – less than $300.  Yikes!  It's going to be tricky but I am definitely up for the challenge.
Here's what we've got going on right now.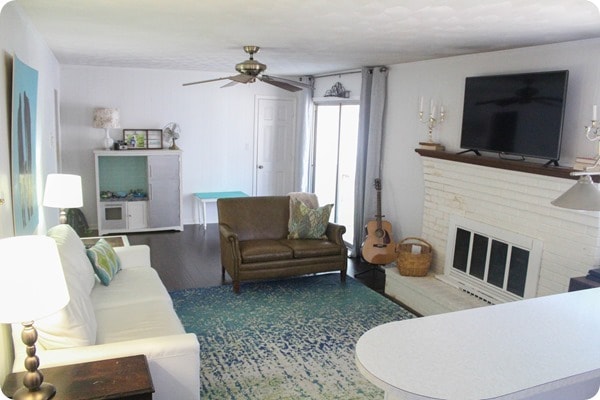 It truly isn't horrible.  But nothing actually goes together.  It just feels like a bunch of random furniture has been placed in a room together with tons of toys and an awesome rug.  (Which, yes, is pretty much exactly what happened!)
The Furniture
Right now we are rocking a real mish-mash of furniture.  Everything is a piece that I think has tons of potential.  But none of it is quite right and none of it goes together even a little bit.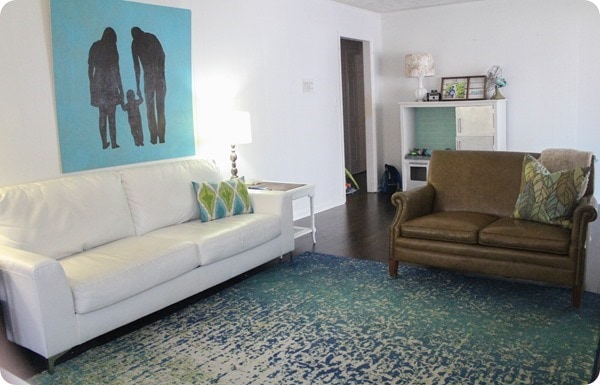 The white leather sofa was a great Craigslist find and will probably be staying because I love that it helps lighten up the room but is also super easy to clean.  Those ultra-modern metal legs, however, have got to go.  Not my style at all.
There is also this cute little tan leather loveseat.  I love this little piece –especially the nailhead trim and it is also super easy to clean and virtually indestructable. It just doesn't happen to go with the white sofa.  At all.  So this may need to be relocated to another room and replaced with something else.  We already own a few chairs that might work and of course I'll also be on the lookout for a great deal on Craigslist and at yard sales.
The two end tables – one is kind of a wreck that really needs to either be painted or tossed.  (And by tossed, I of course mean donated.  You know I'm not going to throw away perfectly good furniture!)  The other is a super cute little table that I fixed up a few years ago with this sweet little plywood insert.  It is an awesome table, but my style has definitely changed a bit over the past few years and I would love to update it.
The Fireplace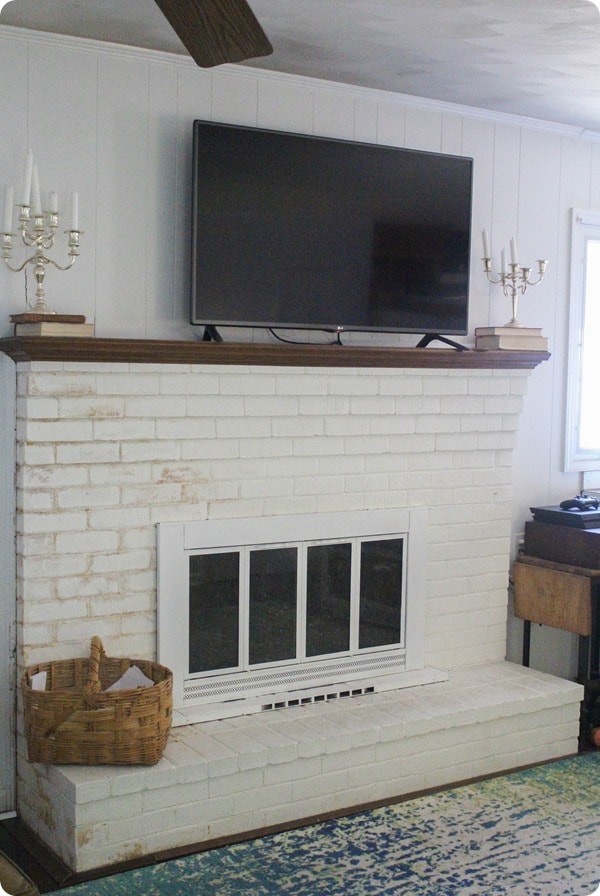 I love that there is a fireplace in the family room.  And while it isn't my most favorite style of fireplace, it also isn't terrible.  But, I have an idea to make it a gorgeous focal point. I'm going to let it be a surprise for now – but here's hoping it works out!
And then there's that huge TV -it is gigantic and not exactly my idea of beautiful mantel décor. (Which is why I kind of phoned in the rest of the mantel.)  But the TV isn't going anywhere, so the plan is to make it less horrible.  I'd love to mount the TV on the wall and build a simple wood frame around it.
The bookshelves
These little built-in bookshelves under the kitchen peninsula are pretty handy for keeping toys off the floor.  But, if you look closely, they really don't look finished.  These are actually just kitchen cabinets without doors – and it shows. A new backing and a little molding will go a long way toward making these actually look like they were meant to be bookshelves.
Also, all those toys.  They never look neat and tidy.  Ever. Some matching bins or baskets will do a lot to tidy up this corner.
The sliding doors
The sliding doors are awesome because they lead onto our fabulous screened in porch and they let in tons of light.  Unfortunately, they are incredibly dated and ugly.  New doors definitely aren't in the budget, but I've got a few ideas for updating these with some paint and some hardware.
The lighting
The lighting in this room is hideous.  There is no overhead light – just a really ugly ceiling fan that is very awkwardly placed in the center of the room.  Instead the light switches turn on an outlet.  The room feels perpetually dark and that horrible ceiling fan makes the whole room uglier by association!  I would love to get an electrician to do some reconfiguring in here, but since that is outside of our budget and time limit right now, I may have to settle for ditching the ugly fan.
The walls
Currently, the only thing on the walls in this room is our huge family silhouette hanging over the couch. And yes, it is completely off-center. Originally I was going to add some more things around it…but that never happened.  Some rearranging and new art pieces definitely need to happen in here.
Whew, I feel excited and overwhelmed all at once!  Here's to getting stuff done!
You can check out all of the other bloggers joining in as guest participants in the one room challenge here.