I think I may be physically incapable of entering a Target store without scoping out every single thing in the Dollar Spot. Anyway, I typically find super cute stuff there that I almost love, but just isn't quite right. One of my recent finds was a stack of scripty words spelling home, grow, and relax in bright neon colors.
The words were adorable, but the colors definitely weren't for me. So I grabbed a couple and gave them a quick little makeover and now they are absolutely gorgeous. (If you didn't happen to grab any, don't worry. I've noticed they tend to have very similar words cycle through every couple of months so just snag some next time.)
I used one of my favorite tricks for giving absolutely anything that gorgeous vintage farmhouse style. And yes, I mean anything – plastic, metal, doesn't matter. Anything works because this is a special way to distress things that requires zero sanding. Woo-hoo!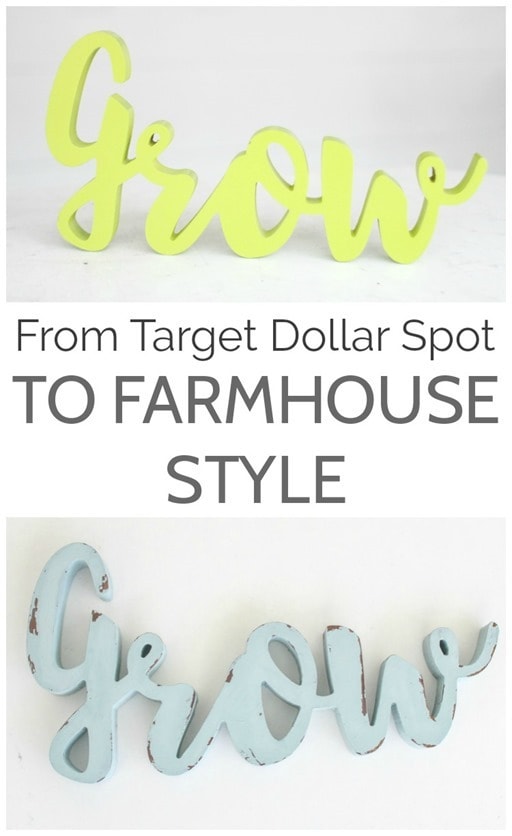 This post contains affiliate links which means if you make a purchase after clicking a link I will earn a small commission but it won't cost you a penny more. Click here to see my full disclosure policy
First though, did you know the Target Dollar Spot is technically called Bullseye's Playground now? To me, it will always be the Dollar Spot. Even though almost nothing is a dollar anymore.
Materials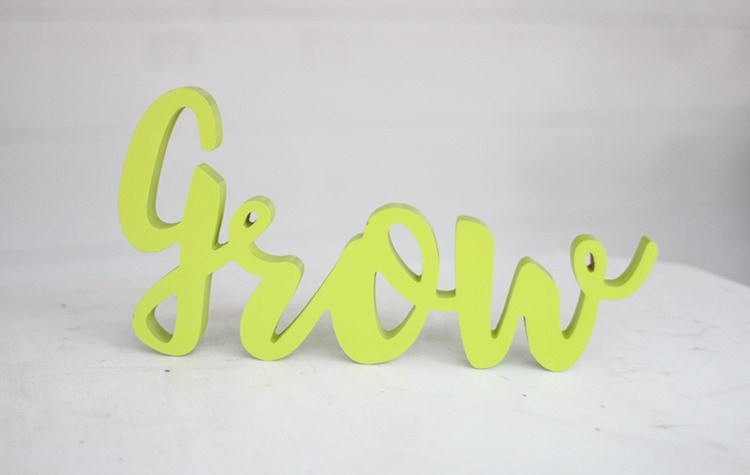 I started out with this cute little lime green grow sign. First step is to pain the whole thing dark brown. Acrylic craft paints are perfect for this and they're usually only a dollar or so for a bottle.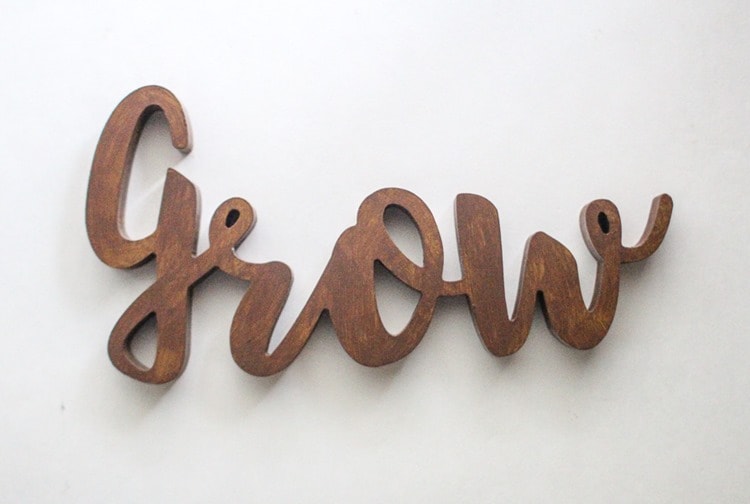 This brown layer is only going to show a tiny bit so you really don't have to worry too much about getting a perfectly even coat of paint. One to two coats should be plenty. Once the brown paint is dry, use your finger to rub a little petroleum jelly anywhere you want the brown to show through.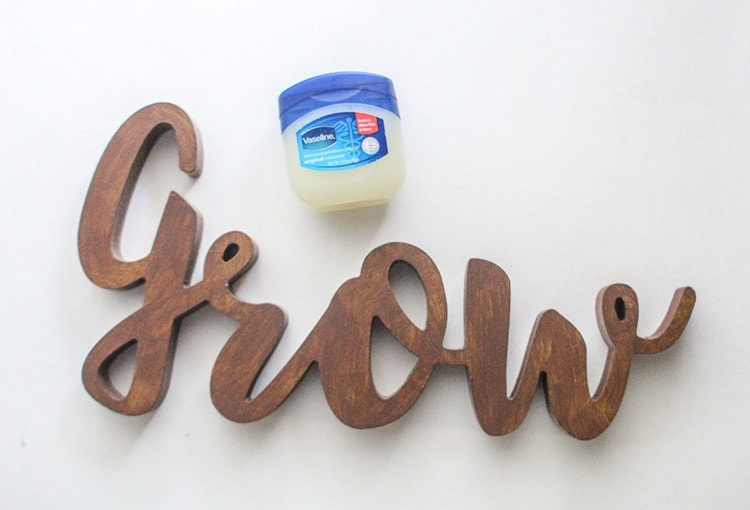 These will be the spots that look chippy or distressed so focus the most on the corners and edges where old paint would naturally chip off. You can add as much or as little as you want based on how chipped you want the final piece to look.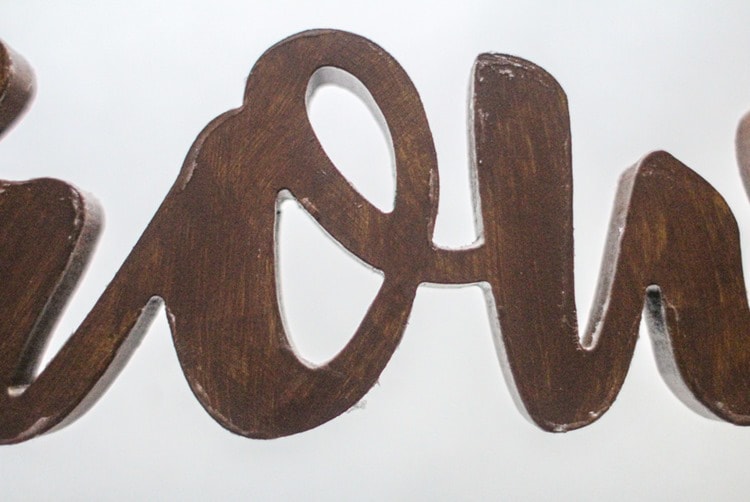 Then paint the entire thing whatever color paint you have chosen. I used DecoArt Chalky Finish paint in the color vintage because I had it on hand and it's a gorgeous color. You absolutely don't have to use chalk paint for this though – craft paint will work just as well. You're going to paint the entire thing, petroleum jelly and all.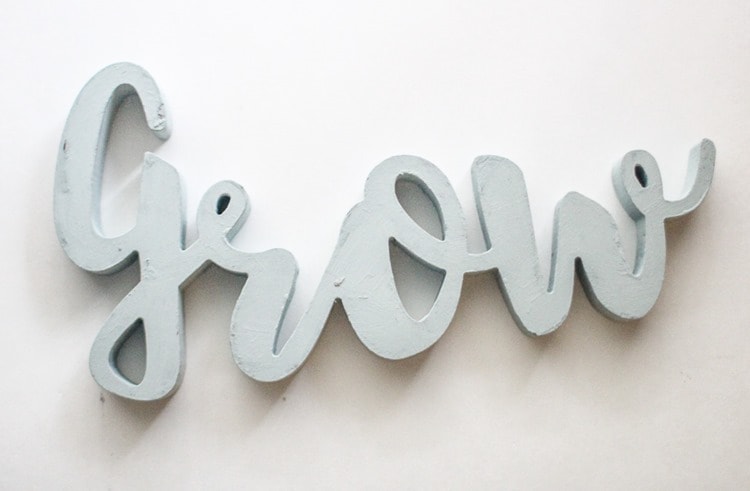 Let it dry and then add one final coat. Then grab a damp paper towel and gently rub all along the edges. The paint that is over the petroleum jelly will rub right off, revealing the brown layer beneath.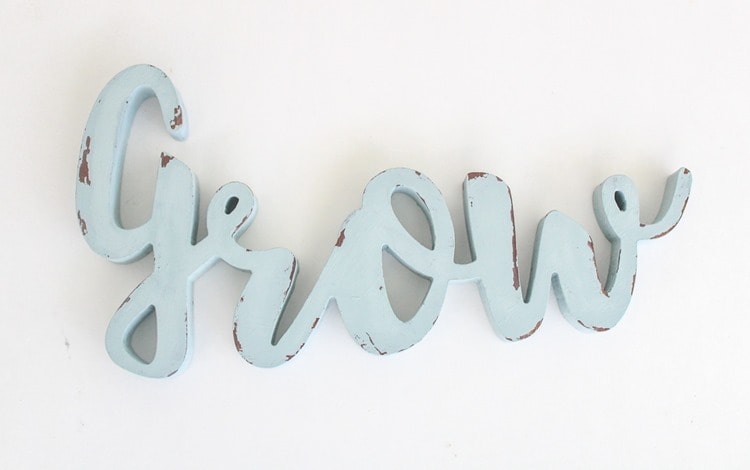 Now that's more like it! You would never know this cute little sign was neon green just an hour ago!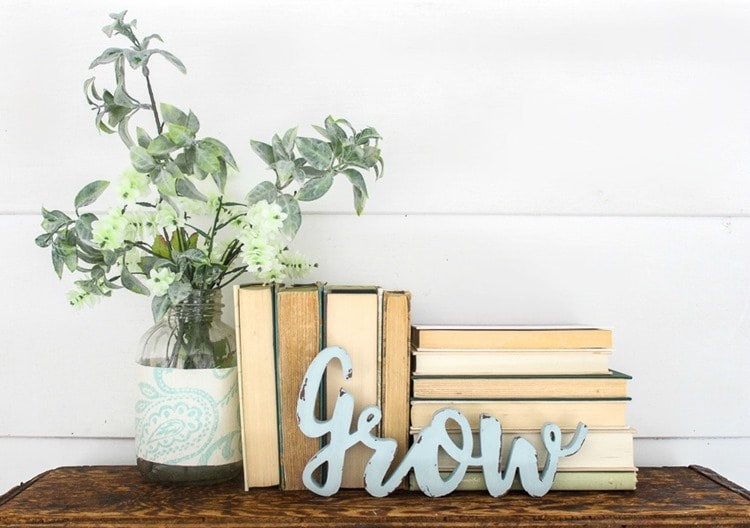 I absolutely love the idea of sticking this little grow sign next to an herb garden or row of flower pots. And I also think it would be perfect in a child's room or nursery.
And that's it – 30 minutes and 5 bucks and you have an adorable sign.
Like it? Don't Forget to Pin It!