Way back in January when the year was all shiny and new, I shared my goals for this year.  I declared this the year of dreaming big and finally finishing some rooms!
Now that we are very nearly halfway through the year, it seems like the perfect time to check in and see if I'm making any of those big dreams a reality.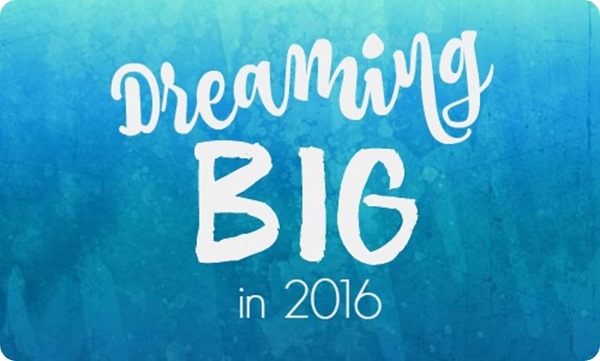 The Guest Bathroom
This was a big one.  The bathroom absolutely had to get a total overhaul thanks to some corroded pipes that were leaking water inside the walls.  Yuck.  Bathrooms are a pretty big deal so this project has definitely been dragging on for way too long.  If you've never tiled a bathroom on your own, the main thing to know is it will take at least fifteen times longer than you imagined.  Seriously.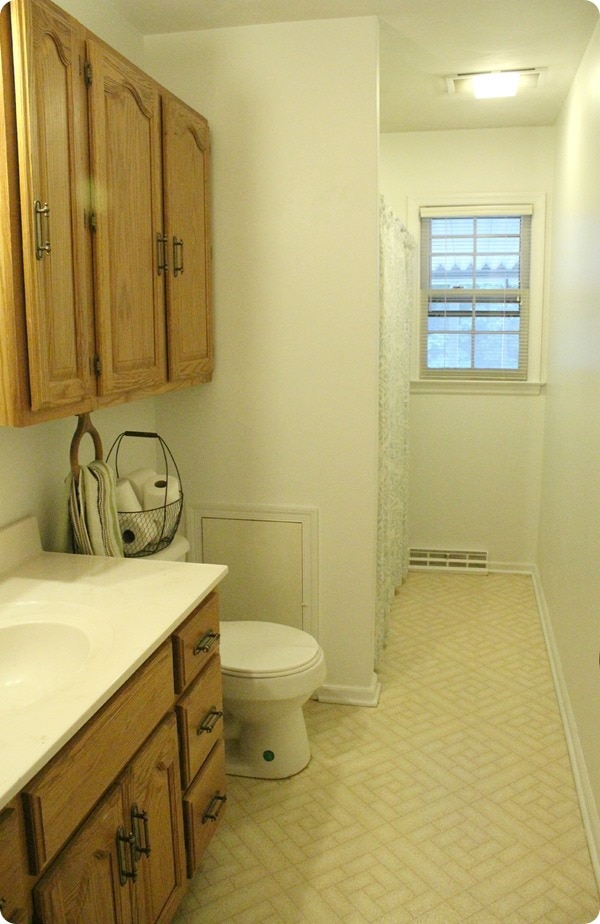 before
But even though I am slow as molasses, this room is actually coming along quite nicely.  There's still painting and accessorizing to be done, but things are looking pretty great. (Especially compared to the before!)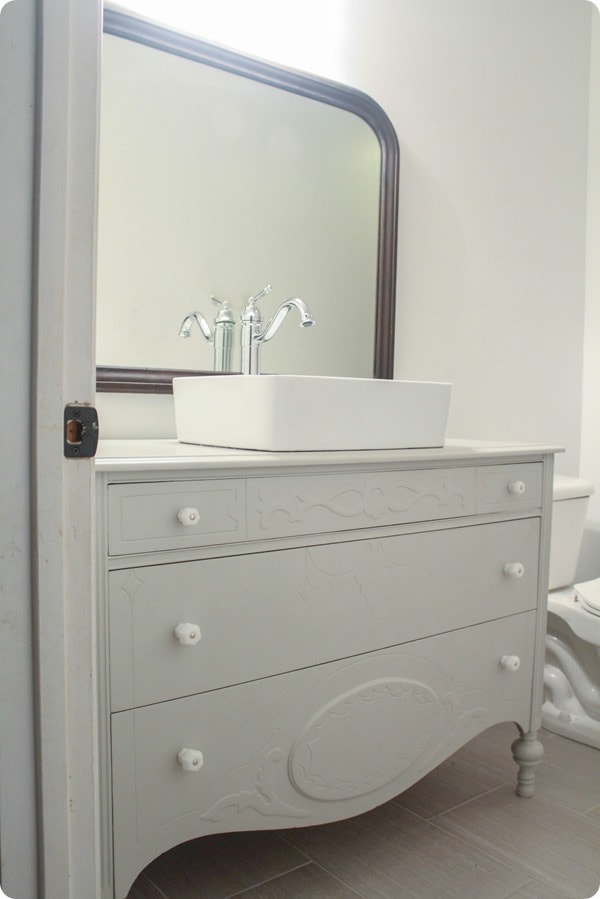 progress
The Kitchen
Oh the kitchen.  Despite the fact I have been meaning to tackle this kitchen since 2012 (Yep, that's right, FOUR YEARS!), it just never seems to make it to the top of the to do list.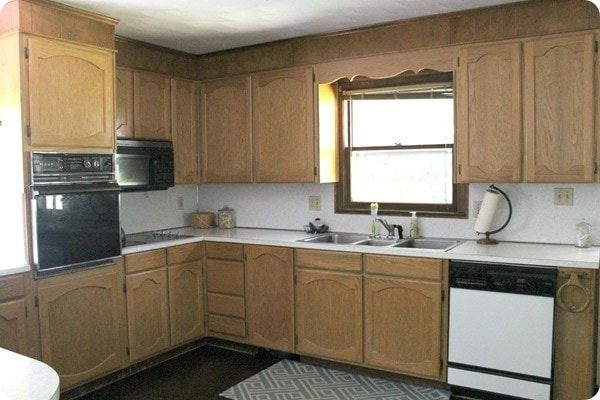 Sadly, the kitchen still currently looks pretty much just like this.  But I am itching to start painting those cabinets and as soon as I wrap things up in the bathroom, this kitchen will be getting a major facelift.
The Family Room and Living Room
Even though our house isn't that big, we are lucky enough to have two roomy common spaces. There is a living room at the front of the house that is attached to the dining room and a family room right behind it that is connected to the kitchen.  I've done tons of projects in these rooms over the years, but they just never felt truly put together.
The living room most recently got a fresh update with a new rug and some new art.  With all of that and the new upcycled light that I can't wait to show you next week, I am officially declaring this room done.  Woo-hoo!  There is about a 100% chance I will still be doing some tinkering around in here, but there nothing major that has to happen.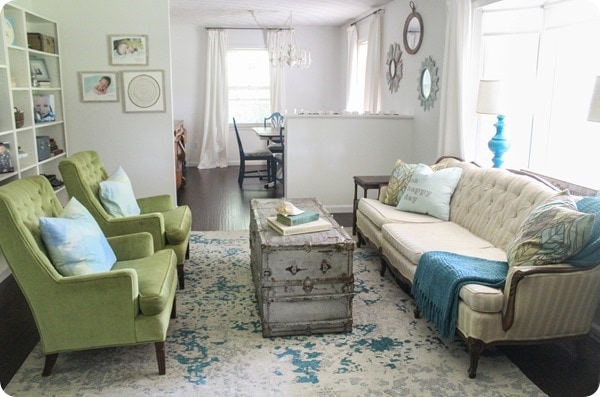 living room
The family room is coming along slowly, but I am loving what is happening in there so far.  I've painted the sliding door, rearranged the furniture, mounted the TV, painted the fireplace, and begun adding some art to the walls.  And it is so very much better than ever before.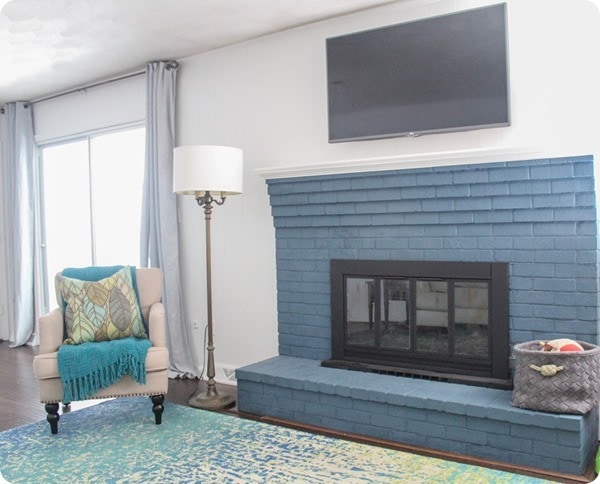 family room
Of course, the other side of the room looks like this.  White, bare, and bland.  Baby steps.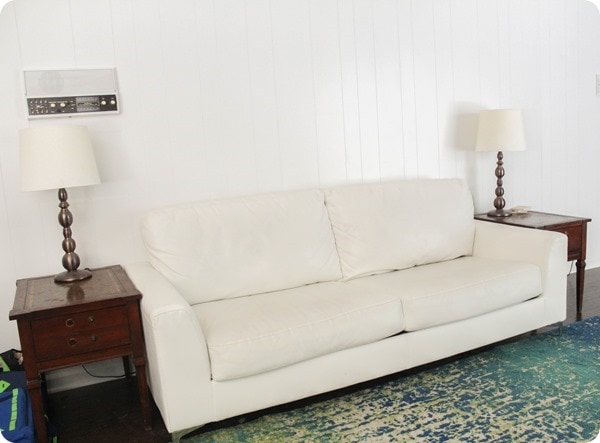 The Dining Room
I threw this one in to give myself an easy win.  All the heavy lifting was already done – new floors, new lighting, most of the furniture was already in place.  All it needed was a few finishing touches.  I reupholstered a settee to finish off the furniture and now I just need to add some more color and life to the room.  This one is definitely on track to be finished this year.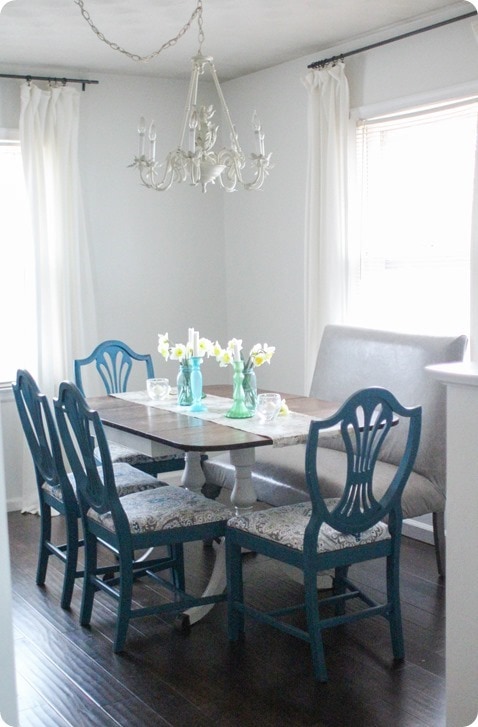 So of the five rooms that were on my to-do list, one is finished and three are in progress.  Things are moving right along.
Unfortunately, the other part of my goal was to actually focus on finishing one room at a time instead of just jumping from one project to the next.  On that front, I most definitely have not been successful.  (As evidenced by the three rooms in progress).
It's something to work on, but hey, I'm just happy to be checking things off the list for once!
Did you make goals for the year too?  How are they going so far?