here
!)
I am super excited about the first ornament I made to share with you all. But first let me make a little confession. Coming up with 12 different handmade ornament ideas is hard! I have this need for everything I make to be meaningful and personal and beautiful or at the very least totally clever! So just know, I have been really taxing my brain over here – and loving it! And I'm pretty thrilled with the ornaments I have to share with you over the next two weeks.
Gold Silhouette Ornament
I kind of have a thing for tree slices lately. (Yeah, you will probably see a few of these babies in the next twelve days. Fair warning.) And I definitely have a thing for silhouettes. (Especially silhouettes of cute chubby little baby faces.) Throw in a little gold leaf and seriously what's not to love!
This ornament was quick and easy to make (as a good ornament should be!)
Materials
Tree slice (I got mine at Michaels all ready to go but you could also cut your own)
photo of your choice
liquid gold leaf
paintbrush
eye hook
First I took a photo of my son that showed a pretty straight on profile and cropped out the unnecessary parts. I printed it out on my computer. (For me printing it as a 'wallet' size photo worked perfectly. You may have to play around a little with the size of your photo to get it just right for your tree slice.)
I used my favorite old school pencil technique to transfer the photo onto the wood slice.
Using a very small brush, I brushed gold paint into my silhouette. You need to use some sort of paint or primer prior to using liquid gold leaf. You can use any color, but I had some gold craft paint on hand so I used that. I figured if it looked amazing, I would skip the liquid leaf altogether. It looked fine but definitely not amazing. The liquid leaf really does make a huge difference!
Once the paint has dried, paint back over it using the liquid leaf. Allow it to dry and stick a small eye hook in the top. And you're ready to hang it up!
So shiny and beautiful!
In the interest of full disclosure, I've got to tell you, I also painted a reverse silhouette on the back because I wasn't sure which I would like better. I love the reverse silhouette – except it somehow looks vaguely like an alien to me. My brush slipped a little around the nose and there is a strange wood grain that looks sort of like a giant ear in the middle of his head… so I'm sticking with the regular, non-alien silhouette side!
Now I know you are going to definitely want to check out my fellow crafters' ornaments. There are some really creative ladies in this group! Check out the photos and links below.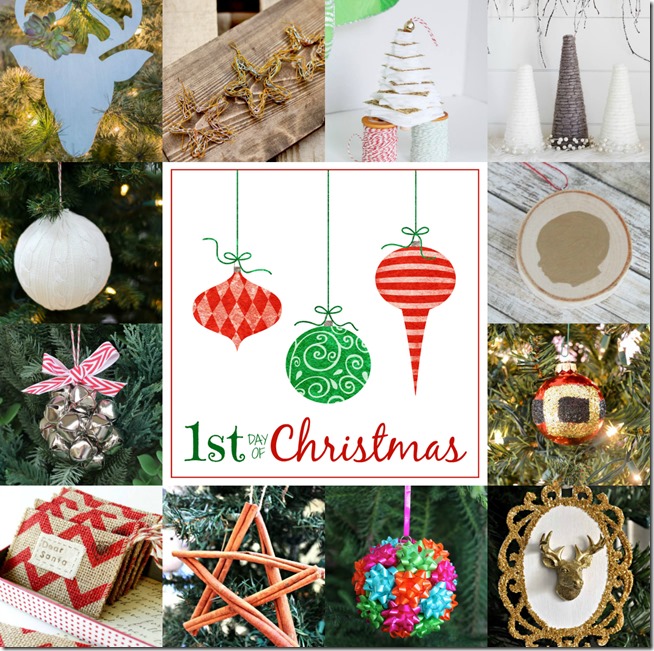 Modern Reindeer Succulent Ornament by Bigger Than The Three of Us
Gold and White Felt Christmas Tree Ornament by May Richer Fuller Be
Wire Star Ornaments by Cherished Bliss
Yarn Wrapped Christmas Trees by Thrifty & Chic
Sweater Ornaments by It All Started With Paint
Gold Silhouette Ornament by Lovely Etc.
DIY Jingle Bell Ornament by The Happier Homemaker
Santa Belt Ornament by Whats Ur Home Story
Dear Santa Letter Ornament by Remodelando la Casa
Cinnamon Star Ornament by Mom 4 Real
Mini Gift Bow Ornament by All Things G&D
Gold Reindeer Head Mount Ornament by Serendipity Refined
I want to give a huge thanks to Michael's Arts and Crafts for providing me a gift card to help purchase supplies for all my ornament making. For even more great Christmas inspiration, be sure to follow along with Michael's on Facebook, Pinterest, and Twitter!
Welcome to the 12 Days of Christmas! Now don't be disappointed, but there won't be any lords a leaping or maids a milking. What there will be is 12 awesome DIY bloggers sharing 12 handmade Christmas ornament ideas for 12 days! So if you have any thoughts about maybe adding a little homemade touch to your Christmas tree or your Christmas presents this year, you are in the right place. Over the next 12 days we are planning to knock you out with a grand total of 144 amazing DIY ornaments. (Update! You can now see all 12 days of ornament goodness right