This shop has been compensated by Collective Bias, Inc. and its advertiser. All opinions are mine alone. #MakeItMerrier #CollectiveBias
Christmas stockings are a big deal in our house. We had stockings when I was growing up, but it was more of an afterthought in our house. Not so in my husband's family. They were always his very favorite part of Christmas so now stockings play a huge part in our family Christmas. Big, stuffed stockings, which must be the very last thing opened on Christmas morning – the icing on the Christmas cake.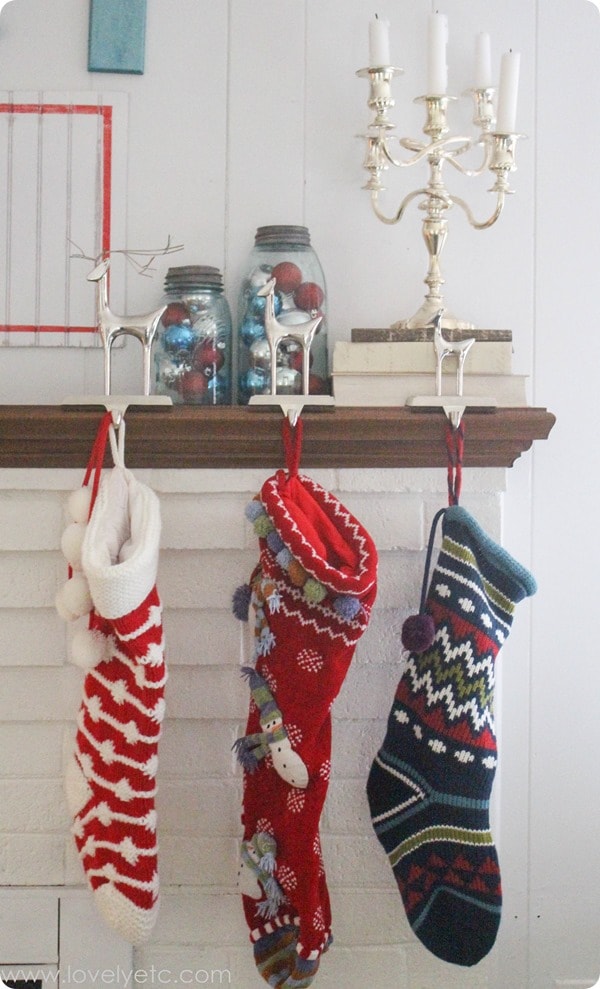 The first few years we were married, I really struggled with what to put in his stocking. It had to be good, it is his favorite part of Christmas after all. But men are so hard to choose gifts for! (If only Santa really did fill our stockings.) You can't get them cute little trinkets or jewelry or lotions. And to make matters worse, my husband doesn't particularly like candy. Crazy, right!
Over the years I've figured out a few stocking stuffers that he actually enjoys – nuts, beef jerky, underwear (because he never buys it for himself), gum. But the one thing that absolutely must be in his stocking every year is good coffee. He is a major coffee drinker and seeing coffee in his stocking seems to make him as happy as a big pile of chocolate makes me. So every year I find some really good coffee for him and after all of the presents and stockings have been opened, I have some Christmas chocolate for breakfast and he enjoys some yummy coffee. It's a quiet relaxing time when we can slow down and enjoy the day before the craziness of cooking and visiting family begins.
This year I decided to kick things up a notch.
So not only is he getting some delicious Starbucks coffee, he's also getting a new roomy coffee mug and a peppermint coffee scented candle. (What coffee fiend doesn't love the delicious smell of coffee!) Because I love handmade gifts, I decided to make the candle. It wasn't particularly difficult, but there are several important things to keep in mind. (Of course, I didn't figure those things out until I totally messed up the first candle so I made a second candle. And I'm going to share all of my tips with you guys so you don't make the same mistakes that I did.)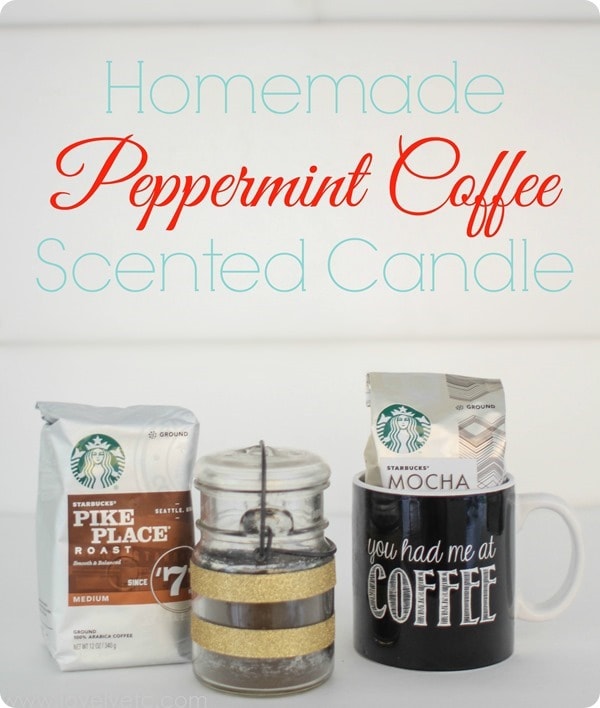 Before I share the materials, I just want to point out that you can buy candle making supplies that will include everything you need. But I chose to use things that I already had at home because I was only planning to make one candle. And, let's face it, it was just easier.
Materials needed for DIY Peppermint Coffee Scented Candle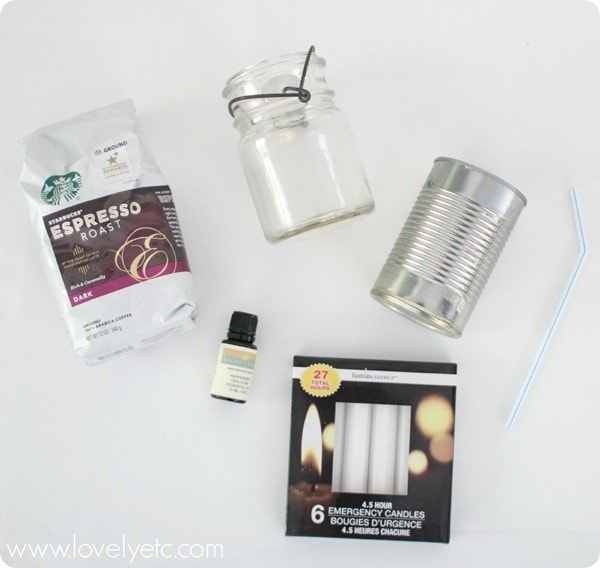 Candles to melt for wax – You can use old half melted candles you already own or buy some new candles at the dollar store. Either way, make sure they are unscented.
Candle with a wick – At least one candle needs to have an intact wick. I got a box of six emergency candles at the dollar store to make sure I had plenty of wicks in case I messed up. Which I did.
Clean can
Pot to boil water in
Strainer
Jar
Straw or clothespin
Peppermint oil (you can skip this if you just want a coffee scented candle)
Coffee – I picked up some Starbucks coffee at Walmart; lots of great choices there.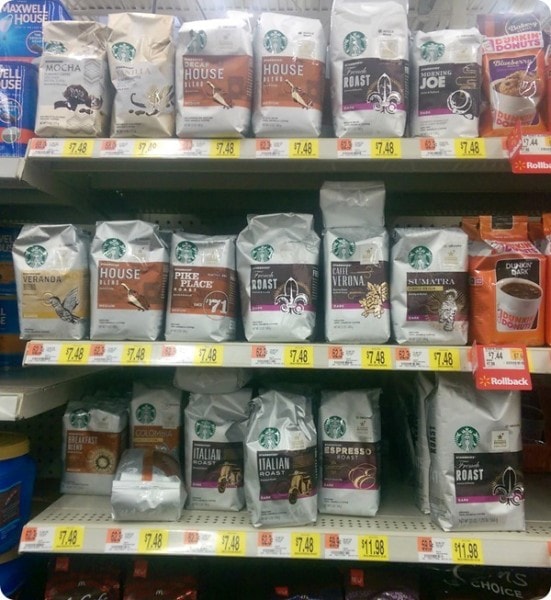 DIY Peppermint Coffee Scented Candle
The first thing you need to do is boil some water in your pot. Make a double boiler by placing a clean tin can in the boiling water and put your candles or candle pieces in the can. Be sure to melt more wax than you think you will need. It is always better to have extra than not enough. (That is one of those lessons I learned the hard way.) I also added a rock to the bottom of my can because it kept trying to float away.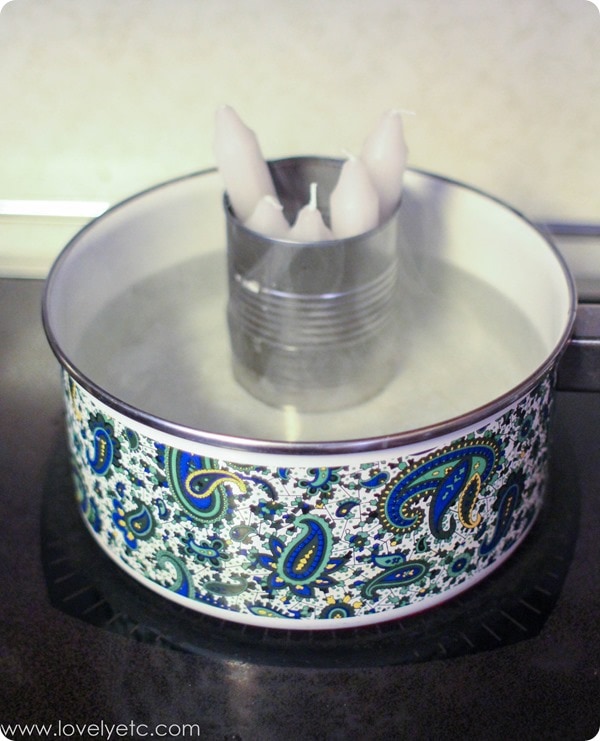 While the wax is melting, make sure your jar is clean. Fish a wick from one of your candles out of the melted wax and attach it to the straw or clothespin so that it hangs down in the middle of the jar.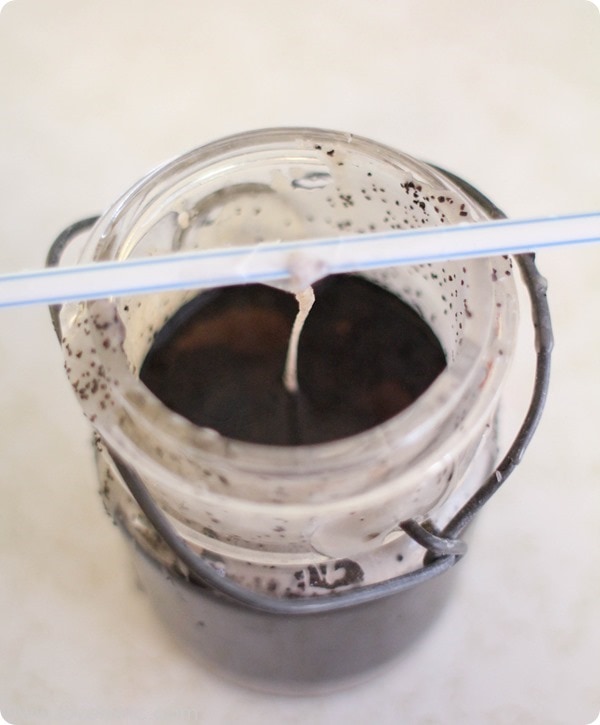 Add one or two tablespoons of coffee grounds to the wax along with a few drops of peppermint oil. Let the wax heat for a few more minutes to make sure the coffee can really permeate it.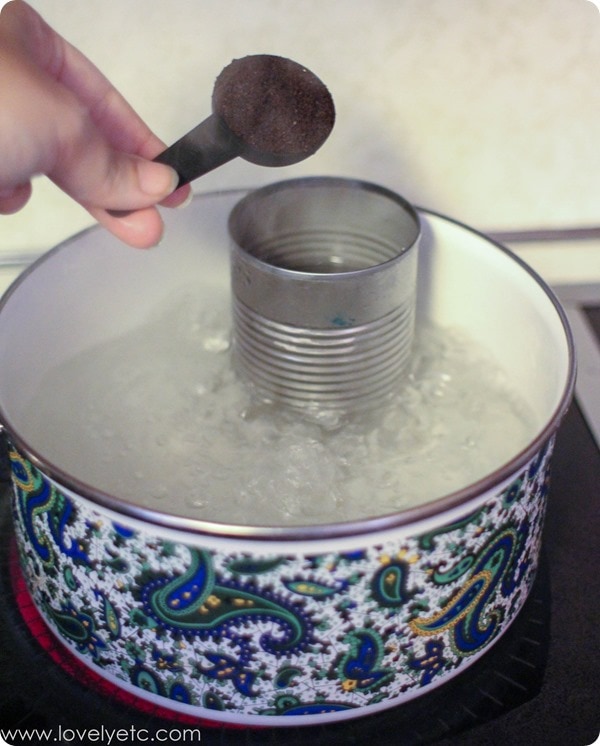 Set your jar with the wick on a few paper towels in case of splatters. Hold a strainer or colander over the jar and carefully pour 75% of the wax into the jar through the strainer. This will strain out extra coffee grounds and wicks. (Please be very careful and use an oven mitt because the can will be super hot!) Immediately clean the strainer using the boiling water from the pot – this will keep your strainer from getting all waxy. Keep the other 25% to use in a few minutes.
Let your candle fully cool – this will probably take a few hours. Once it is fully cool, you will see there is probably a giant crater in the top of it. I thought I had royally messed up at first, but it turns out this is normal. Boil some more water and reheat the wax that is still in the can. Pour it through the strainer into your jar until the crater is completely filled in and allow the candle to cool. If there is stray wax around the top of your jar from the pouring, just scrape it off. (I used my fingernail, but a butter knife would also do the trick.)
During the cooling process most of the coffee grounds that were still in the wax floated to the top and created a layer of coffee on top. I really liked how it looked but there were a few bare spots so I just filled the holes with some more coffee grounds before it fully hardened on top.
Trim your wick and that is it!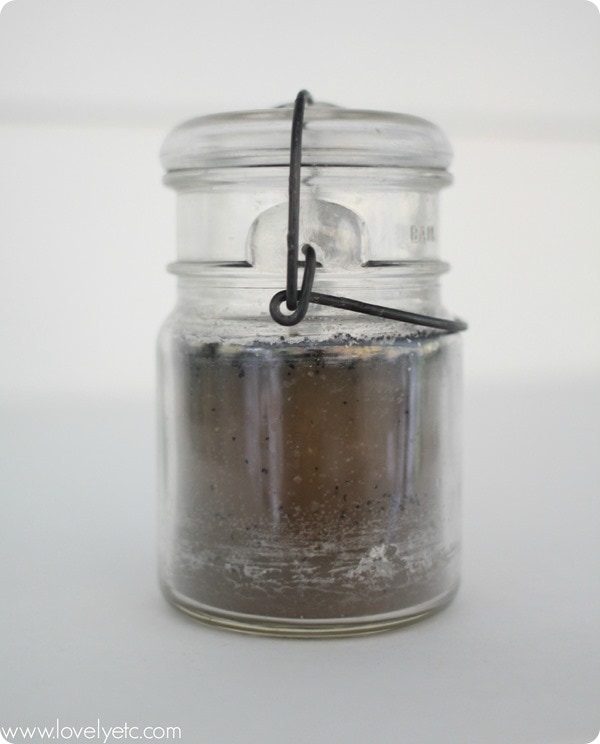 I decided to add a little pizzazz to my candle with some gold sparkly washi tape. My husband might not care if his candle looks good, but I like it!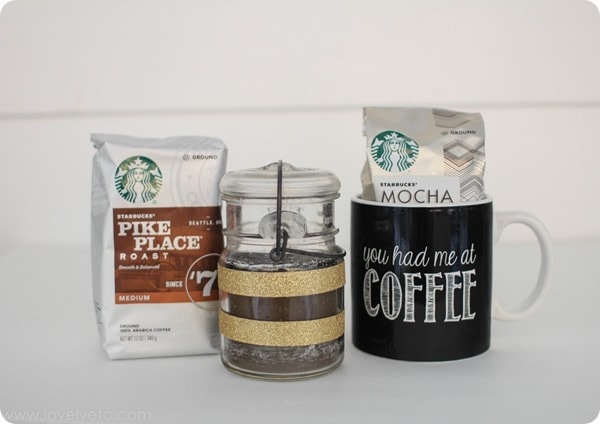 I'm planning to add all the coffee goodness to my husband's stocking. (Of course we have big stockings – they're a big deal, remember?) But this would also make a super cute gift basket for the coffee lover in your life.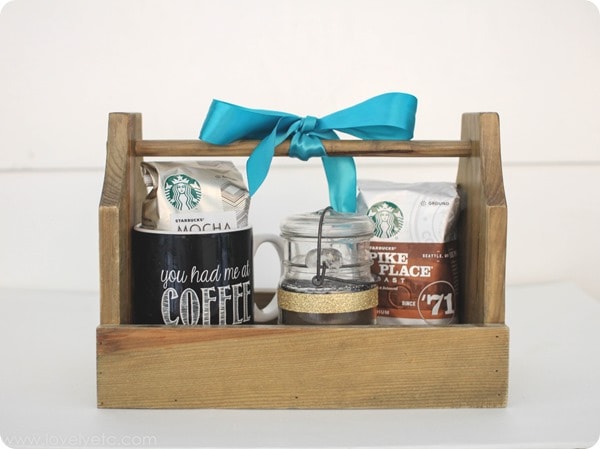 I threw mine into an old wooden caddy we have – seems like the perfect gift basket for a hard-to-shop-for man if you ask me!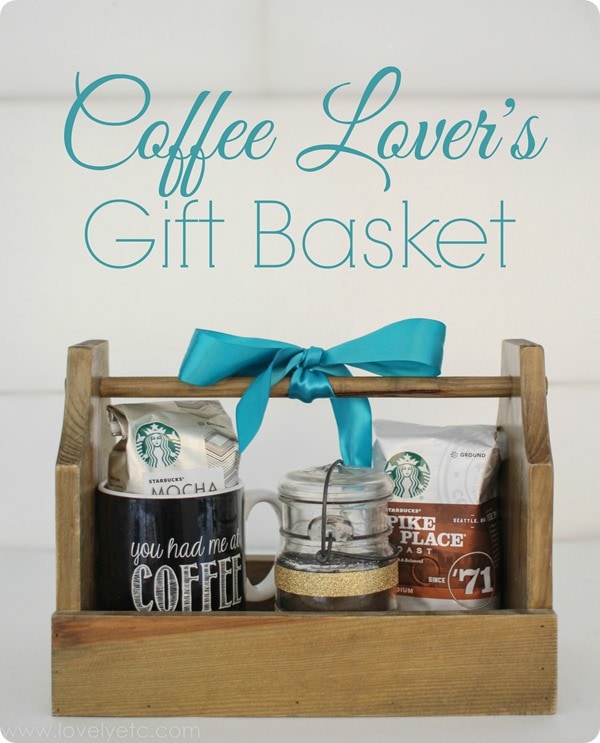 What would you add to a coffee lover's gift basket (or stocking)? I'd love to hear more ideas. And don't miss out on a fantastic deal Starbucks has going on – Get a $5 Starbucks Card e-gift when you purchase 3 or more qualifying Starbucks products.