Learn how to create inexpensive DIY curtains, pillows, and more by painting fabric. I'm sharing which paints are best for fabric, how to paint fabric so that it remains soft and washable, and 7 of my favorite painted fabric DIY projects.
I believe paint is magical stuff. Paint is such a quick and easy way to transform pretty much anything: plastic, metal, wood, floors, walls, ceilings. And yes, even fabric.
Painting fabric opens up a whole world of DIY possibilities. Instead of searching and searching for exactly the right fabric, you can simply make it yourself!
Painting fabric is such an easy, inexpensive way to update your decor. And surprisingly, painted fabric doesn't have to feel crunchy, stiff, or frankly, like paint at all.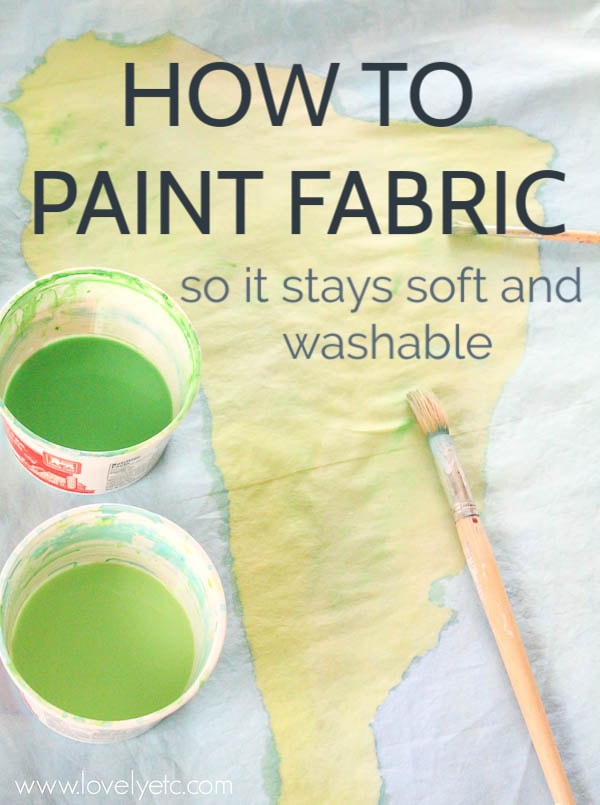 Over the years I've painted curtains, shirts, pillow covers, even a duvet cover. And while there are a few tricks you need to know, for the most part it's really pretty easy.
Of course, that doesn't mean that all of my painted fabric attempts have been a huge success.
One of my first attempts was a pair of painted striped curtains for my son's nursery. I used primer and two coats of latex paint just like I was painting a wall or a piece of furniture.
I was able to get perfect, crisp straight lines for my stripes and the curtains looked beautiful. But sadly, they felt terrible to the touch – stiff and slick like vinyl, not exactly how you want curtains to feel.
Luckily since they were curtains, nobody ever touched them; still it was a learning experience – painting fabric is definitely not the same as painting walls!
Since that first painted curtain project years ago, I've learned a lot about the dos and don'ts of painting fabric and how to paint fabric so it feels as good as it looks.
This post contains affiliate links which means if you make a purchase after clicking a link I will earn a small commission but it won't cost you a penny more. Click here to see my full disclosure policy.
The best paints for painting fabric
When you are painting fabric, using the right paint is crucial for good results. There are several good options for fabric paint, each with their own pros and cons.
Acrylic Paint + Fabric Medium
Acrylic craft paints and fabric medium are available at any craft store and you can get acrylic craft paints in pretty much any color you could imagine. They typically come in small bottles and are very inexpensive.
You simply mix together your paint, fabric medium, and water; follow the instructions on your specific fabric medium for the correct amounts of each.
This is my favorite method for most projects because you can use absolutely any color you want, it is inexpensive, and the painted fabric turns out very soft to the touch.
The downside of this method is that the addition of the fabric medium does tend to dilute the color a bit so this method may not be the best if you want very vibrant, saturated colors.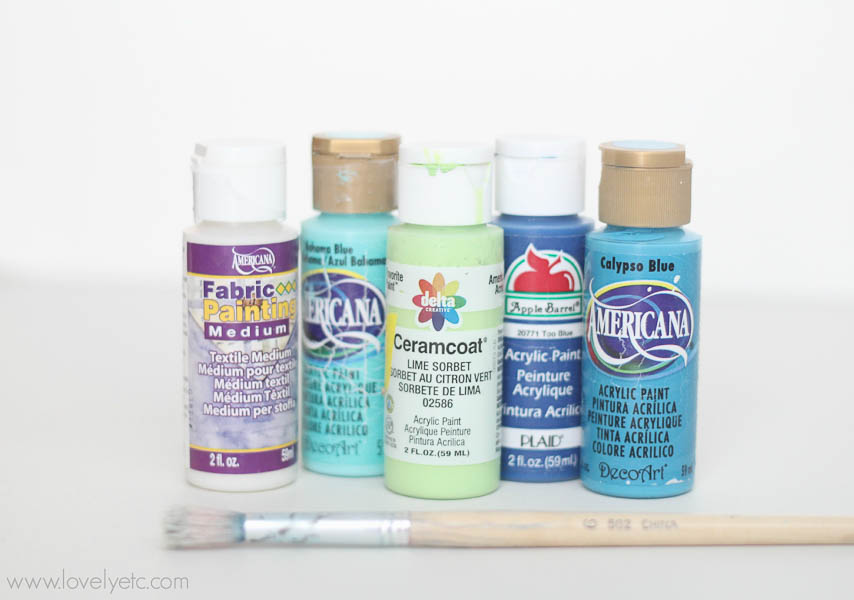 Fabric Paint
You can also buy paint specifically for fabric. It is basically like buying paint with the fabric medium already added.
I have used fabric paint several times as well and it also gives a nice soft finish.
The major downside to fabric paint is simply that it is available in a very limited range of colors and is usually more expensive.
Chalk Paint
Most chalk paints are also great for painting fabric. You may need to mix in a little water first to thin the paint. Chalk paints tend to absorb into fabric fibers well rather than simply sitting on top like latex paint or other paints with no fabric medium added.
I have experimented with several types of chalk paint on fabric but haven't used it for many full projects yet.
Because chalk paint absorbs well into fabric, it is much harder to use in a controlled manner (with a stencil, for stripes, etc.). The paint tends to look more natural like a dye, but it also tends to be more unpredictable and spreads easily. This makes chalk paint a great choice for large projects like painting upholstered furniture.
Annie Sloan Chalk Paint, Dixie Belle paint, and DIY paint all come highly recommended for painting upholstery.
Fabric Dye
You can also use fabric dye to "paint" fabric. I particularly like these simple tie dye sets and have used them several times for various projects.
They give a great, soft, washable finish, but, like chalk paint, dye can be a bit unpredictable. Fabric dyes are great for doing freestyle, abstract designs as well as solid colored fabrics.
Beware though, working with dye can get very messy and the dye can stain your hands as well as your work surface. Wearing gloves and protecting the area where you are working is essential.
Fabric markers
Fabric markers are another option if you want a hand-lettered or doodled design for your fabric. These could also work well for stenciling.
Fabric markers are easy to use and easy to control for smaller designs, but run out too quickly for large projects.
Methods for Painting Fabric
There are lots of different methods to painting fabric. My favorite is the most basic – simply use a paintbrush!
But there are also lots of other ways to get creative when painting fabric.
Use a paintbrush – small artist's paintbrushes are great for more intricate designs, chip brushes work well for larger areas
Use stencils to create a design (

freezer paper stencils

are the absolute best for fabric)
Use

foam stamps

to add a design or spell out words
Use a small foam roller to paint large areas
Use painter's tape to create stripes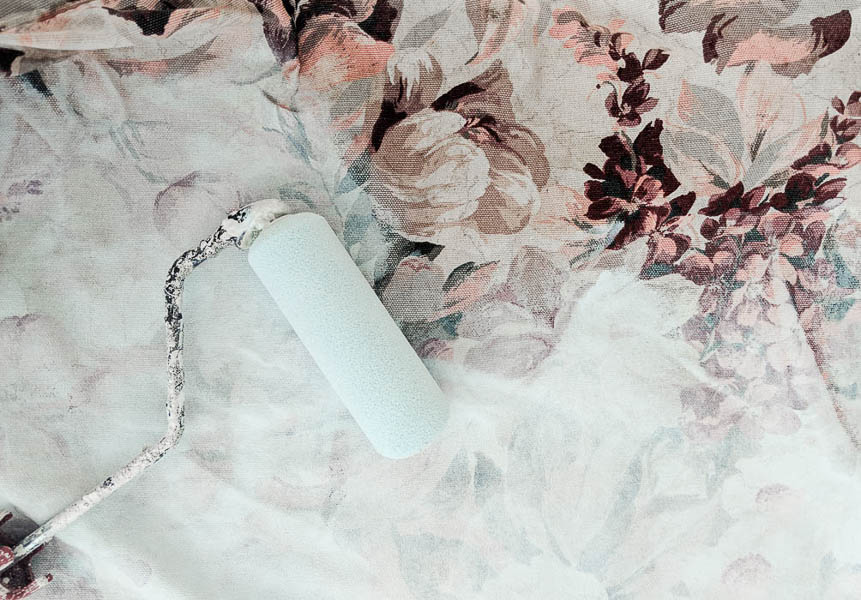 Favorite Painted Fabric Projects
As I mentioned, I've painted fabric quite a few times over the years for all kinds of projects.
I've painted an outdoor sofa, an upholstered headboard, a duvet cover, curtains, clothing, and quite a few pillow covers in all kinds of styles and designs from ombre to typography to watercolor.
Below you'll find my favorites of all of my painted fabric projects. Just click the continue reading button to visit the full post for a step-by-step tutorial, lots of photos, and tips of what to do and what not to do.
How to Paint Fabric: 9 Simple Painted Fabric DIY Projects
Painting fabric is an easy way to create beautiful custom curtains, pillow covers, upholstered furniture, duvet covers, even clothing. These painted fabric projects include a variety of different methods for painting fabric as well as plenty of tips for a successful project.
I'd love for you to pin this post on Pinterest!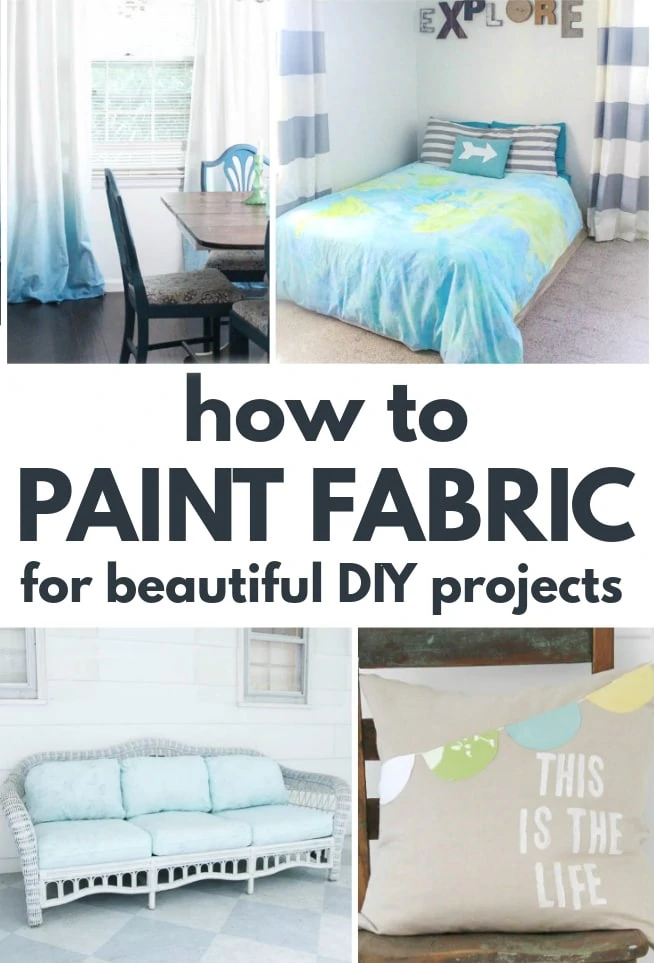 Google Web Story: Simple Painted Fabric Projects