For months my three year old, Griffin, has been waking up from his nap asking, "Is it summer yet?"  Clearly my love for summer has been safely passed down to the next generation.  I love spring and fall, but every year I cannot wait for summer to start.  (As for winter…well, if you can't say something nice you shouldn't say anything at all. So.)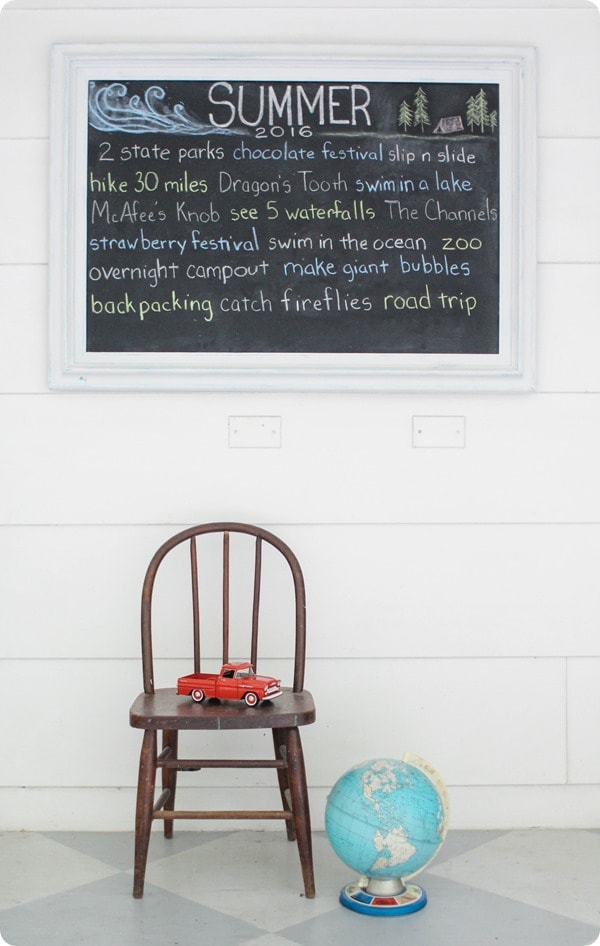 For the past few years, I have been making it my mission to truly enjoy summer as much as possible.  Unfortunately, last summer was kind of a dud.  I gave it my best, but a carefree summer is basically incompatible with a newborn.  Which just means that this year I am more ready than ever to embrace everything that summer stands for. Fresh air. Sunshine. Adventure.
Which brings me to the list.  Every year I start off the summer with a great big list of all the things I would love to do before Labor Day rolls around.  (Some people call this a summer bucket list.  But I hate the phrase kick the bucket and by default the term bucket list, so I'm just going with summer list.) The list is full of things we really want to do this year but might need a little push to make happen.  Things that are clearly impossible are out – sadly, there will be no trips to exotic islands.  I also don't bother adding things I know without a doubt will be happening anyway.  Fact: we will be getting ice cream this summer – no written reminder needed.
This year's list is full of adventures we can tackle as a family.  There's lots of outdoor stuff because, well, I figure we can do all the indoor stuff we want the rest of the year.  Why waste summer hanging out indoors?  There's also tons of outdoor adventures because now that I am staying at home with my boys rather than working full time, money is tighter than ever.  So anything that is fun and free is a no-brainer.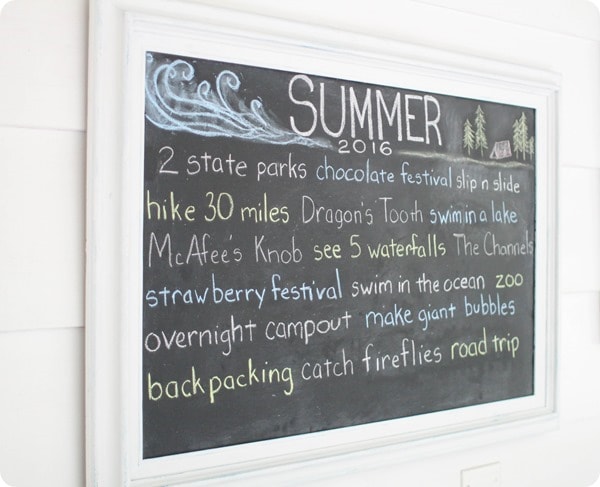 At first I just had our summer list on my phone, but really what fun is that?  Plus, I really wanted to have it somewhere we could see it front and center.  Bonus points because it is only a few feet away from the TV.  A little extra motivation to step away from the Netflix never hurts.
I didn't have a chalkboard the right size, but it is super easy to make a framed chalkboard.  I'm talking even if you have never attempted a DIY project before in your life, you can do this.  Really all you are doing is painting something with chalkboard paint.  I used an old frame from my basement stash.  If you are using a photo frame with glass or a mirror, you can paint chalkboard paint right over the glass.  If you are using an empty frame like me, you can cut a piece of wood or MDF to fit. Or if you want it to be super awesome, you can use sheet metal and make a magnetic chalkboard.  If you want to make your own, I have detailed instructions on how to make a magnetic chalkboard and the same process works for making any type of chalkboard using chalkboard paint.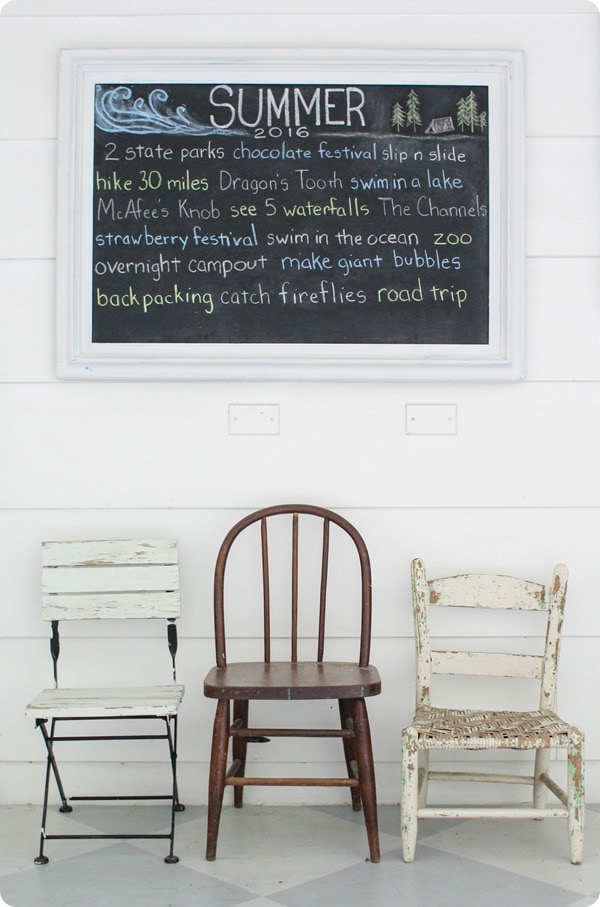 So that's our summer plan and not to brag, but we are totally rocking it this year.  Summer may just be just beginning, but we've already seen 3 waterfalls, hiked 10 miles, and been to chocolate and strawberry festivals.  Woo-hoo!  I'm secretly hoping we will have to add onto the list at the end of the summer.
Do you make a summer list?  What kind of things are on your list?
Here's to a great summer!