Every January I love to sit down and think about all the things I want to accomplish in our home.
Some years I've gotten myself organized enough to write down a list and some years I haven't. I bet you can guess which years I actually accomplish my goals!
I've been shocked to see how much more likely I am to actually make real change in our home when I sit down and make a specific plan of attack. The years I haven't written down my list of house goals, I've still accomplished plenty of DIY. (This blog definitely helps keep me accountable for keeping the projects going.)
I love to make things, so projects are going to happen regardless. But those projects didn't happen in any kind of organized fashion. Instead I just did whatever felt fun at the moment and at the end of the year, it was really hard to see any measurable change in our home.
Also, I've found that when I don't sit down and write out my plans, I tend to way overestimate how much I can get done in a year. Seeing it all in black and white helps me be much more realistic about what I think I can actually accomplish and prioritize the most important projects.
If there's one thing I have (finally) accepted, it's that DIY doesn't happen quickly. Especially when your whole house is a fixer upper and you have a very limited fixing budget.
We've lived in our 1970s ranch for ten years now so it's not like we just moved in. And even after all that time, there are still plenty of projects left to tackle! Some because we're waiting to save up the money, some because I just haven't gotten around to them yet, and some because after ten years, things I've previously updated are ready for another update. It's a good thing I love a good project!
It also helps that this year I can finally say that when I look around our home, I see way more things I love than things I want to change. And that is a great feeling.
So here's what's on the agenda for 2020. Get ready to see our ugliest spaces, my bathroom of shame, and a secret project I've been dying to tell you about!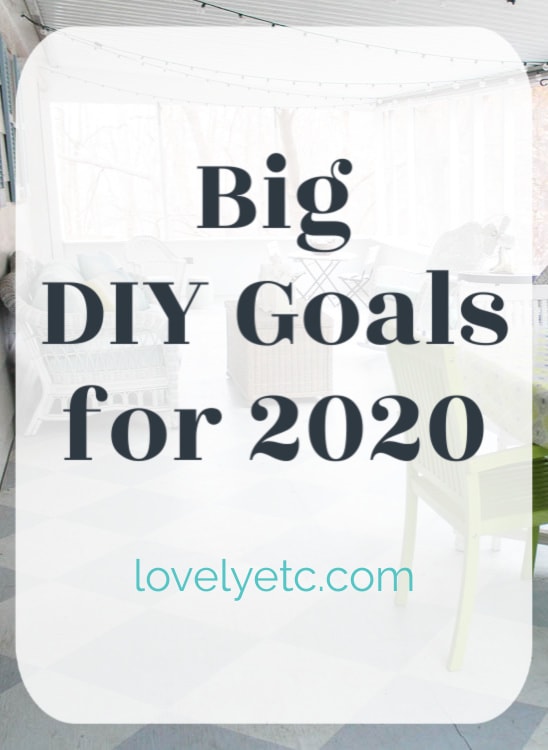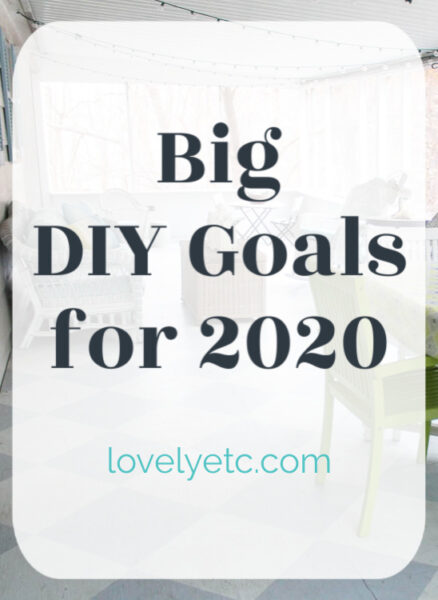 Master Bathroom
Our master bathroom is the one room in this house that I haven't updated at all. And definitely not because it already looks cute.
It doesn't.
It is tiny and cramped and outdated and I would love to change basically everything in there.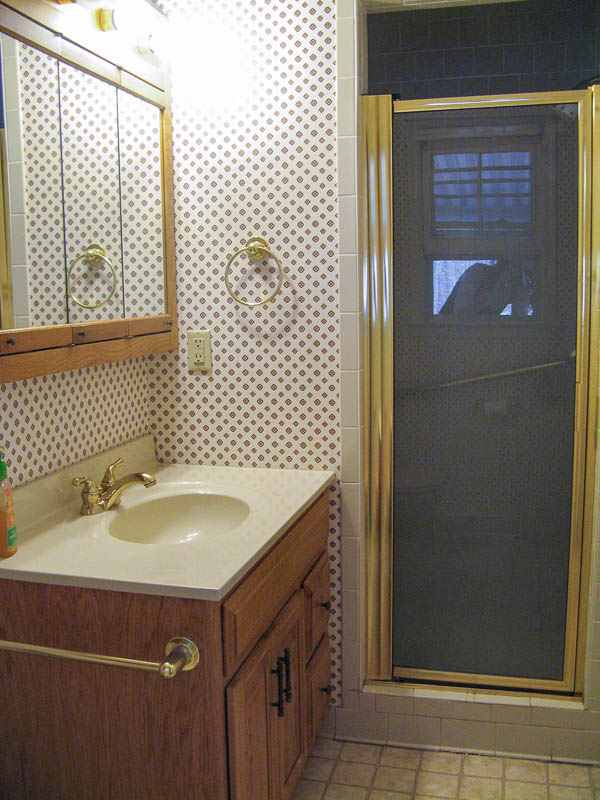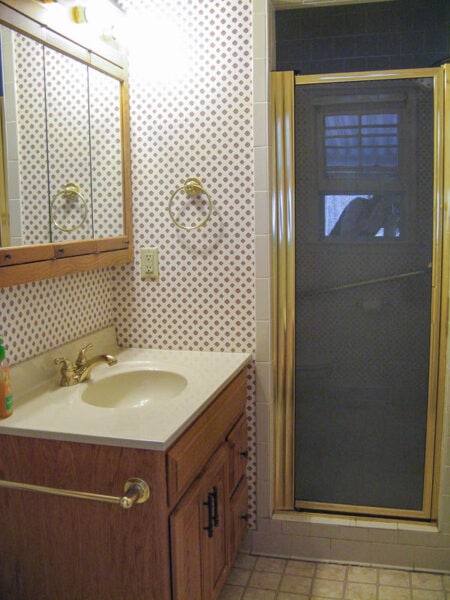 Did I mention it's tiny? If you look at the reflection in the shower door above, you can see me taking a picture from outside the window. The room was just too small to get a good angle otherwise!
I know that I could make this space look really cute for cheap with some paint and new flooring, but I keep putting a quick makeover off.
I know that there are some issues with the plumbing and we really need to do a full renovation in this room to address them. And since I know we need to do a full gut job, I don't want to waste my time making everything cute just to tear it out in a few months.
So here it sits…years later…still ugly.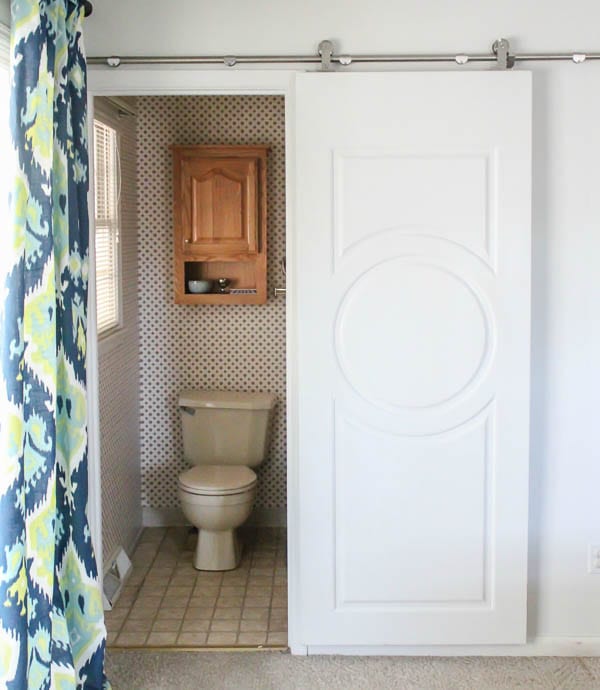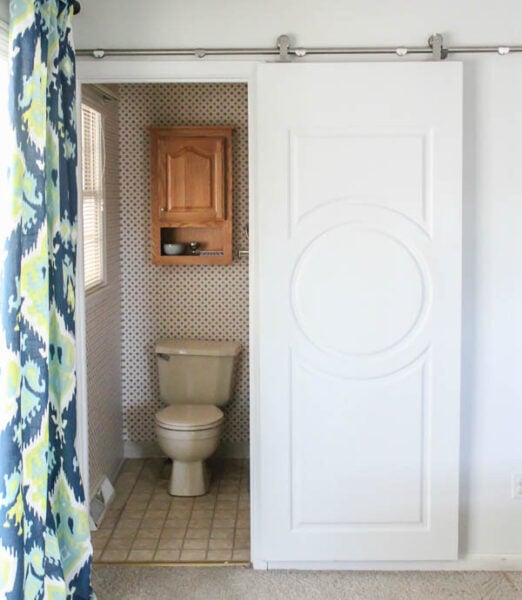 Ok, so we did update the door and it's pretty dang cute. But the rest of it…ugh.
This has to be the year of the master bath. It just has to.
If for some reason, summer rolls around and the bathroom still isn't happening, I'm doing the temporary paint fix. One way or another this bathroom will look different come 2021.
Screened Porch
We have an absolutely amazing screened porch along the back of our house. It's huge and has a gorgeous view of our backyard and the surrounding forest and not a single neighbor. It's heaven.
I gave the porch a makeover a couple of years after we moved in that made a huge difference. (Goodbye Astroturf!)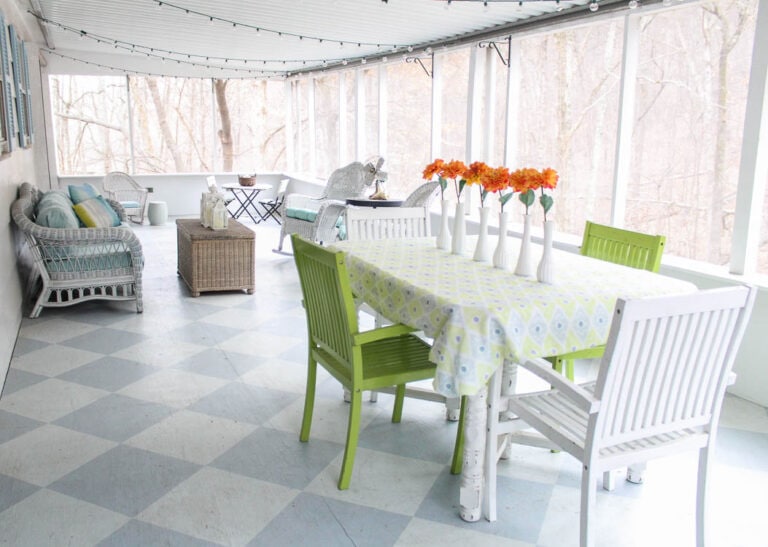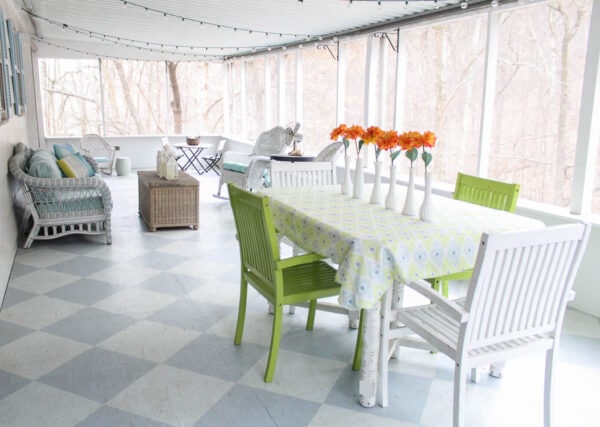 But that was many years ago and things are definitely ready for some sprucing up. I wanted to do a big porch makeover last summer, but unfortunately I found some water damage that was a bit above my skill level to repair.
We were able to get it all fixed up right before the winter weather hit so this spring I'll be tackling the rest of the space.
Ironically one of my biggest challenges in this space is how big it is. It's a long, narrow space and I've really struggled with figuring out how to make it cozy and relaxing without filling it with unnecessary stuff.
Our Camper
Ok, I've been keeping this one a secret for a few months, but we bought a camper!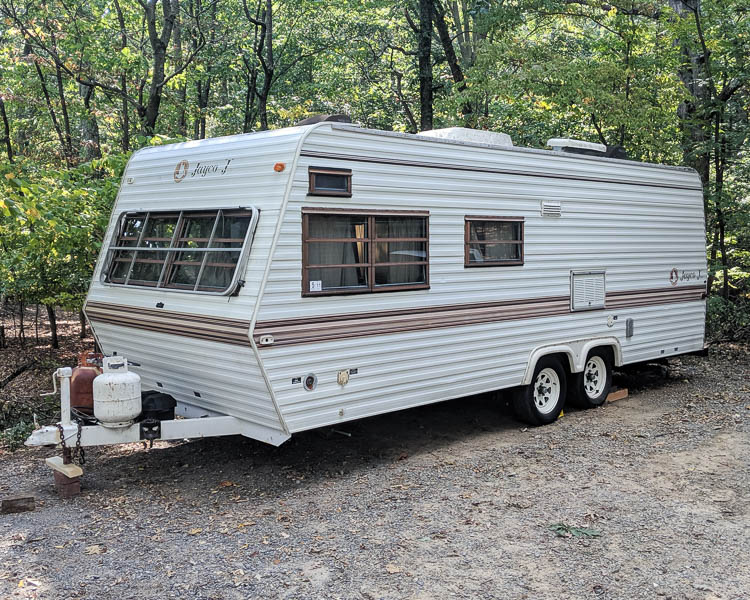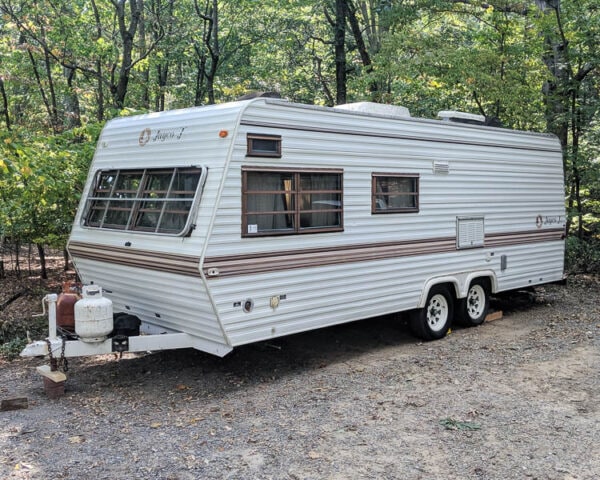 It's a 1986 travel trailer and I am so excited about fixing it up. Also, I am already so sick of fixing it up!
We bought it from my parents last September knowing that it hadn't been used in several years and would probably have some issues.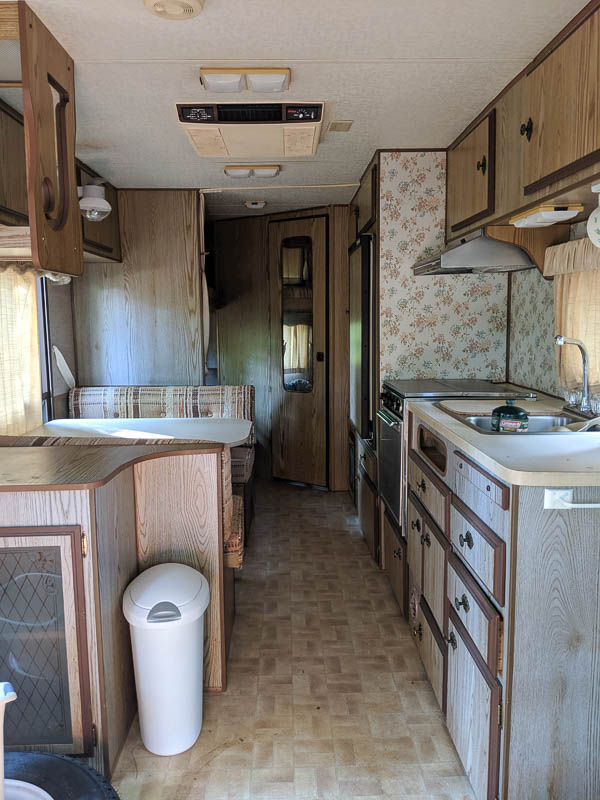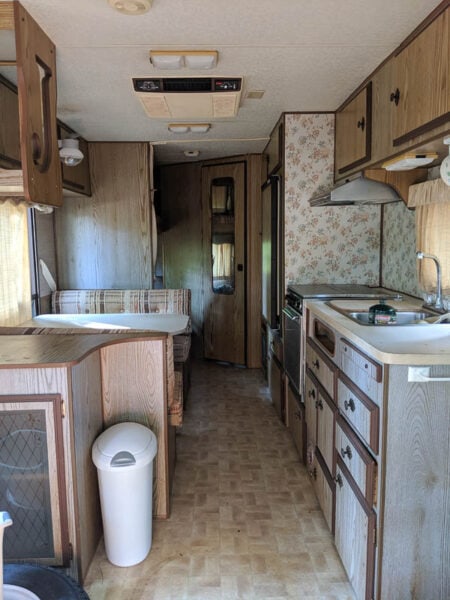 Unfortunately, it has lots of issues. (Beyond being mearly ugly). I started tearing our and repairing water damage in the fall but then once the weather got cold, I decided to take a break until things warm up a bit.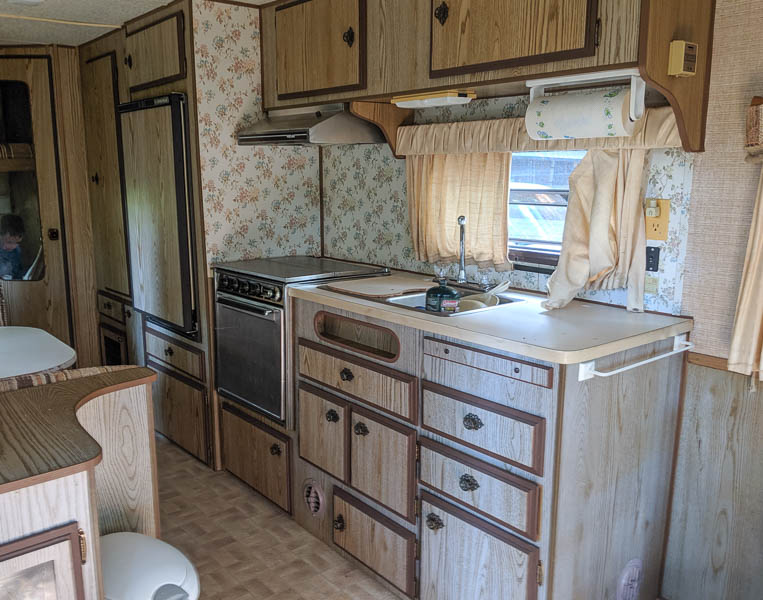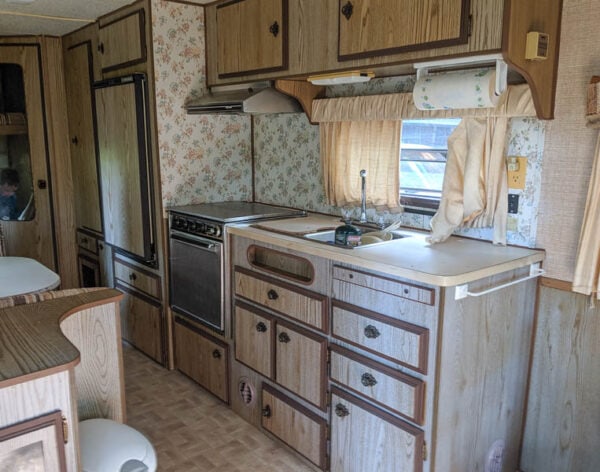 I'm anxious to get to the painting and designing and fun part of this makeover. I've been collecting amazing RV reno inspiration on Pinterest and the possibilities have me so excited!
And I can't wait to actually get to take it out and use it. We haven't even had it out of our driveway yet and I'm already dreaming about traveling around the country for a year. But first, I've got a LOT of work to do. Fingers crossed I still love DIY when I'm finished!
Our Boys' Rooms
This one is a bit more nebulous than my other goals. I'm not exactly sure what's going to change about our kids' bedrooms but I know change is coming.
We have three boys and a three bedroom house. Our oldest two are 7 and 4 and they share the larger bedroom and our youngest, Lincoln, is still in a crib in the smallest bedroom at 2.5.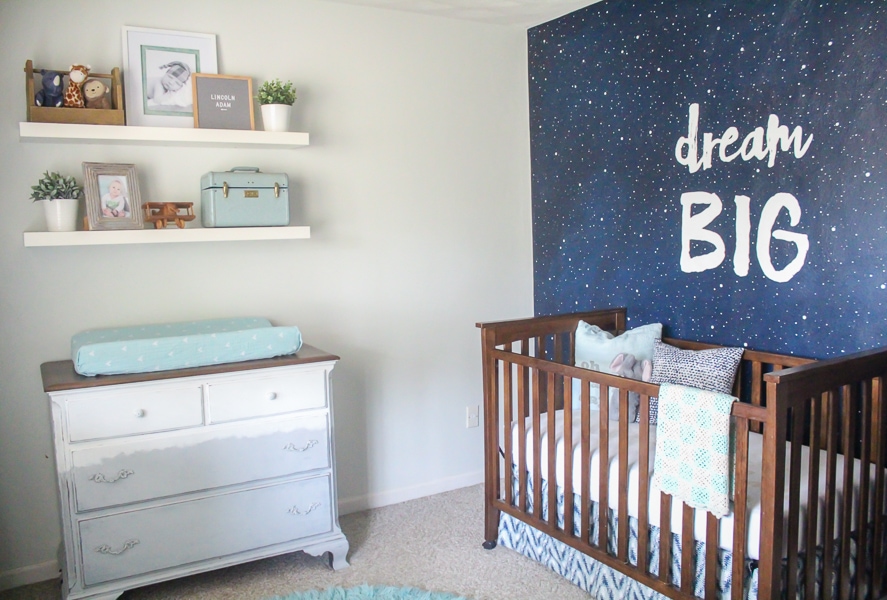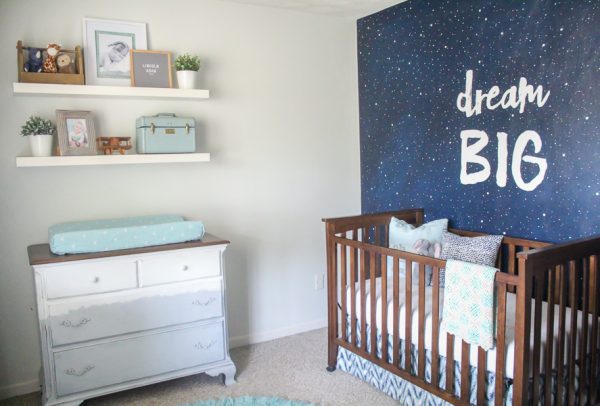 See all the nursery details here
At some point this year, Lincoln will definitely be ready to move to a big boy bed. And I know he is dying to move into the bedroom with the big boys, so my husband and I are debating putting all three boys together for now.
I'm sure they won't always want to be together, but right now, they all seem excited about the idea. And as long as everyone still sleeps well, I'm all for it.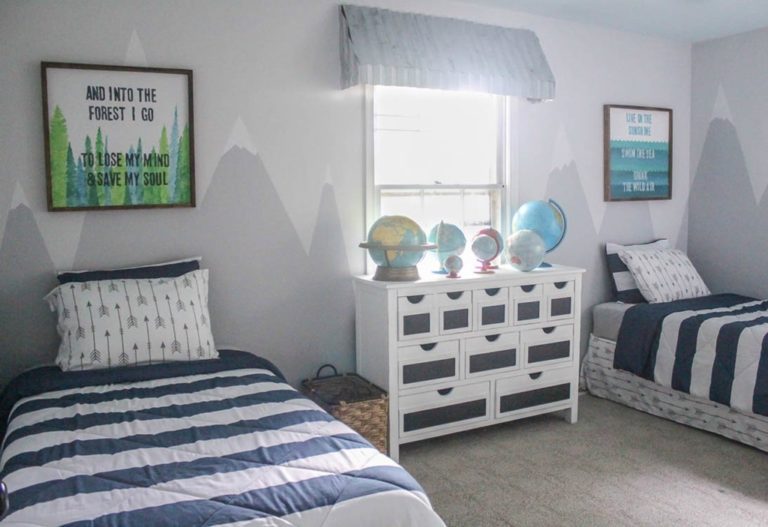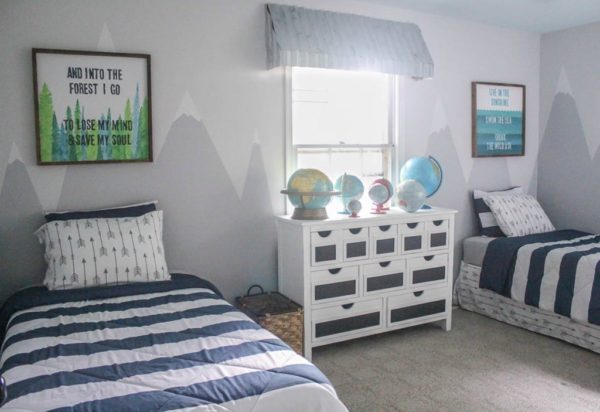 See the boys' shared bedroom here
I'm not exactly sure what's going to happen with the bedrooms this year. Maybe we'll turn the nursery into a big boy room for Lincoln. Or maybe we'll turn the nursery into a small playroom and we'll need to make space for one more in the big bedroom. Either way, I know something's going to change!
Beyond that I have a few small goals I'd like to accomplish in other areas of the house – some new art in the family room, a mini makeover for the pantry, some new lighting. But I'm not going to worry about those too much, because I know the projects above are going to keep me plenty busy this year.
Lovely Etc. Plans
I also have a few goals for the blog. Apart from sharing my journey tackling all of the above of course!
First, I haven't shared an updated house tour in over two years! Whoops! So look for that in the next few weeks.
I also want to share more guides to some of the more confounding parts of DIY. Like when you really need primer when can you skip it. And why it really matters which grit of sandpaper you use. The little bits of knowledge that make every project that much easier.
Finally, I want to share more about my process for pulling a space together for super cheap. I've really perfected my method over the years and while I've shared bits and pieces here and there, I've never really shared a concise step by step explanation. So be on the lookout for that!
Here's to 2020! Do you have big house goals for this year? And if you have any camper reno tips, I'm all ears!