This post is sponsored by Vocalpoint and Luvs. The awesome project and all opinions are my own.
There is something about onesies – they are just calling out to be decorated.  Hacked if you will.
I love personalizing shirts for my own little guys and decorating onesies is also one of my favorite things to do at baby showers and sprinkles.  (Can't forget those second babies – they need love too!)  I think these onesies would be such a fun activity for a baby sprinkle. Just call them paint-sprinkled and you're all set!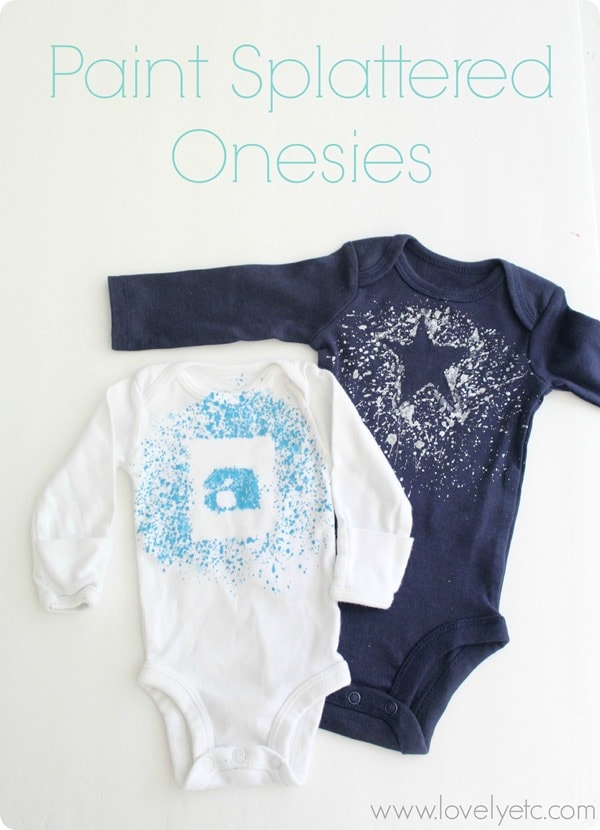 These are super fun because you really can't mess them up.  There is no right or wrong way to splatter paint and anyone can make these, even kids.(Although this can make a huge mess if you aren't careful.  Luckily I've already thought that through for you.)
Here is what you need: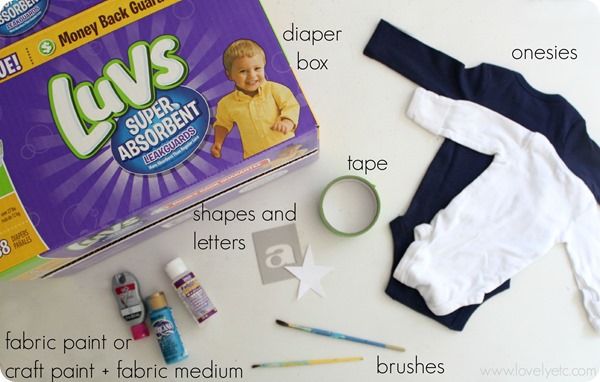 You can use either fabric paint or you can mix some regular craft paint with fabric medium which you can find at craft stores right next to the craft paint.  Also, very loose paintbrushes work best for this – think those little brushes that come with watercolors.
Start by cutting a simple shape or letter our of cardstock.  Be sure to choose letters or shapes that are large and made of simple, clean lines.  These will turn out the best.  Use a couple of pieces of tape (masking tape or painter's tape works great) to tape your shape where you want it on the onesie.  If you don't want to do a shape, you can skip this step and just go to town with the paint.
Whether you are using craft paint + fabric medium or regular fabric paint, you need to mix in some water.  The paint needs to be really nice and thin to be splatterable.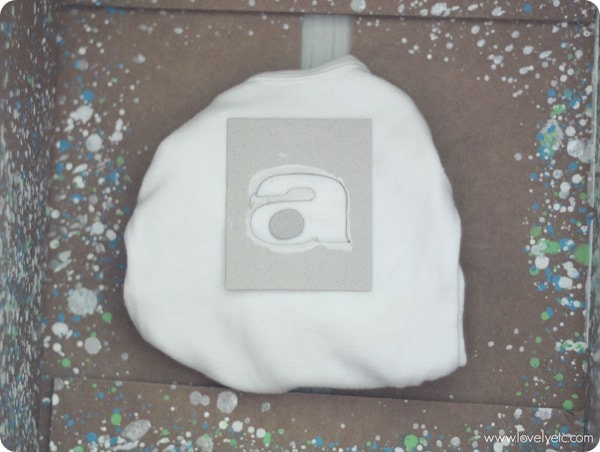 If there are any parts of your onesie that you don't want painted, fold them under, and then place your onesie inside the empty diaper box.  (If you have your own babies, I'm sure you have piles of these.  And if you are hosting a baby sprinkle, just use the box leftover after you craft up a diaper cake!)
Load up some watery paint on your brush and just start waving it around over the onesie.  Be sure that your brush is inside the box!  If paint isn't splattering all over, add a little more water to your paint.  Be sure to splatter plenty of paint so that your shape or letter will stand out.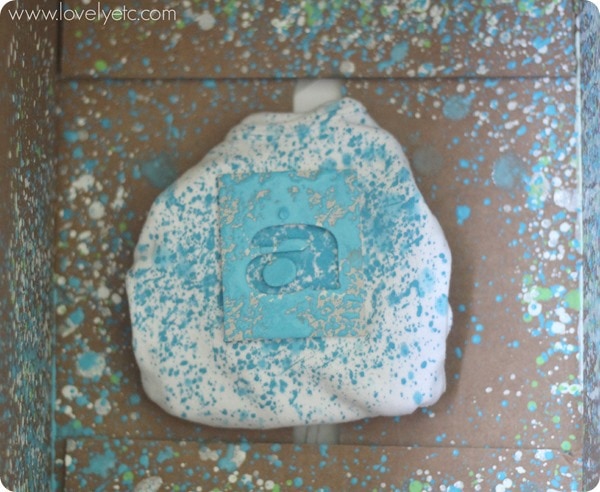 Let the paint dry and then carefully remove your letter or shape to reveal your masterpiece!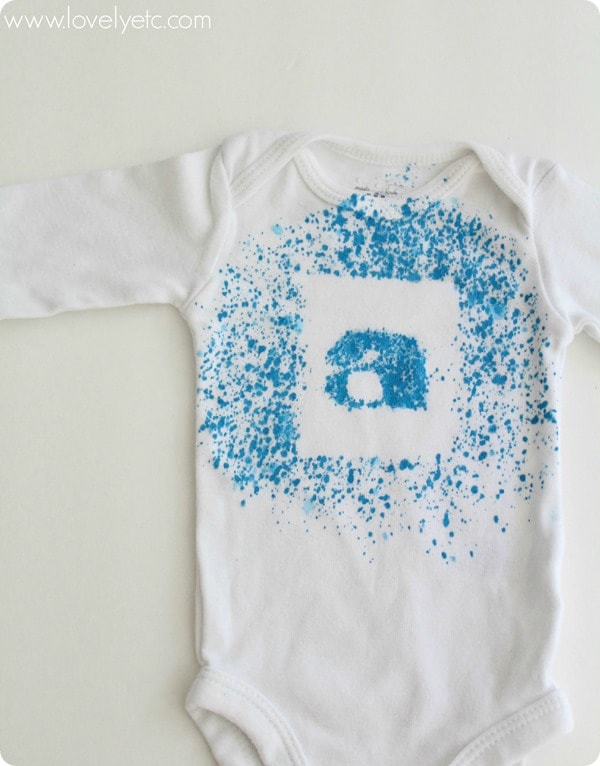 If your shape looks a little wonky when you remove the paper, you can dot a little more paint around the edges.  One of the points of my star looked crooked, so I touched it up a bit and now it looks great.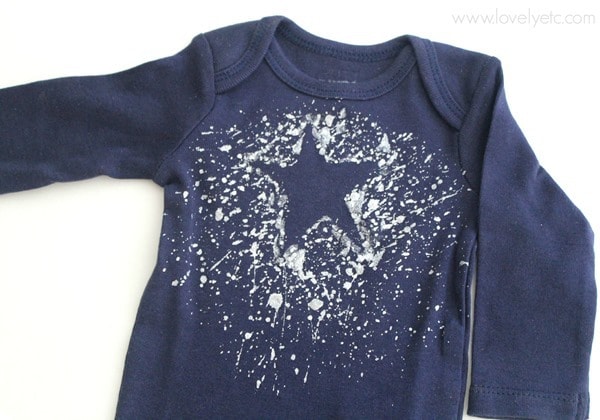 I had so much fun making these.  Paint splattering is a pretty great stress reliever.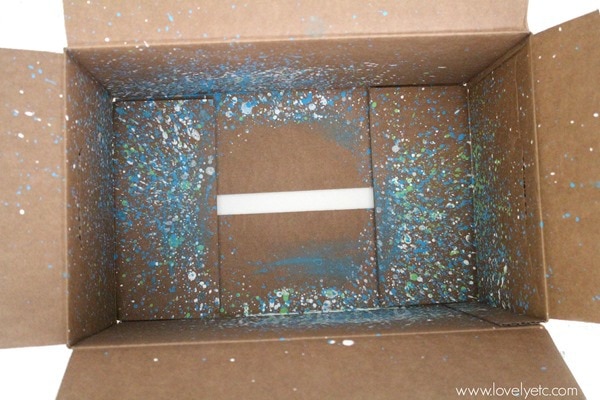 In case you were wondering if the box is really necessary for this activity, it 100% is.  Unless you are okay with paint splatters literally everywhere and in that case just skip it. :)
I did make a third onesie but it didn't work out quite as well.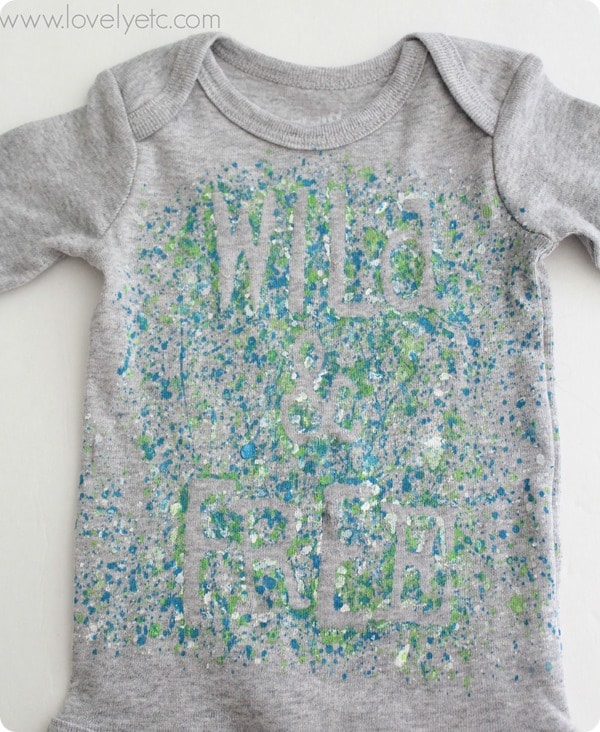 I love the idea of this one but trying to read it is might just leave you cross-eyed. This is why I recommend using very simple shapes with simple lines.  Lots of detail just doesn't come across well.
Alright, time to go splatter some paint!