So our bathroom renovation is well under way and it has definitely been a learning experience – it just turns out I'm not learning quite what I expected!
Earlier this week when the plumbers were packing up to leave for the day, they sheepishly told us that they weren't quite finished replacing some pipes and we wouldn't be able to use our other lavatory until they came back the next day. They assured us that they would have it finished up in the morning. We knew we had some major issues with our old copper pipes, but my husband and I were still completely thrown that now we couldn't use either of our two bathrooms.
Of course my husband just peed off the porch, but it isn't quite so easy for us ladies. But hey, it was all in the name of a nice new beautiful bathroom, so I could deal with peeing outdoors for one night.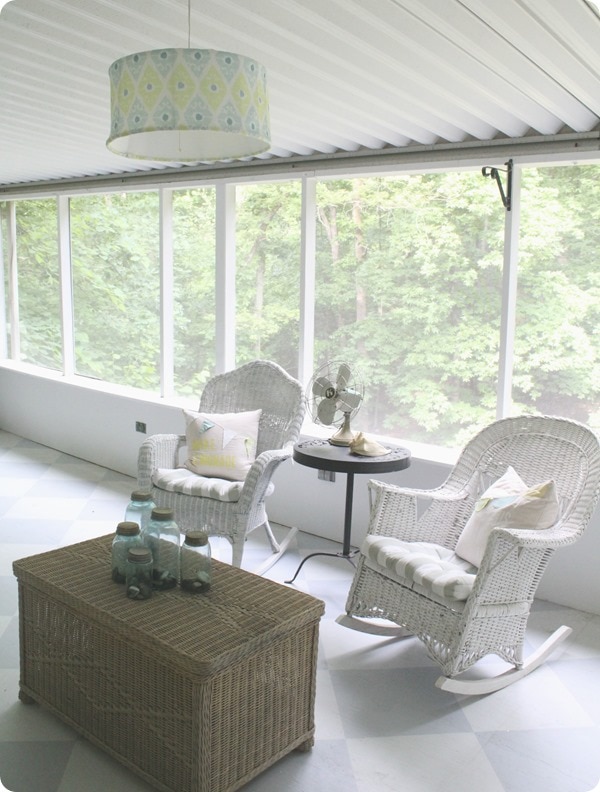 No neighbors back there!
I headed down to the basement door which leads out into the back yard and flipped on the lights. As I pushed open the door, trying to psych myself up for some outdoorsy living, I saw a flash of fur. And not just any fur, black and white fur. I high-tailed it back inside and called my husband over.  We slowly cracked the door open to get a closer look and the smell was unmistakable. A skunk was hanging out in my outdoor potty spot.
On the one hand, what terrible luck!  But then again, I didn't get sprayed so maybe it was actually good luck! Especially without a working bathroom. Ick!
I ended up having to pee behind a bush in our side yard which just felt so much more exposed and less dignified. I am fairly certain our neighbor's house is too far away for me to have been seen. But still, not a particularly relaxing experience.
The next morning when the plumbers returned, they asked how we made it. My husband told them we did fine other than a skunk stalking us when we had to make trips outside. The two plumbers gave him a strange look before dropping the bombshell that lavatory means sink.  Not bathroom, not toilet, just sink. That was the only thing we couldn't use.
Aaaauugh!
In our defense, I don't know if I have ever heard anyone use the word lavatory in real life. And when you google it, the first definition is bathroom.  Although when I asked my grandmother what a lavatory was, she immediately knew it meant sink. I guess it's a generational thing.
Oh well, I'm pretty sure they say peeing outdoors is character building. And if not, maybe they should. Lesson learned – when dealing with subcontractors, clear communication is essential.  Clarify everything!
The professionals should be wrapping up their part today – replacing the leaky pipes, fixing the water damage, and replacing the floor. Which means it is almost time for us to tackle the fun stuff:
Turning an old dresser into a vanity
Installing the vanity
Painting the walls
Tiling the shower
Installing a new light
Making shelves
Adding a mirror
Adding art and accessories
Onward and upward!  Here's to indoor plumbing!  And I can't wait to share all of the details of the rest of our bathroom reno adventure in the next few weeks!