This is a sponsored post written by me on behalf of Lennox® for IZEA. All opinions are 100% mine.
Last week I shared the cute and sassy free printables I made to help our family remember to do a few simple things each day to save energy. In all honesty, they've been a great reminder to my husband and I, but my three year old Griffin just isn't getting the memo.
The past few days he has been jumping out of bed every morning at 5:00 (oh for that energy!) and then running through the house turning on each and every light switch and lamp. Apparently the boy has a thing for light, bright spaces! So yeah, definitely still a work in progress on that front. (And we won't even get into how yesterday he got up, ate the chocolate chips out of the fridge and somehow managed to turn the refrigerator thermostat completely off in the process. Um, not how I was personally planning to save energy, but thanks for supporting the cause!)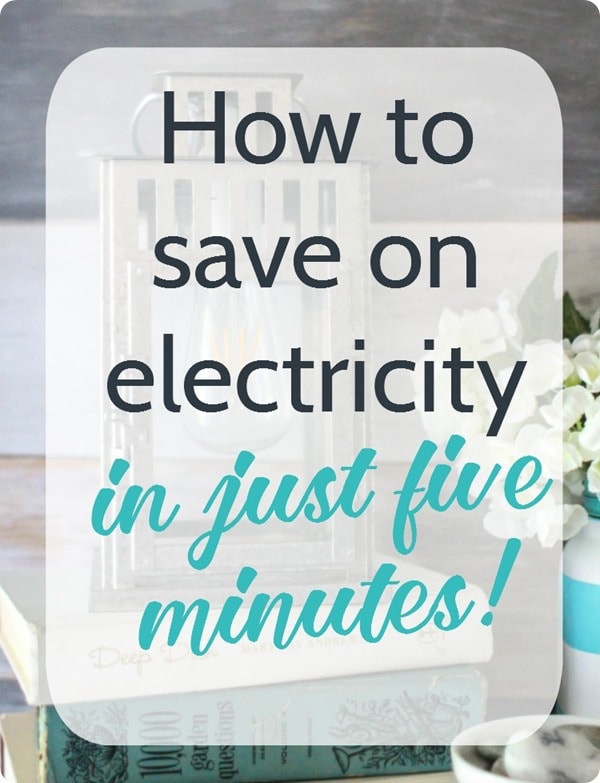 In light of all that, I feel like any steps I can take to save energy are doubly important to make sure our electricity bills aren't sky high! And of course, the quicker and easier, the better! The folks at Lennox®, makers of the most efficient air conditioners around, have been asking lots of questions this summer about what people are willing to do to save energy. I found this question really interesting.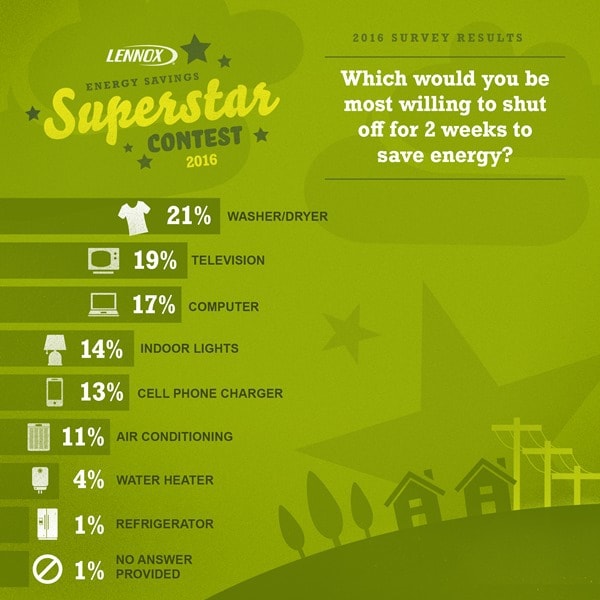 I know a few people who save money by not running their air conditioning; it's a great money-saver but not the most pleasant way to live. And apparently, my son thinks refrigeration is optional! For me there is no question, I would definitely ditch the TV. (As nice as it sounds to not do laundry, I do enjoy wearing clean clothes every day, so that's out.)
Five-minute Energy Saving Tips
There really isn't a bad way to save energy, but my favorite ways are cheap and easy.
1. Turn your thermostat one degree warmer in the summer and one degree cooler in the winter. One degree isn't terribly unpleasant, but it can add up over time.
2. Program your thermostat to run less at night when you are sleeping and when you are out of the house. (This one's really fast and only needs to be done once. My problem is the rare occasions when our power goes out, our system needs to be reset and I don't always remember.)
3. Close the doors to rooms you don't use very often like guest rooms or offices. That way you aren't paying to cool a room that nobody is even using.
4. Similarly, unplug lamps and other electronics that aren't used on a daily basis. Isn't it crazy how things can still use electricity even if they aren't on!
5. Replace old lightbulbs with LED bulbs. (I don't know about you, but I love LED bulbs so much better than those ugly compact fluorescent bulbs. And of course my favorites are the vintage inspired LED Edison bulbs.)
6. Change the air filter on your HVAC system regularly. This is such a quick thing and it makes a huge difference as far as how efficiently your system runs.
7. Close curtains or blinds in rooms that are in full sunlight to help keep the heat out.
8. Keep your kitchen cooler by doing most of your summer cooking using the grill or a slow cooker.
9. Turn the temperature on your water heater down a degree or two.
10. Turn off ceiling fans when you leave the room. I love ceiling fans and they definitely help save on air conditioning by keeping things a bit cooler, especially at night. But, the fact is fans don't really cool rooms, they cool people. So if you are running a fan in a room with no people, it's just a waste.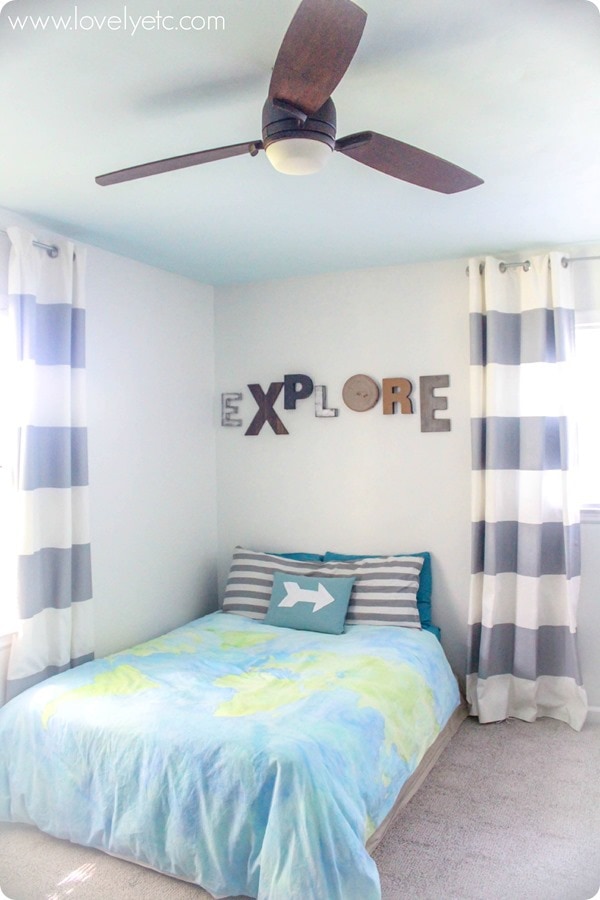 What tips would you add to the list? I would love to hear them or better yet, you could enter your favorite tip into the huge Lennox® Energy Savings Superstar Contest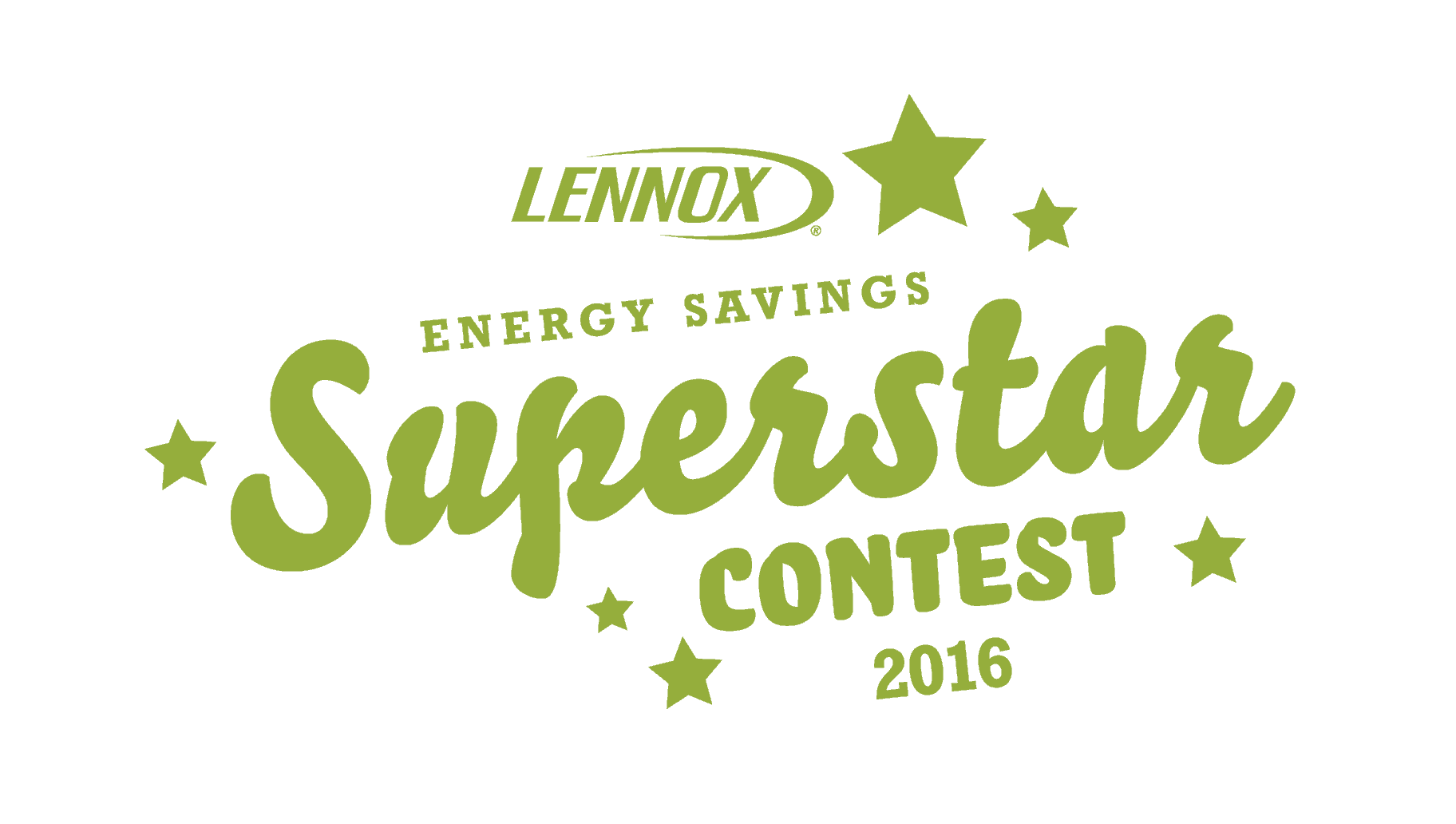 Let's start with the best part of any contest: the prizes. The winner will receive $10,000 in Lennox® heating and air conditioning equipment, tickets to the closest local water park, and (my personal favorite) a year supply of ice cream.
Sounds like a contest worth entering to me! You probably already know that Lennox® is known for their smart and efficient HVAC systems that are also some of the quietest on the market. And their XC25 is the most efficient air conditioner you can buy. (In the market for a new HVAC system?  You can use the dealer locator to find a local dealer.)
Lennox® is running a contest all about your energy saving tips; to enter submit your own tip for saving energy in the summer along with a photo to illustrate the tip by August 31st. Four finalists will be chosen and then users will be able to vote for their favorite from September 12-18. The big winner will be announced September 28th.
(Fine print: NO PURCHASE NECESSARY. VOID WHERE PROHIBITED. Canada (excluding Quebec) U.S. (DC) the age of majority in their jurisdiction. Ends 8/31/2016. Follow the link for prize info and official contest rules.Sponsor: Lennox. Odds of winning depend on number of eligible entries received.)
The contest ends soon, so if you have a great tip be sure to send it in.  I'd love to come over and help you eat that ice cream if you win!!