Last week I shared my freshly painted kitchen cabinets.  They've been nice and white for a few weeks now and I am still blown away with how much brighter and more up to date the whole room looks.  Today I'm back to share the second (much faster and easier) phase of updating the cabinets: updating the hinges.
At one point I considered trying to update the cabinets with more modern hidden hinges, but after some research I realized that isn't possible for all cabinet styles and can also be pretty costly.  So instead, I started making a plan to update the older-style hinges we already had.  They started out an aged brass finish.  And not a beautiful antique brass, but more like brass that had been soaking up kitchen grease for 40 years.  Not exactly what I wanted to use on my 'new' white cabinets.

This post contains some affiliate links.  See my full disclosure here.
Updating Hinges with Rub n Buff
I had already chosen polished nickel hardware (which I will share more about soon), so my hinges needed to coordinate.  I decided to use Rub n Buff to give them a much-needed update.  If you don't know, Rub n Buff is a fantastic metallic paste used to give almost anything a metal finish.  I chose it because it is so easy to use and gives a lasting finish.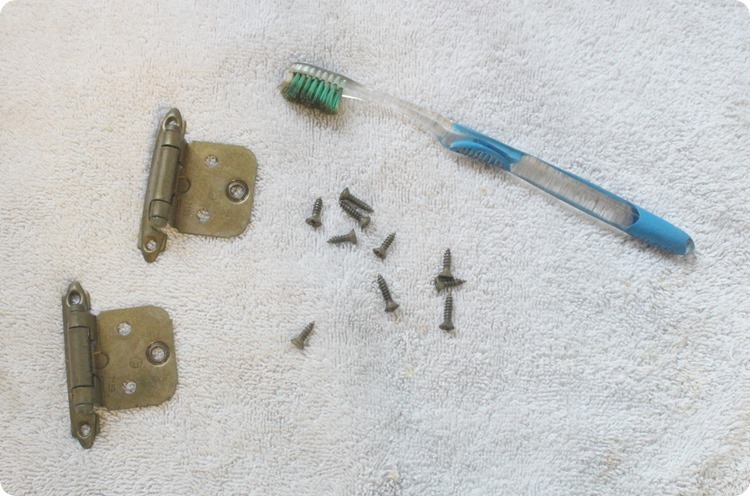 The first step was cleaning all of the greasy build-up off of those hinges.  I soaked the hinges and screws in a mixture of hot water and Dawn dish soap and then used an old toothbrush to scrub them.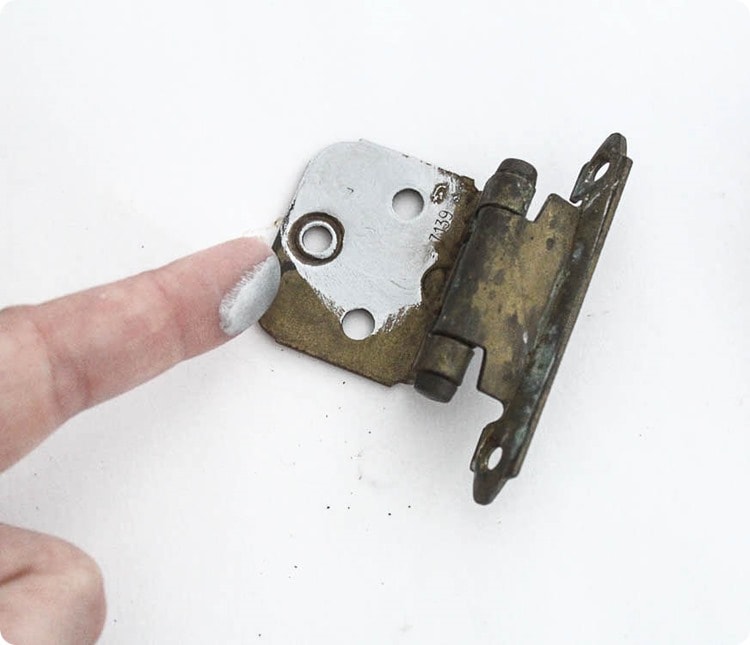 Then I  put a small amount of silver leaf Rub n Buff on my finger and rubbed it all over the hinge.  I used a q-tip to help get into all the little crevices.  I found that it worked best to start with the hinge open, covering all of the surfaces, and then once that was dry, close the hinge and finish the parts that weren't originally showing.
Once the Rub n Buff had dried thoroughly, I used an old t-shirt to gently buff the finish.  This is what gives it a shine like real metal. My hinges have visible screws, so I made sure to also give this same treatment to all of the tops of the screws.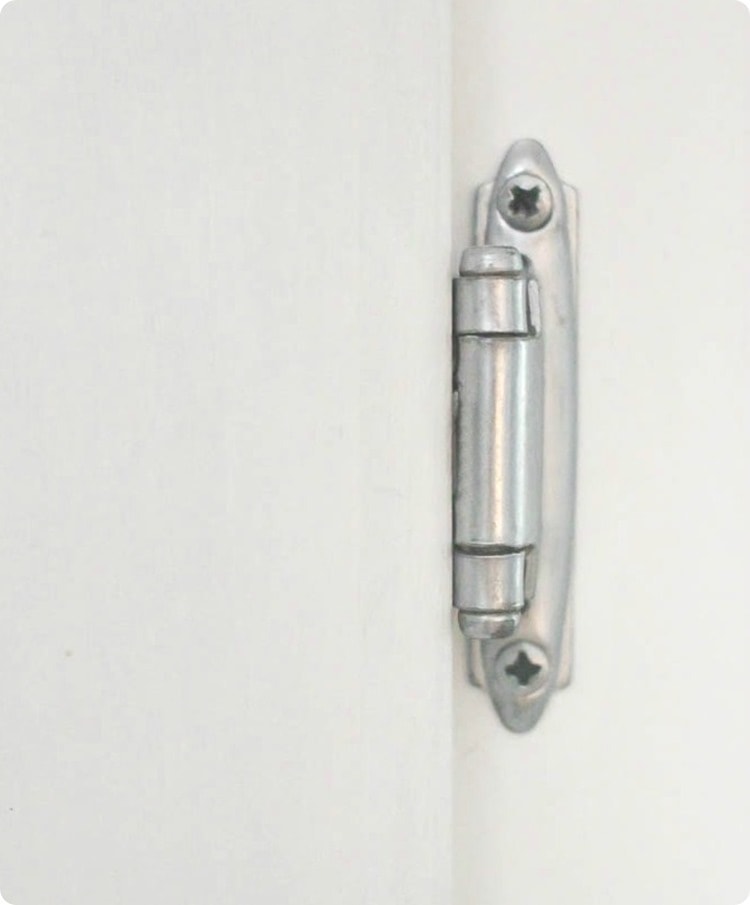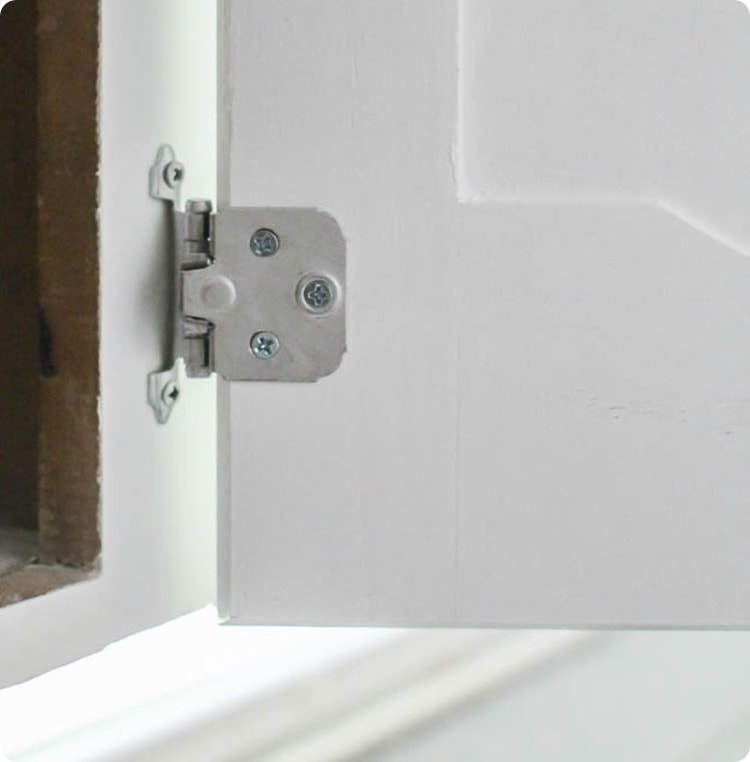 They look great on the cabinets.  The hinges fade into the background instead of standing out, which is exactly what I wanted.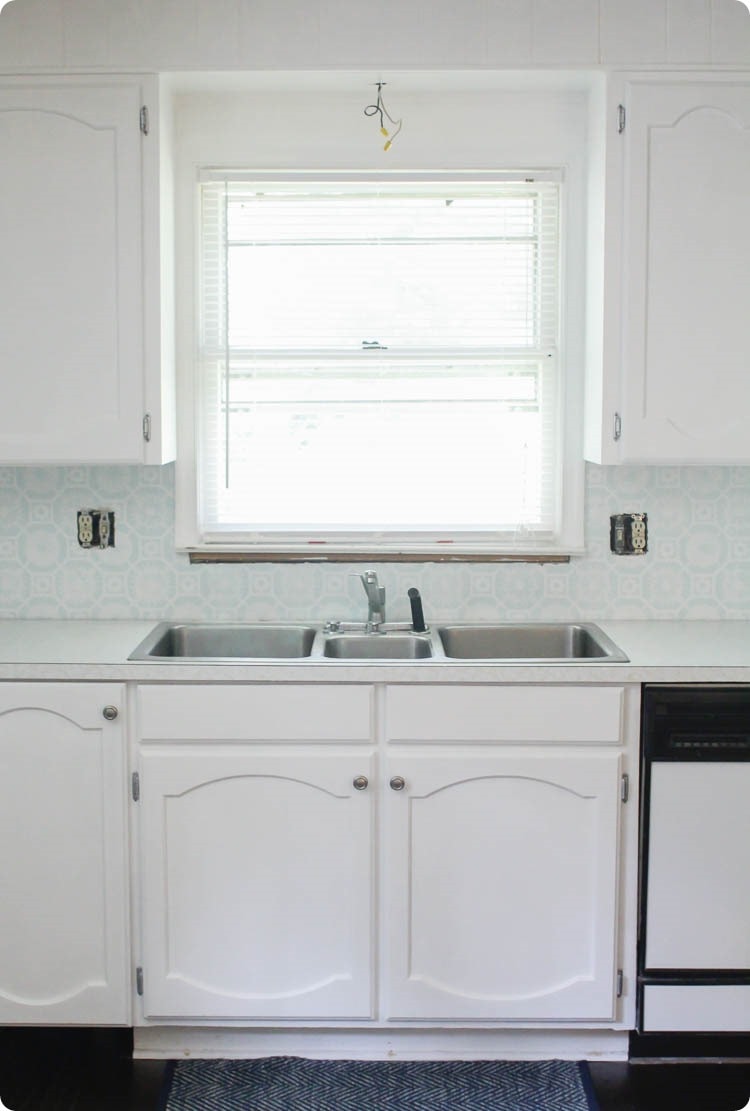 If you look very closely, you can see that the hinges are not exactly the same color as the pulls and knobs.  But they aren't right next to each other and it isn't something anyone would notice unless they were specifically looking for something to criticize.  (And I don't want that kind of person at my house anyway!)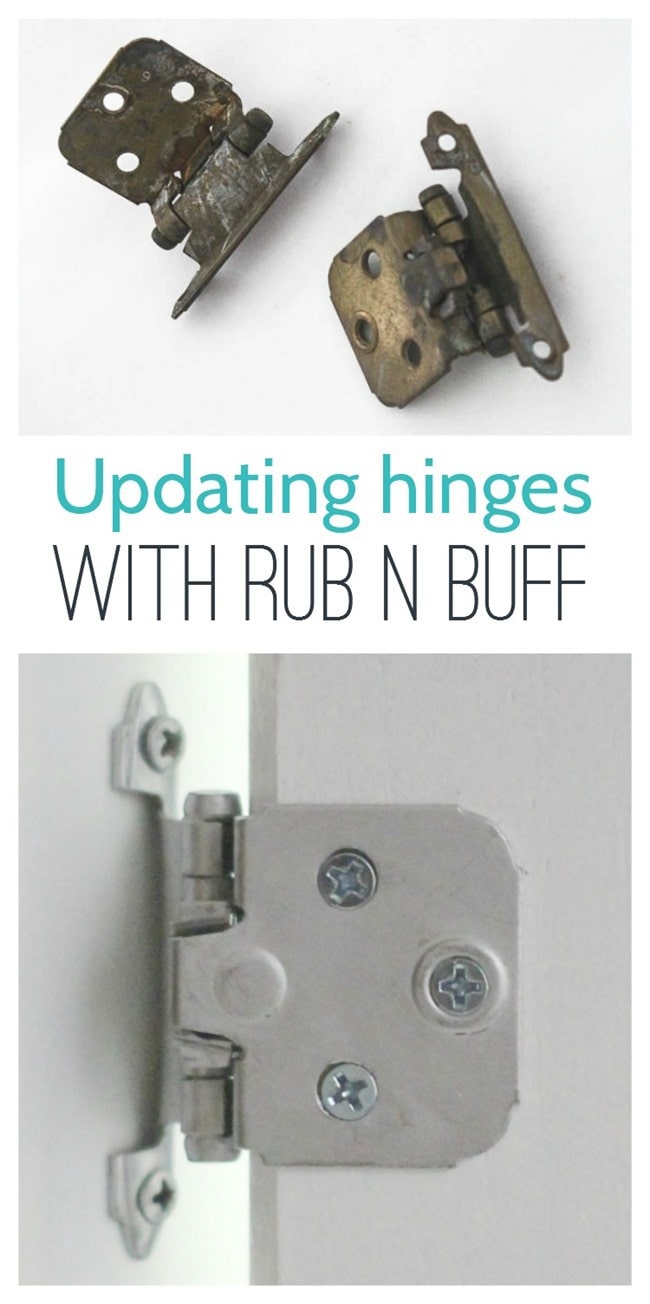 Such a difference!  Hinges are such a tiny detail but it really is the details that make a room.  (And there are more details in a kitchen than I ever realized before!)
Check out all the posts related to our DIY kitchen renovation below:
How to paint oak cabinets white
Painted countertops: How to paint your countertops to look like marble
Where to buy inexpensive cabinet knobs and pulls