Kitchens. We spend a lot of time in our kitchens. I probably spend as much time in my kitchen as any other room in our house, possibly more. Yet our kitchen is one of my least favorite rooms. (And not just because I have to cook dinner there every night.)
The thing is, making over a bedroom is easy. Paint the walls, add some furniture and accessories you like and you're done. Kitchens are hard. They require lots of money. And plumbers and electricians. And somewhere else to cook all those dinners while the work is being done. And did I mention lots of money?
Our kitchen is completely out of date. (Well, as far as looks go anyway. Everything more or less works.) The kitchen actually has a lot going for it. It is nice and big (by my standards anyway). It is open to our family room and the layout works well. There are tons of cabinets and a nice big sink.
Unfortunately, it is also really ugly and dated. I'm fairly certain there isn't anything in there that was installed this century other than the wood floors we put in. The countertops and backsplash are the horrible white laminate with gold squiggles that used to be everywhere a few decades ago. The cabinets are builder grade oak. The stove is from 1985 (I have the owner's manual to prove it!) and the wall oven is even older than that. In other words, not exactly my dream kitchen.
I do have plans to upgrade things. Not a gut renovation – we don't have the budget or the patience for that. But some major improvements involving paint, hardware, maybe some appliances. But realistically, I know those things aren't going to happen until 2016 and the kitchen needs help now.
So I decided to take matters into my own hands (as I tend to do) and show the kitchen a little love. I'm talking one afternoon and a miniscule budget to add some color and warmth and connect the kitchen to the rest of the house.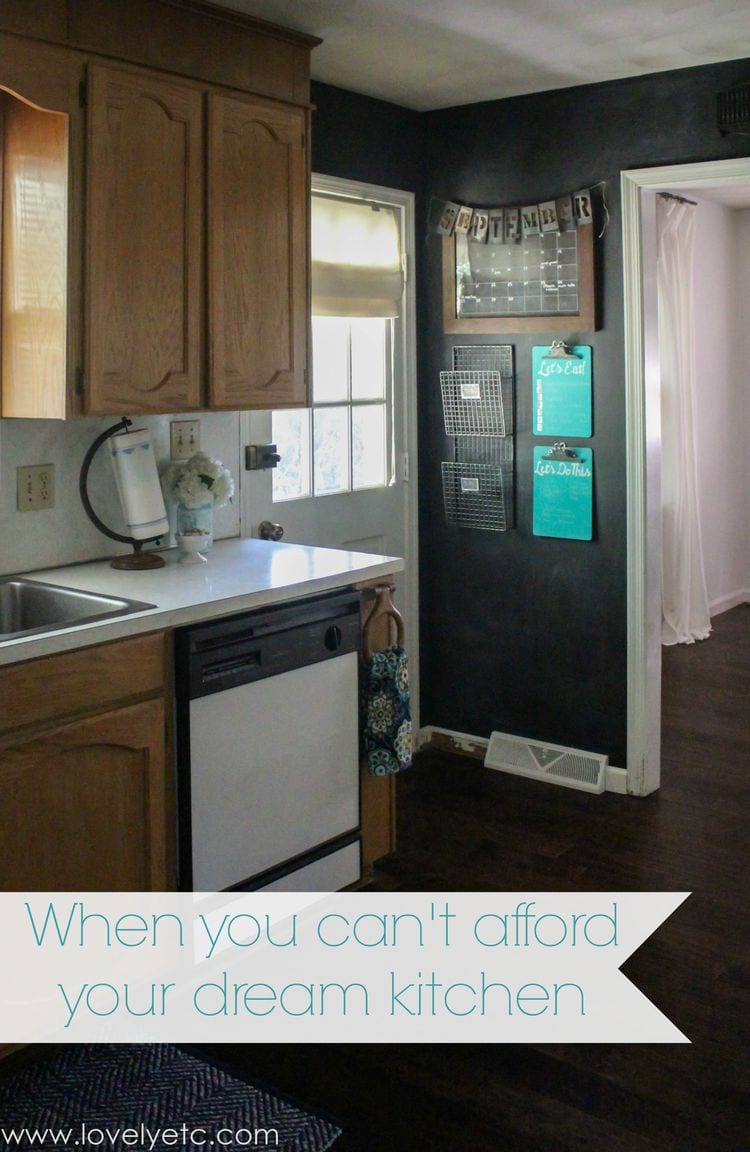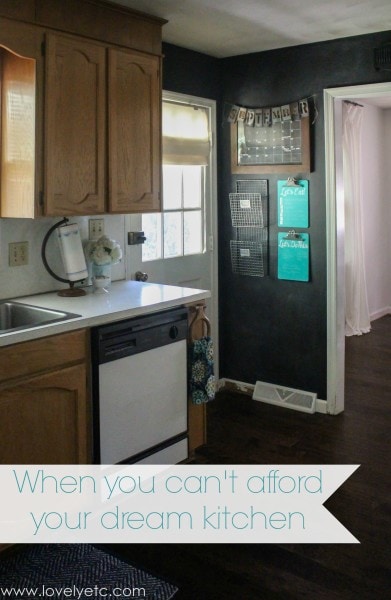 So much better!
Of course, one of my favorite additions is the new command center in the corner of the room. I love the character and color it adds. Plus, anything that keeps the mail from piling up on the kitchen counters is a major improvement! A new rug and a pretty hand towel make everything look more inviting.
And I also added some fun accessories on the counters. I like to keep the counters pretty clear and uncluttered, so I mostly focused on adding functional items that also happen to be fun and colorful.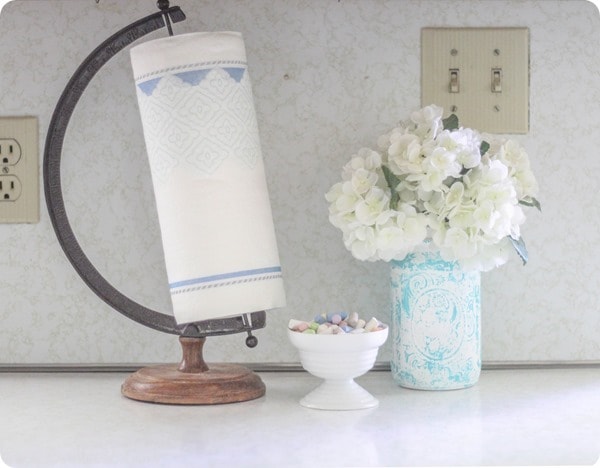 Okay, so the mason jar full of flowers isn't exactly functional but it does draw your eye away from the less than gorgeous backsplash and light switches.
And everything else actually is both pretty and useful. The little white bowl holds chalk for writing and drawing on the nearby chalkboard wall. The awesome paper towel holder is a wood and metal globe stand that I repurposed after using the globe for a different project. And the fun printed paper towels are new from Viva® Designs by Alyssa Milano. The new paper towel line has nine fresh prints and I am loving the pop of color and pattern. Such a simple way to add a bit of style to the kitchen.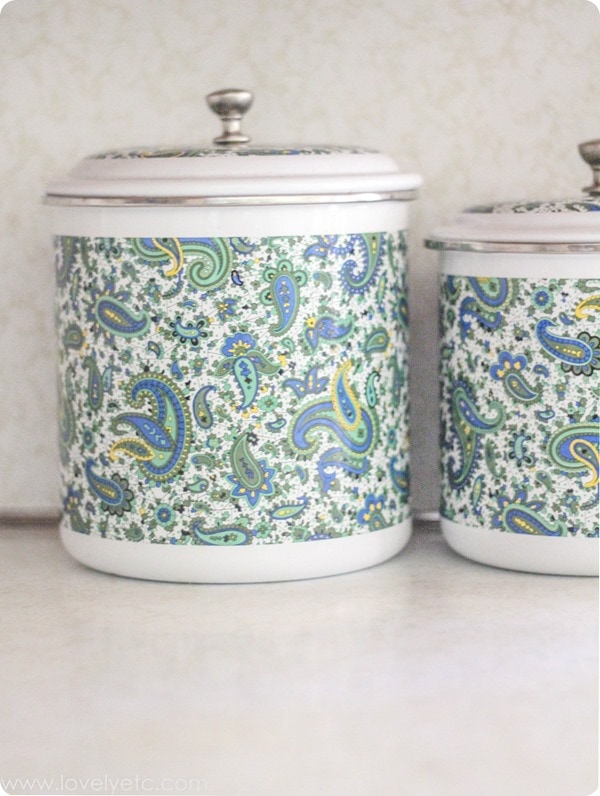 On the other side of the sink are these paisley canisters. I picked these up at a yard sale last summer – a major thrifting coup because I already had a set of pans in this same paisley from a junk shop. But for some reason, they have been stashed in a cabinet since then. Now they are hanging out on the counter looking cute and storing cookies, coffee, and other important stuff.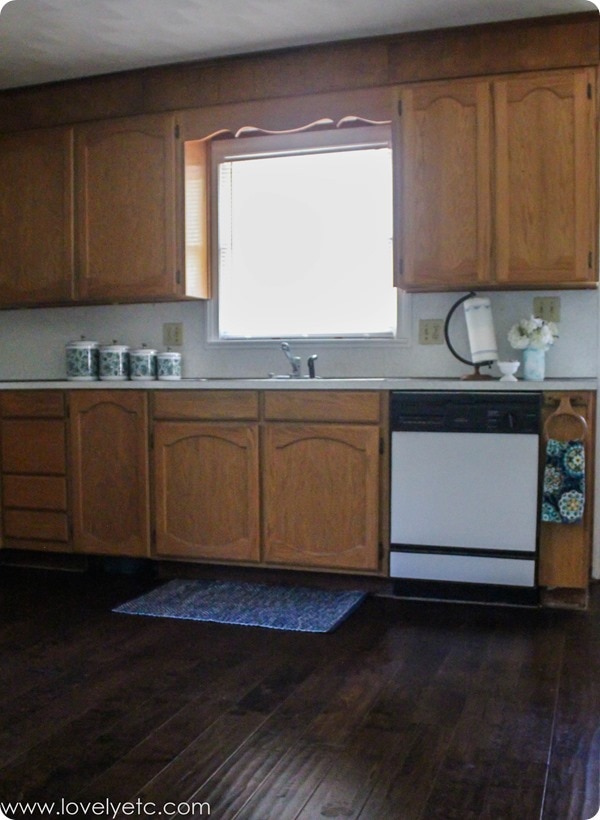 While a few cute accessories may not have turned this into the kitchen of my dreams, they certainly knocked the bland right out of the room.
I was selected for this opportunity as a member of Clever Girls and the content and opinions expressed here are all my own.