I love having a clean, tidy home…but I hate spending time cleaning. Of course, the perfect solution would be a full-time housekeeper. But since that will never be in the budget, I've had to get creative to figure out another answer. And I'm happy to be able to share a few secrets I've learned for keeping things clean without spending all my time cleaning.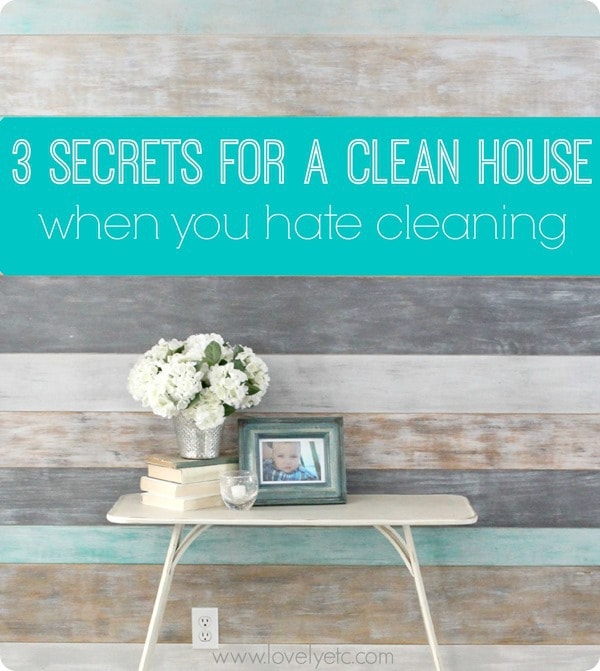 In the past whenever I got really busy, I would just not worry about cleaning until things slowed down and then spend a whole day getting everything put back in order. It was a terrible plan. I was miserable living with all that mess until the big cleaning day came around, and when it was time to get everything cleaned back up, I resented having to spend an entire day cleaning. Definitely not the best way to deal with things.
There is no way that method would work now. With a toddler at home and a baby on the way, I want my house to be as healthy and clean as possible. Every day. Not just once in awhile. Unfortunately, with a toddler at home and a baby on the way, I have very little extra time or energy to spend deep cleaning each day. But I've learned that doing a few small things every single day makes a massive difference in how our home looks, how healthy it is, and how happy I feel.
I don't know about you, but at our house, the main mess revolves around three things: the dishes, the laundry, and the floors. So those are the three things I need to tackle everyday.
Dirty Dishes
No matter how tidy everything else is, our house never feels clean with a pile of dirty dishes in the sink. This is actually one of the jobs my husband is in charge of. (I'm a very lucky wife.) He wasn't always great at keeping the sink cleaned out – ever. But he has actually found an awesome, simple system that is really working. He runs a load of dishes every night before bed. In the morning, he unloads the dishwasher before leaving for work so we can load the dirty dishes throughout the day. Then he runs another load that night. Simple and efficient and keeps the kitchen feeling super clean.
Dirty Clothes
The laundry is my job. As many of you know, adding a tiny little baby to the family comes with massive, massive amounts of laundry. Instead of letting the laundry pile up until the weekend when I have time for one extra long laundry day, I'm learning to tackle a little every day. My goal is one load of laundry done every single day. If I throw a load in the washer before bed, it is ready to go in the dryer before I leave for work in the morning. That evening I can fold it while watching TV and get it put away before bed.
Dirty Floors
There was a time when I might not have included dirty floors as being as big an issue as dishes and laundry. But as I mentioned, I now have a two year old. Which means two things. One, every meal is an opportunity for huge quantities of food to magically appear on the floor. And two, everything on the floor has a pretty high likelihood of ending up in his mouth. At this point I have definitely heard myself say, "What are you eating? Is that food?" way too many times. And to make matters worse, I know that before long, baby #2 will be crawling all over those same dirty floors.
Which means that more than just looking clean, I need my floors to truly be clean. I have sadly resigned myself to the fact that I have to sweep the kitchen floor after every single meal, but there is no way I have time to drag out the mop multiple times a day. Instead I've started using the new Bona Free & Simple® Hardwood Floor Cleaner.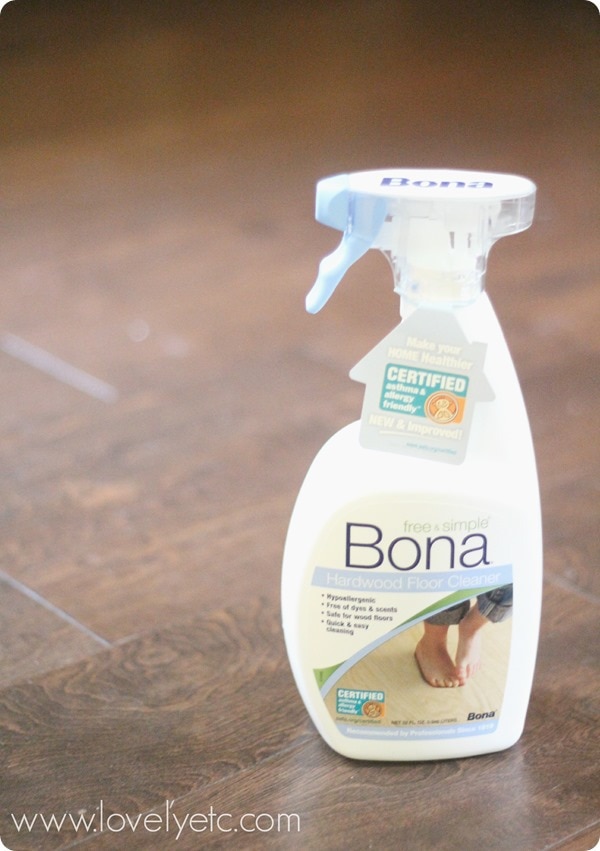 I love that it comes in a spray bottle so I can quickly tackle the worst of the grime and splatters without taking on the entire room each day. And I really love that it is free of dyes and scents, non-toxic, and effective at removing more than 93% of allergens that lurk on hardwood floors. It has even been certified and approved by the Asthma and Allergy Foundation of America.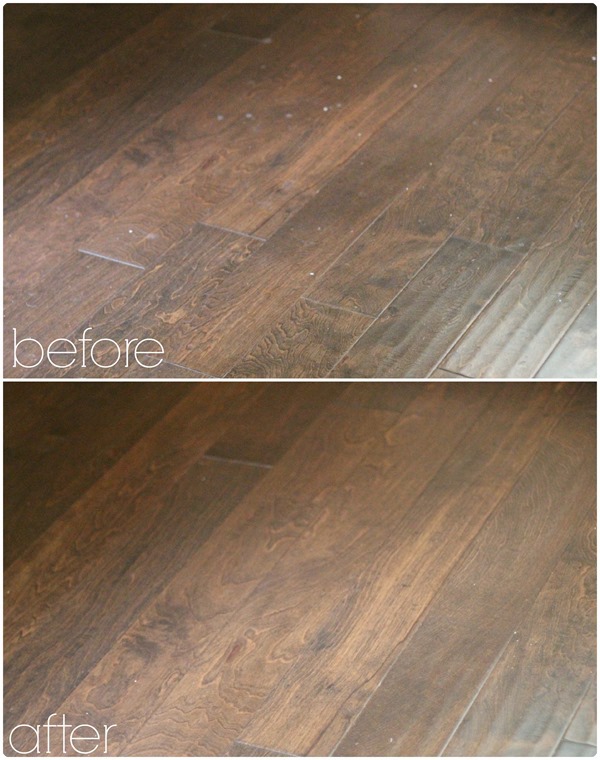 And even better, it really works. Dark hardwood floors are notorious for looking dirty and dusty and streaky even after cleaning. I don't have to worry about that at all with Bona. (And there is nothing I despise more than cleaning something only to have it still look dirty!)
So that is my three step plan of attack for keeping a clean house while spending as little time as possible actually cleaning. Keep the dishes, laundry, and floors clean every single day. Although I have to admit, getting the clean laundry put away every day is still a struggle. But I'm getting there – baby steps.
And for all you deal lovers out there, you can get a great $3 off coupon for Bona by visiting their webpage. (Because really, who doesn't love a great deal?)
Anyone have other tips for keeping your house really clean without spending much time? I'm always on the lookout for new tricks!