A few weeks ago, I shared my super cheap DIY curtain rods made from basic supplies from the hardware store. Today I am back to share yet another version.  These curtain rods are slightly more expensive but still a killer deal.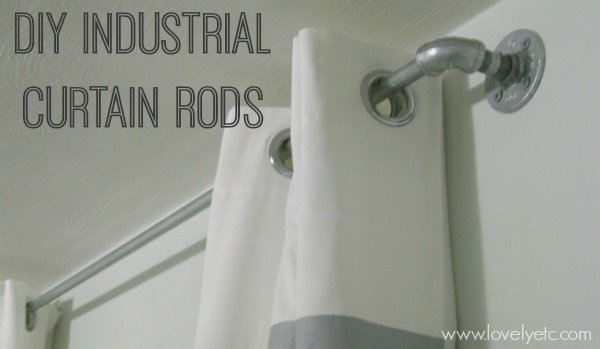 I'm a big fan of the industrial look and have been trying to incorporate some industrial touches into the nursery to 'man' things up a bit.  I love these curtain rods from West Elm.
But it just so happens they are $99.  Each.
Not happening.
Luckily, it is not too difficult to get a very similar look for a lot less.  Yet again, all you need is some basic equipment from the hardware store.  Here is my version which cost $23 each.
For each curtain rod you will need:
1/2 inch Electrical Conduit – $2 for a 10 foot length.  (I bought mine at Lowes.  They told me again that they do not usually cut conduit in the store but when I asked nicely and said they had done it for me before, they had no problem cutting it to the right length for me.  You can also cut it easily yourself with a hacksaw).
2 galvanized floor flanges (1/2 inch) – $7 each
2 galvanized steel pipe nipples (1/2 inch x 2inch) – $4.50 for two
2 galvanized 90 degree elbows (1/2 inch) – $1.25 each
The electrical conduit is with the electrical supplies.  The rest of the materials are in the plumbing aisle.
Putting these together is extremely simple.  Screw one end of the nipple into the floor flange and the other end into the elbow.  Slide the electrical conduit into the other end of the elbow.  Screw the floor flange into the wall.  Finished.
Perfect industrial vibe.
As you can see, I chose to use grommet curtains in this room.  With this type of curtain rod, curtains hung with curtain rings would be much more practical.  That way you can easily change the curtains without completely unscrewing the curtain rod.  However, I really wanted to use these grommet top curtains and I am stubborn so I went for it.  Plus, I'm not exactly planning to change the curtains terribly often.
As for the curtains themselves, I'll be sharing their awesomeness Wednesday.
And if these curtains rods aren't cheap enough for you – and I'm so not judging you if they aren't – check out this version – only $14.50 for three.