Learn how to make super cheap DIY curtain rods in any size with this simple step-by-step tutorial.
It's absolutely crazy how expensive nice curtain rods can be, especially if you need an extra long curtain rod for a double window.
We have several double windows along with a big bay window in our living room and when I started shopping around for curtain rods, I definitely had sticker shock.
So I decided to make my own inexpensive DIY curtain rods instead. And when I realized that I could make my own curtain rods for just a few dollars using inexpensive supplies from my local home improvement store, I couldn't wait to get started.
In this post I'm sharing the full step-by-step tutorial for making your own super cheap DIY curtain rods including exactly what to buy at the hardware store and how to put it all together. Plus, I'm also sharing my top tips for hanging inexpensive IKEA curtains so they look much more luxe.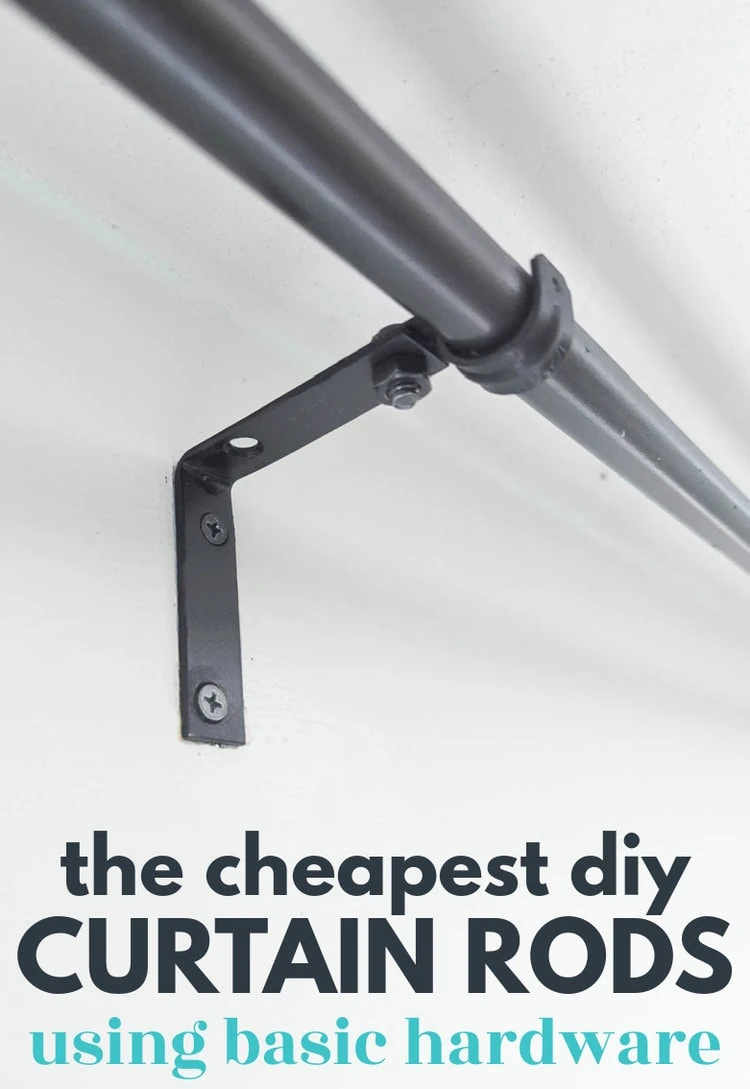 I first made these DIY curtain rods and shared this tutorial way back in 2012. Now, eleven years later in 2023, these curtain rods are still going strong!
This post contains affiliate links which means if you make a purchase after clicking a link I will earn a small commission but it won't cost you a penny more. Click here to see my full disclosure policy.
Materials for DIY Curtain Rods
The prices listed below are based on the prices at my local Lowes stores as of 2023. The conduit and straps were found with the electrical supplies, the corner braces were near the cabinet hardware.
Based on these prices, the cost for one curtain rod (up to 10 feet long!) comes to $18. That is much cheaper than most extra long curtain rods. But the real savings comes in when you make multiple curtain rods – you could make four regular five foot long curtain rods for only $31 or less than $8 each.
(This is extra nice because most inexpensive curtain rods that you can buy only extend to 4 feet wide. The additional width means you can actually hang these curtain rods wide like all the designers advise.)
How to Make DIY Curtain Rods
Cut your conduit to size
Tip: They will sometimes cut the electrical conduit to length for you at the store if you ask very nicely. When I bought mine, the man told me they do not cut it there…but he cut it as he was speaking.
If you didn't get your conduit cut to size at the store, you can go ahead and do that now. Be sure to allow extra length for your curtain rod to extend 6″-12″ past each end of your window. This helps make your windows look larger and lets a lot more natural light into your space.
If you are cutting your conduit at home, there are several different tools you can use. The easiest tool to use is a small handheld tubing cutter. They aren't very expensive and make cutting all types of pipe super easy.
If you don't have a tubing cutter, you can use a simple hacksaw, an oscillating tool with a metal blade, or any other saw that's appropriate for cutting metal.
Paint your components
You can leave your metal conduit and hardware in the standard finish for a more industrial look. But if you would prefer a different color, it's easy to spray paint everything in any color you want. You can go for black, white, even brass.
If you choose to spray paint your parts, be sure to start with a coat of spray primer. This will help your paint stick to the metal finish better.
Once the primer has completely dried, you can spray paint everything with your chosen color. When I originally made these DIY curtain rods, I painted everything oil-rubbed bronze (was there really any other color choice in 2012?) Since then, I've repainted them black and they still look fabulous.
Be sure to paint all of the parts right down to the nuts and bolts for the best look.
I've got an awesome trick for painting screws super fast with no mess here.
Assemble your curtain rod brackets
Putting together the brackets in pretty simple. For each brace you will need a corner brace, a pipe strap, a bolt, and a nut.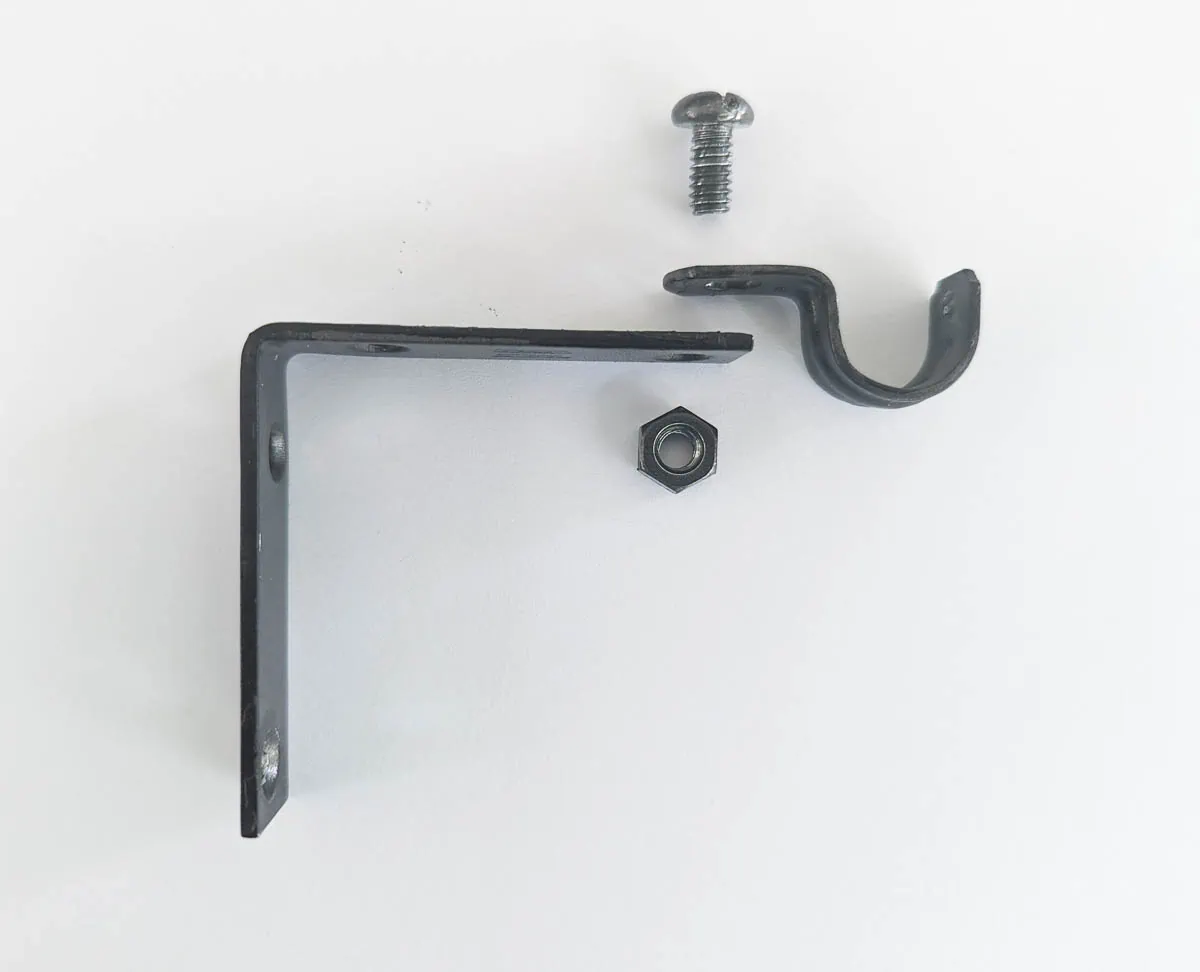 Attach a strap to each corner brace using a bolt. Tighten the nut underneath to hold everything in place.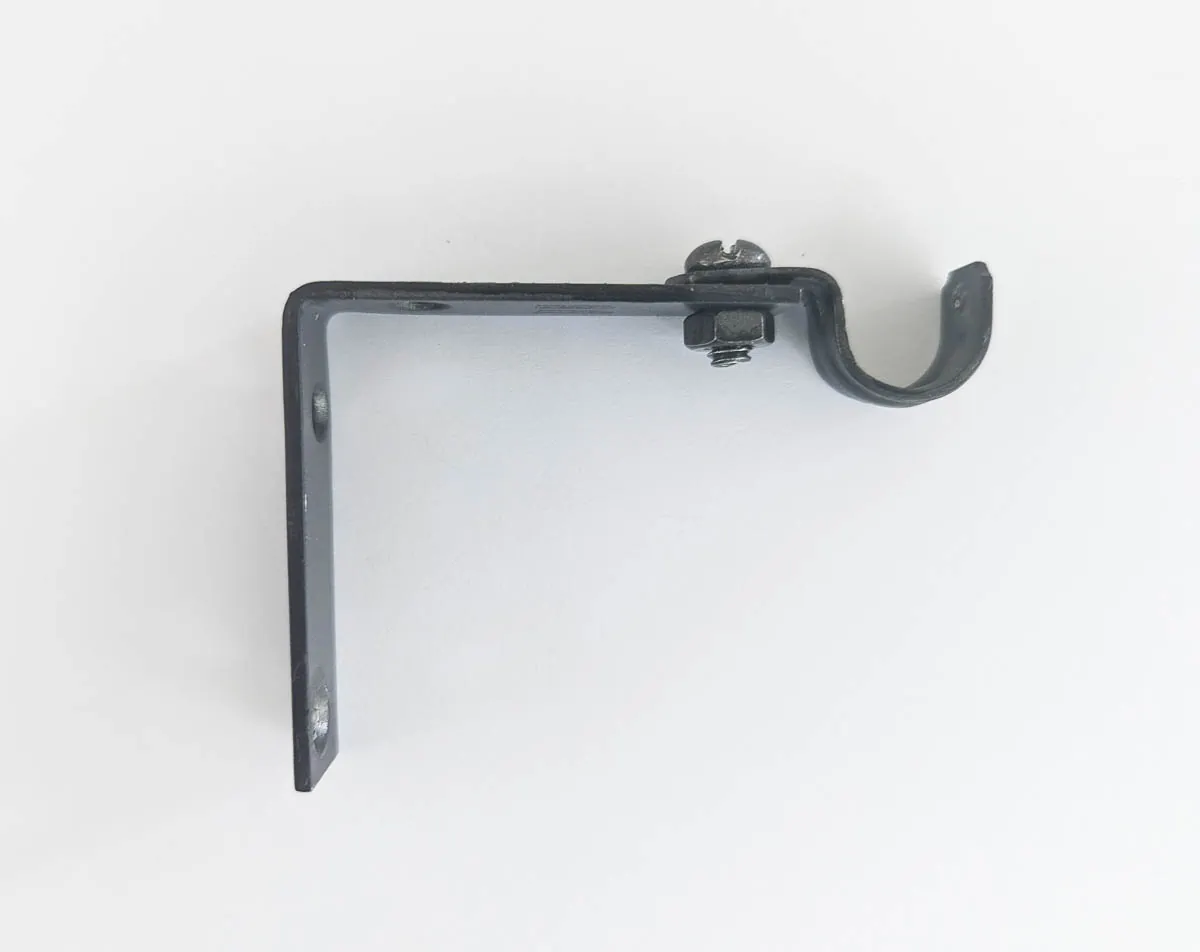 Mount the brackets on the wall
Mark where you want your brackets to be and then hang them in place.
You may need to use drywall anchors to hang your brackets depending on what type of walls you have and how heavy your curtains are.
If you are hanging an extra long curtain rod, it is probably a good idea to make a third bracket to help support the middle to prevent sagging. I used a third brackets on my ten foot curtain rod and it still looks and works great eleven years later!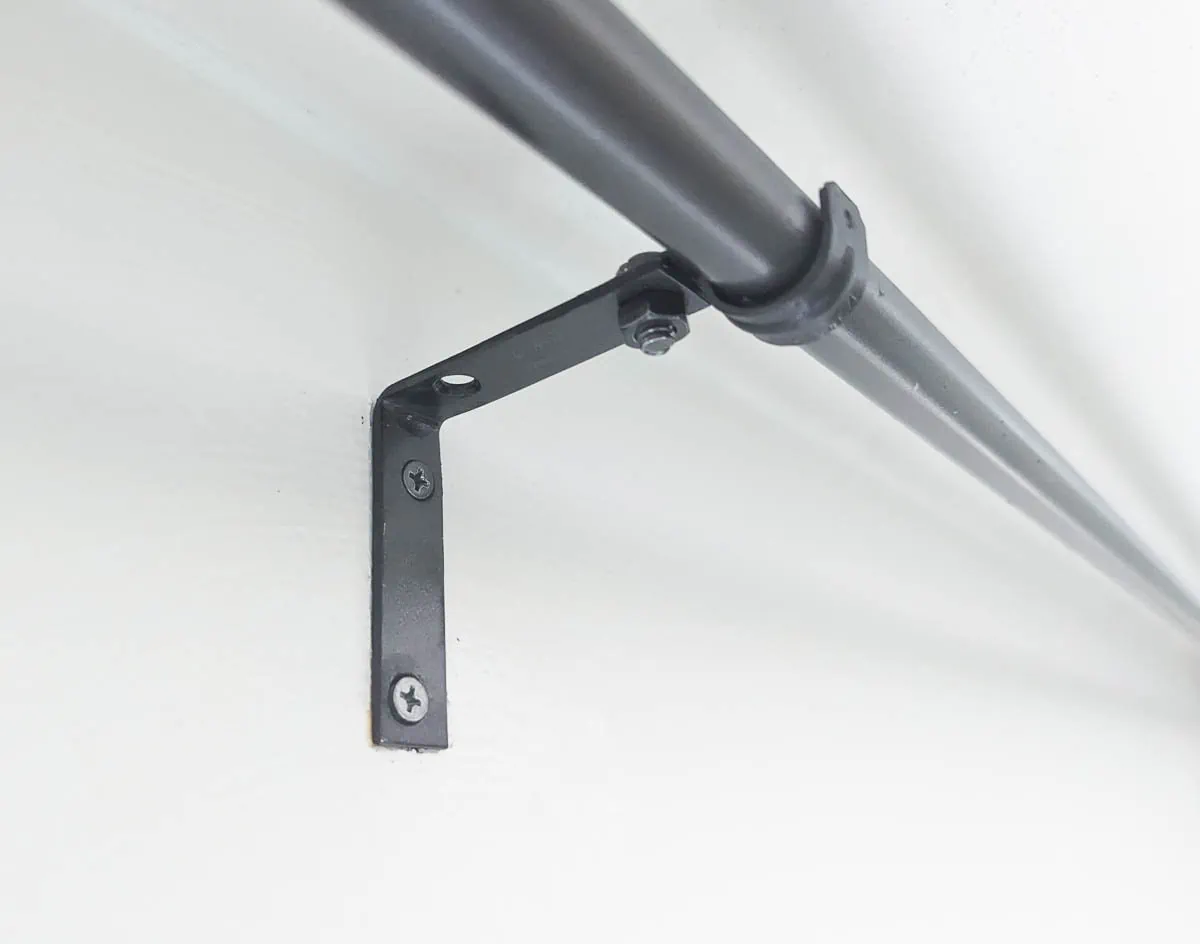 An alternative option for semi-DIY curtain rods
There is also another option if you want inexpensive curtain rods but you don't want to deal with gathering the hardware bits yourself.
You can buy simple curtain rod brackets like these sold on Amazon. They look very similar to the DIY version above but they're already put together.
If you pair these with the electrical conduit, you will still save a good amount of money over store-packaged curtain rods. In fact, if you are only making one curtain rod, using these brackets actually comes out a few dollars cheaper than the DIY version. If you are making two or more curtain rods, the DIY version is more cost-effective.
If you want to add a bit more pizazz to your curtain rods, I recently shared all the details of the inexpensive DIY finials I added to my super cheap curtain rods.
Hang your curtains
Once your brackets are in place, you can attach your curtains to your curtain rod and set it onto the brackets.
Tip for to making tab-top curtains look better
The curtains I chose to use are bleached Lenda panels from Ikea – again beautiful but frugal at only $20 for two 96-inch panels.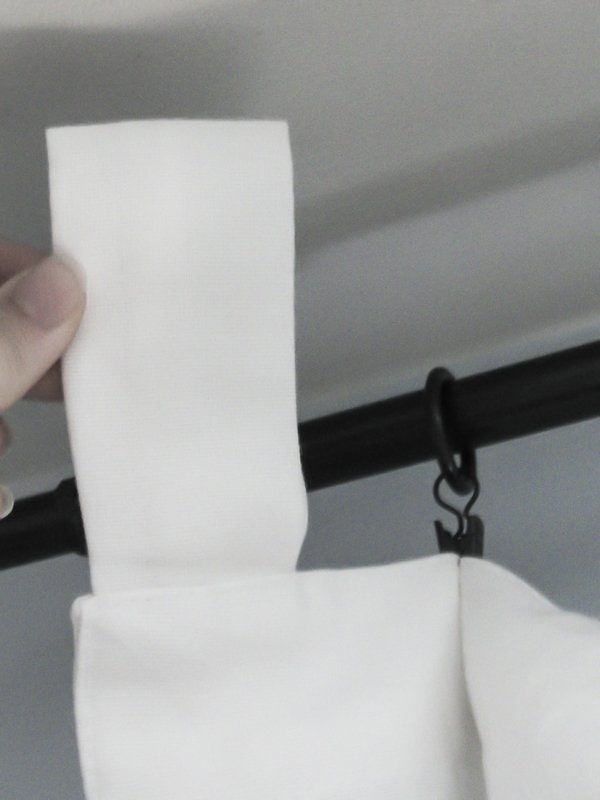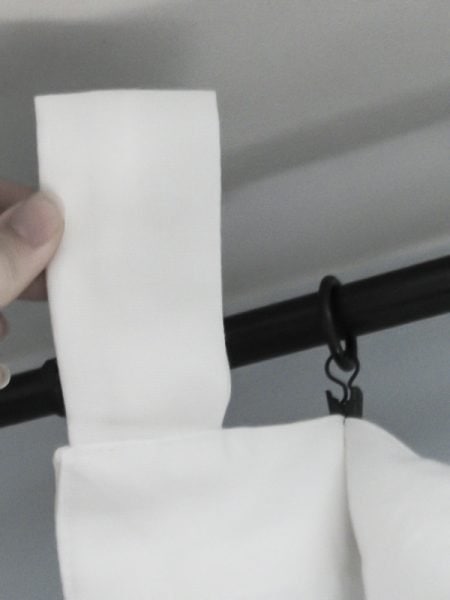 These curtains are a tab-top style, something I have never been a fan of.
To help them look nicer and less like a bargain find, I simply folded the tabs behind the curtains and used curtain rings to attach them to the rods instead.
Even though they are simple white curtains, they make a world of difference as far as softening the room.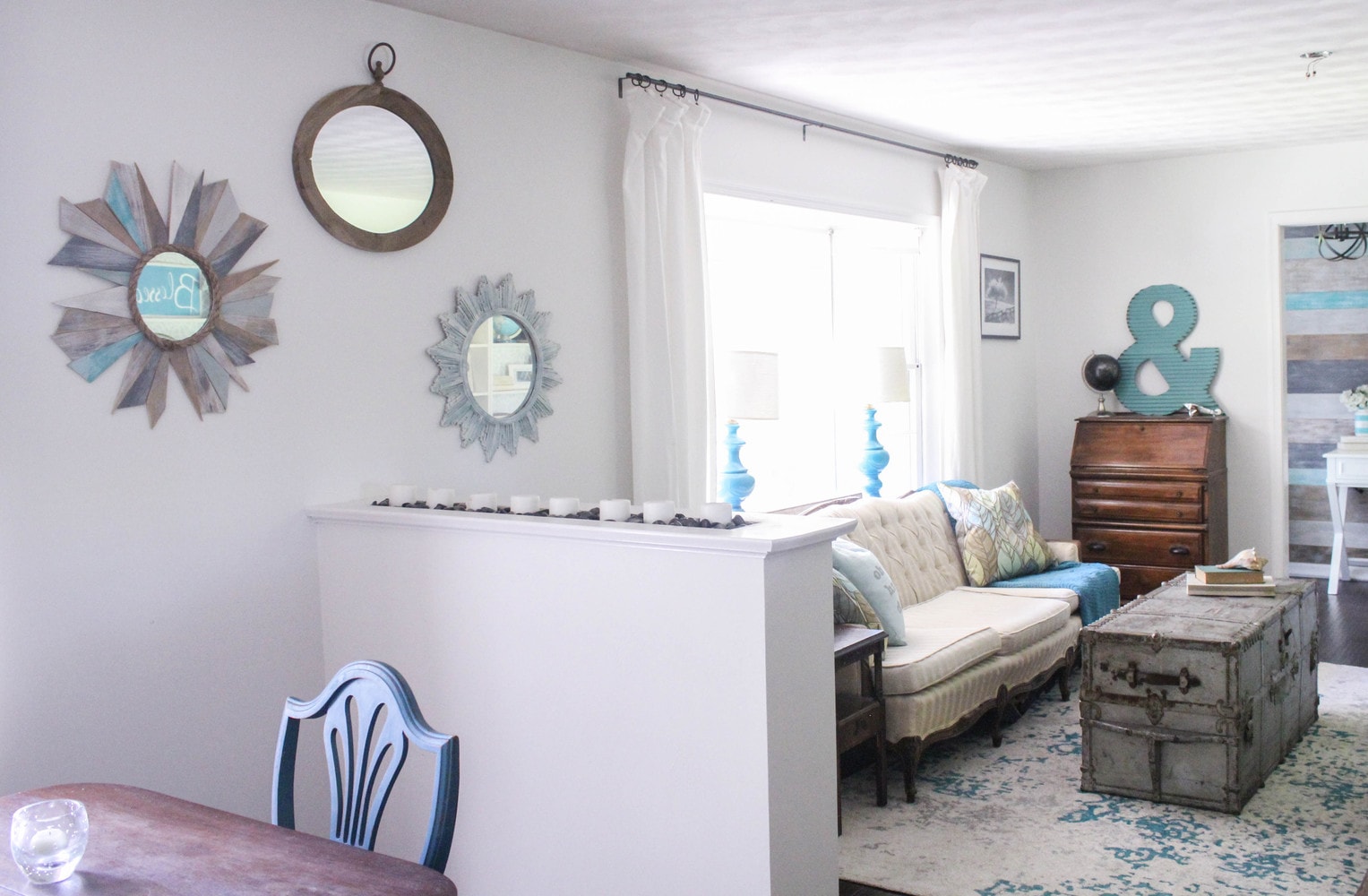 Looking for more inexpensive DIY curtain rod and curtain ideas? I've got you covered:
I would love for you to pin this post to Pinterest so you can find it later!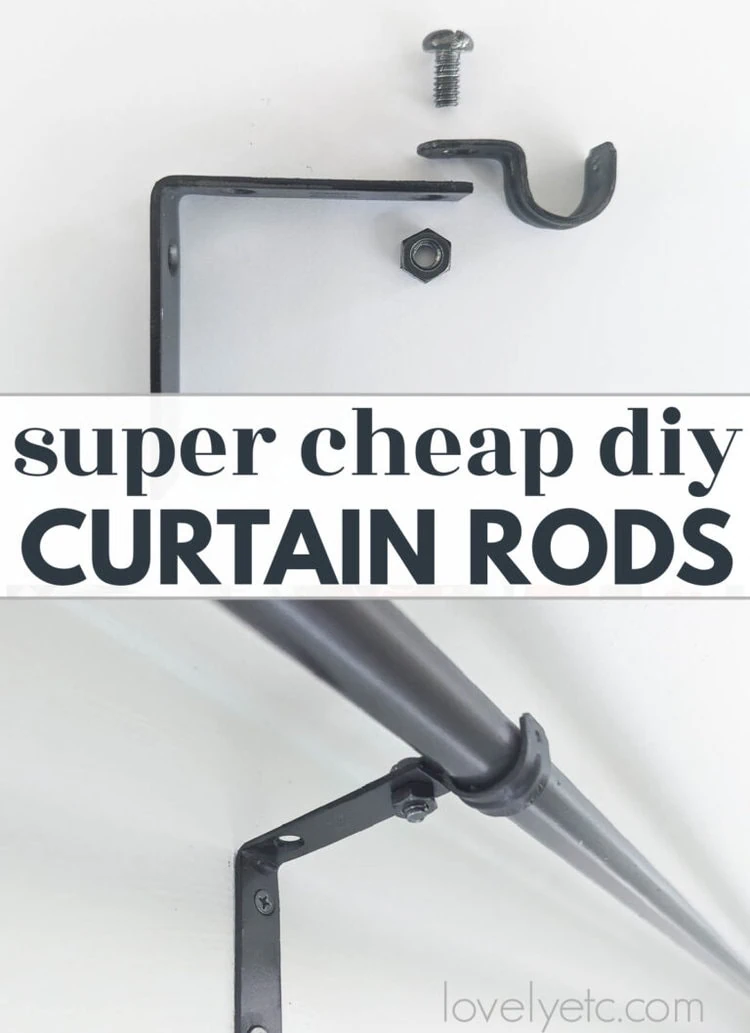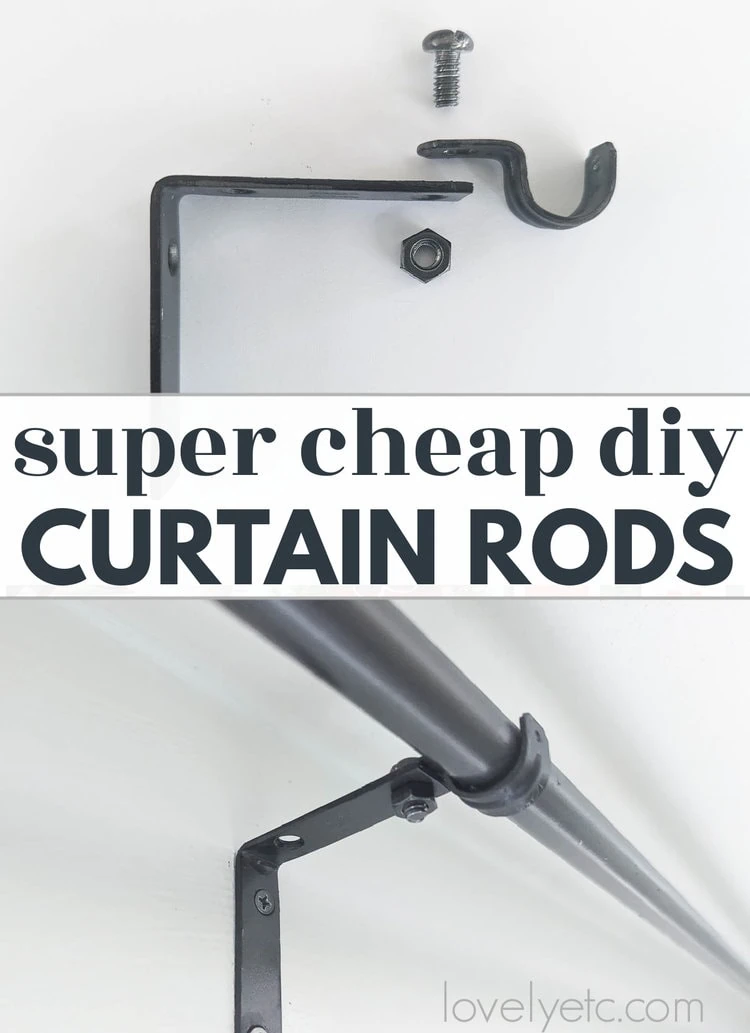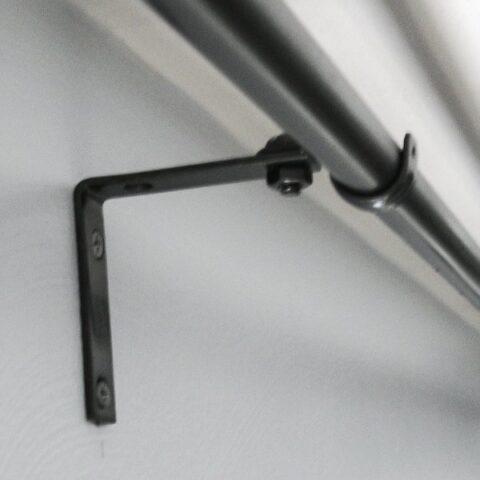 DIY Curtain Rods
Total Time:
1 hour
30 minutes
These DIY curtain rods are cheap and easy to make, even if you need to fit extra long windows. You can easily make any size curtain rods you need in any finish.
Materials
1/2" electrical conduit
Drywall anchors and screws
Tools
Instructions
Cut the electrical conduit to length. Be sure to make it long enough to extend past your window at least six inches on each side.
If you choose to paint your curtain rods, it is easiest to paint each of the pieces before assembling the DIY curtain rod brackets. Make sure your hardware is clean first. Then spray each piece with a thin coat of spray primer.
Once the primer is fully dry, paint each component with a few thin coats of your chosen spray paint.
Align the hold of each one-hole strap with the last hole of each corner bracket. Use a nut and bolt to attach the two.
Attach each corner brace to the wall using screws and drywall anchors.
Hang your curtains on your electrical conduit curtain rod and set it on the brackets.
Notes
If you are making an extra long curtain rod, be sure to add an additional curtain rod bracket to support the middle of your curtain rod.
Recommended Products
As an Amazon Associate and member of other affiliate programs, I earn from qualifying purchases.
Google Web Story: Best DIY Curtain Rods on a Budget