A super simple tutorial for adding cheap and easy finials to basic DIY curtain rods.
Of all the projects I have shared over the past five years, one of the most popular is my super cheap DIY curtain rods.
They may not be flashy but they are such a great alternative to expensive curtain rods – especially when you are dealing with an extra-wide window.
It really is amazing how inexpensive curtain rods can be when you put them together yourself using a few simple items from the hardware store.
Anytime you can whip up a cute, functional curtain rod up to ten feet long for less than $15, it is a major win.
Four years later, my curtain rods are still going strong, but one little detail continues to nag at me – the lack of finials.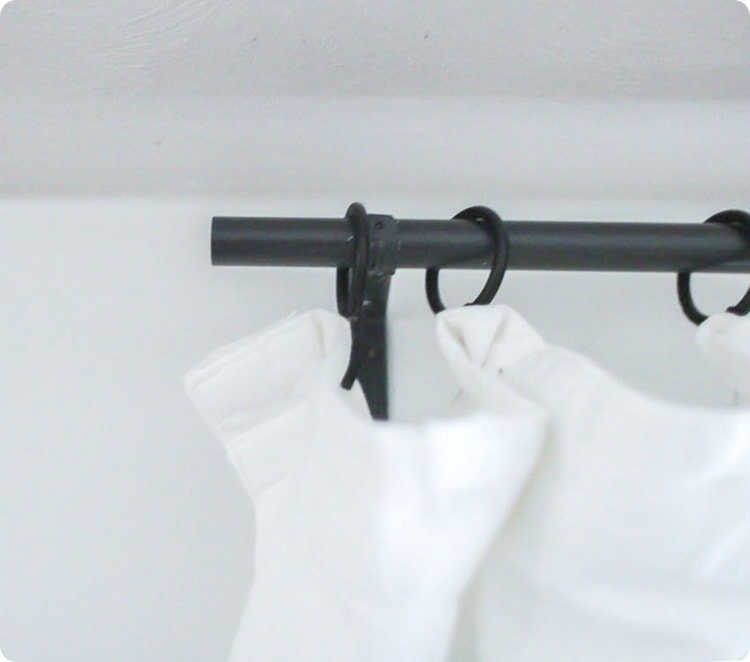 Not a huge problem, but I have to admit they were looking a bit naked so I finally decided to do something about it.
This post contains affiliate links which means if you make a purchase after clicking a link I will earn a small commission but it won't cost you a penny more. Click here to see my full disclosure policy.
You can buy curtain finials on their own. But the inexpensive ones typically cost $10-$15 a pair and it seems incredibly silly to buy curtain rod finials that cost more than the entire curtain rod.
Which meant a DIY job was in order.
So I started pondering how to whip up some cheap finials that would be easy enough to compliment the cheapest curtain rods ever, but still, look classy. And I finally came up with a great idea.
How to Make DIY Curtain Rod Finials
The finials themselves are made from cabinet knobs.
The beauty of using cabinet knobs is there are a million different styles available so you can choose the exact look you want to match your room. Plus, if you know where to shop they are super cheap.
I shared my favorite sources for inexpensive cabinet pulls and knobs here. There are tons of styles for less than $3 and some are as little as $1 each!
But how to attach them?
I considered using strong glue, but because the curtain rod is made from a hollow pipe, it would be really tricky to line up the knobs and pipe exactly.
Instead, I tried a new product I'd heard good things about and it worked perfectly!
It is called Sugru and it is sort of a cross between play-doh and glue.
It is moldable and can be attached to all kinds of things. And it just so happens, it is perfect for turning cabinet knobs into curtain finials.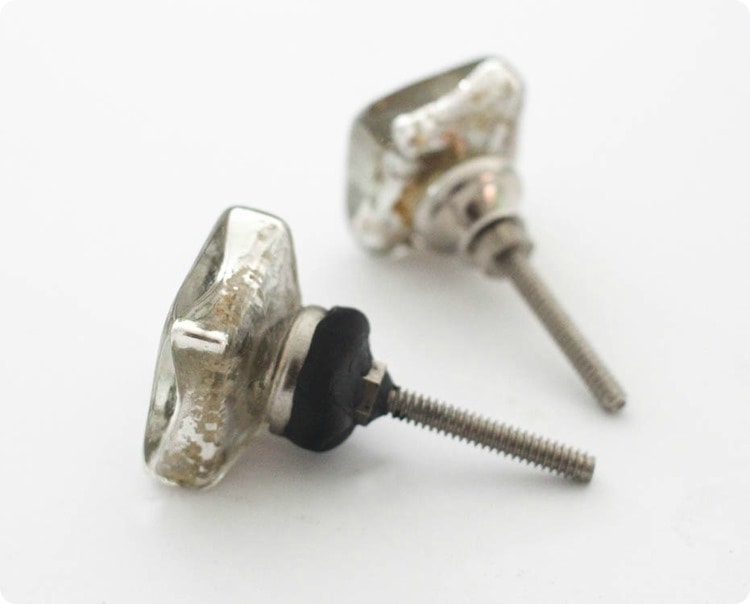 I used mercury glass knobs that I bought on sale at Hobby Lobby. Sugru comes in several different colors; I chose black to match my oil-rubbed bronze curtain rods.
This is seriously ridiculously easy to do. If your knobs have an attached screw-like mine, form a small ring of Sugru around the screw right at the base of the knob.
If there is no screw, you can simply press a small ball of Sugru into the base of the knob. Then press the knob to the end of the curtain rod.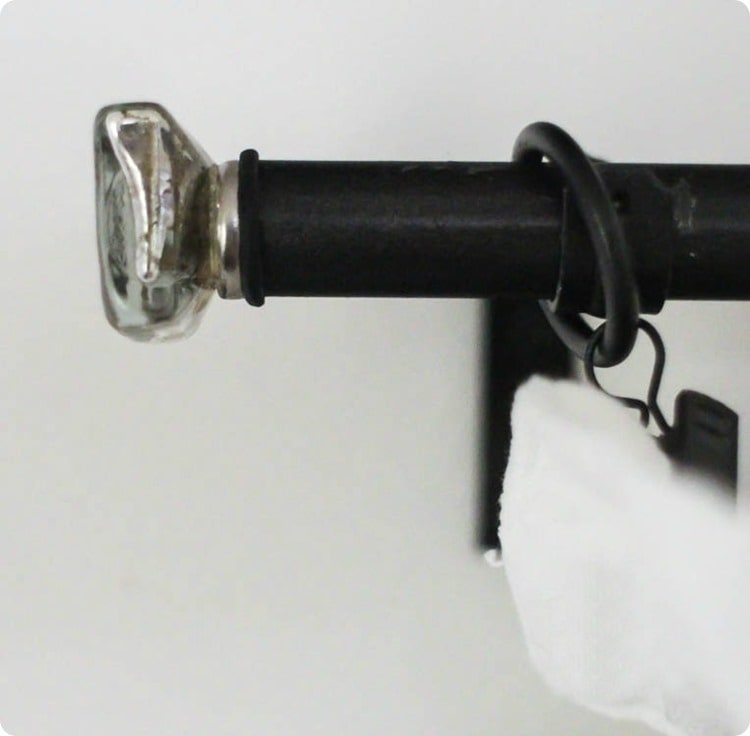 There will probably be some Sugru that squishes out between the curtain rod and finial. Simply wipe off the excess with your finger.
And that's it. So simple.
I was able to attach four finials using one small pouch of Sugru.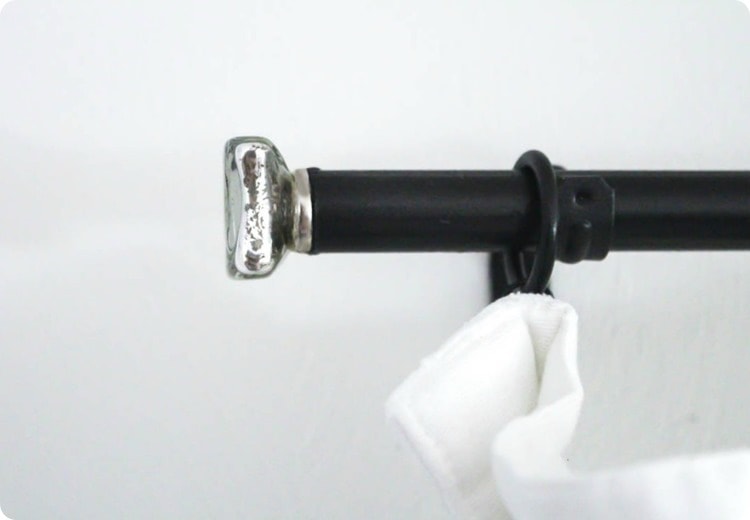 It is a just tiny change, but these curtain rods finally feel finished!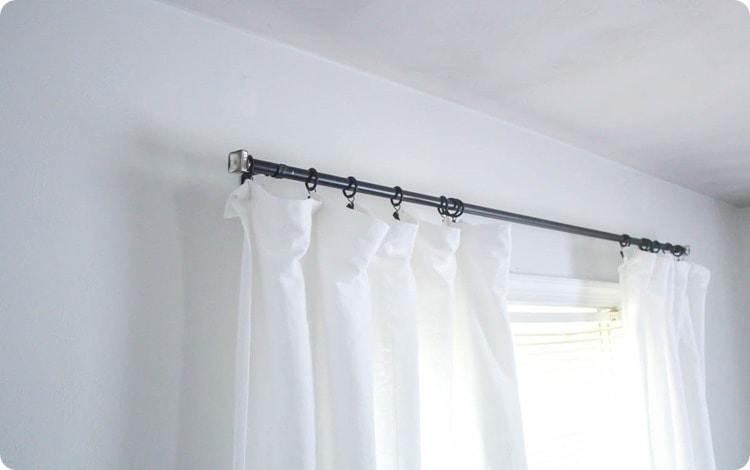 You could completely change the look of the curtain rods depending on what type of knob you chose.
You could go subtle with a metal knob in the same finish as your curtain rod. Or make a splash with something big and bold.
Looking for more inexpensive DIY curtain rods and curtains? I've got you covered:
I'd love for you to pin this post on Pinterest!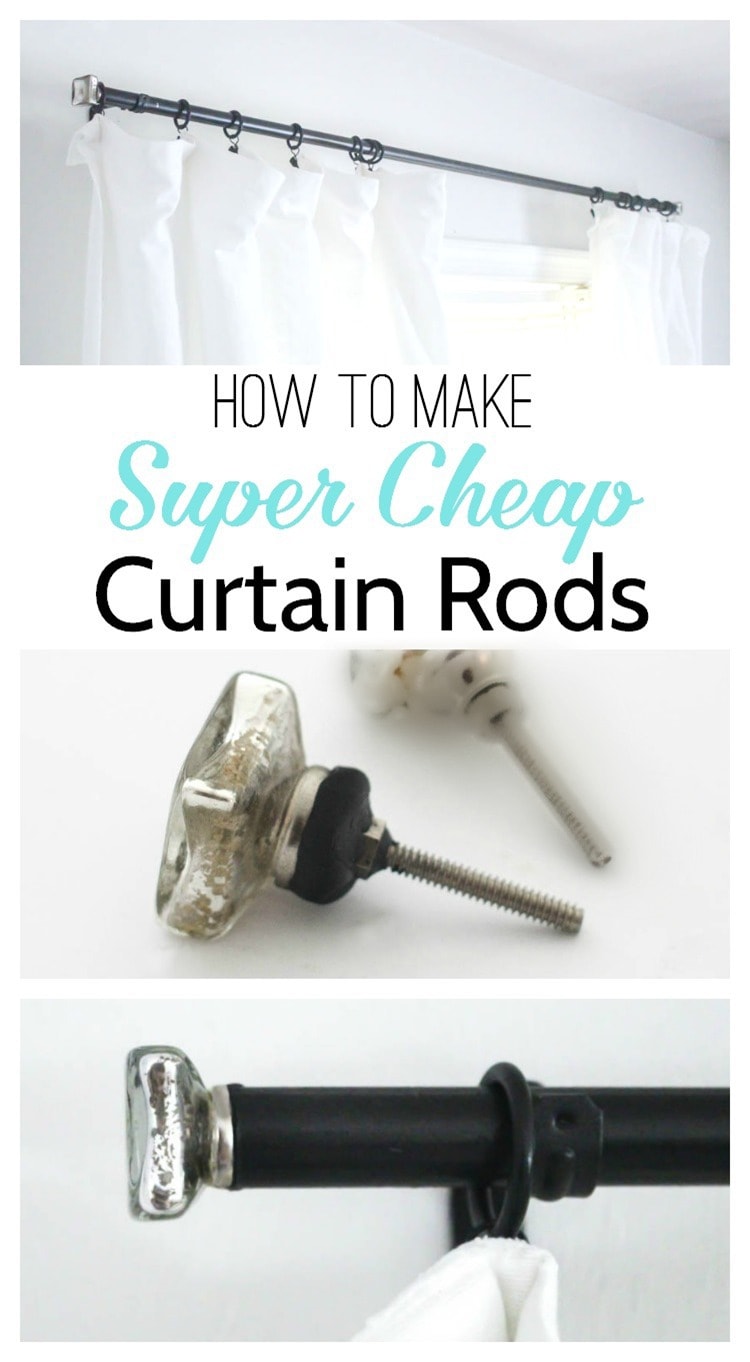 Add DIY finials to Cheap Curtain RODS
Make inexpensive DIY curtain rod finials using cabinet knobs! They look like the ones sold at high end stores, for a fraction of the price. This trick works well for any plain curtain rods, including inexpensive DIY curtain rods made from electrical conduit.
Materials
Sugru (modeling glue)
Cabinet Knobs
Instructions
If your knob has an attached screw, form a small ring of sugru around the screw at the base of the knob.
If there is no screw, press a small ball of sugru into the base of the knob.
Press the knob to the end of the curtain rod. Wipe off any excess sugru.
The sugru will harden within 30 minutes.
Recommended Products
As an Amazon Associate and member of other affiliate programs, I earn from qualifying purchases.