This simple step-by-step tutorial will answer all of your questions about painting a brick fireplace the right way, including which paints work best, what paint sheen you should use, and whether chalk paint is a good idea.
The fireplace in our family room is a particularly unlovely brick. When we first moved in, it was unpainted red brick and I hated it. I'm not a huge fan of orangey-red brick to begin with, but our fireplace was especially bad because of some very sloppy mortar lines.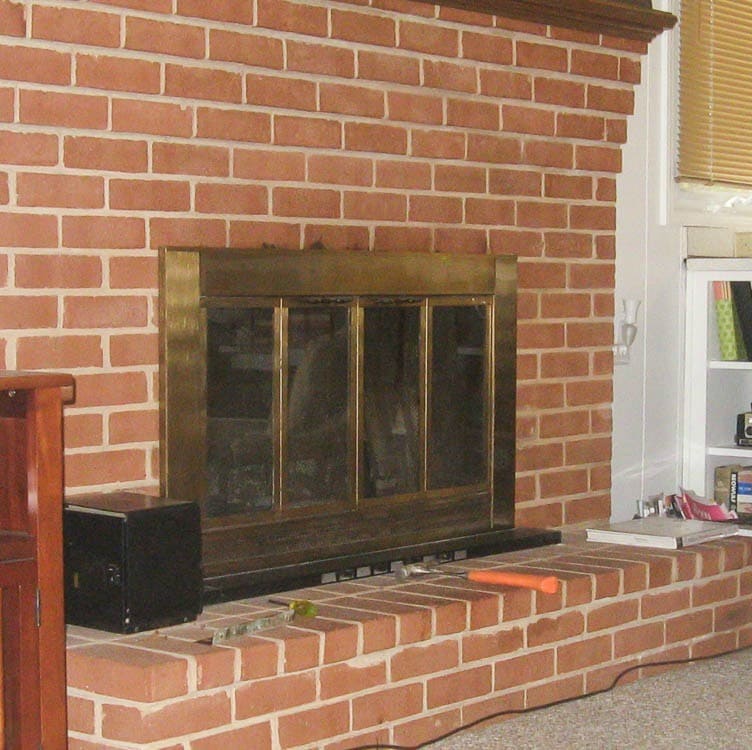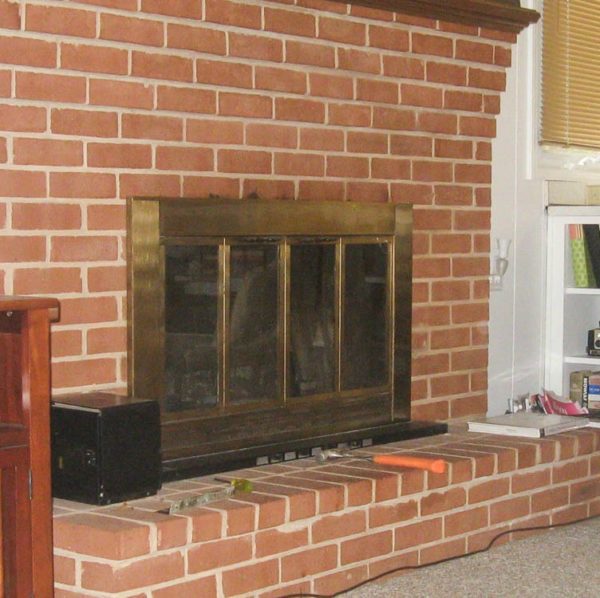 (Unfortunately, this is the only before picture I have, but you get the idea.)
I felt absolutely no qualms about painting the brick white pretty soon after we moved in.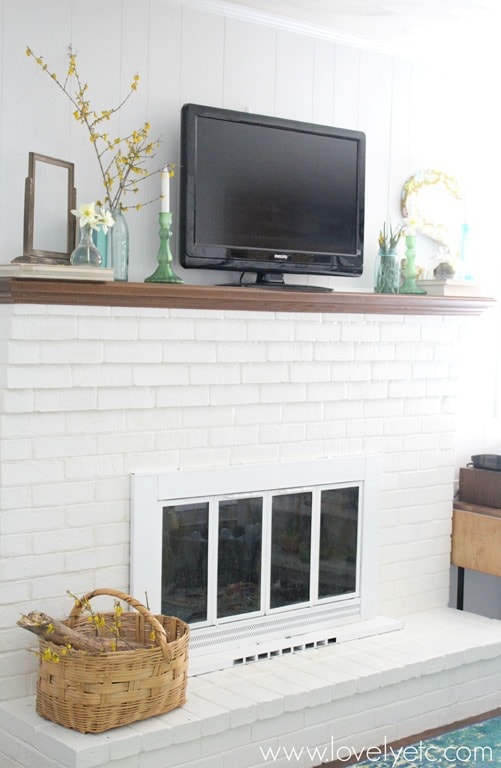 The white was a huge improvement. Huge.
But it was just so boring.
Every now and then I get a wild idea about my house. I used to just brush them off, but then one day I got brave and started actually making them happen. And those crazy ideas have turned into some of my absolute favorite parts of my home. This spring I got a wild idea to paint my fireplace navy.
I absolutely love how it turned out, but there were a few bumps along the way. And I'm actually glad of the problems I had, because they actually taught me a lot about how to paint a brick fireplace the right way.
And now I'm sharing what I learned with you, so you can also learn from my mistakes…instead of having to make them yourself!
This post contains affiliate links which means if you make a purchase after clicking a link I will earn a small commission but it won't cost you a penny more. Click here to see my full disclosure policy.
What sheen to paint a brick fireplace – matte or satin?
I started by painting the fireplace using chalk paint and it looked amazing. But I got distracted and didn't seal it right away. And when my son drove his little cars all over the hearth, the paint got pretty scratched up.
In an effort to save myself some time (big mistake), I repainted it using satin latex paint in a color that exactly matched the chalk paint color I had used. And when I was finished, it no longer looked amazing.
This is hard to capture in photos, but the photo below gives an idea. The more shiny half on the right is painted with the satin paint.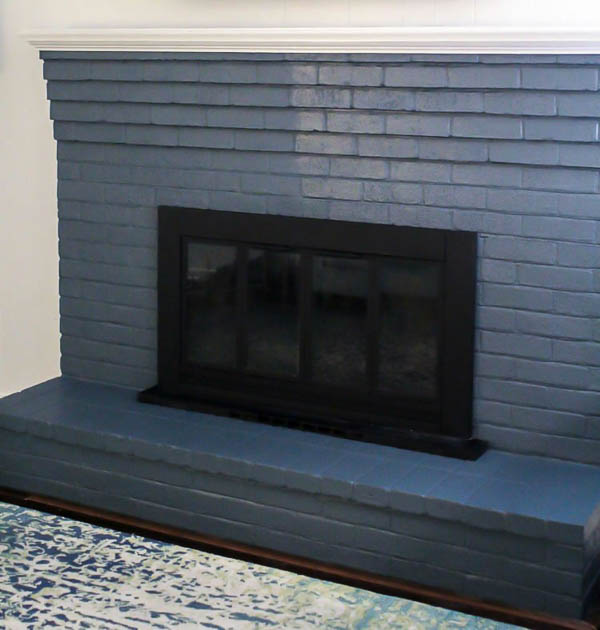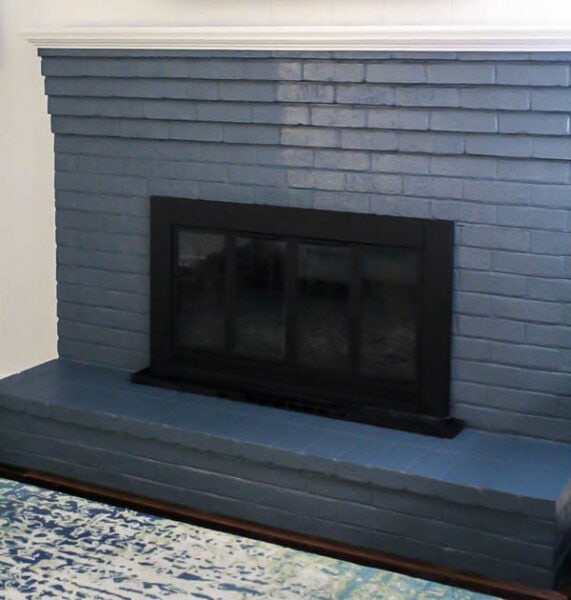 The shinier side just doesn't look good. I'm not even really sure how to describe it, but all my attention was drawn to the actual paint on the shiny side. Not the fireplace, the paint itself. The matte side chalk paint side looked like it belonged and the shiny side did not.
I know that sounds crazy, but there was a huge difference between the two. I don't think it had anything to do with using latex paint rather than chalk paint. The problem was the slight sheen of the satin paint. Brick itself has a very matte finish, so it makes sense that matte paint looks much better on brick.
Lesson learned and in the future I will only use matte paint on brick, even if I am just painting with boring old white paint.
Can you chalk paint a brick fireplace?
As I mentioned above, I initially did use chalk paint. The color was gorgeous, it was easy to work with, and it had a fantastic matte finish. (The chalk paint I used was Americana Decor Chalky Finish Paint. I mixed a custom color using the colors Legacy and Relic.)
Unfortunately, it was not durable enough without a protective top coat. This is generally the rule for anything you paint with chalk paint whether it is furniture or home decor or even fabric. And apparently it is also true of a brick fireplace.
The fireplace may have been fine if nobody ever touched it, but my son loves to play on the hearth. (When there's no fire, of course!) And his little toy cars pretty quickly scratched up the paint.
So if you do choose to use chalk paint on your fireplace, I would strongly recommend a good sealer. Personally I wouldn't wax a fireplace; wax just isn't durable enough. If I were going to use chalk paint, I would follow it with General Finishes Flat out Flat Topcoat. This is my favorite completely matte sealer.
OR you can save yourself some trouble and use a matte latex paint and skip the need for sealer all together.
Okay, now let's get down to the actual tutorial!
Materials for Painting a Brick Fireplace
Cleaner
Latex paint in a matte or flat finish (I used Sherwin Williams Blue Mystery)
How to Paint a Brick Fireplace (the right way)
Before you can paint anything, it has to be clean. And fireplaces in particular tend to get covered in soot, ash, and general dust. I usually use a spray bottle filled with a mixture of water and Dawn dish soap for jobs like this, but any general cleaner should work. Be sure to clean all of the nooks and crannies as you go.
You might also want to use painters tape to protect any trim or flooring touching the brick. And if you have fireplace doors like we do, you can also use painter's tape to protect them while you are painting the brick.
Do you need primer?
If your brick has never been painted before, you definitely need to start with a coat of primer. Brick is very porous and soaks up a lot of paint. Starting with primer will significantly cut down on the coats of paint you need.
If your brick has been previously painted and you know that it was definitely painted with a water-based paint, you can skip the primer.
But if you have an older home and the brick has been painted for many years, there is a good chance it may have been painted with an oil-based paint. Oil-based paints used to be very popular for painting trim, doors, and other home features.
To test if your fireplace was painted with an oil-based paint, you can put a bit of nail polish remover (with acetone) on a rag and rub it on the paint. If nothing rubs off, it is oil; if it does, it is latex.
If your fireplace was previously painted with oil-based paint, you have two choices. You can either repaint it with oil-based paint or you can use an oil-based primer, followed by a water-based paint like latex paint. I generally prefer the second option. Water-based paints are very durable these days and they are also better for the environment and much easier to work with and clean up.
Painting the brick
Painting brick is a bit of a pain, but it isn't difficult. Because brick is so rough, you really have to push the paint down into all of the grooves.
Start by using your paintbrush to push paint down into all of the mortar lines between the bricks. Then just go back with your brush and paint the faces of the bricks. In most cases, two coats of paint should be plenty for good coverage. Be sure to let the paint fully dry between coats.
You can also use a roller instead of a brush for the brick faces if you prefer. Personally, I found that it didn't really speed things up. When I tried rolling, I still had to go back over each brick with a brush to get paint into all of the little divots.
Painting fireplace doors
As you can see, I also repainted the metal fireplace doors at the same time. I would love to remove the doors for aesthetic reasons, but they really do make a big difference in helping regulate the temperature in our home. So for practical reasons, they have to stay. But I at least wanted to make them blend in a bit more.
This is a pretty straightforward process: just tape off the glass and the surrounding brick and spray the doors with a high heat spray paint. This paint is incredibly fumey so be sure to do this when you can open the windows and get lots of fresh air circulating.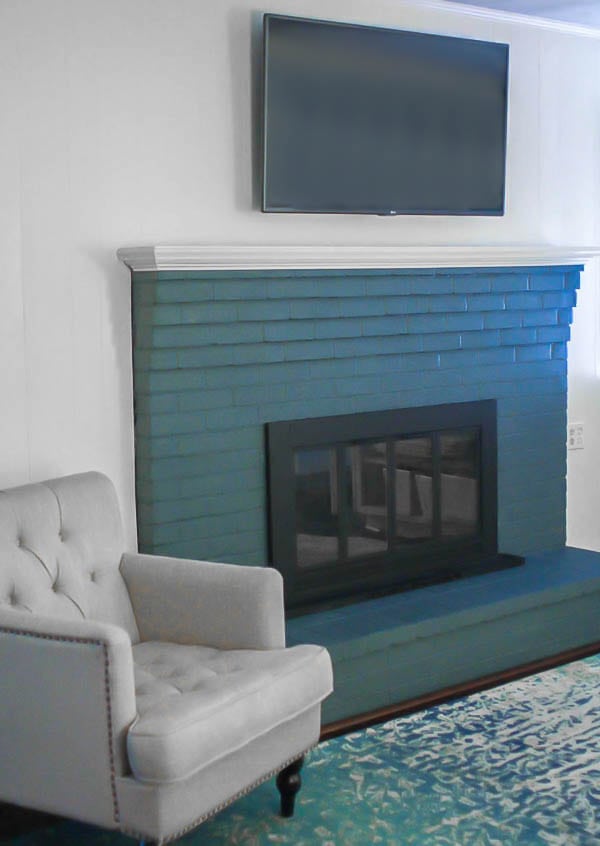 I've never seen a navy fireplace before, but I totally love mine. I'm so glad I didn't chicken out and stick with a safe color instead.
And here's how it looks now, after I added a chunky DIY mantel and a DIY TV frame.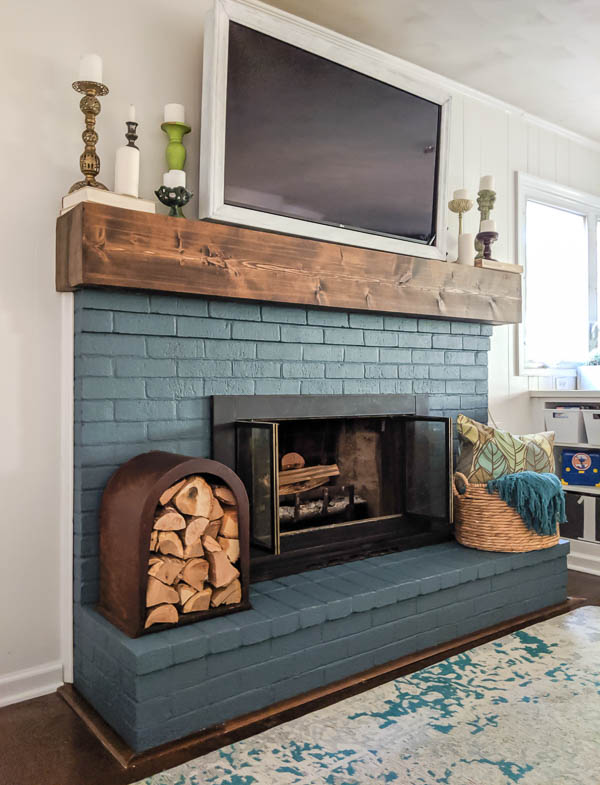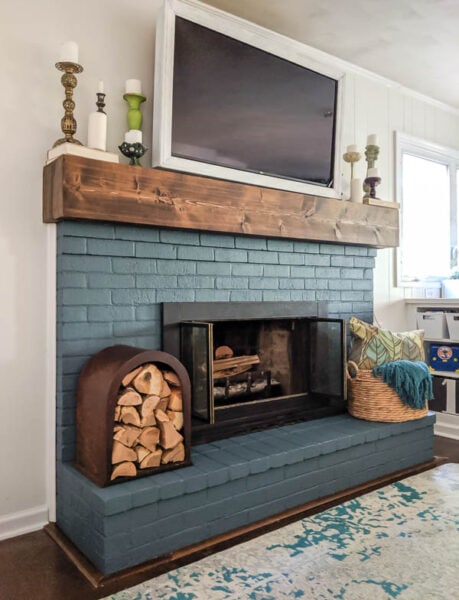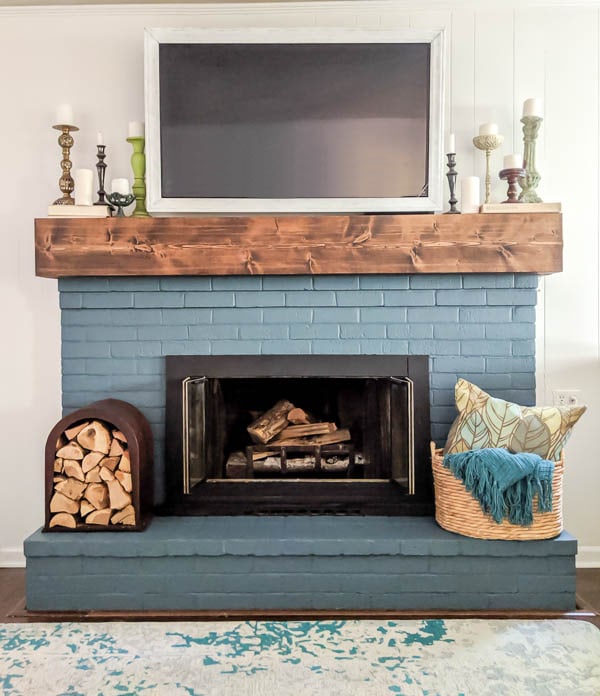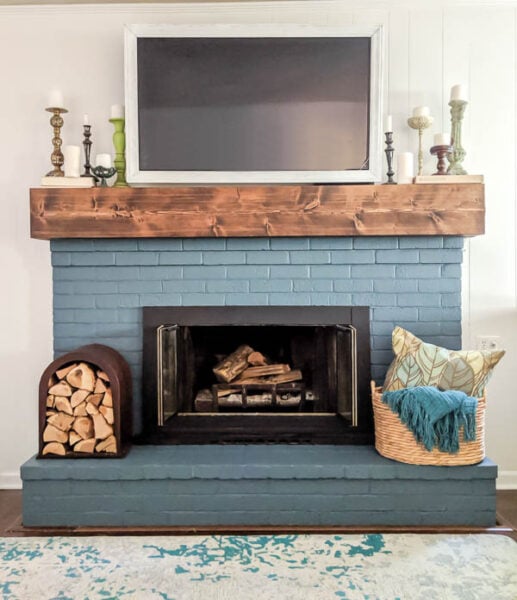 It's amazing what a difference paint and some inexpensive lumber can make! Want more inspiration for your own fireplace, I've gathered 25 other fabulous brick fireplace makeovers that include everything from painted brick to whitewash to German Schmear.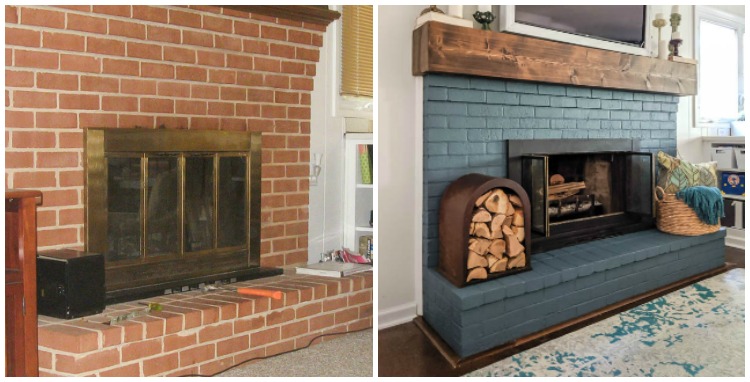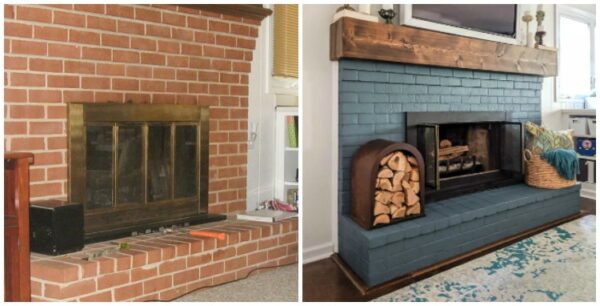 I would love for you to pin this post on Pinterest.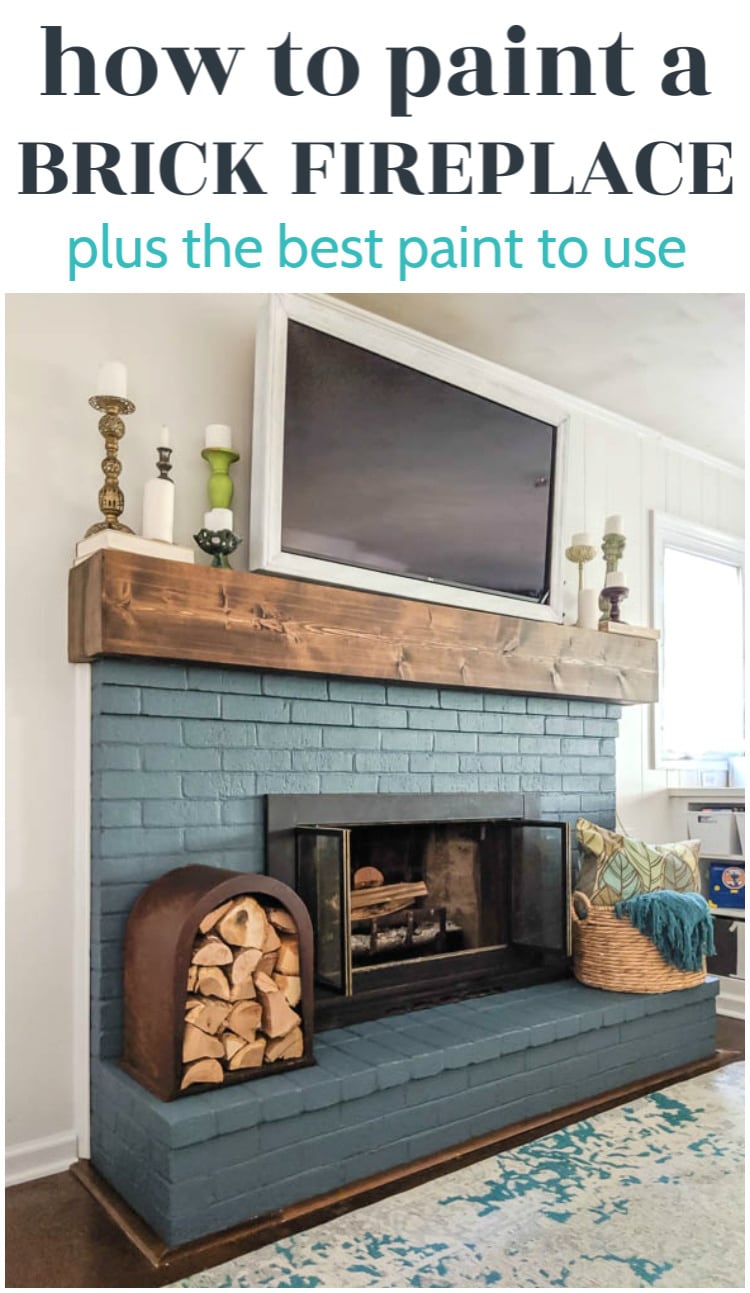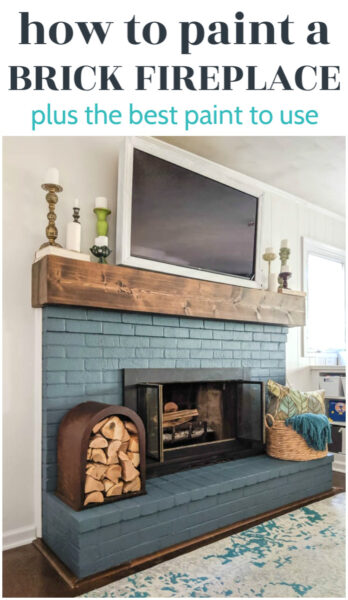 Here are a few other posts I also think you will enjoy:
DIY Rustic Fireplace Mantel: The Cure for a Boring Fireplace
How to Build a Cheap and Easy TV Frame that Swivels
The Best and Worst Sealers for Painted Furniture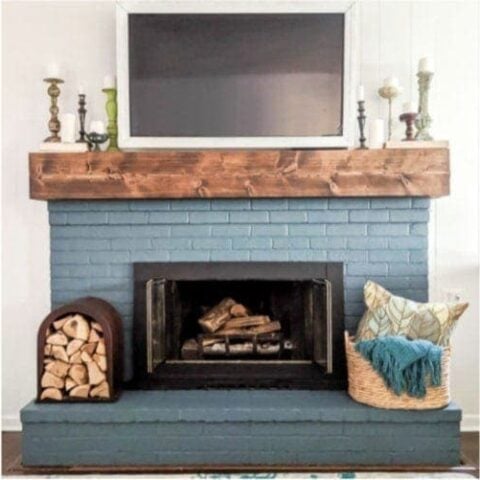 How to paint a brick fireplace (the right way)
Yield: 1 Brick Fireplace

Prep Time: 30 minutes

Active Time: 1 hour

Total Time: 1 hour 30 minutes

Difficulty: easy

Answering all of your questions about painting a brick fireplace the right way, including which paints work best and why.
Materials
Cleaner
Painter's tape
Primer
Latex paint in a matte or flat finish (I used Valspar Blue Mystery)
Instructions
Clean the fireplace thoroughly, taking care to clean all the nooks and crannies as you go.
Use painters tape to protect any trim or flooring.
Paint the brick fireplace with a coat of primer.
Let dry.
Paint the brick using the paint brush to get into all the mortar lines between the bricks.
You will need 2-3 coats.
Allow to dry between coats.
Recommended Products
As an Amazon Associate and member of other affiliate programs, I earn from qualifying purchases.

Google Web Story: How to Paint a Brick Fireplace