The budget kitchen makeover continues!  Today I'm sharing my new backsplash, which is arguably the cheapest backsplash ever.  (That's cheap as in low-cost, save-your-money-for-something-more-important.  Not cheap as in inferior.)  Any guesses what I used to made the cheapest backsplash ever?
If you guessed paint, you know me well.  My freshly painted cabinets completely transformed my kitchen, but I never dreamed a painted backsplash could also make such a huge difference.
This post is sponsored by StencilGirl Products.  As always, all opinions are my own.  This post may contain affiliate links.  Please see my full disclosure here.
Previously, we still had the laminate backsplash from when the house was built in 1973.  Functionally, it was perfect.  Aesthetically, it was horrendous.
I have absolutely nothing against a laminate backsplash –  in fact I've seen some really beautiful ones.  Mine was not one of those.  It was that lovely gold and white speckled laminate that everyone loved in the 70s. (The better to match our harvest gold appliances my dear.  Evil laugh.)  And not only that, it was super thick in a weirdly noticeable way.  As in it dwarfed the actual window trim, it was so thick.
So it had to go.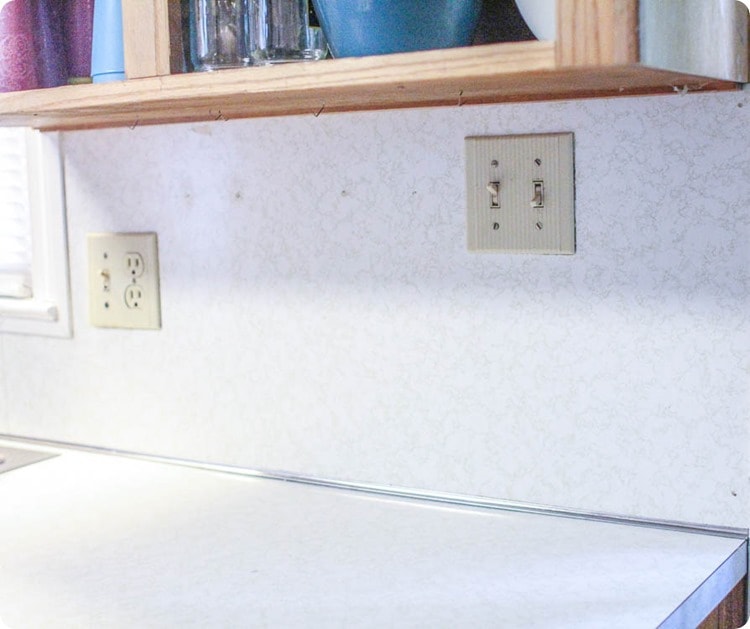 There are tons of awesome backsplash options and many of them are pretty budget-friendly, but I decided to go with the least expensive of all.  Paint.  Because as you may have noticed, I am incredibly devoted to painting all the things.  What can I say?  I love what paint can do and I understand paint so well.  It is cheap and never comes with hidden surprises.  (Plus I just tiled our entire shower a couple of months ago and I may not have mentally recovered  from it yet.)
And if painting is my favorite, stenciling is my favorite favorite.  As soon as I saw this antique tiles stencil from StencilGirl, I knew it was going to make an amazing backsplash.  StencilGirl is a new to me stencil company that recently came out with a line of home décor stencils.  The stencils are all designed by artists and made in the USA. Plus, StencilGirl is a family-run company which I love.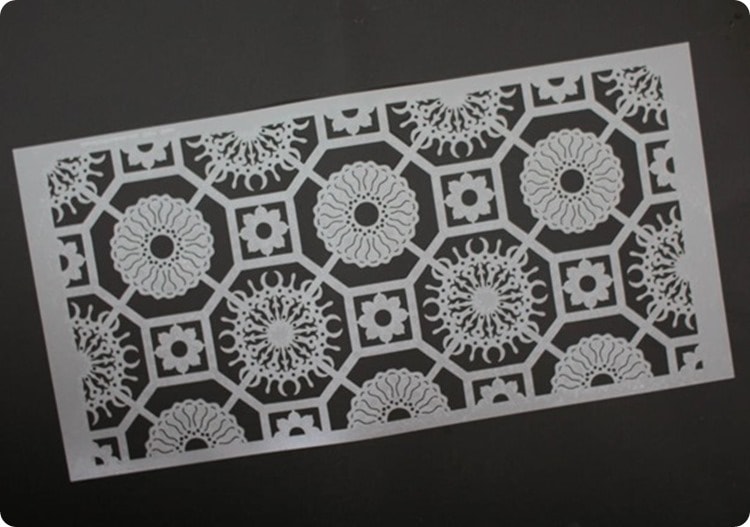 I did hesitate briefly at first, wondering if paint would be durable enough as a backsplash.  But then I remembered that plenty of builder-grade houses come with a painted wall 'backsplash'.  (Theirs just aren't as cute as mine!)  Just make sure to use semigloss paint.  Semigloss paint is great for resisting moisture if water gets splashed on the wall and is easy to clean. Both of which are essential for a backsplash.
Materials for Creating a Stenciled Backsplash
A great Stencil
Foam Paint roller (for smooth surfaces)
Semigloss paint in at least two colors
Tutorial: How to stencil a backsplash
First, you need a flat surface to stencil.  It could be drywall, laminate, or even flat tiles.  I chose to remove our previous laminate backsplash before stenciling because of the weird thickness of it, but stenciling the laminate would have worked just as well.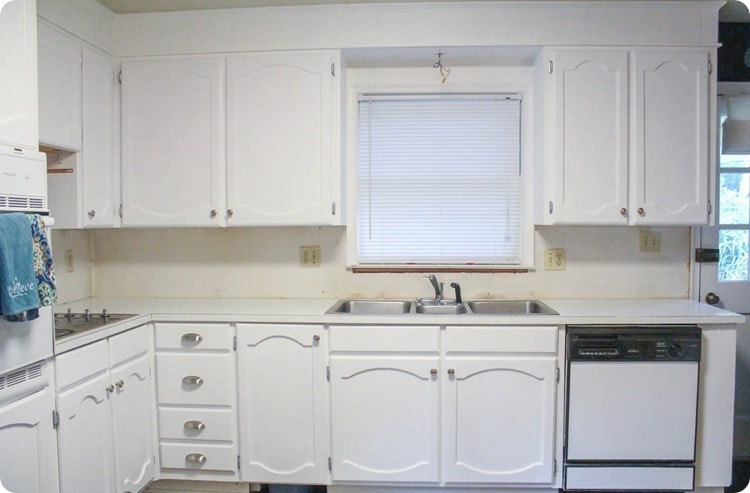 If you are stenciling a laminate backsplash, you'll start by lightly sanding the entire thing with sandpaper to rough up the surface a bit, cleaning it well with a degreaser (I prefer plain old Dawn dish soap) and painting a coat or two of a good primer.
If you are stenciling drywall like me, you may need to patch a few holes to ensure your surface is perfectly flat.  After removing my old backsplash, I had quite a few nail holes to fill as well as some dents from the removal process.  I used spackling to fill these holes and then once it was dry, sanded it smooth with 320 grit sandpaper.  Once everything was nice and smooth, I wiped the wall down well to make sure it was clean and dust-free and then it was time to paint.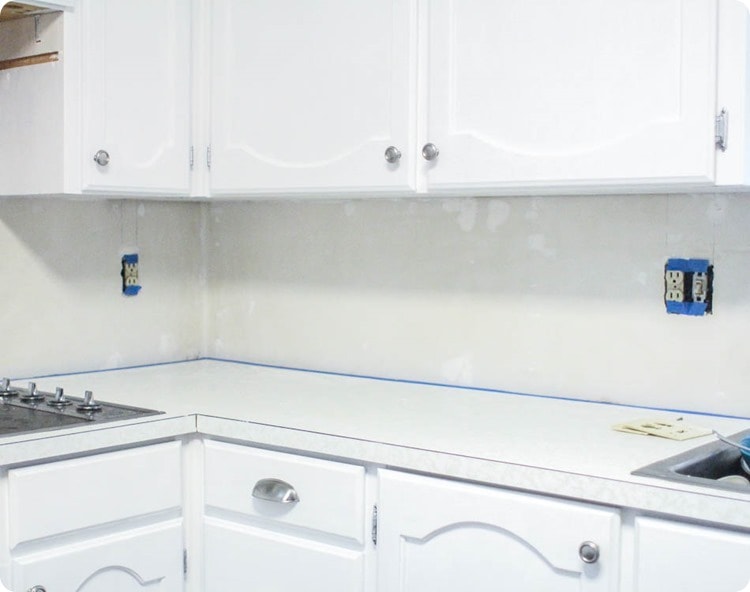 Before you start, make sure to protect your countertops, outlets, cabinets, and anything else touching the backsplash with painter's tape.  Then begin by painting the base coat using a foam roller.  The base coat for this stencil is the 'grout' color; I used a bright white semigloss paint.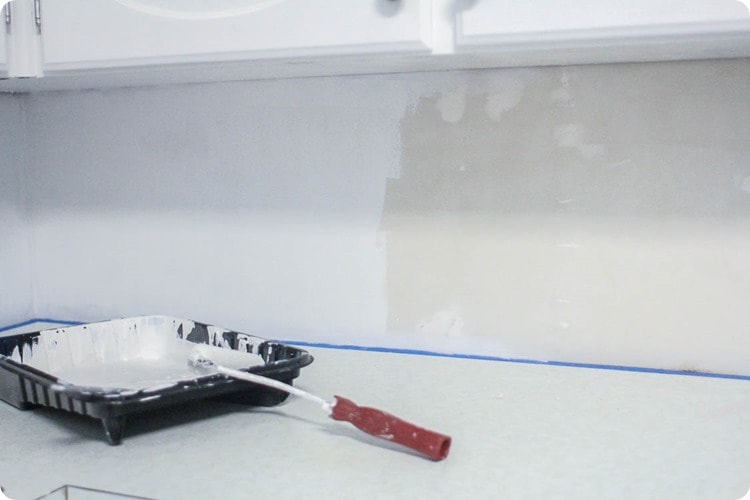 Once that dries, it's time to stencil. I prefer to stencil using a foam roller as well.  The trick is to make sure you don't load too much paint on the roller at a time.  Load your roller with a light layer of paint and then lightly roll it over some paper towels to remove any excess.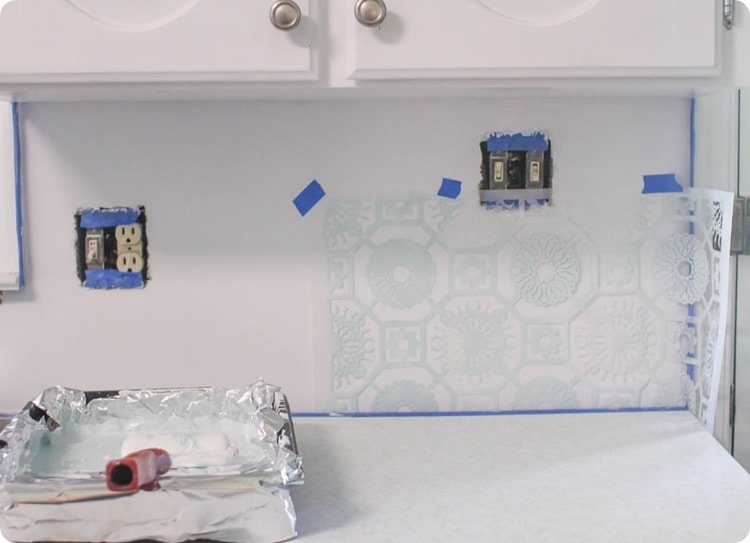 Using painter's tape, tape your stencil to the wall.  I find it easiest to start in a corner.  Then just lightly roll your roller over the stencil until all of the open spaces are evenly painted.  Then gently pull the stencil off the wall.  To do the next section, simply line the stencil design up with the previous section and keep going.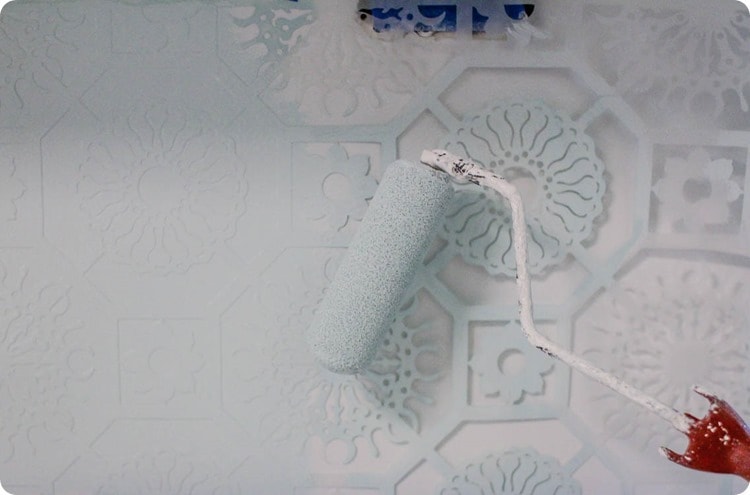 The thing that is really tricky about stenciling the backsplash is reaching the spots right below the cabinets and right above the counter.  To get in those little areas, you will have to bend your stencil into a 90 degree angle.  Since the foam roller won't work well in such tight corners, you can use a small foam brush  or a stencil brush to gently fill in those parts of the stencil.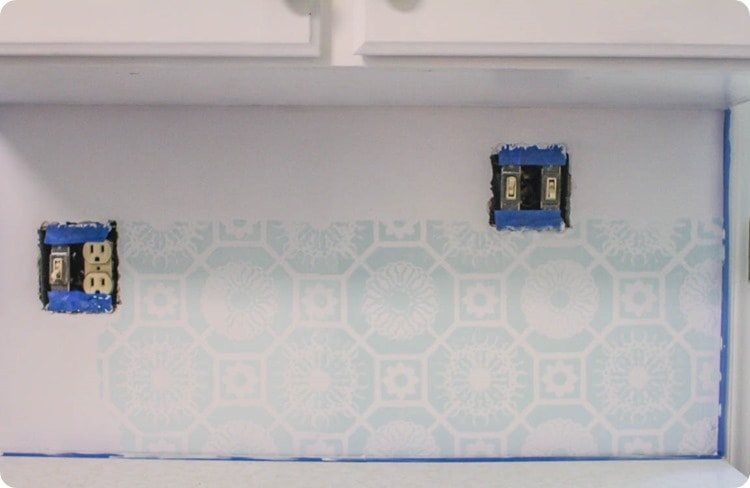 If your design starts to look a little messy and not so crisp, that simply means it is time to clean the excess paint off your stencil.  And if you find that there are any areas that don't look quite as good as you would have liked, you can simply repaint them your base cover and then stencil over them again.  That is the marvelous thing about paint – it is so forgiving.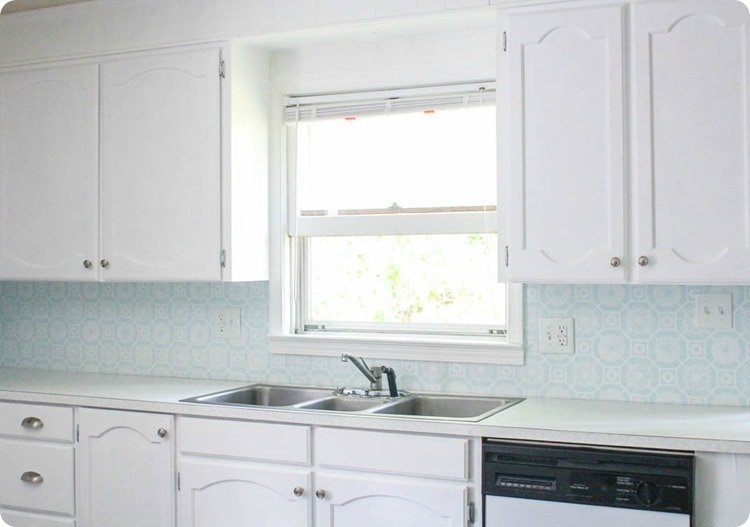 And we have a backsplash!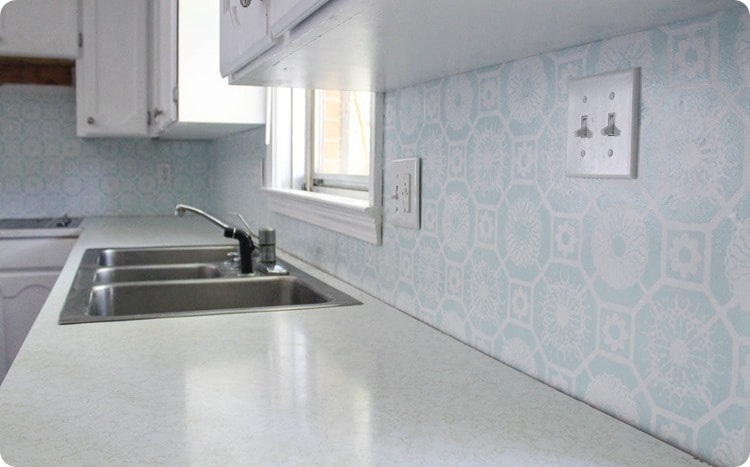 This is such a great stencil for a backsplash.  When my family came over, they couldn't stop talking about how much it looks like real tile and I have to agree.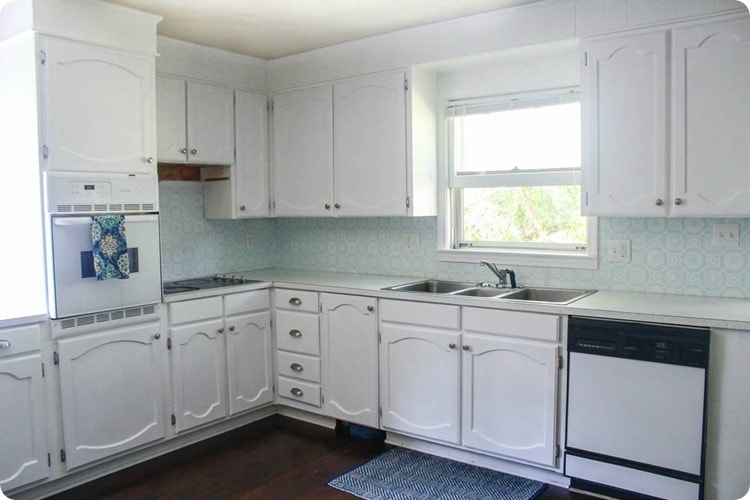 And even though we still have a long way to go with this budget kitchen makeover (countertops, lights, appliances, faucet, etc.), I think it looks pretty darn great.  Just look at the difference a painted backsplash and some fresh outlets made.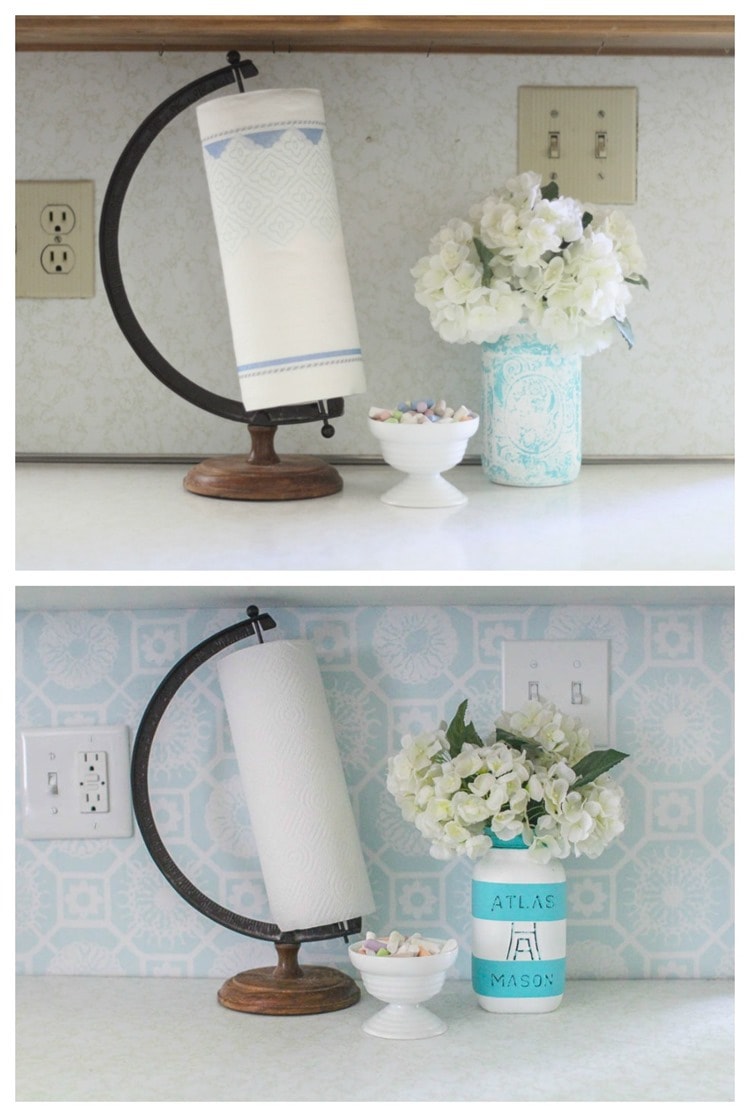 Now I cannot wait to tackle those countertops!  I'd love for you to pin this project and share it with all of your friends in need of a budget kitchen makeover!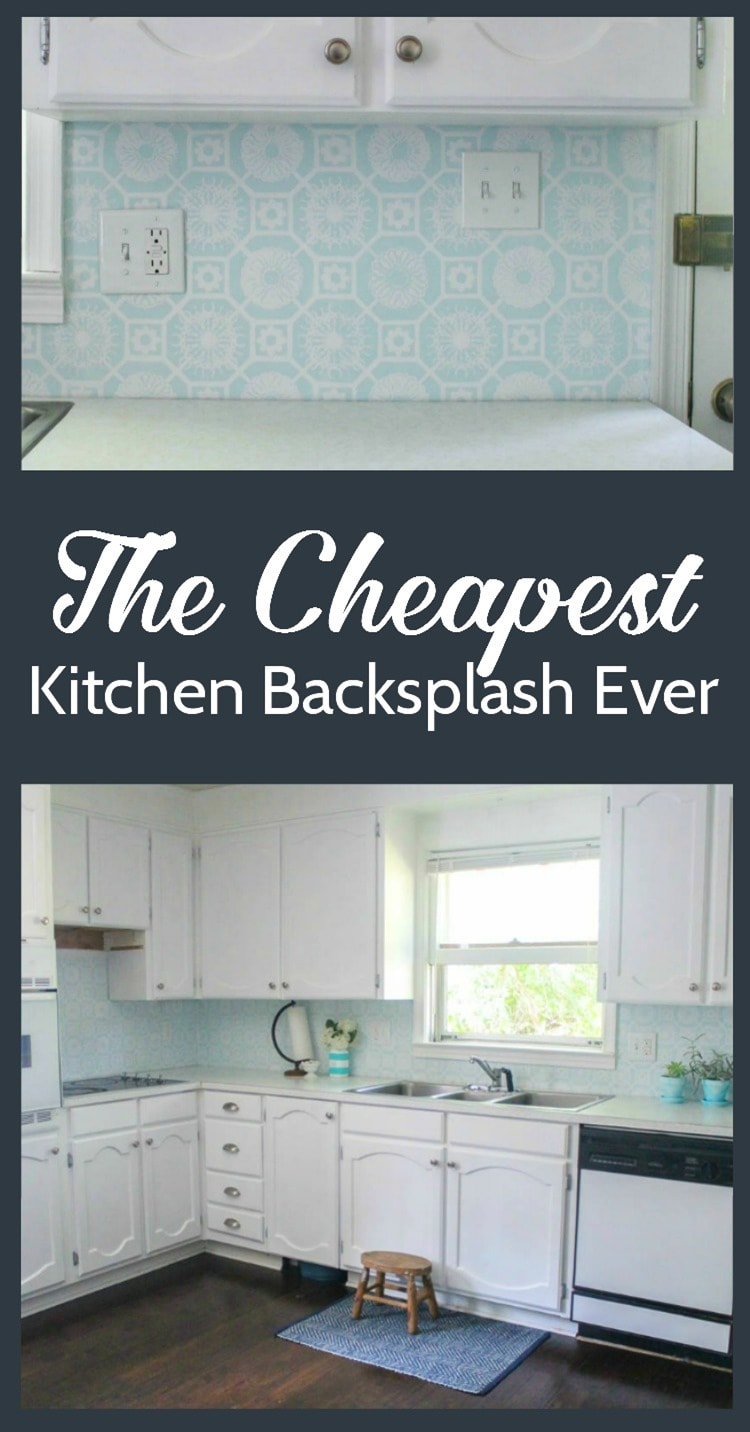 Also you are going to want to check out these other projects from my super cheap kitchen makeover:
Updating hinges with Rub n Buff
Where to Buy Inexpensive Cabinet Knobs and Pulls
Painted Countertops: Painting your countertops to look like marble