Learn how to stencil anything including metal and wood to create unique home decor. I'm sharing the 3 secrets you need to know to get perfect stencil lines every time.
I have always loved stencils. I mean that's probably obvious just based on the fact I stenciled an entire floor a few years ago!
Stencils are such a fun way to add a graphic punch to a wall, bring an old floor to life, or create a beautiful wooden sign even if your handwriting is terrible. There is something almost magical about lifting up a stencil to reveal a perfect design underneath.
When I first started using stencils I definitely did not have such awesome results. It seemed like every time I lifted up the stencil, instead of seeing my perfect design, I saw lots of bleeding and extra smudges.
This really became a problem a few years ago when I was making wood signs to sell. I made custom stencils to add the wording but almost every time, I ended up with a ton of little imperfections.
I ended up spending way too much time using tiny paintbrushes to touch up all of my mistakes. So frustrating!
I got to work figuring out how to stencil perfectly so I could stop wasting all of my time fixing problems. I discovered a few secrets that finally made it possible to get those perfectly crisp stencil lines I was after.
These stencil hacks make the process so much simpler and the results are seriously perfection!
This post was sponsored by I Like That Lamp. This project and all opinions are my own. This post also contains affiliate links. If you make a purchase using those links, I may receive a small percentage at no additional cost to you. See my full disclosure here.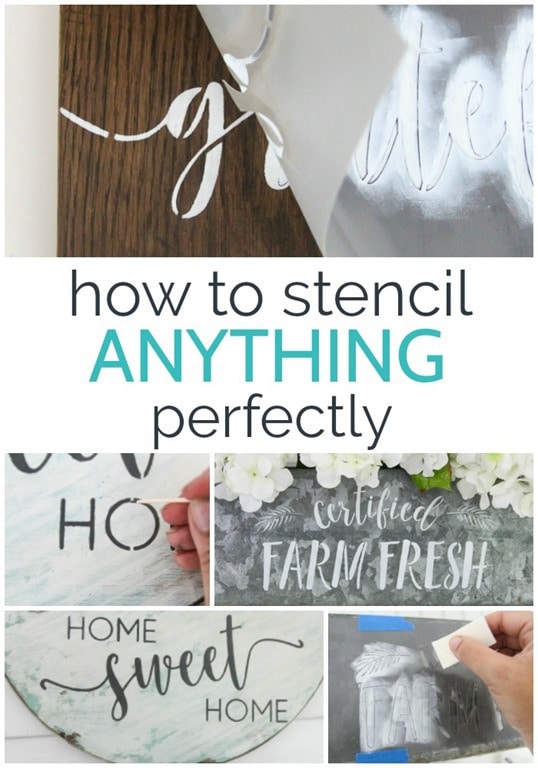 A few weeks ago, I Like That Lamp sent me an assortment of their new stencil designs and I was super excited to play around with them.
I seriously spent way too long deciding what to stencil and which stencils to use. And then I got started and I just kept finding more things to stencil!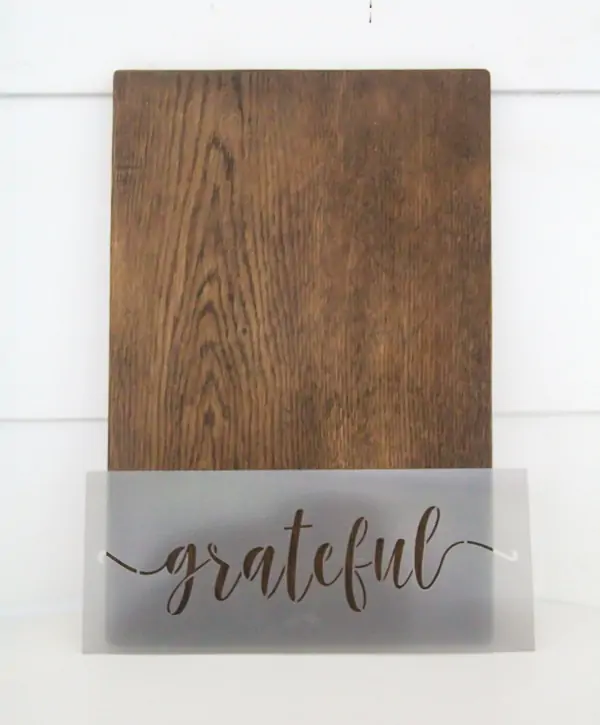 In the end I went a little stencil crazy and made three new projects using three of the stencils.
But first, here are my stencil hacks for that perfect stencil finish every time. And I also have a step-by-step tutorial for stenciling on wood, if that's what you are looking for.
How to stencil anything perfectly
The first step of pretty much any project that involves paint is making sure the surface is clean and smooth. One of my projects involved stenciling an old galvanized planter so I made sure to give it a good scrub before trying to stencil anything. No matter what, paint won't stick to oil, dirt, or dust.
Stencil Secret 1: The Adhesive
Now you're ready to get your stencil in place. I used to use painter's tape to hold my stencils in place but that really isn't the greatest. It works okay for keeping thing from moving around, but it doesn't do anything to prevent the paint from bleeding.
Now I use repositionable spray adhesive instead and it is amazing.
You spray a light layer onto the back of your stencil and then set it in place. (If you want your wording centered, be sure to center the stencil. Also check that your words are straight.)
This works so well. The adhesive is strong enough to hold the stencil in place while you work, but it is super easy to remove when you are done.
Even better, the entire stencil is firmly adhered to the surface so stray paint can't creep under the plastic around your letters.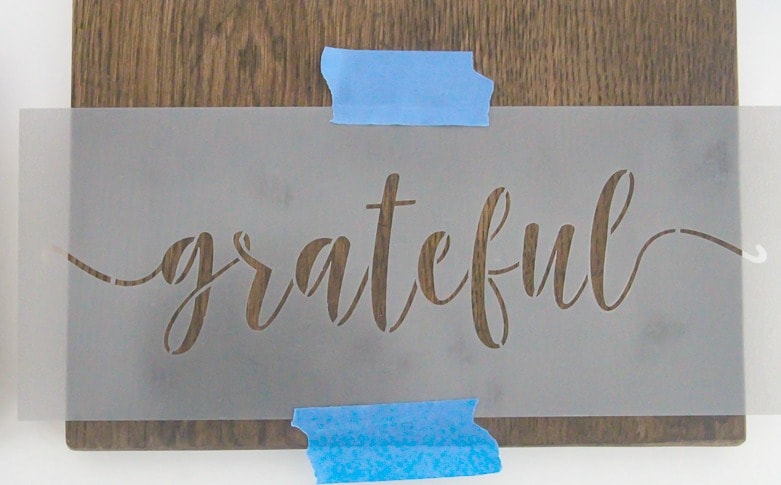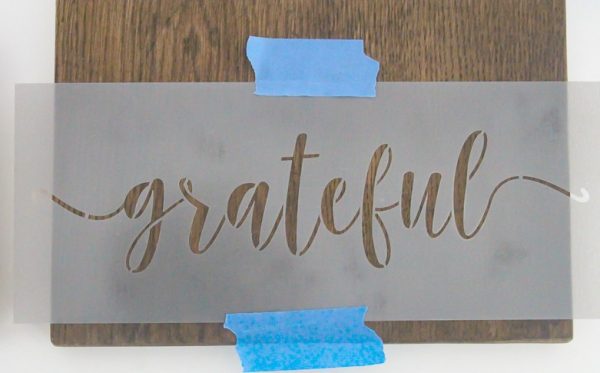 After you remove your stencil, there may be a very light residue left on the surface from the adhesive. This is easily wiped away with a baby wipe or damp paper towel. (In the picture above, I used painter's tape in addition to the adhesive spray, but then I figured out it really isn't needed.)
If you are stenciling something large like a wall or a floor, you typically won't need to use spray adhesive, but it works really well for smaller, more detailed projects like stenciled signs.
Stencil Secret 2: The Paintbrush
The second secret is all about the brush. There are special stencil brushes out there and they work okay but I've never had great luck with them.
Sponge brushes were slightly better, but I found something that works even better.
This might sound strange, but makeup sponges are the perfect tool for stenciling. I'm talking about the wedge shaped cosmetic sponges that are super cheap. The sponge has a nice smooth texture that gives a great finish.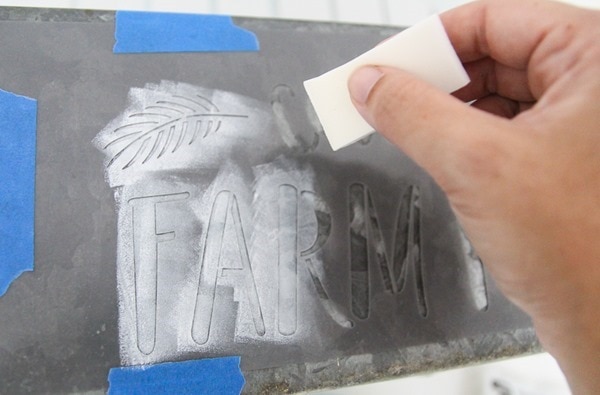 Just pour a little of your paint onto a paper plate or a plastic painter's palette if you have one. Lightly dab the sponge into the paint.
The key is to get very little paint on the sponge. Extra paint will just squish under the stencil and make a mess.
You can gently dab off any excess paint on your paper plate or a paper towel before stenciling.
When you start painting your stencil, gently dab the paint straight down onto the surface.
DO NOT rub it back and forth as if you were using a paintbrush. This will definitely cause paint to squeeze under the stencil and make a mess. Just gently up and down.
You can use craft paints, leftover latex paint, chalk paint, pretty much anything will work.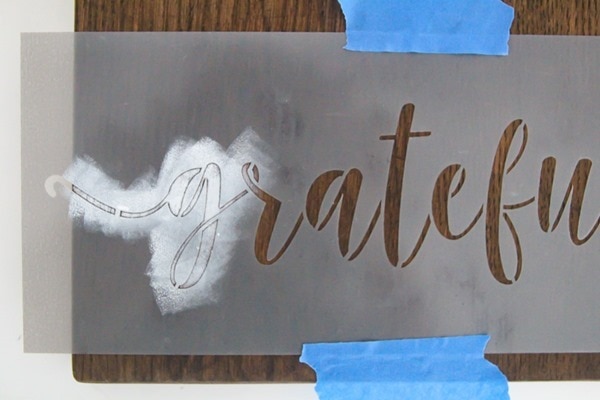 Because you are only adding a very thin layer of paint at a time, there's a good chance you are going to want to do a few coats to get good coverage, especially if you are painting with white paint over wood.
Luckily because the paint is super thin, it dries pretty quickly.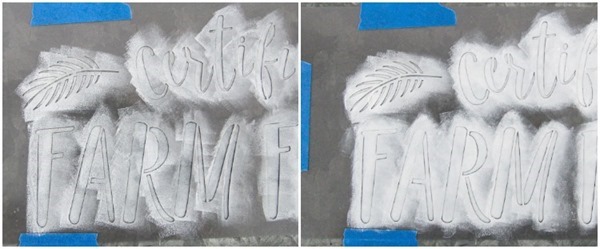 Once you are done stenciling, it's the moment of truth. I've got to be honest, after so many fails in the past, I still get nervous when it is time to peel the stencil off.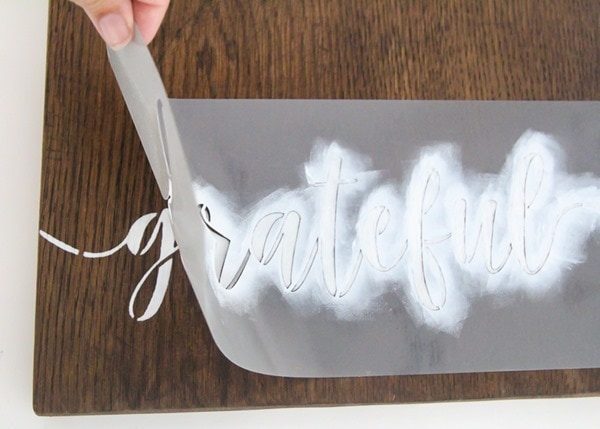 Yes! Just look at those lines! Beautiful!
But wait, aren't we done? What's the third secret?
Stencil Secret 3: The Hand-painted Look
When you are using stencils to make 'hand-painted' signs, there may be some times you don't want it to look like you used a stencil.
Stencils have little connector lines that are a dead giveaway that you used a stencil. Sometimes these lines are so perfectly placed, it adds to the beauty of the finished product.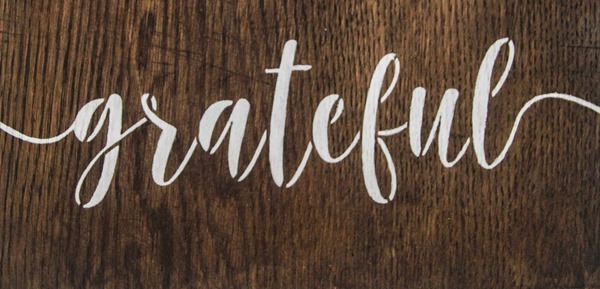 But occasionally you might want to 'hide the evidence'. If that's the case, you are going to need a way to perfectly fill in those teeny tiny little gaps in the paint without ruining all of your hard work.
The solution?
Just take a toothpick and lightly dip it in your paint. Again, you really don't want a ton of paint on there, so it's a good idea to gently dab any excess off first.
Then carefully use it like a paintbrush to fill in the letters. It's easy and it works beautifully.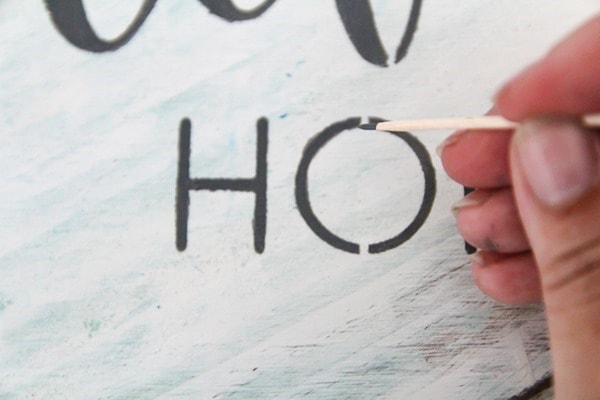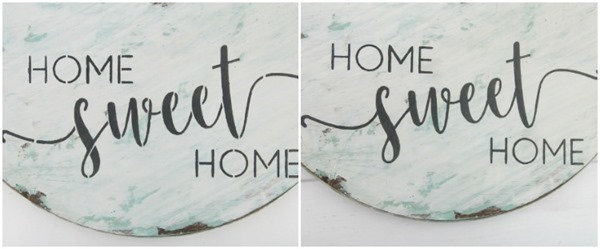 Those are my three hacks for perfect stenciling every time:
And when you've finished your stenciling project, I've got all the details on the fastest, easiest way to clean paint and spray adhesive from stencils right here.
Three New Stencil Projects
So what did I end up making? You can check out the finished projects below and you can see the tutorials for each at the links.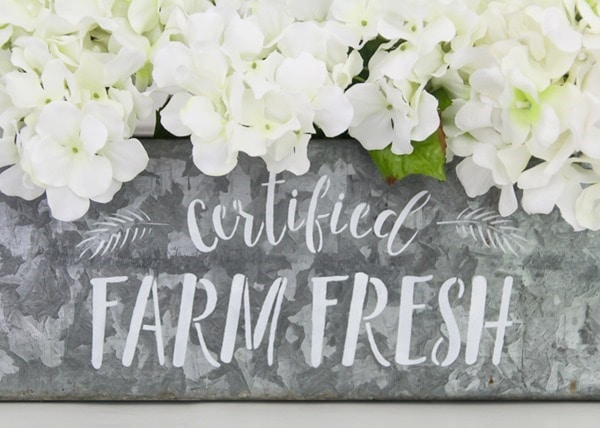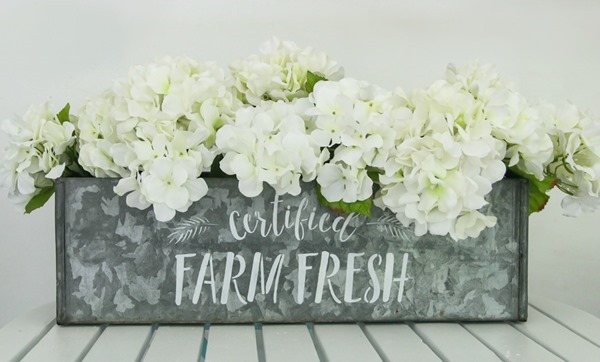 How to Make a 10 Minute Farmhouse Centerpiece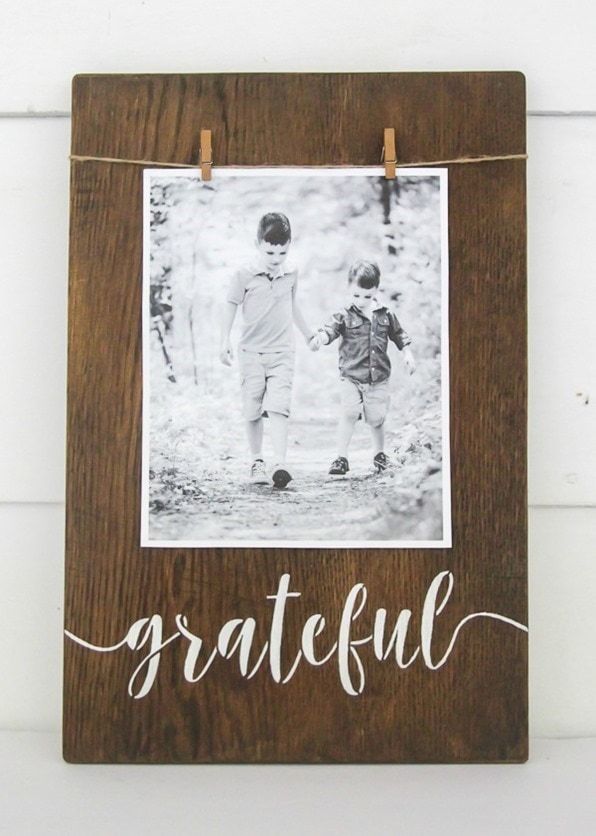 Grateful photo clipboard. (Full tutorial in my book Wood Plank Projects: 30 Simple and Creative DIY Decor Ideas for Your Home and Garden )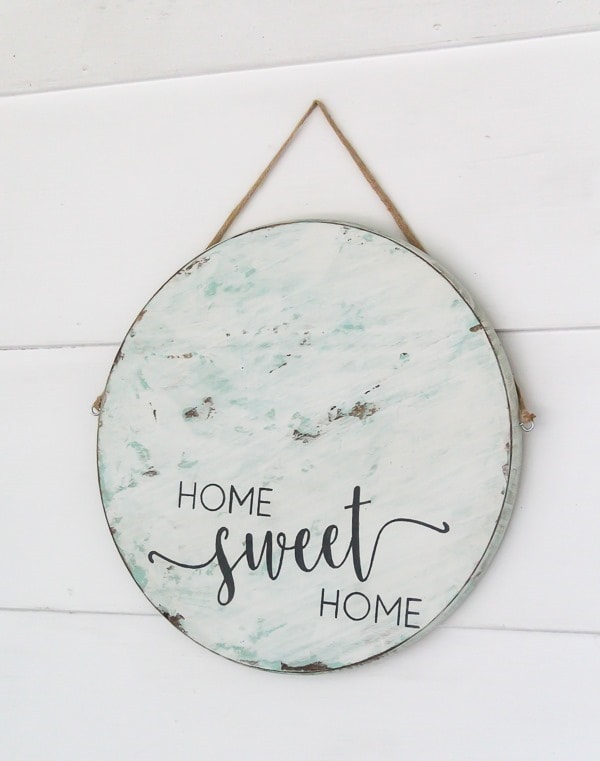 How to make this easy Home Sweet Home sign (It's a super cute wreath alternative for your front door.)
And since I'm a stencil lover, here are my other favorite stenciling DIYs:
I'd love for you to share this post on Pinterest!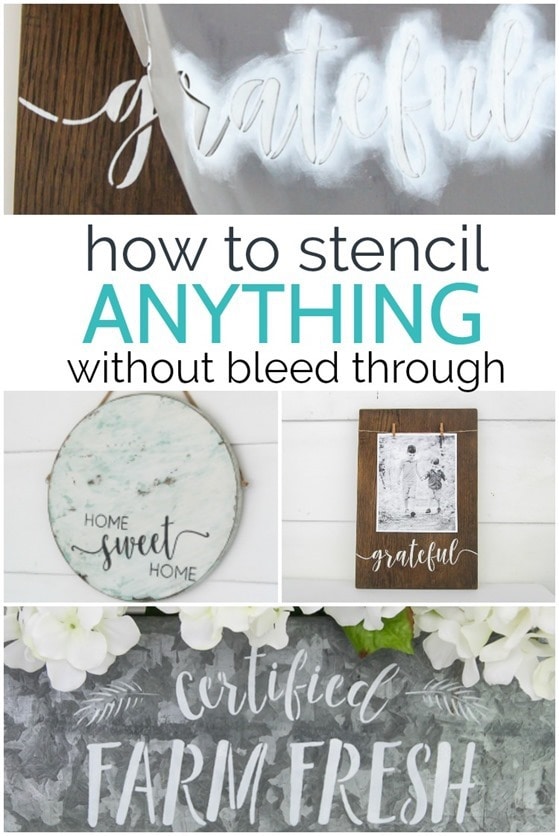 Happy stenciling!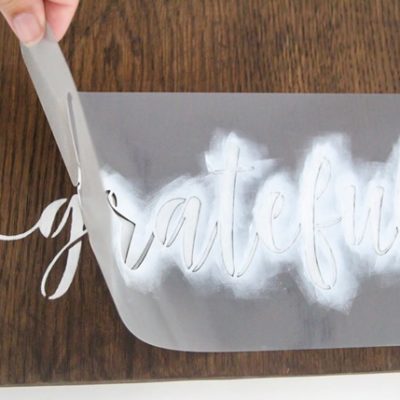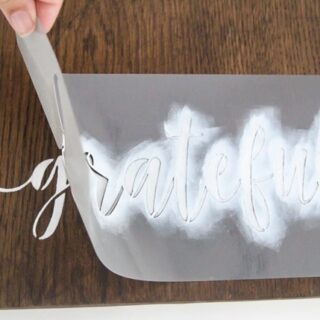 How to Stencil Anything: 3 Secrets to Perfect Results Every Time
Stencils are such a fun way to add a graphic punch to a wall, bring an old floor to life, or create a beautiful wooden sign. These tips will help you get perfectly crisp stencil lines no matter what you are stenciling.
Materials
Stencil of your choice
Stencil Ease Repositionable Stencil Spray Adhesive
Cosmetic Wedges
Paint
Tooth Picks
Instructions
Make sure the surface you are stenciling is clean and smooth.
Use repositionable spray adhesive to hold your stencil in place.
Pour a little of your paint onto a paper plate.
Lightly dab a cosmetic sponge in the paint. Wipe off any excess paint.
Gently dab the paint straight down onto the area you are stenciling.
Peel the stencil off.
To fill in the stencil marks, take a toothpick and lightly dip it in your paint. Carefully use it like a paintbrush to fill in the stencil gaps.
Recommended Products
As an Amazon Associate and member of other affiliate programs, I earn from qualifying purchases.

Google Web Story: How to Stencil Anything