OK, let's talk power tools. Do you need power tools to be a DIYer?
For a long time, the only power tools I had were a drill and a little palm sander. And nope, it wasn't even a cordless drill! It was a hand me down from my grandparents. And I managed to finish some really awesome projects with just those two power tools and a hammer and nails.
To be honest I wasn't exactly sure how to use power tools, I was little scared of them, and I was too cheap to spend money on them!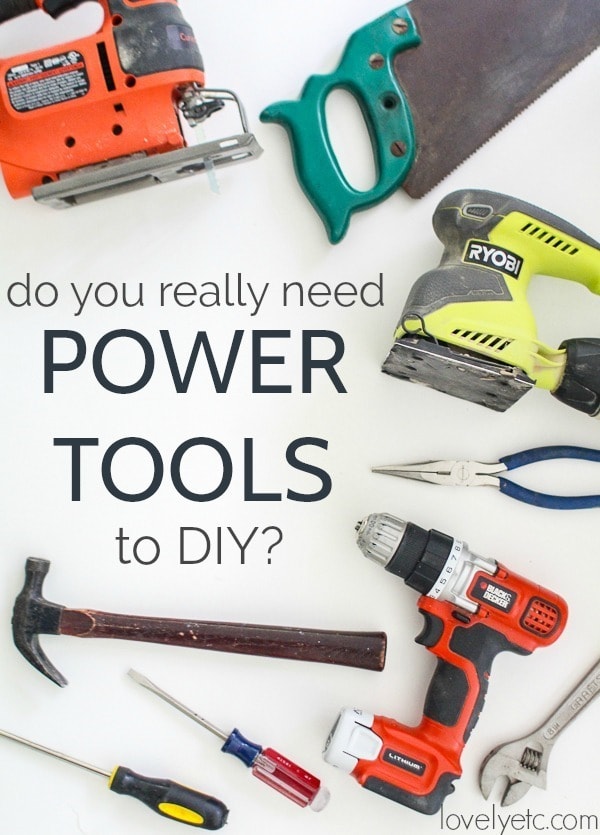 So can you DIY without power tools? Yes!
I 100% believe you can get by without any big power tools. I mean, clearly people built entire houses without them for hundreds of years!
However…
I've come to realize that having a few good power tools can completely change how you DIY. Having the right tool can make really tricky, frustrating projects so much easier and they make any project go ten times faster!
Yes, you can cut wood with a hand saw but it's going to take way longer and your cut will probably be rougher. You can nail up a room full of board and batten without a nail gun. (I know because I've done it!) But you can do the same job in less than half the time if you do have that nail gun.
It also turns out power tools aren't as scary as I imagined. Yes, of course you need to be very careful, wear protective eye wear, follow the instructions in the manual, etc. But it isn't nearly as hard to safely use power tools as I had imagined. Just read the manual, practice on some scrap wood, and take it slow.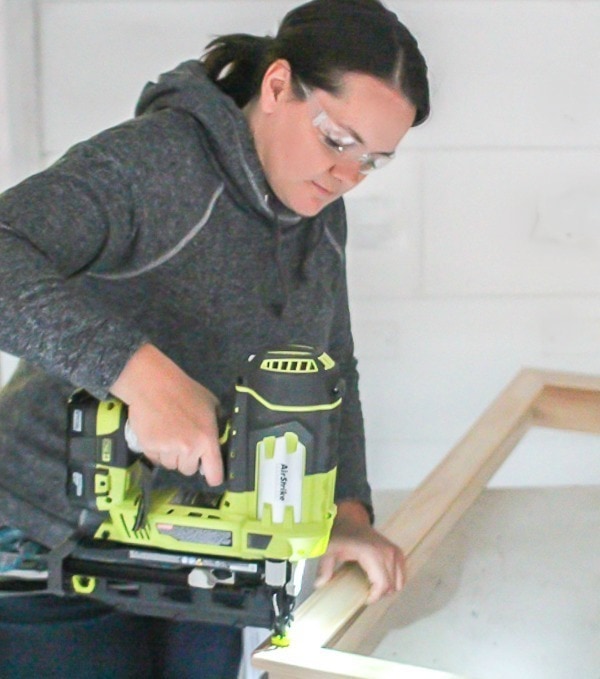 And even better, a lot of power tools aren't nearly as expensive as I imagined either. Most jigsaws, sanders, and other small power tools cost well below $50 at your local home improvement store.
Of course, my favorite trick for getting super cheap tools – look for tools at estate sales, yard sales, and on Craigslist. For the most part, older power tools work just as well as new ones. The basements and garages at estate sales are usually packed with old tools family members are trying to clear out for super cheap prices. Of course you do run the risk of buying something that doesn't end up working properly but a lot of times the owners will let you try before you buy. So far I have had great luck with all of the tools I've bought used – most of them even still had the owner's manual!
Ok, so back to the question. Do you NEED power tools to DIY? No. But it will be much, much easier if you have a few key tools.
This post contains affiliate links which means if you make a purchase after clicking a link I will earn a small commission but it won't cost you a penny more. Click here to see my full disclosure policy.
Must Have Power Tools for DIY
So what power tools do you actually need?
There are so many power tools available and they all seem to do slightly different things – it can be incredibly overwhelming! You definitely don't need everything under the sun to get started. These are my picks for the most essential power tools for the regular home DIYer. But these are my picks for the best power tools for every DIYer to start out with
Cordless Drill

Not a lot of explanation needed here. You need a drill anytime you need to drill a hole. Even if all you're doing is hanging a picture or a curtain rod. You can also add different heads to most drills and use them as a super fast screwdriver as well. I have this drill, but honestly, pretty much any drill should work fine. Make sure you also grab a good drill bit set to go with your drill.
Palm Sander If you've ever considered refinishing or painting furniture, a palm sander is a must. Of course, you can hand sand but it will take forever. Palm sanders are also great for sanding down new wood in preparation for paint or stain.

Jigsaw

My jigsaw is the first power saw I ever bought and I still love, love, love it so much. Honestly, I probably use it way more often than I should. It's handheld with a small blade so it isn't nearly as intimidating as other power saws. And a jigsaw is awesome because it can cut curves as well as straight lines. I also love my jigsaw because it's pretty quiet for a power tool so I'm able to use it while my kids are napping. ;)

Compound Miter Saw

I actually just got a miter saw and I am kicking myself for not getting one a long time ago. It would have made so many projects so much easier! A miter saw is great for quickly cutting boards down to size or cutting miter (angled) cuts for molding or other projects.

Nail Gun

I also haven't had my nail gun long, but I love it! I have a Ryobi AirStrike which doesn't require an air compressor. I so wish I'd had this when I installed the board and batten in our bathroom!
Of course there are many, many other power tools out there, but I think this is really all a beginner/intermediate DIYer needs. As you slowly tackle more and more projects, you will probably want to slowly add to your power tool collection.
Other Power Tools it's Nice to Have
When you are ready to add on a few more tools, these are the other power tools I personally own and use. Most of these were bought at various estate sales for $15 or less and I have found lots of uses for them. But I wouldn't consider them necessities like the tools above.
Table saw. I do use my table saw quite a bit, but you can definitely get by without it. Especially since you can get Lowes or Home Depot to cut down plywood and other large pieces of wood for you before you bring it home.

Circular saw

. A circular saw is really handy to have. It's a lot more portable than a miter saw or table saw and can handle heavy duty cuts (unlike a jigsaw). Even so, I only rarely use our circular saw.

Dremel Multimax

. This is a super handy little tool. You can buy various blades for it for cutting wood or metal and it can reach into really tight spots that other saws can't reach. I used this a ton for cutting small bits of trim when I was installing our wood floors and doing minor kitchen renovations.
Do you have any must-have tools I've missed? I would hate to think I'm missing out on something awesome!
Pin me!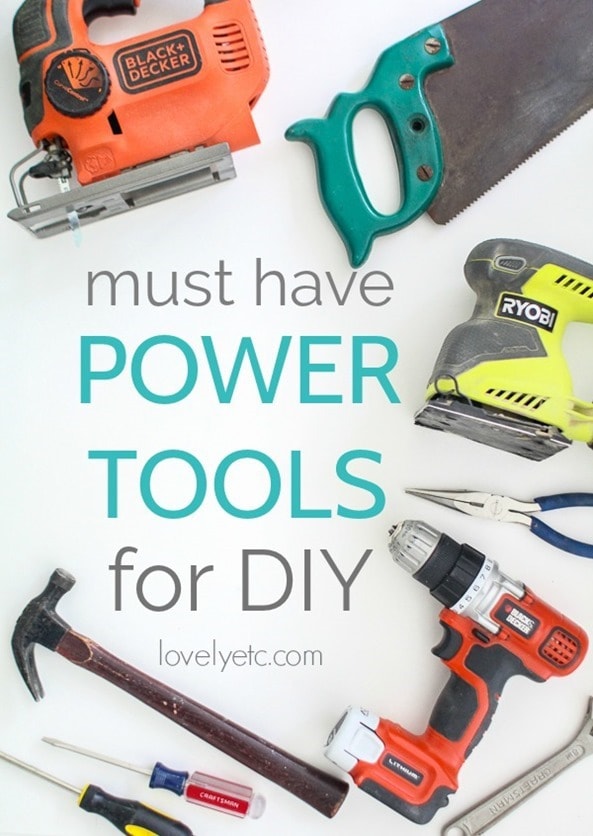 Here are a few more posts I think you'll find helpful:
Everything You Need to Know about Primer
Caulk or Wood Filler: Choose the Right One for Every Project
The Best Paintbrushes for a Perfectly Smooth Paint Finish