How to install cheap and easy board and batten even if you are a beginner. Supply list and full tutorial with lots of helpful tips.
When I realized that board and batten was that missing something in our bathroom, I wasn't very excited. I knew it was going to pull the whole room together and make it look amazing (which it did), but I also thought it sounded like an awful lot of work.
Not to mention I was on a tiny budget for the $100 Room Challenge. So if I was going to tackle board and batten, it was going to have to be cheap and it was going to have to be easy – while still looking great. (Because if it doesn't look amazing, what's the point of doing it to begin with!)
Thankfully, I was able to make it all happen: cheap and easy board and batten that looks gorgeous!
Here's how our bathroom looked before adding some fresh paint and DIY board and batten – way too white and boring!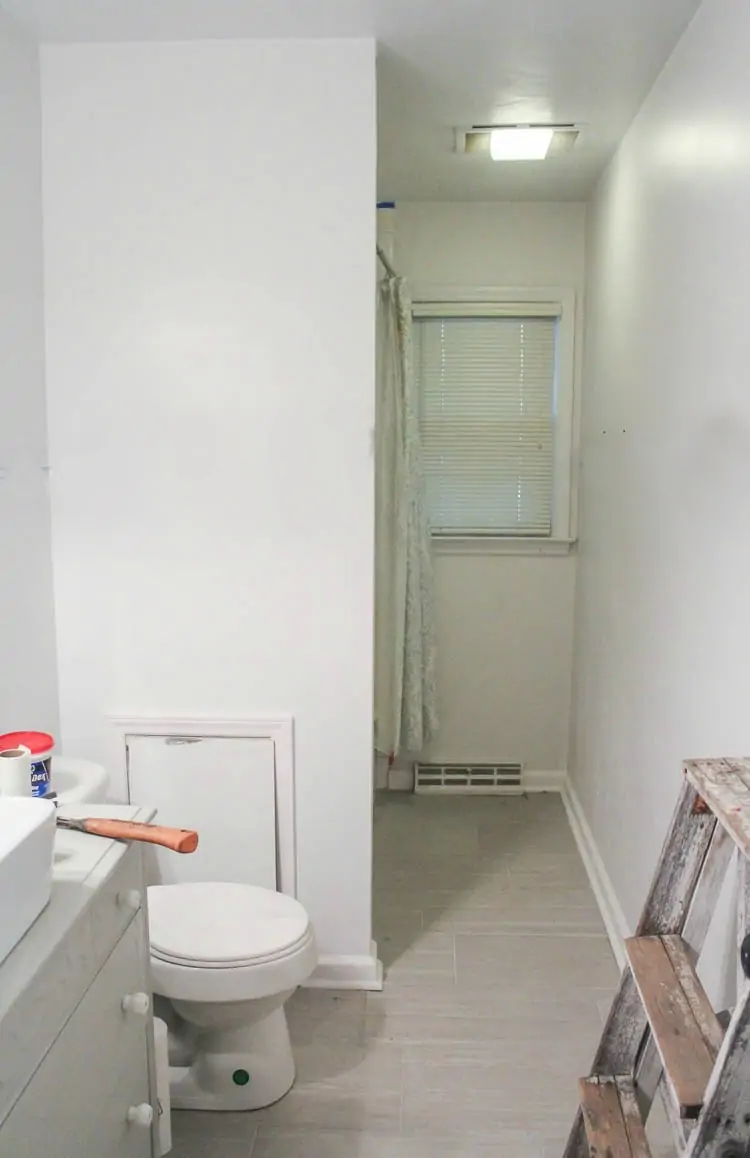 Read on for the full supply list and tutorial. Or if you'd rather just see pretty pictures of the finished product, there are plenty of those in my bathroom reveal here!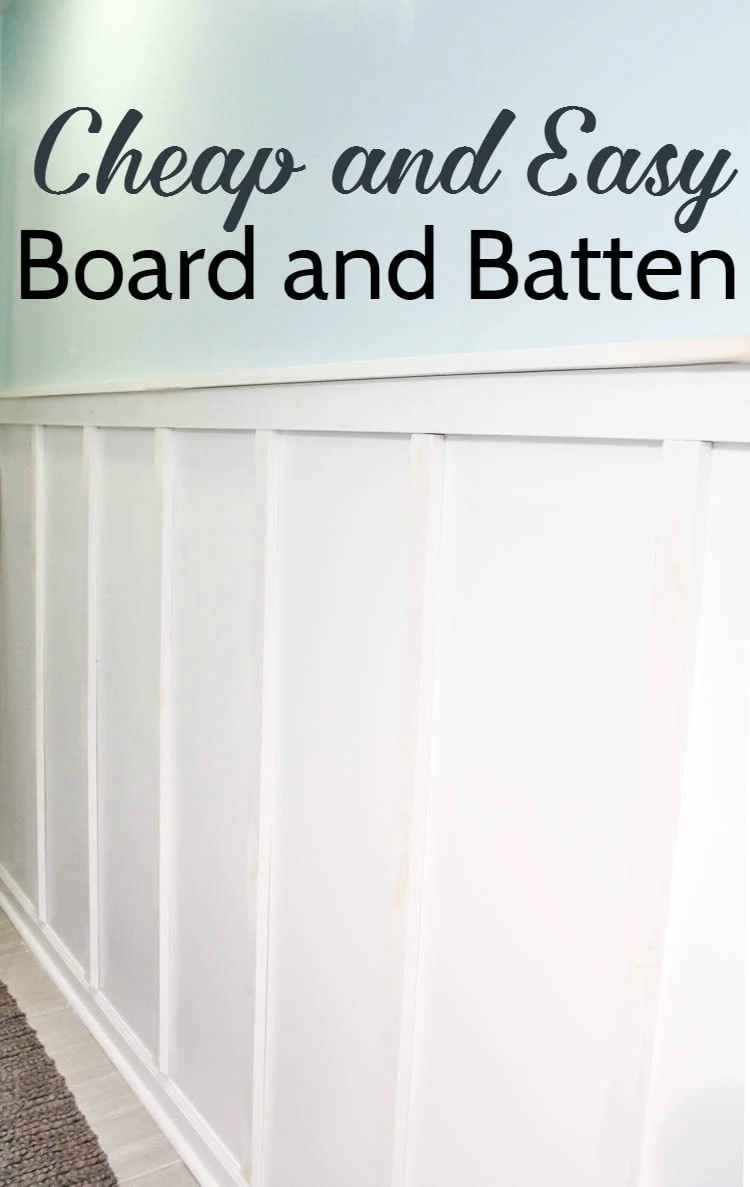 This post contains affiliate links which means if you make a purchase after clicking a link I will earn a small commission but it won't cost you a penny more. Click here to see my full disclosure policy.
Supplies for Board and Batten
1″ x 3″ common board the length of your walls
1″ x 2″ common board the length of your walls
1″ x 2″ common board for vertical battens (number of battens x height of battens)
miter saw – for cutting your wood to the correct length.

palm sander

and sand paper
nail gun or hammer and finishing nails – either will work but a nail gun will definitely make the process go faster.

This is the nail gun

I have now and I love it – it's cordless and super easy to use.
paint – one color for the top half of your walls and another for the lower half. I used Valspar Mint to Be on the top half of my walls and Valspar Perfect White on the board and batten half.
Preparing to Install Board and Batten
Installing board and batten doesn't have to be hard. In fact, for me the hardest part was the preparation – all the decisions that needed to be made before I could actually begin!
The first decision you have to make is how high you want your board and batten to go on the wall. Keep in mind that you don't want to have your top boards going through any outlets or light switches.
To help me get a better idea of how different heights would look visually, I used painter's tape at a couple of different height options.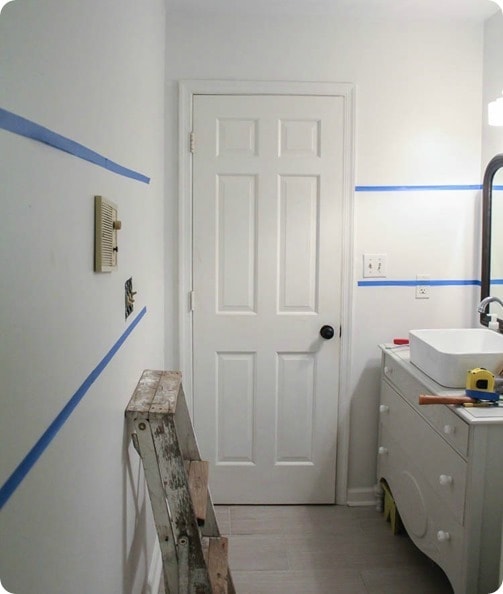 Once you've decided your height, go ahead and get painting.
You can save so much time and effort later by painting everything before actually installing the boards. It is way easier to roll some paint over the wall than to try to paint in between dozens of pieces of wood.
Just lightly mark a pencil line where your board and batten is going to end and paint the two halves of your wall the colors you've chosen. (I've got tips for choosing the perfect color here if you need them.) You don't even need to worry about painting a straight line for this because the actual line will be eventually covered by wood.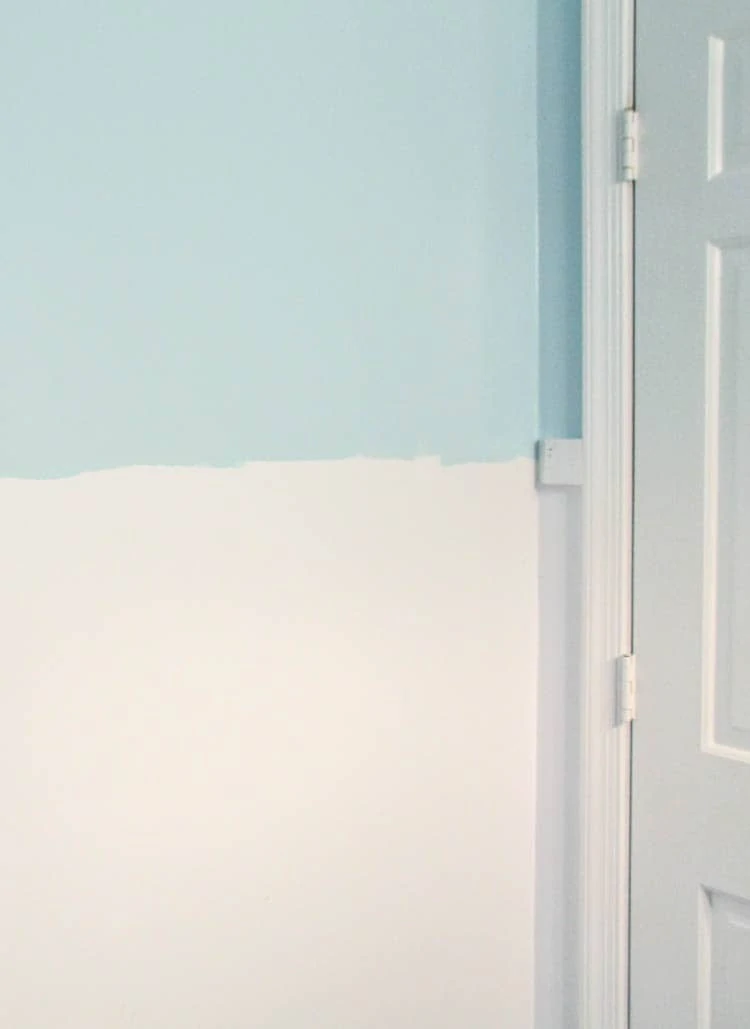 Now comes a bit of math. You want to be sure your vertical boards are evenly spaced across the wall.
If you are doing multiple walls like I did, the spacing between boards doesn't need to have to be the same for the entire room. It just needs to be equal on each wall.
In my room, each wall is spaced slightly differently. My vertical boards are 13 inches apart on the longest wall, 12 inches apart under the window, and 10 inches apart beside the mirror. The whole room isn't exactly the same but the boards are evenly spaced along each individual wall so it still looks great.
There is a great tutorial at Remodelaholic that can help you figure out how many battens to use on each wall and what kind of spacing to use.
Once you've figured out how many battens will be on each wall, you can figure out exactly how much wood you are going to need.
Measure the length of your wall or walls. Then use the number of battens for each wall (that you just figured out in the last step) and the height of your battens to figure out how many 1″ x2″ boards you need.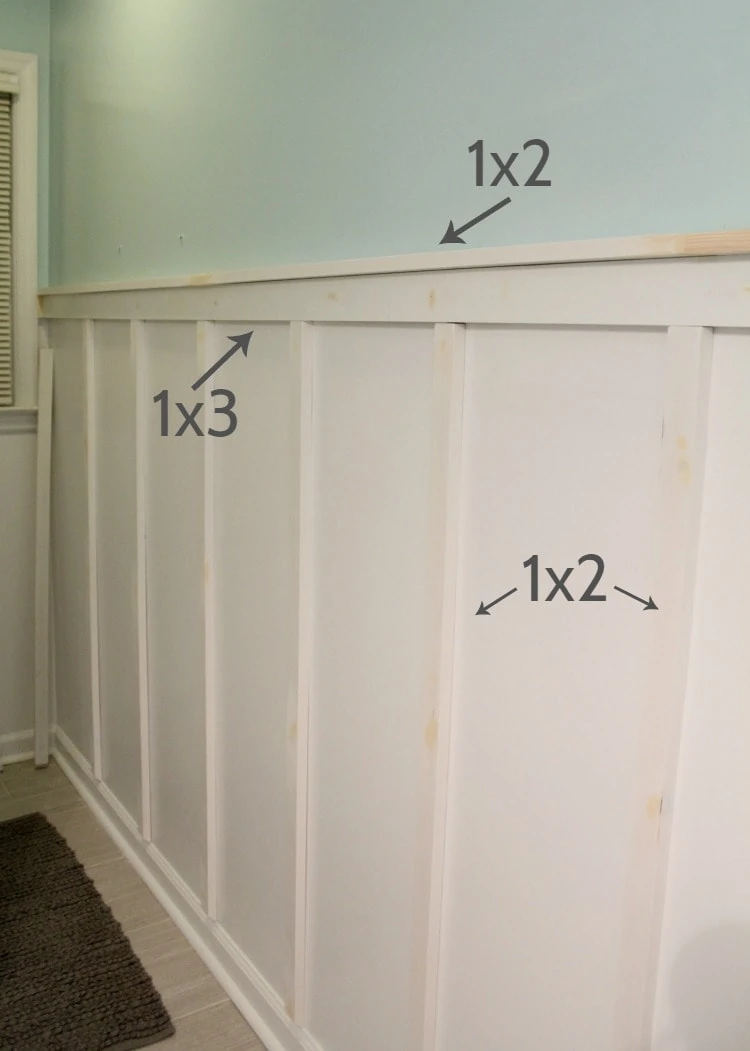 At any home improvement store there are a lot of lumber choices. The very cheapest wood is called wood furring; you can get 1″ x2″ pieces of furring for around $1 for 8 feet in length.
I don't recommend it for board and batten though. The reason it is so cheap is because it is very roughly cut. Usually the wood underneath is fine but you will waste a LOT of time trying to sand down to smooth wood. Also this wood tends to be full of knotholes, cracks, and crooked boards.
Instead I used the next step up which is still very affordable. It is usually called common board or sometimes just pine board.
When I bought mine, this type of wood was around $2 per 8 feet for 1″ x 2″ boards and $3 per 8 feet for 1″ x 3″ boards at both Lowes and Home Depot. You still need to be sure to pick out the best, straightest pieces but the quality is much, much higher than the furring.
What about the trim?
You can choose to replace all of your base molding when you install board and batten, but that isn't very cheap or easy so I didn't want to go that route.
The problem is most base molding angles to a very narrow edge at the top. I have seen some people deal with this issue by using 1/4 inch MDF to make their board and batten. That works well because then the board and batten is as narrow as the top of the base molding so there is no problem.
I chose not to go that route because I wanted chunkier, more textured board and batten and also I didn't want to deal with ripping a big sheet of MDF into dozens of strips of wood.
Instead, I went with a method I found at the site School of Decorating. I simply cut a 45 degree angle into the bottom of each of my vertical boards where they met the base molding. This is really easy to do with a miter saw and in my opinion still looks great.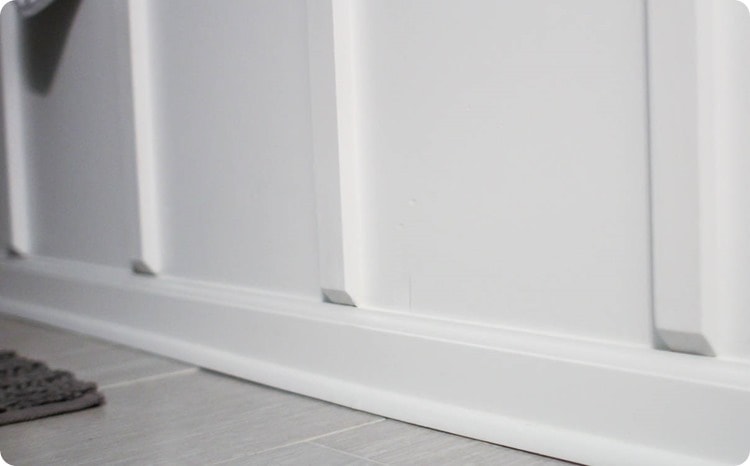 In our bathroom, we were also dealing with a window. The window had a similar issue with the bottom casing of the window frame angling down to a very thin edge.
After considering my options, I chose to simply remove the existing board below the windowsill and replace it with a piece of 1″ x 3″ board cut to the same size.
It blends in with the rest of the molding much better now and I saved the piece I removed in case we want to put it back at some point in the future.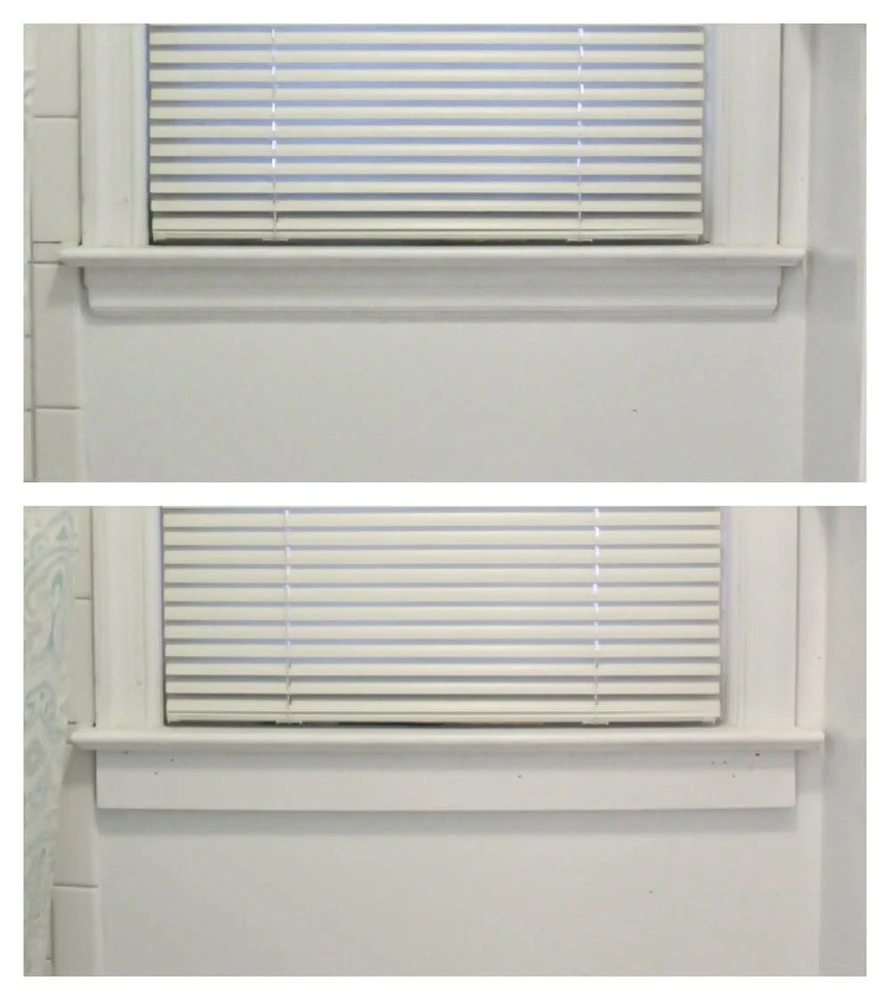 How To Install Board and Batten
Once you've done all the prep work, the installation is basically just a bunch of measuring, cutting, and nailing wood.
It is easiest to install the 1″ x 3″ board that goes across the top first.
Measure the length you need and cut it to size. Then use a palm sander to remove any rough areas, paint it, and nail it to the wall. (You can always wait and paint everything at the end, but again it goes faster if you paint first.)
When you are nailing it up, be sure to use a level. Just measuring the same height from the baseboards isn't enough to make sure it's straight, because a lot of base board aren't totally level, especially in older homes.
Some people choose to use glue along with nails to attach wood trim, but I prefer to just use nails. They still hold well and aren't such a paint to remove in the future if needed.
Once all of the 1″ x 3″ is installed, you can go ahead and install the 1″ x 2″ board above it (the part that looks like a tiny cap or shelf) the same way.
Then you can start installing the battens. Because many walls aren't perfectly straight, it works best to measure each batten individually before cutting it.
My battens were all around 49 inches but the exact measurements ranged from 49 inches exactly to almost 49 1/2. (Because of those darn uneven baseboards.)
First I cut the 45 degree angle at the bottom of each board. Then I placed each piece of wood where it would actually be on the wall (using my previous spacing measurements) and marked where the board needed to be cut to exactly meet the 1″ x 3″ board going across the top.
Then it was cutting to size, sanding, painting, and installing.
Again, be sure to use a level for each vertical piece as well. Anything that isn't straight will be very obvious in the end.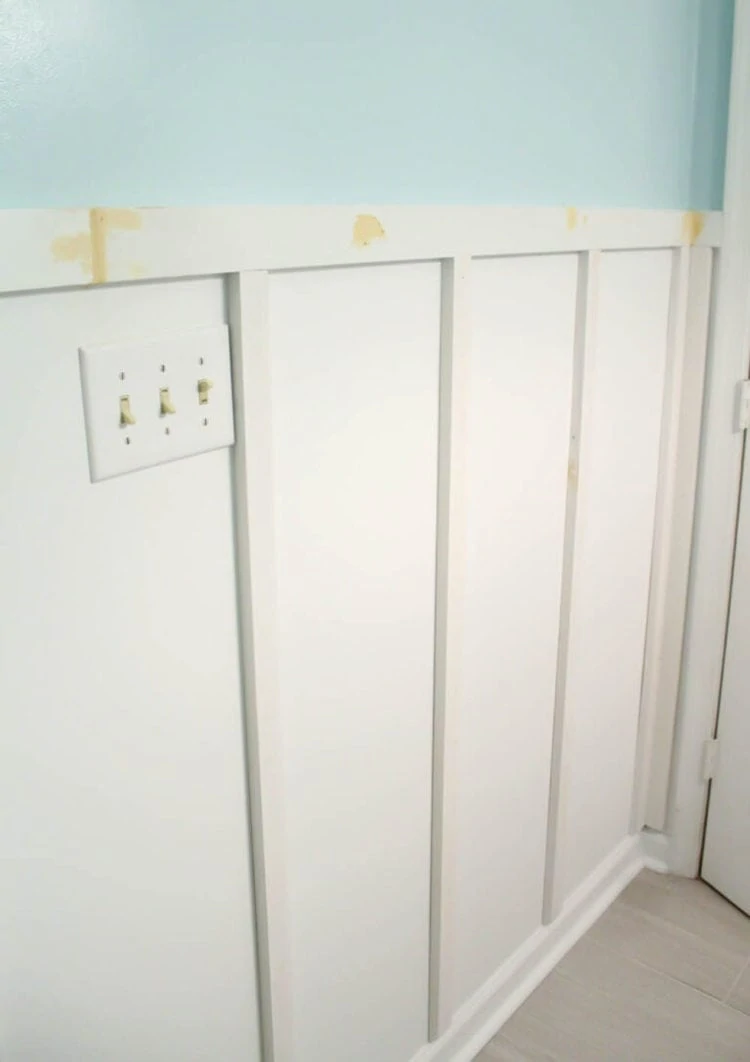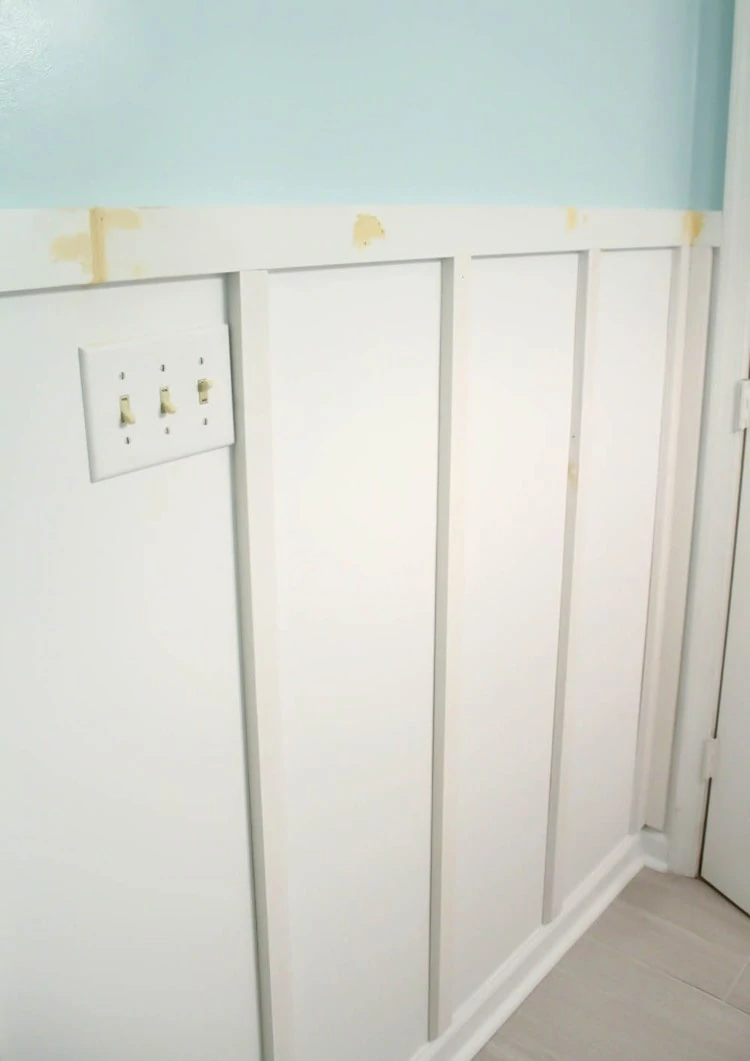 At this point, my bathroom was looking pretty good, but it still looked a bit like some sort of framing rather than a finished project.
The real magic comes with the caulking.
You can use wood filler to fill in all of the little nail holes as well as any other little cracks or imperfections in the wood. Let it dry and sand it smooth.
Then use paintable caulk to fill in the edges around each board. You want to be sure to caulk anywhere a board meets the wall. This makes the whole thing look seamless and beautiful.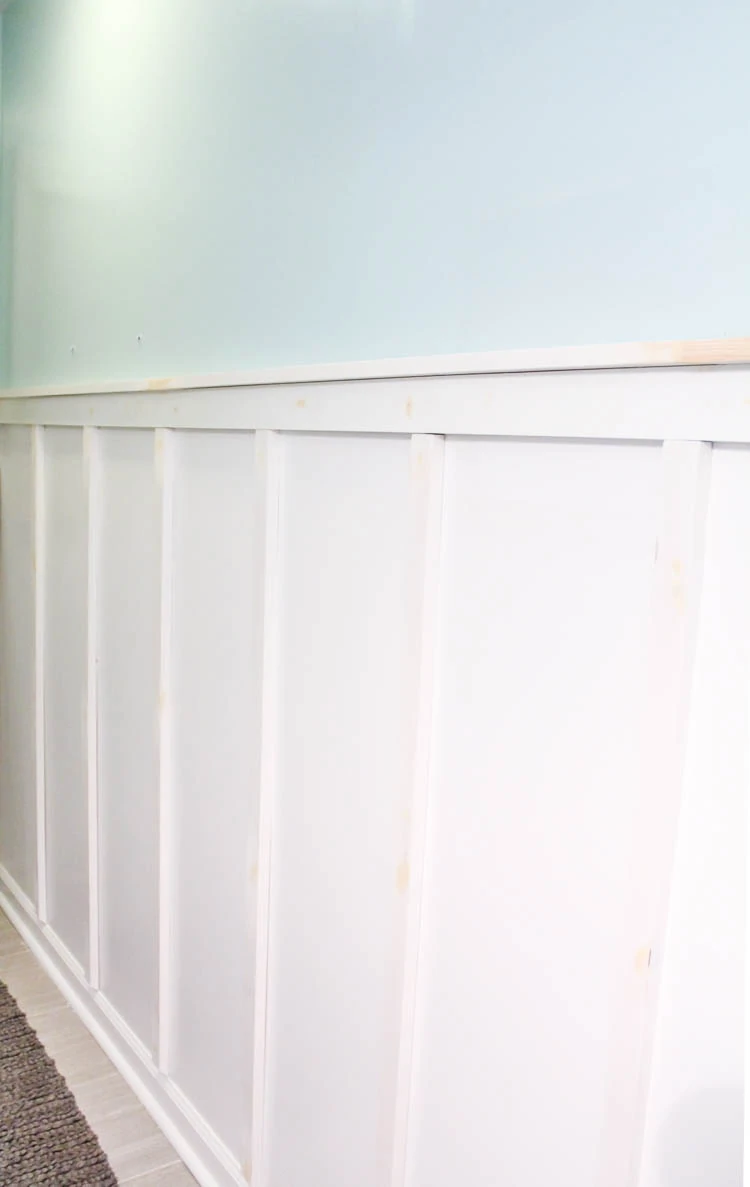 It really is amazing how big a difference a bit of caulk can make.
(I've got a whole post explaining when to use wood filler and when to use caulk right here if you still have questions.)
The final step is to give the bottom half of the wall one last coat of paint. This will cover all the wood filler and caulk and make the whole thing flawless.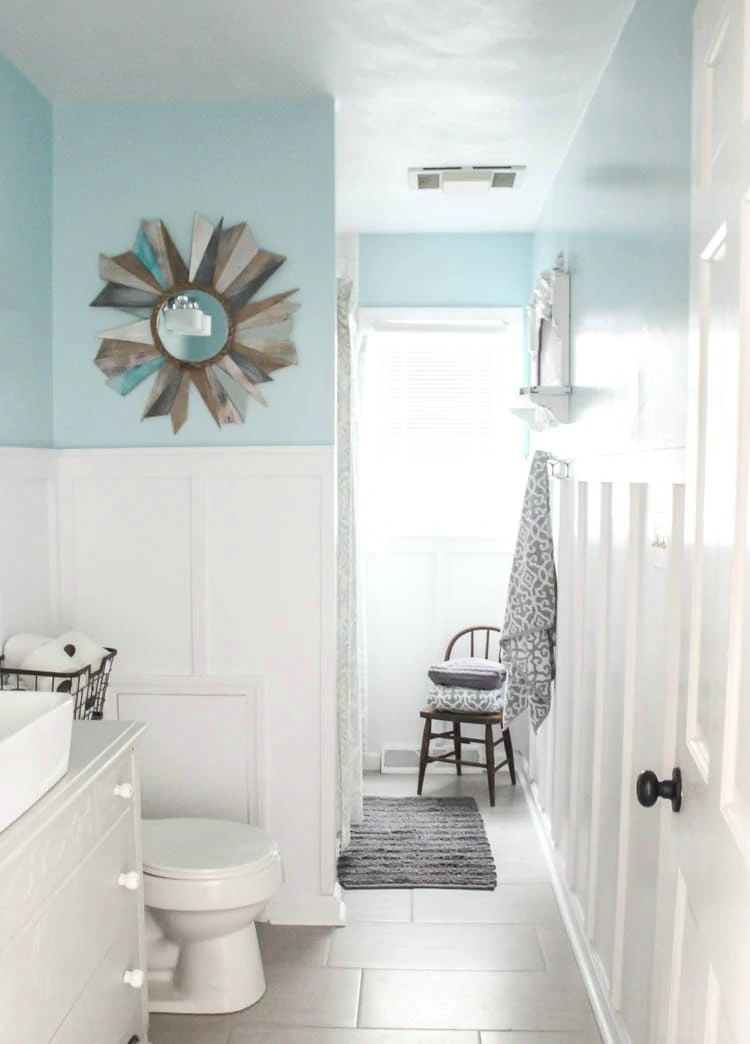 A few notes about board and batten in a bathroom
There are a few special things you will probably have to consider if you are adding board and batten to a bathroom.
Working around the toilet. It's kind of a pain but it isn't nearly as bad as I imagined.
I was able to slide my board behind the toilet tank with no problem. I didn't bother to caulk or touch up the paint behind the toilet since it was way too hard to reach and nobody will see it anyway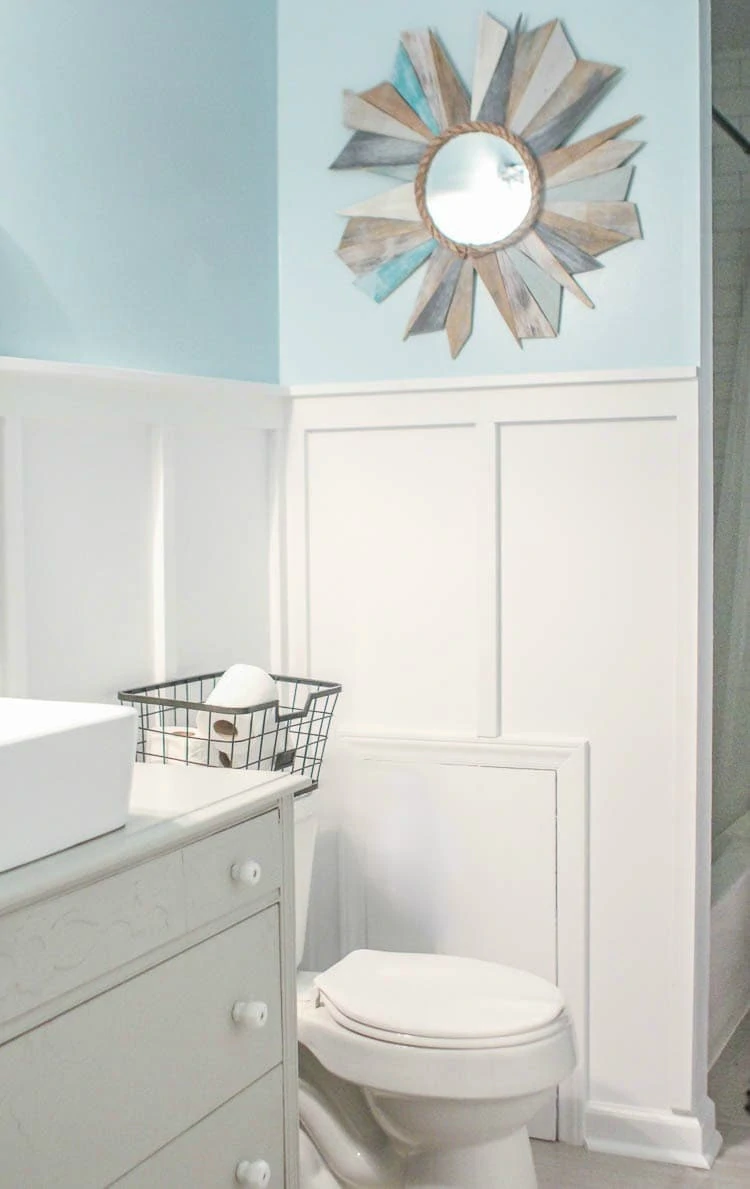 Working around the vanity and mirror. Some people carry their board and batten behind their vanity mirror as well. Personally I chose not too because I like the way my big old mirror looks encased in the trim, but you can do it either way.
I also didn't try to add any vertical boards behind the vanity. There was no room between the vanity and the wall and it just didn't seem necessary.
Paint choice. It's always best to use semi-gloss paint in a bathroom. It resists moisture and wipes down well. Enough said.
The cost of DIY Board and Batten
The total cost for my whole room of board and batten rang in at $74. Using the inexpensive wood I did definitely helped.
Also, I already had most of the tools and other basics like sandpaper on hand so I didn't include those in my total.
Don't forget to check out the rest of the projects in our budget bathroom makeover using the links below!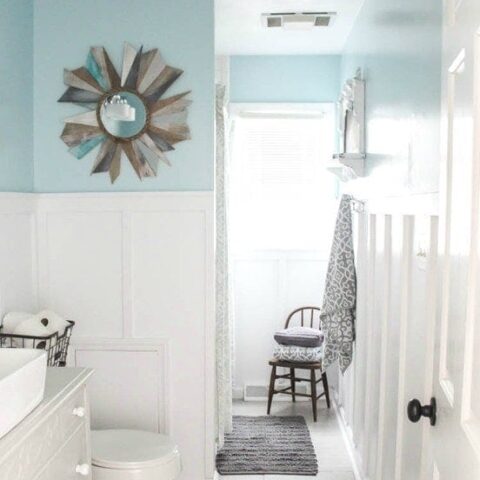 Cheap and Easy Board and Batten Tutorial
Board and batten doesn't have to be expensive or difficult. See how to add simple but beautiful board and batten to any space.
Materials
1″ x 3″ common board the length of your walls
1″ x 2″ common board the length of your walls
1″ x 2″ common board for vertical battens
paint
wood filler
paintable caulk
Tools
miter saw
sand paper
tape measure
nail gun or hammer and finishing nails
level
Instructions
Measure how high you want your board and batten on the wall.
Mark with a pencil.
Paint the two halves of your wall the colors you've chosen.
Measure the length of your wall to determine the number of battens and 1 x2 boards you need.
Cut a 45 degree angle on the bottom of each of the vertical boards where they meet the base molding.
Install the 1 x 3 board that goes across the top first. Measure and cut it to length. Sand any rough edges and install it, using a level to make sure it is straight.
Install the horizontal 1 x 2 boards on top of the 1 x 3s using the same method.
Measure and cut the vertical battens and install them.
Fill the nail holes with wood filler and smooth the seams in the board and batten with paintable caulk.
Prime and paint the wood to match the lower half of the wall.
Recommended Products
As an Amazon Associate and member of other affiliate programs, I earn from qualifying purchases.

Google Web Story: DIY Board and Batten
Google Web Story: How to Install Board and Batten the Easy Way