Don't tell my husband, but I am on the search for a cheap sofa again. I'm dying to buy a new couch. Over the past decade, we've owned 4 different sofas (plus 2 loveseats) and not one of them was a keeper. As in while we kept them for years, it certainly wasn't because I wanted to!
The makings of a great sofa
So it's official. I'm putting myself back on the market – the sofa market that is. And this time I'm a bit more prepared. (The good thing about a lot of sofa failures – you learn plenty about what you do and don't want!) So here's the wish list:
Must be kid-friendly. A.k.a. easy to clean. As much as I love a pretty white sofa, that's probably out with two small boys and another one on the way. I need fabric that can be spot-cleaned. And a fitted slipcover or seat covers that can be removed and thrown in the washing machine would be an added bonus.
Equally important: it has to be affordable. I realize that with a bigger budget, it would be much easier to find a really high quality sofa that would definitely stand the test of time. But the reality is our budget is what it is. So I am only considering sofas that come in under $900. And if I find one that is even less than that, all the better. Eventually we may be able to invest more into a great piece of furniture, but budget aside, at this point I just don't think it makes a lot of sense to buy something super pricey that is going to be put the ringer by our three rambunctious kids.
We need a full size sofa. I've noticed that a lot of stores offer more affordable sofa options that look great at first. But when you look more closely, they are tiny. More like a loveseat than a sofa. With a family of five, a tiny little couch isn't going to work. Not to mention a tiny little couch would look completely out of proportion in our average size rooms.
I've got to like how it looks. This is one of those things I just know when I see it. (Anything with tufting gets double points, because I love, love, love a good tufted sofa.)
Oh, and it probably goes without saying, but it needs to be comfy. Because that's basically the whole point of a sofa after all.
So after a bit of research, this is my short list of family-friendly, stylish, affordable sofas. (Along with my favorite shops to find affordable furniture when the thrift store just isn't going to cut it.)
This post contains affiliate links; see my full disclosure here.
Cheap Sofas
Ikea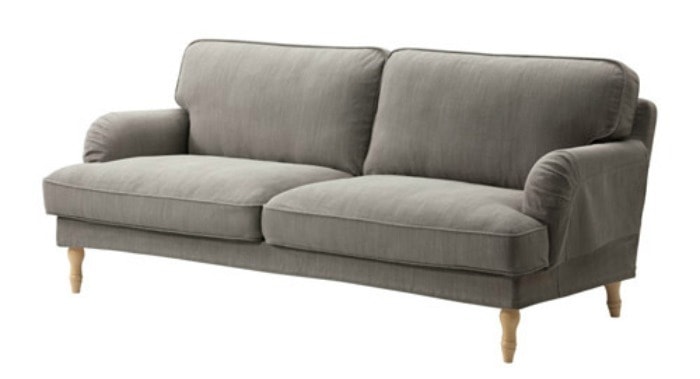 This is a new one for me. I've seen lots and lots of Ikea Ektorp sofas and Ikea Karlstad sofas in various bloggers' homes, but I don't remember ever coming across the Stocksund before. I love the rolled arms and turned legs and it looks nice and cushy. The removable slipcover is also a huge plus, though I don't exactly love the arm rest protectors. And at $599, the price is definitely right.
Overstock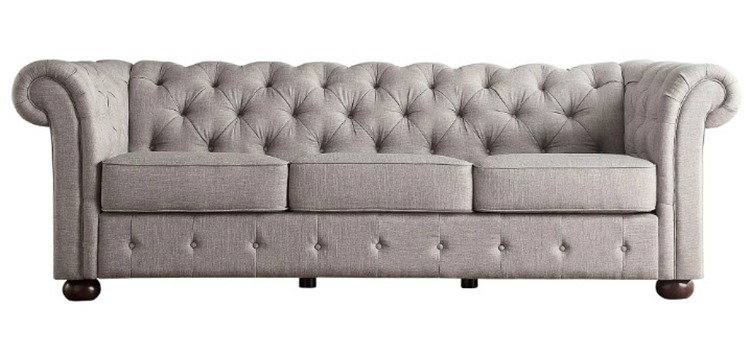 I have always loved the classic look of a good Chesterfield sofa. Usually they are very expensive, but in the past few years some really affordable versions have come out. I love this light gray Chesterfield sofa from Overstock.com. It is gorgeous and right now is available for less than $900. The downside? Reviewers say it is very stiff and I'm not sure the linen fabric is the most kid-friendly fabric.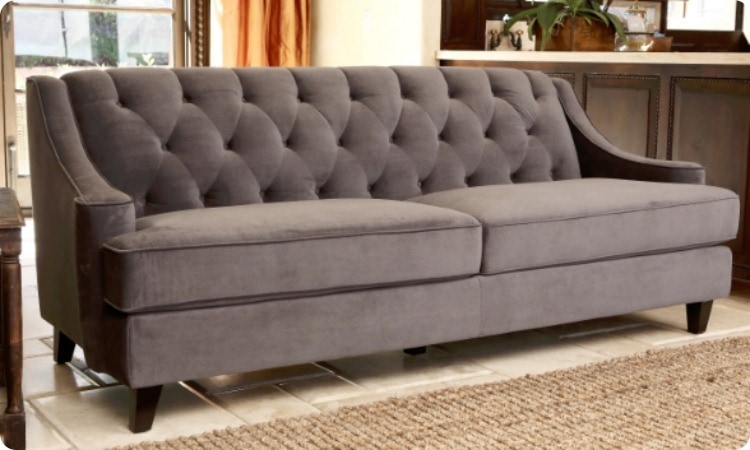 I'm also loving this more modern tufted beauty from Overstock. Have I mentioned I have a major thing for tufting? I adore it. This one has great reviews and is supposed to be super soft and comfy. But I have to wonder how durable the velvet fabric is. I've read in a few places that velvet is durable and easy to clean, but personally, I have my doubts. This one rings in at $830.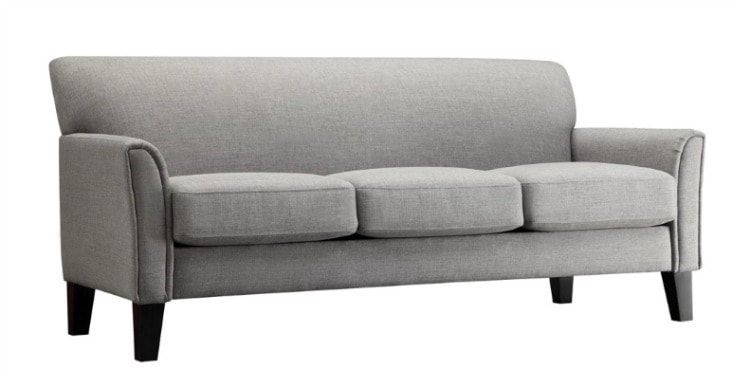 Ok so this basic sofa isn't the most exciting option. But it has great lines and is basically like a blank canvas for whatever throw pillows and blankets you want to jazz it up with. It comes in several great neutral colors and is less than $500! But even with all of those positives, I still think I'm probably looking for something with a bit more personality.
Wayfair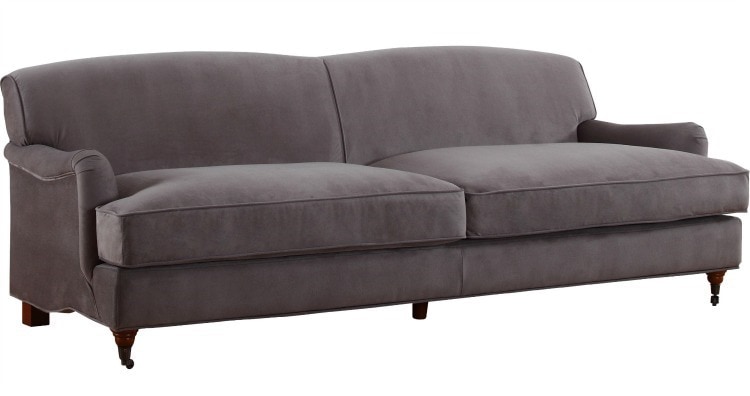 There is something about this mid-century modern sofa from Wayfair that I am loving. I am not usually a huge fan of mid-mod but I think this sofa would look amazing surrounded by either vintage pieces or more modern furnishings. I'm loving the rolled arms and the castors. (In fact it kind of reminds of the Ikea sofa above, minus the convenience/sloppiness of the slipcover). And score, it's less than $700.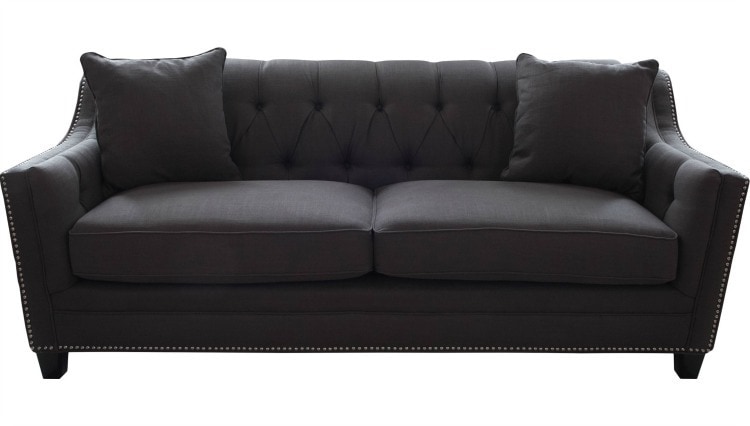 Another tufted beauty! Sadly, this one doesn't have any reviews yet, but it certainly looks nice and comfy. And the nailhead trim is a nice touch as well. This one is currently $850.
Another beautiful Chesterfield sofa. This one is just $770. And it has over 600 reviews, mostly all excellent. Unfortunately, some people were complaining again that it is pretty stiff. On the plus side, that should help keep it from getting all saggy and droopy. On the downside, I'm wondering if stiff equals uncomfortable.
All Modern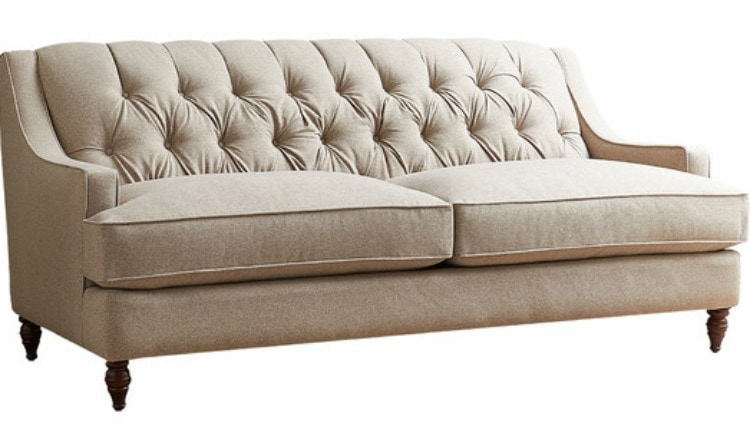 Don't let the name All Modern throw you off. I'm not typically a big fan of modern furniture, but there are plenty of great pieces at All Modern that aren't quite so modern. I love the lines of this beautiful sofa. It has my beloved tufting but without the stiff formality of some of the other choices. It is a bit shorter than most of the other sofas at less than seven feet long, so really it is a bit petite for a full size sofa. But the awesome part is you can choose from more than 25 custom upholstery options and many of them bring the total price to less than $800.
Macys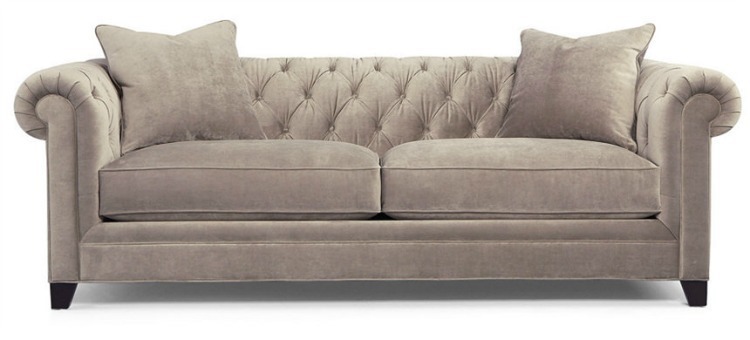 I know, I know, another Chesterfield! But I had to include this Martha Stewart version for good reason. I've had my eye on this lady for awhile now. It has all of the classic Chesterfield styling with the tufted back and rolled arms, but one major thing sets this one apart. This Chesterfield has tons of good reviews and they all report that it is actually comfy! Unlike the others I like, which are reported to be stiff, this one is supposed to be soft and perfect for sinking into. And it's on sale for less than $900.
So that's where I am in my ongoing sofa search. It's hard to pick a favorite. I really like the Ikea option, particularly because of the slipcover for washability. But Ikea is three hours away so it may be awhile before I get to see it in person. And several of the others are close contenders. Anybody else have a favorite affordable sofa I missed? Or any advice? If you think I'm overlooking something important I would love to know!
Update! We found a super affordable sofa that we're loving. You can read all about the perfect, inexpensive gray tufted sofa right here.