This gray tufted sofa is gorgeous and is exactly what I was looking for in a sofa, all at a killer price. An honest review of the gray Quentin Chesterfield sofa.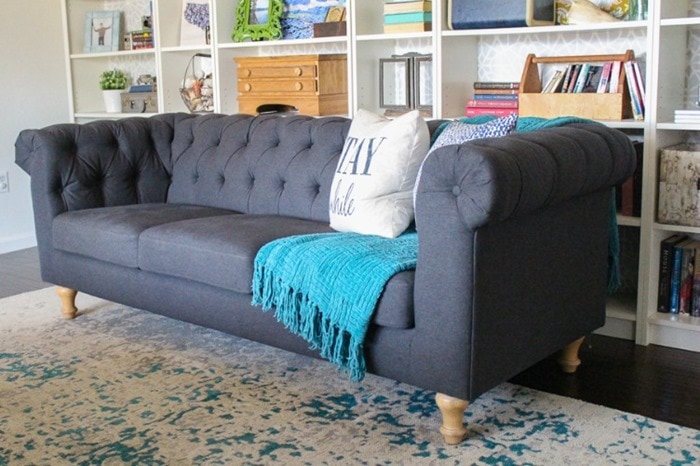 This post contains affiliate links which means if you make a purchase after clicking a link I will earn a small commission but it won't cost you a penny more. Click here to see my full disclosure policy.
If you've been following along for awhile, you know that I have been struggling to find a new sofa for a few years now. Our old sofa was well past its prime, but finding a good replacement was tough! The budget is pretty tight right now so dropping a couple of thousand dollars for a sofa simply wasn't going to happen.
Also, it needed to be durable enough to stand up to the mess and exuberance of three little boys. And of course, I wanted it to be pretty. Because if I'm going to make a huge purchase for our home, I want it to be something I love!
I had my heart set on a beautiful gray tufted sofa. I absolutely love the look of a Chesterfield sofa with its rolled arms and tufted back. It feels like the perfect blend of vintage and modern to me, with it's classic shape and updated fabric.
Unfortunately, sofas are expensive and it's especially hard to find an affordable Chesterfield sofa that's still decent quality. I have seen a few killer deals online, but they were always at stores I had never heard of and had zero reviews so it seemed like a big risk.
But then last fall, I spotted this gorgeous gray tufted sofa at a fantastic price at Cost Plus World Market, so I went for it. We purchased the charcoal gray Quentin Chesterfield sofa and now that we've put it through the wringer of family life for more than three months, I'm ready to share all the things I love and don't love about it. Hopefully it will help those of you that are looking for your perfect sofa know if this is your match made in heaven or not so much.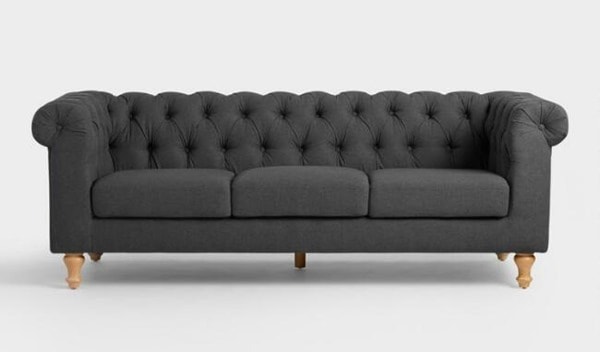 photo from Cost Plus World Market
*UPDATE 2021: Before you read this whole review and possibly even buy this sofa, I wanted to give a quick update. We've had our Quentin sofa for four years now and sadly it has not held up as well as I hoped. The seat cushions are not removable and the springs in one of them have, well, sprung. There is a spring poking up in one of the cushions and it's quite uncomfortable and not an easy fix. To be fair, we have three small boys who aren't allowed to jump on the furniture, but aren't always great at following that rule. So this couch has been through a lot, but still, I expected better. I still stand by the rest of this review, but sadly, I can't wholeheartedly recommend this sofa any longer.*
The nearest World Market location is about an hour and a half away from my house, so I ordered my sofa online and had it delivered to my house. The shipping costs added up to around $150 including a $75 surcharge for shipping oversized items. At the time I bought my sofa, there was a promotion going on that made shipping free. (They run this promotion pretty frequently.) You can also have it shipped for free to a local store and pick it up there.
The sofa arrived in a huge box and there was very little assembly required. All we had to do was remove it from the box and then screw on the legs. (It did take several minutes to actually find the legs though! They are stored in zipper compartments on the underside of the sofa.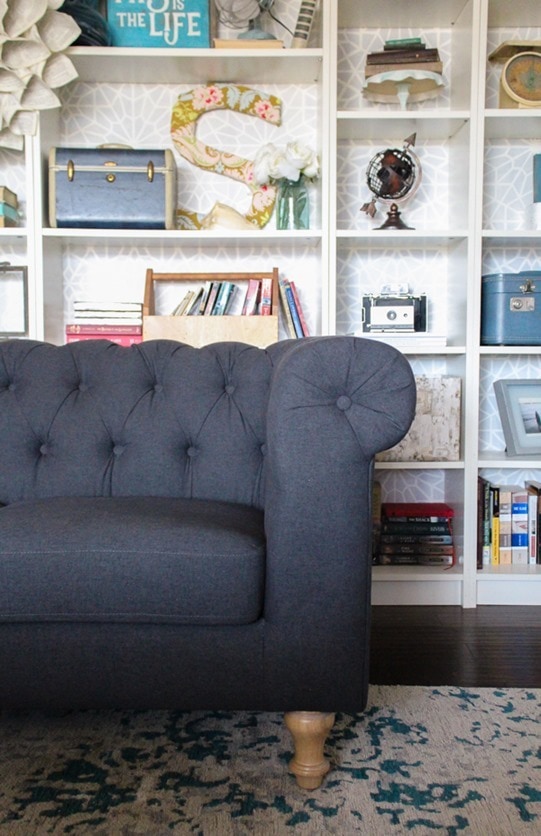 What I love about the Quentin Chesterfield Sofa
Color
Many chesterfield sofas are made from dark brown leather. That look is a bit too traditional for me, plus they are usually very expensive. There are also some beautiful white chesterfield sofas, but realistically I didn't think white would hold up very well with my family. So I thought a pretty gray tufted sofa would be a good compromise. It's still neutral and classic but not too dark and heavy or too light and stainable.
The charcoal gray of this couch is really pretty. The color varies between a medium gray and a very dark charcoal depending on the light in the space. We originally placed ours under our bay window on the other side of the living room where not a lot of natural light was hitting it. The color looked very dark, nearly black. Since then, I've moved it across from the window and now all of the light hitting it makes it appear much lighter.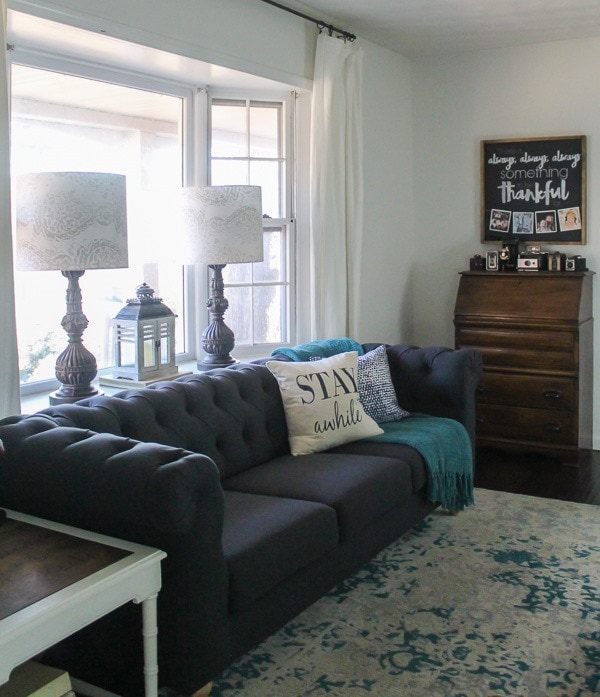 Size
This sofa is a great size. The rolled arms make it look substantial without being heavy and overbearing. The back rest is a great height, not too low., and the cushions aren't overly deep. It looks right at home in our medium sized living room and I think it could work well as a pair in a larger space as well.
Comfort
After all of my sofa research, I've read lots of reports of tufted sofas being very hard and not cushiony enough for lounging. That definitely is not the case with this sofa. It is super comfortable. The fabric is very soft to the touch and while it is on the firmer side due to the nature of tufting, I think it is perfect for lounging. In fact, this is my 5 year old's favorite spot to lay around and read books and play on the ipad. If you are used to a big puffy sofa with down cushions that you sink into, this sofa may feel too firm to you, but we love it. In fact, my husband in lobbying for us to move it to the family room so it can be our TV watching sofa. (Jury's still out on that one, but we might just give it a try.)
Durability
We've only had this sofa for about three months, so I can't say for sure how it will hold up long term. But so far, so good! (Despite catching my toddler jumping on it several times.) The frame feels very sturdy and well made. All of the seams and tufts are tight. There is nothing about the way this sofa looks or feels that seems cheap. And because the cushions are on the firmer side, I anticipate that they will hold their shape pretty well over time.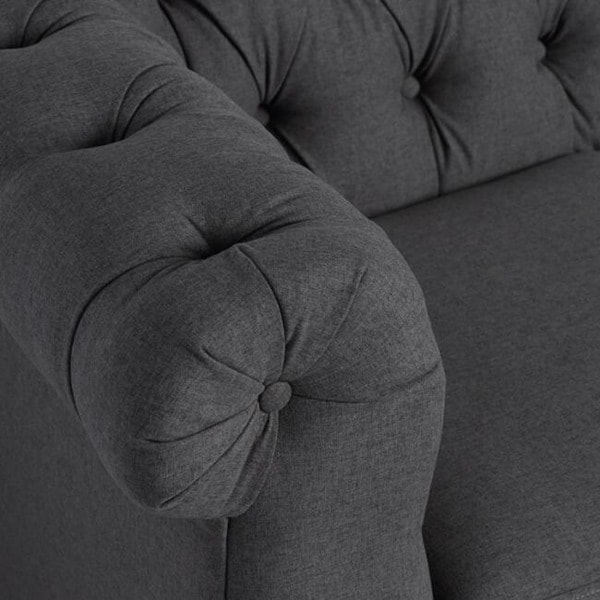 photo from Cost Plus World Market
Cleaning
So far this has been one of the easiest sofas I've ever had to keep clean. In the past we've had microfiber, white leather, and beige fabric sofas, all of which were difficult to keep clean for various reasons. We haven't had any major spills on this sofa yet, but there have been some small messes and my 2 year old has definitely wiped his sticky, snotty face onto the fabric several times. So far I haven't had any problem cleaning up minor messes with a damp cloth. And I believe the dark fabric will really help to minimize the look of any stains or messes that might occur in the future. Especially, because even though it is a solid color, if you look closely there is a bit of variation to the color. I'm thinking some Scotch Guard probably wouldn't hurt for preventing future problems but I haven't gotten around to using it yet.
Price
This sofa is incredibly inexpensive, especially considering how beautiful it is. Right now the price is only $749. After months and months of seeking the perfect affordable sofa, I know that a good looking sofa that's under $800 is really hard to find. Even better, World Market regularly has sales that can knock the price even lower, sometimes up to as much as 50% off.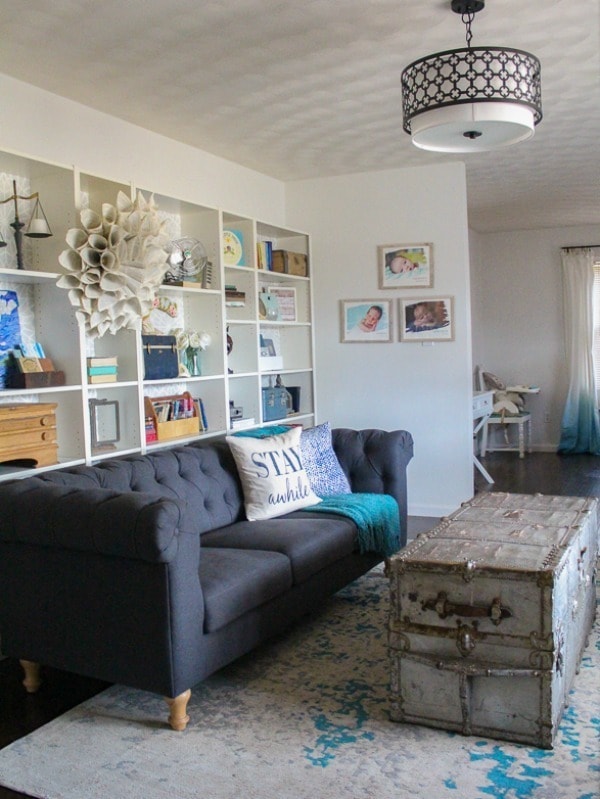 What I don't love so much about the Quentin Chesterfield Sofa
Okay, so even though I really love this sofa, there are a few things that aren't my favorite.
The cushions aren't removable
The bottom cushions do not detach from the frame which surprised me. I've never had a sofa before where the cushions weren't removable. So far this hasn't caused any problems, but in general I prefer having the option to flip cushions over in case something gets stained or they start to look worn.
The dust
Even though this sofa is super easy to keep clean, it does show crumbs, dust, and other random light colored particles. Most dirt and stains hardly show at all, but anything light colored definitely sticks out. Somehow every few days there seems to be a few new bits of dust, tiny white threads, and other random things on the cushions. I can generally just brush them off with my hand, but it is a bit of a nuisance.
Perfect Gray Tufted Sofa
Overall, I would definitely recommend this sofa to others and would 100% buy it again. (You can see more product details and see reviews on the World Market website right here.) Only time will tell how well it will last in the long run but so far I'm extremely happy. And I'm pretty confident that I finally found the perfect gray tufted sofa for our family.
I'd love for you to pin this post to share it with others on the hunt for a great sofa!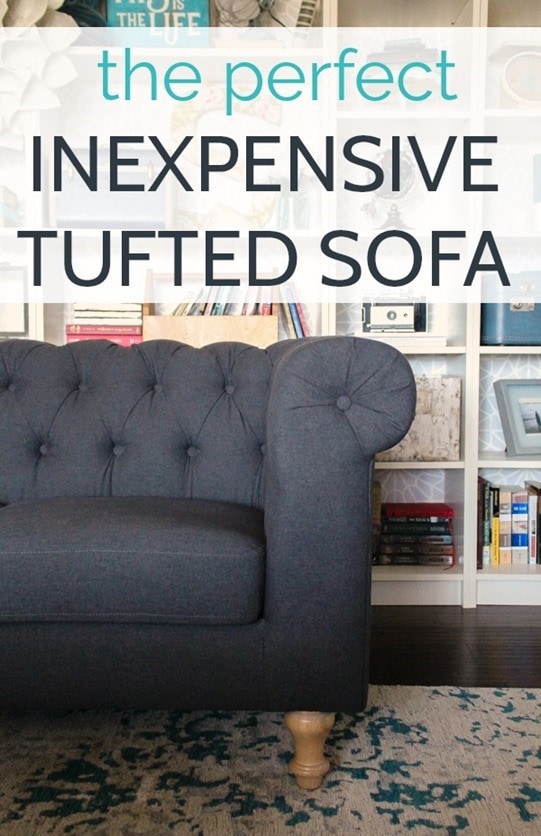 Not sure this is the sofa for you? I've got a round up of 9 more budget sofas right here that might just strike your fancy. I don't have personal experience with any of these, but they are some of the ones I considered before I found my perfect sofa.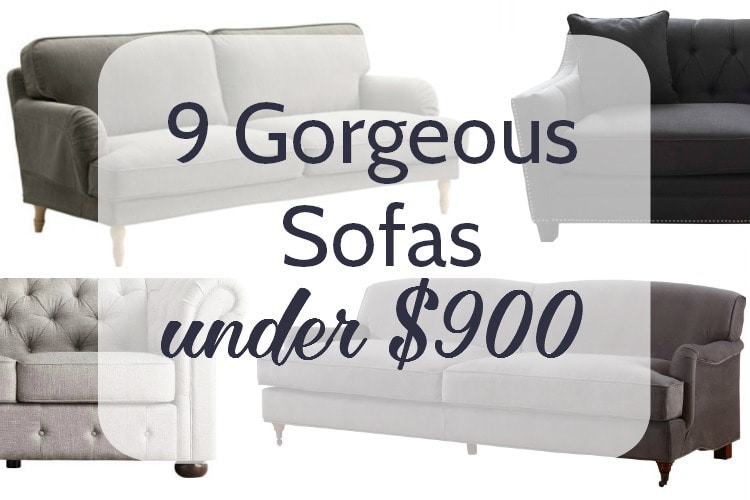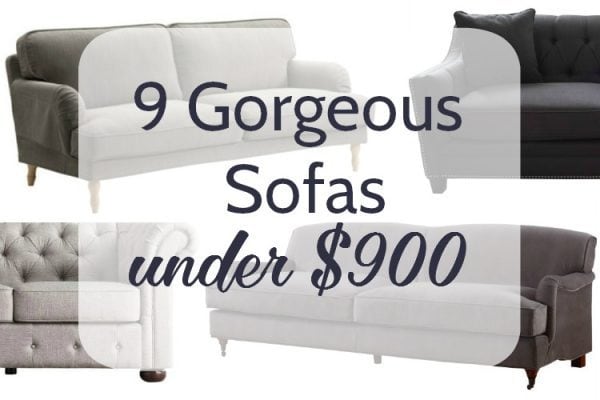 Or if you need to figure out how to make your current sofa work for a bit longer, check out these DIY tricks to update a tired sofa.