Painting a bathroom vanity is such an easy, inexpensive way to completely change the look of your bathroom. I'm going to show you step-by-step how to paint a bathroom vanity with a perfectly smooth paint finish that will last for years.
Of all the changes I made in my recent $100 bathroom makeover, painting our old oak bathroom cabinet was one of the projects that made the biggest difference to the space. Even if I hadn't changed anything else in the room, just painting the vanity alone would have made a huge difference!
Painting a bathroom vanity really isn't particularly difficult even if you don't have a lot of painting experience. But there are lots of small things you can do during the process to make sure your paint finish is as beautiful as possible and lasts as long as possible.
Along with a step-by-step tutorial, I'm sharing the best paint to use for painting cabinets, how to make sure your paint job lasts, and my trick for getting a perfectly smooth paint finish, even on oak cabinets with a heavy wood grain. I've also put together a video tutorial at the end of this post for those who prefer video.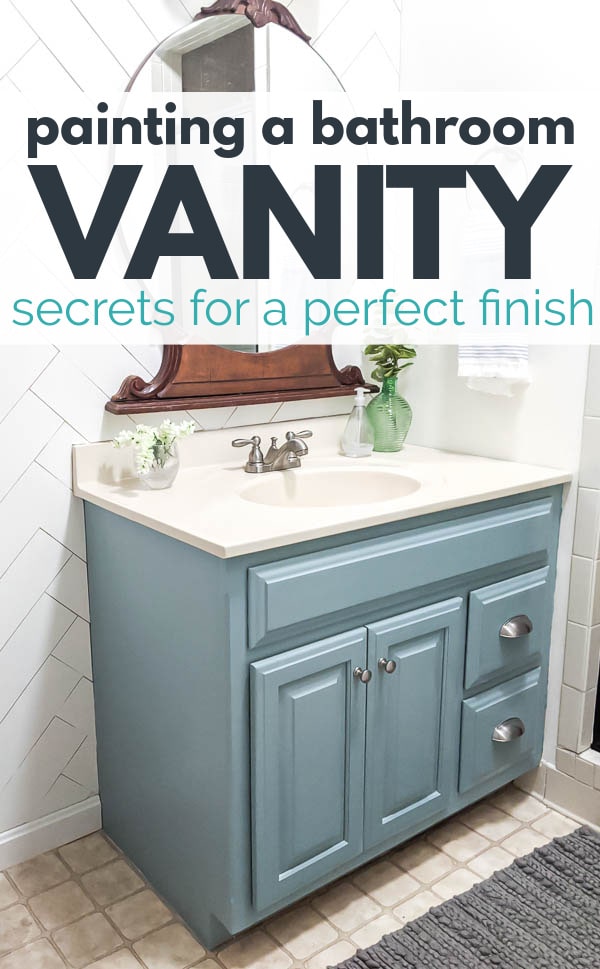 This post contains affiliate links which means if you make a purchase after clicking a link I will earn a small commission but it won't cost you a penny more. Click here to see my full disclosure policy.
Materials
If you are painting oak cabinets
If you are replacing your old hardware
How to Paint a Bathroom Vanity
As much fun as it would be to jump in and just start rolling on the paint, that is never a good idea. Before you paint anything, you have to start with prep. That's what keeps your paint job looking good and not chipping off within weeks.
This is the cabinet I am painting.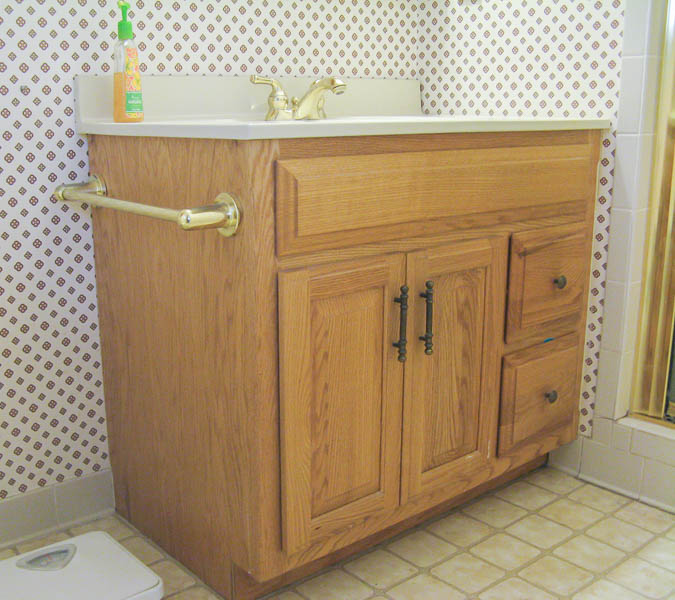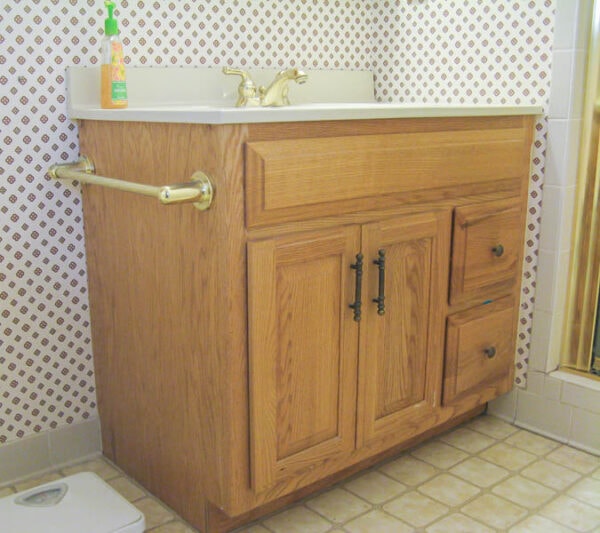 It's a builder basic oak vanity from the 90s and I know a simple coat of paint and some new hardware is going to make all the difference.
Removing the doors and drawers
The first thing you need to do is remove your cabinet doors and all the hardware. You could try to paint your cabinets with the doors still attached, but it's going to be a lot harder to get a perfect finish and will end up taking even more time than simply removing them from the start. You can also remove any drawers at this point and set them on top of your vanity or somewhere else you can easily reach them for painting.
Cleaning
Cleaning is always the first step to painting anything, whether it's furniture, cabinets, or floors. You need to remove any dust, grease, or soap scum so that the paint has somewhere to stick.
I like to use Krud Kutter Prepaint Cleaner for cleaning furniture and cabinets before painting. It really gets everything off the surface, including dirt you can't even see.
But if you don't want to buy another cleaner, I've also had great luck using Dawn dish soap mixed with warm water in a spray bottle. Just spray it on, wipe it off well with a paper towel or a clean rag, and rinse it with clean water.
Deciding on Hardware
This is a good time to decide whether you will be replacing the hardware with something different.
If you are changing out the hardware, figure out if the current holes will work or if you will need to drill new holes for the new cabinet knobs and drawer pulls. If so, fill in the old holes with wood filler, allow it to dry completely, and then sand it smooth.
You can drill the holes for your new hardware now or wait until after painting.
Smoothing Oak Wood Grain
If you are painting bathroom cabinets that do not have a highly textured wood grain, you can skip over this section.
My bathroom vanity is oak. If you've ever looked closely at oak cabinets, then you know that they have a really pronounced wood grain. It's so pronounced that even after you paint it, you can still see a lots of tiny little grooves and cracks where the wood grain is showing through.
So when I painted my kitchen cabinets a few years ago, I learned a great trick for smoothing out the wood grain so that your painted cabinets have a gorgeous, smooth finish.
The simple trick to getting rid of the wood grain is spackling. Not wood filler, which is what I originally thought would make sense. I'm talking about the same spackling you use to fill in little nail holes on your walls.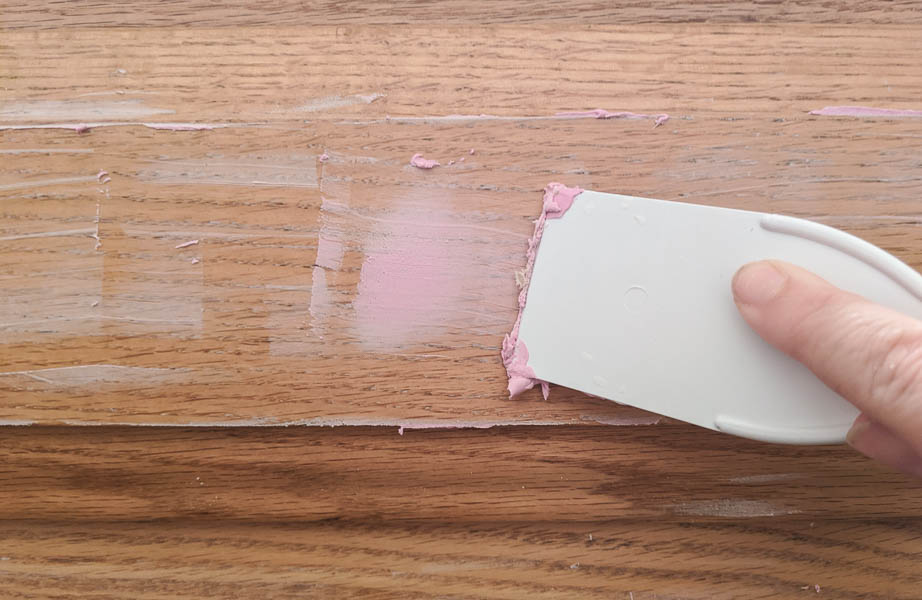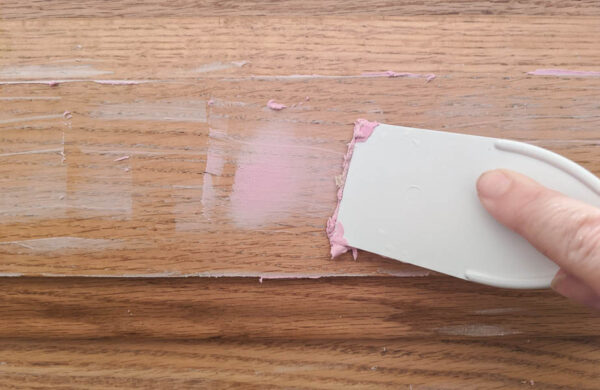 Use a small putty knife to smooth a very thin layer of spackling all over the surface of your cabinets, pushing in just a bit so that the spackling fills in all those little tiny cracks in the wood grain.
Allow it to dry for a few minutes, and then sand all of the excess off using 220 grit sandpaper.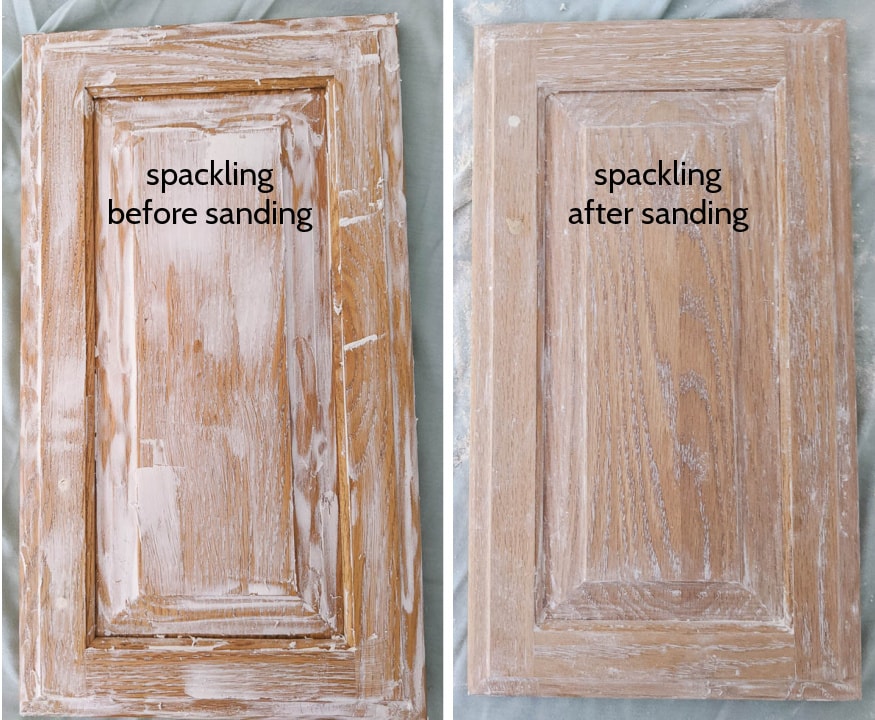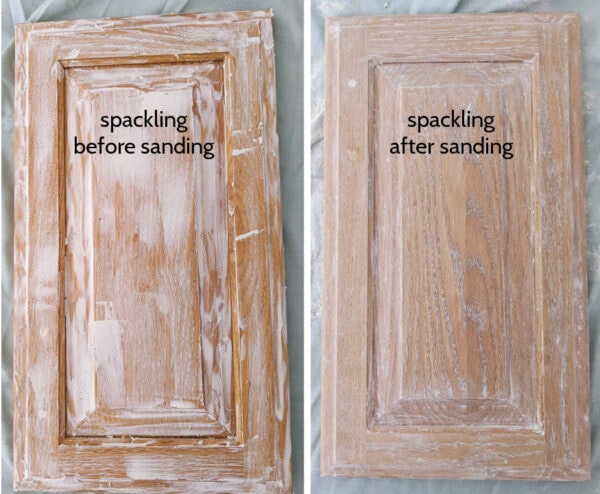 Once it is sanded, the spackling will be left only in the tiny crevices of the wood grain, leaving them smooth with the surface of the wood. You can then wipe away the dust using a microfiber cloth or other rag. (Don't use a wet rag for this or the water can pull the spackling out of the wood.)
Do you need to sand your cabinets before painting?
This is the point where a lot of people get confused. Everybody wants to do the right thing, but a lot of times it's hard to know what that is. How do you know if you need to sand or not? How do you know when you need to use primer and when you can skip it?
Nobody wants to be doing extra unnecessary work, but at the same time, we want to make sure we do everything right so that our paint job lasts.
The kind of prep you need to do for your cabinets depends on two main things.
What kind of cabinets you're painting and what kind of condition they're in.
What kind of paint you are using to paint them.
Are your cabinets super shiny and slick? Then you probably do need to give them a light sanding before you can paint. Are your cabinets really rough to the touch and they've seen better days? Again, a light sanding might be good to smooth them out.
Those are the main reasons to sand cabinets before painting – to scuff up a very smooth surface so that paint can stick or to smooth a rough surface. Most people with standard bathroom cabinets do not need to sand them before painting.
Do you need to use primer?
Whether or not you need to use primer before painting depends on both the type of cabinets you are painting and the type of paint you are using.
Again, if your cabinets are super slick, primer is important to help the paint stick to them.
If your cabinets are a dark wood and you're painting them white or another light color, primer is a great idea to make sure wood tannins aren't going to bleed through and yellow your white paint.
Also, if your cabinets have been painted before with an oil-based paint, you need to use an oil-based primer before painting.
(This is most likely not an issue unless your cabinets were painted many years ago. If you aren't sure, you can pour a little bit of nail polish remover with acetone or rubbing alcohol onto a rag and rub it onto the painted surface that you want to test. If some of the paint rubs off, it is latex paint. If no paint rubs off, it is oil-based paint. If that is the case, I have a whole post about painting over oil-based paint that may be helpful.)
You may also need to start with primer based on the type of paint you are using. Many paints, including any kind of latex paint, require primer to be used first to help them stick to hard surfaces like cabinets. If you aren't sure if your paint requires a primer or not, you should be able to easily find out from instructions on the paint can.
After priming, if your cabinet feels a bit rough to the touch, it's a good idea to lightly sand your cabinets with 220 grit sandpaper to get the surface as smooth as possible before painting.
In my case, I am painting an oak vanity without a shiny surface or any other issues that require primer and I am using a paint that doesn't require primer. So I do not need to sand or primer; after doing my special technique to smooth the wood grain, I can skip right to the paint.
Cabinet Prep Checklist
I know it can be really confusing to figure all of that out for your specific situation. So I put together a free checklist that walks you through the process of figuring out exactly what you need to do to prep your specific bathroom or kitchen cabinets for paint. When you answer the questions, it will help make it really clear what you need to do and what you can get by with skipping. It you are already an email subscriber, you can get a copy in the freebie library that is exclusively for email subscribers. If you aren't a subscriber yet, you can sign up below to get your free copy.
Choosing Cabinet Paint
For my cabinets, I am using General Finishes Milk Paint.
This is one of my favorite furniture paints and it is also great for cabinets. General Finishes Milk Paint goes on really smoothly, doesn't require primer, and gives a nice durable finish. This paint doesn't require a separate sealer, but it is recommended that you use one for high-use projects like cabinets.
Benjamin Moore Advance paint is another paint that comes very highly recommended by professional painters. It is a self-leveling non-yellowing paint that dries to a hard finish. It does require a primer, but doesn't require a separate sealer.
Choosing paintbrushes and rollers
I get a lot of questions asking if you can get a really smooth paint, finish on cabinets without using a paint sprayer.
Yes, you definitely can. I do have a paint sprayer and it's fantastic for painting things quickly with a very even finish. Even so, it does take more time to set up for painting with a sprayer and I use high quality paintbrushes and good rollers for most of my painting projects, including painting my kitchen cabinets.
If you want an absolutely perfect paint finish without the slightest hint of a paintbrush stroke, a paint sprayer is probably your best bet. But if you just want a nice, really smooth surface that feels and looks great to the average person, you'll be just find with paintbrushes and rollers.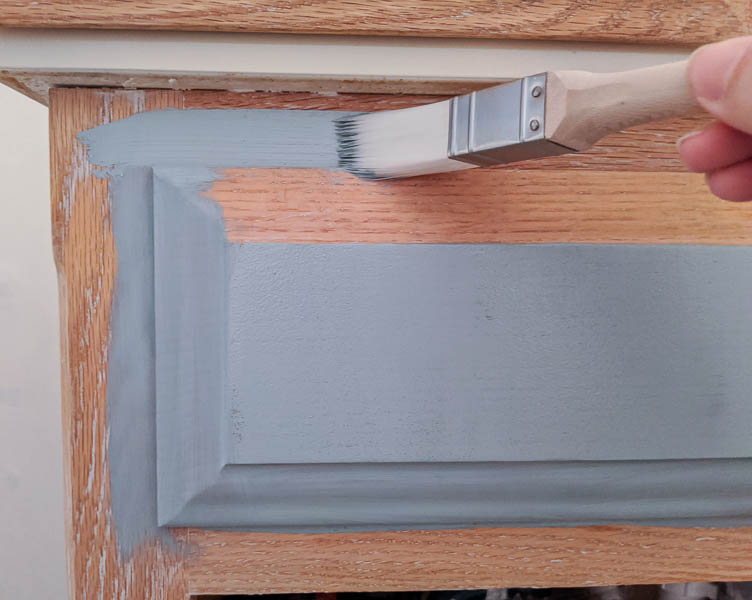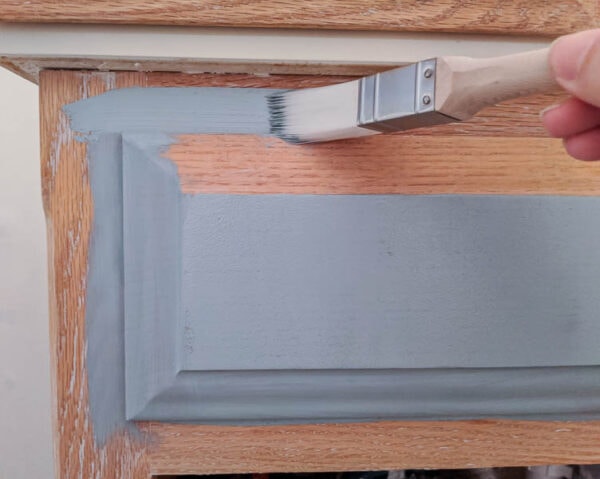 It is, however, important that you use really good paintbrushes. Cheaper brushes will leave behind brush hairs in your finish and make it nearly impossible to get a smooth finish. I really like Purdy paintbrushes. They aren't terribly expensive compared to some other bruses, they last a long time, and they are great for getting a really smooth finish.
When it comes to paint rollers, I like to use small foam paint rollers for painting furniture and cabinets. These are usually labeled as rollers for cabinets and doors. And after trying a few different brands of foam paint rollers, I have found them all to be pretty equal.
Painting your bathroom vanity
The painting itself goes pretty quickly. Use your paintbrush to cut in around the edges of your cabinets, and then fill in the large flat surfaces with the paint roller.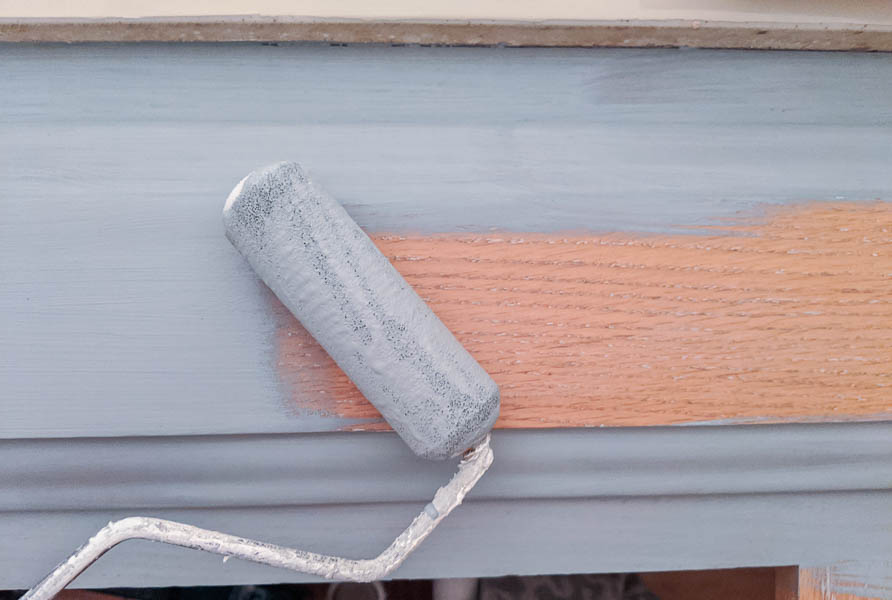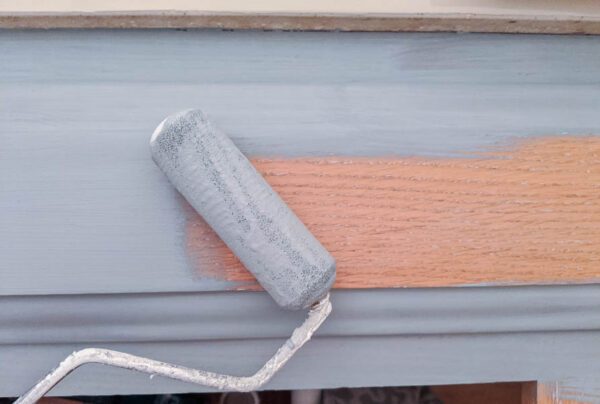 There are a couple of things to remember when painting to make sure you get as smooth a finish as possible:
When using your paintbrush, paint with long smooth strokes rather than lots of short, choppy ones.
When using the roller, make sure there is enough paint on your roller that you don't have to put much pressure on the roller to paint. (But also don't load up with so much paint, you get a drippy mess. You want to find the sweet spot in between.)
After you finish the first coat of paint, resist the temptation to touch up any areas that look a little light! Touching the paint when it is halfway dry will very quickly mess up your paintjob and lead to uneven, textured paint.
In general, you want to apply the paint and then leave it alone. Most paints will smooth out quite a bit as they dry.
Once your first coat of paint is completely dry to the touch, you can add a second coat. Two coats of paint are often enough to get an even finish, but you may need three or four coats, especially if you are painting your cabinets white.
Protecting your paint with a topcoat
You do not always have to protect painted cabinets with a sealer or topcoat, but I am a big fan of using a good topcoat to protect your paint finish.
Some paints, like Benjamin Moore Advance, do not require a topcoat at all. Other paints, like the General Finishes Milk Paint I used, do not require a topcoat but do recommend you use one for pieces that are going to get a lot of daily use.
I considered saving myself and skipping the topcoat on my bathroom vanity. But I know that we're going to be opening and closing these doors and cabinets pretty much every day. So to be safe, I decided sealing is the right thing to do. It's going to take a little bit more time, a little bit more money, but I'd much rather put a little bit more work now and get results that last for years than start having chips in a few months and really wish that I had just done that one last step.
I used General Finishes High-Performance Topcoat. This is my favorite sealer; I use it on furniture all the time. It's really durable, it's much easier to apply than a lot of other topcoats, and it goes on very smoothly.
A lot of other sealers can be difficult to work with, but I always have good luck with General Finishes without having to be super finicky about how I apply it.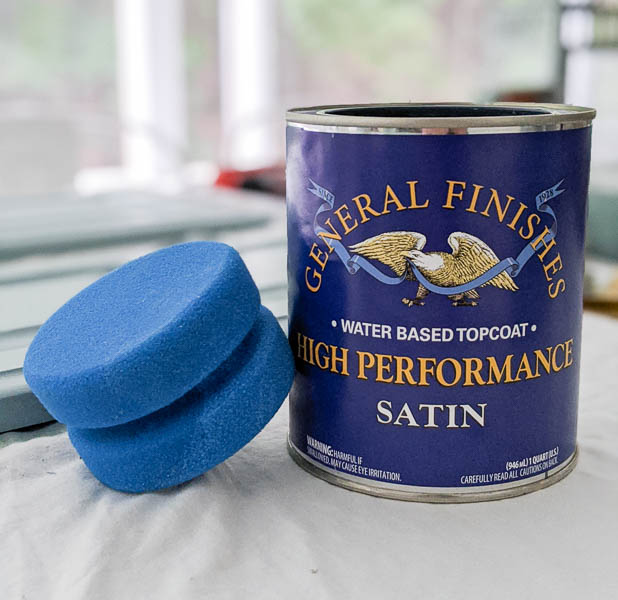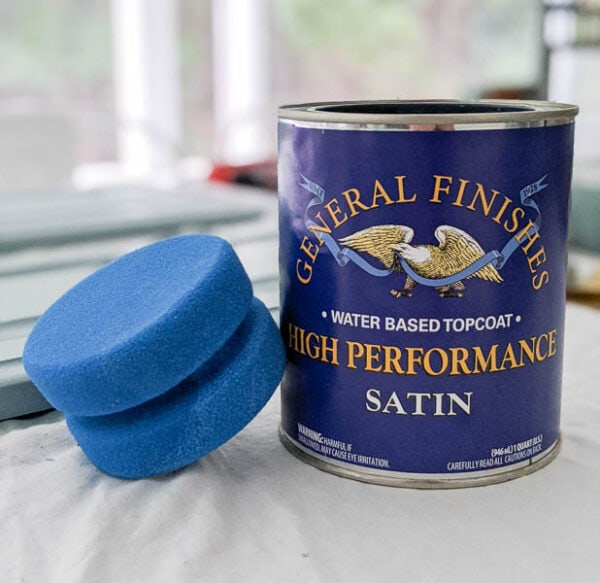 You can put this topcoat on with a high quality paint brush, a foam brush, or a clean rag. I have used each of those methods with success. For this project, I chose to apply my topcoat with my blue sponge applicator. The blue sponge is sold by Dixie Belle paint company and it is my new favorite tool for applying topcoats to furniture, just because it is really easy to use and gives a perfectly smooth finish.
To apply the topcoat, get a little bit on your sponge and wipe it onto your cabinet, using long strokes, all going in one direction. Allow it to dry completely and then apply a second coat.
Finished Vanity
I am so happy with how my bathroom vanity turned out! With a simple coat of paint and some new hardware, it looks completely fresh and updated. And I am loving this blue color – I've been wanting blue cabinets for years and I am so happy to finally have some, even if it's just a small set in our tiny master bathroom!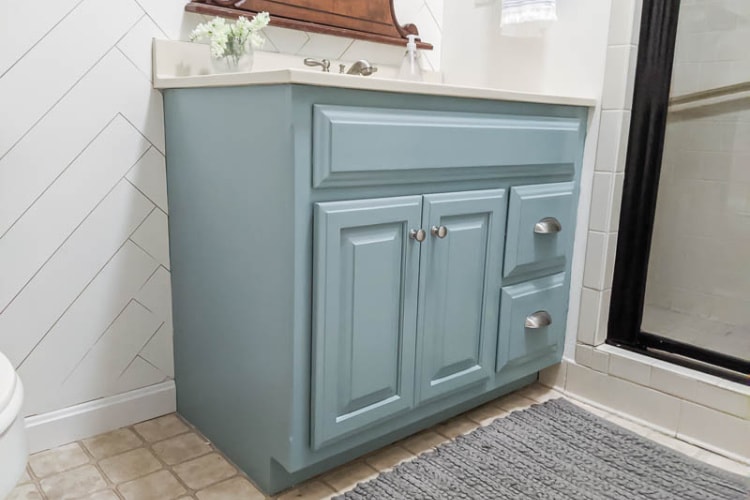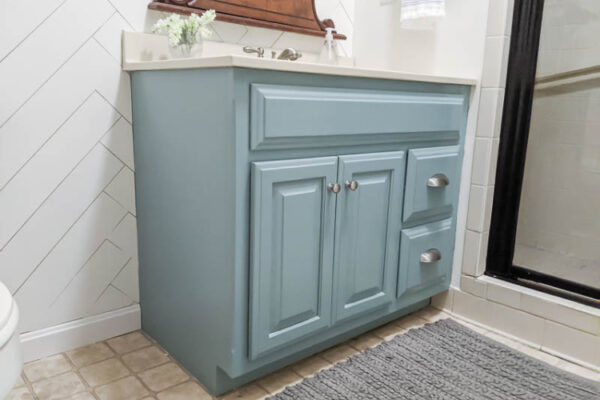 And with the rest of the inexpensive updates I made in this space, it's like a whole new bathroom!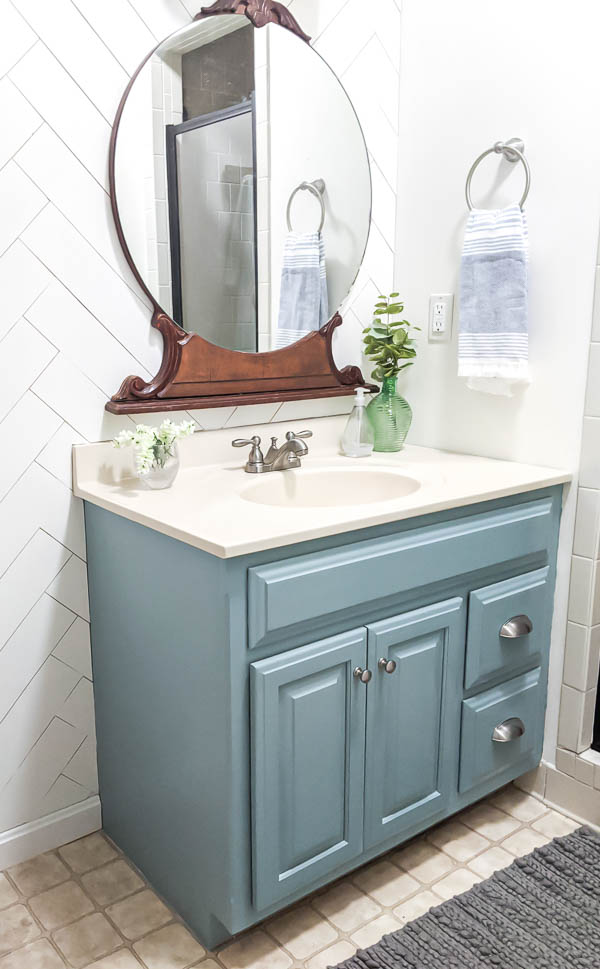 Video Tutorial
I'd love for you to subscribe to my Youtube channel!
If you haven't seen it, make sure you check out my full reveal of my $100 bathroom makeover. It is absolutely crazy how big a difference you can make with just a hundred dollars.
I'd love for you to pin this project on Pinterest!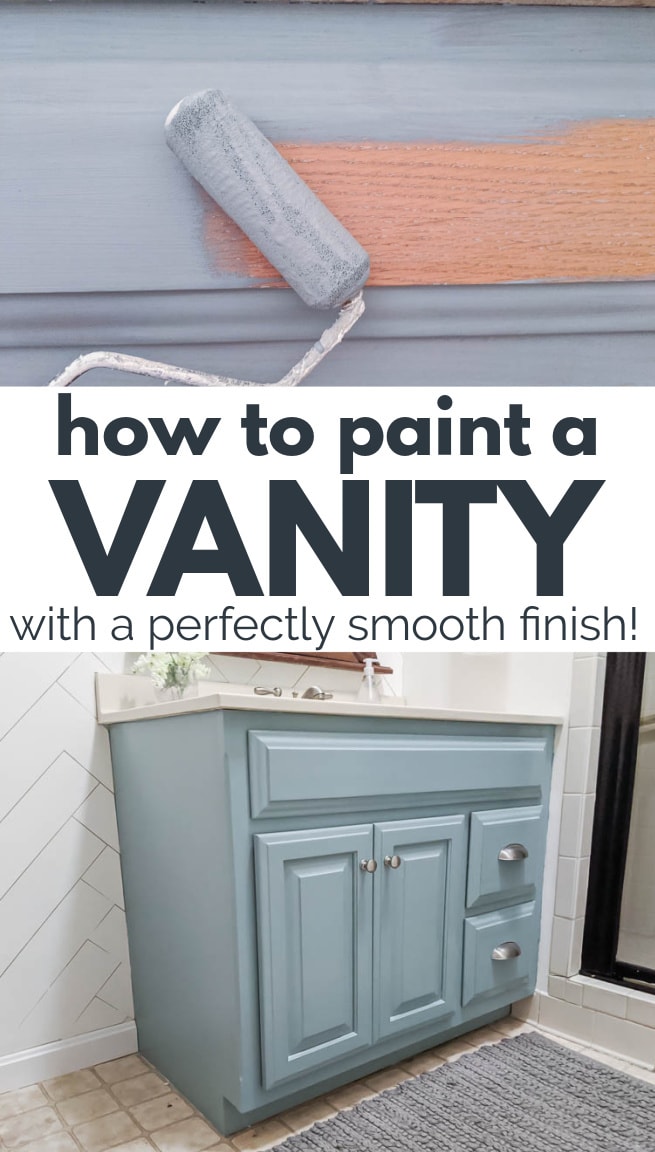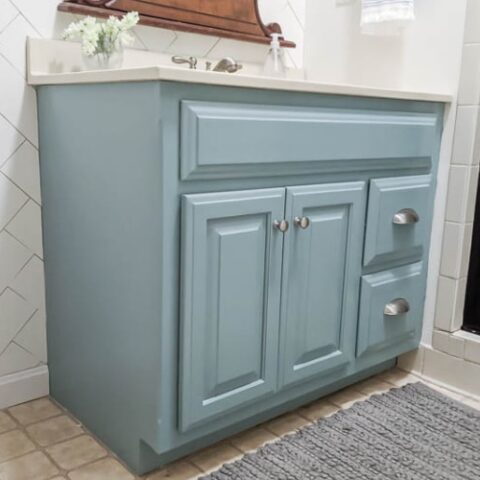 How to Paint a Bathroom Vanity: Secrets for a Perfect Finish
Completely transform your bathroom vanity with this step-by-step tutorial. Learn how to get a perfectly smooth paint finish that will last for years even on oak cabinets.
Materials
Bathroom cabinets in need of an update
Cleaner
Painter's tape
Paint
Paintbrush
Topcoat
Blue sponge applicator
Tools
Spackling
Putty Knife
220 Grit Sandpaper
Wood Filler
New Hardware
Drill and Drill Bits
Instructions
Remove your cabinet doors and all the hardware.
Clean well to remove any dust, grease, or soap scum so that the paint has somewhere to stick.
If you are changing the hardware, fill in the old hardware holes with wood filler.
Allow the wood filler to dry completely, and then sand it smooth.
If you are painting an oak vanity, use a small putty knife to smooth a very thin layer of spackling all over the surface of your cabinets.
Allow it to dry and then sand smooth with 220 grit sandpaper.
Wipe away the dust using a microfiber cloth.
If you are using a paint that requires primer, use a paintbrush and small foam roller to apply primer.
Once the primer is dry, start painting the vanity by cutting in around the edges of your cabinets with a paintbrush. Then fill in the large flat surfaces with a foam paint roller.
Once your first coat of paint is completely dry to the touch, add a second coat.
When your final coat of paint is dry, apply two thin coats of sealer or topcoat to protect your paint finish.
Reattach the hardware and cabinet doors.
Handle your painted vanity gently for the first few weeks while the paint hardens.