I don't usually do a lot of fall decorating, but this year I really wanted a homey and rustic wreath to hang on the front door.  I love less traditional wreaths and I came up with the crazy idea of making a wreath from reclaimed wood.
And I absolutely love it!
My new rustic fall wreath has all of the cozy fall charm I was looking for, but I think it will work just as beautifully in spring and summer.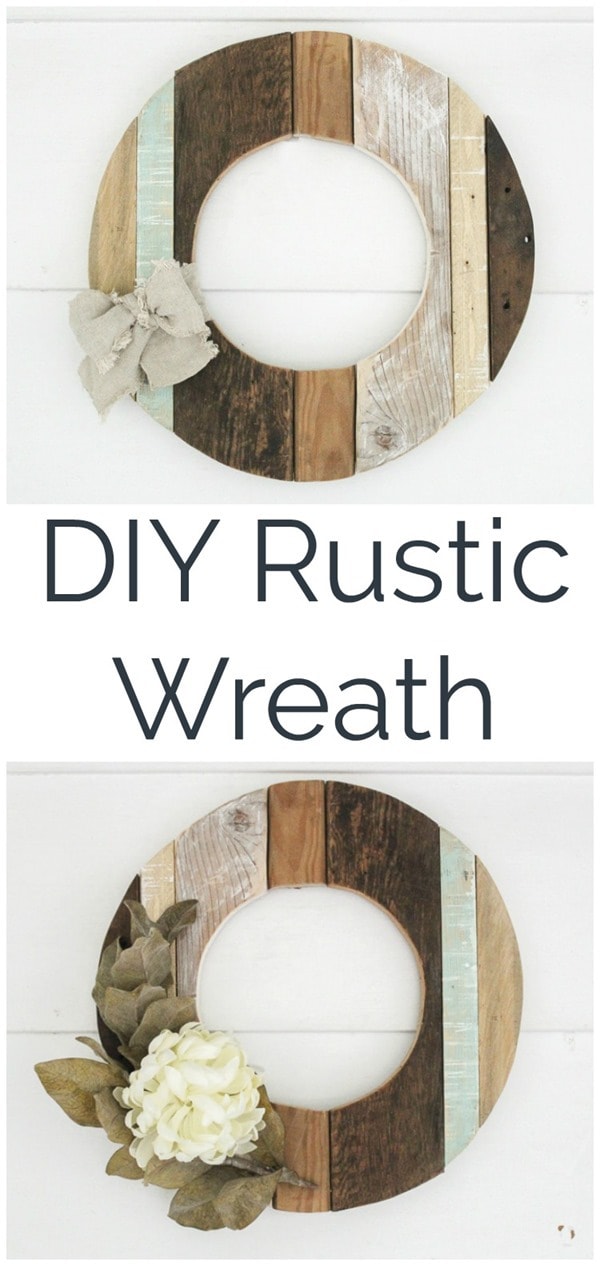 This gorgeous, farmhouse wreath really isn't hard to make either.  If you can cut along a line, you've got this!
This post contains affiliate links.  See my full disclosure here.
Materials for Rustic Fall Wreath
piece of 1/4 inch plywood (at least 20 inches square)
scrap wood in various widths and finishes
pencil or marker
burlap ribbon (optional)
faux Chrysanthemum or other flower and leaves (optional)
fishing line (optional)
How to make a Rustic Fall Wreath
Gather up your wood.  Reclaimed wood is basically a fancy word for any old wood laying in your scrap pile.  When I started this project, I didn't really think I would have any good vintage-looking wood to work with, but when I started really looking around my workshop, there were plenty of choices.  I ended up using a few old bed slats, a piece of a vintage vanity I repurposed, an old drawer support, and some random boards that paint had dripped on.  They didn't look like much separately, but all together they look awesome.  I tried a few arrangements of my boards until I found one I liked, making sure to include wood in different widths and different finishes.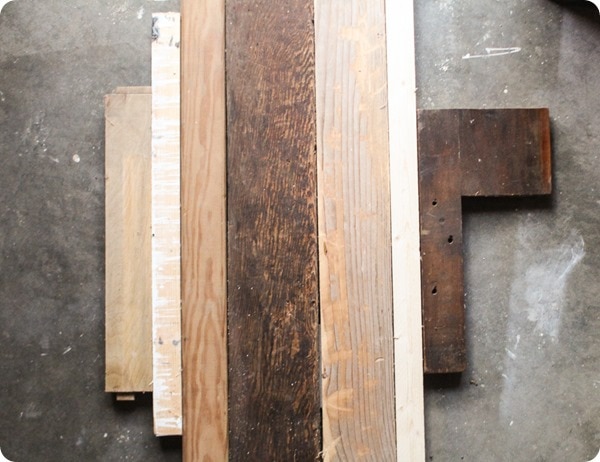 And if you really don't have any reclaimed wood or great scrap wood, you can also use paint or stain to give any scrap wood the look of reclaimed wood.  (If you aren't sure how to make new wood look old, there are a few methods in this post and this one.)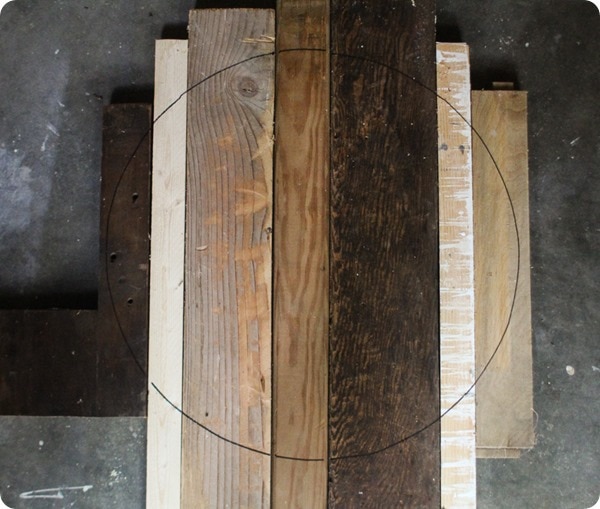 I traced two circles onto the wood to make the outline of my wreath.  The outside of my wreath is 18 inches wide and the inner hole is 9.5 inches wide, but you can use any size that looks good to you.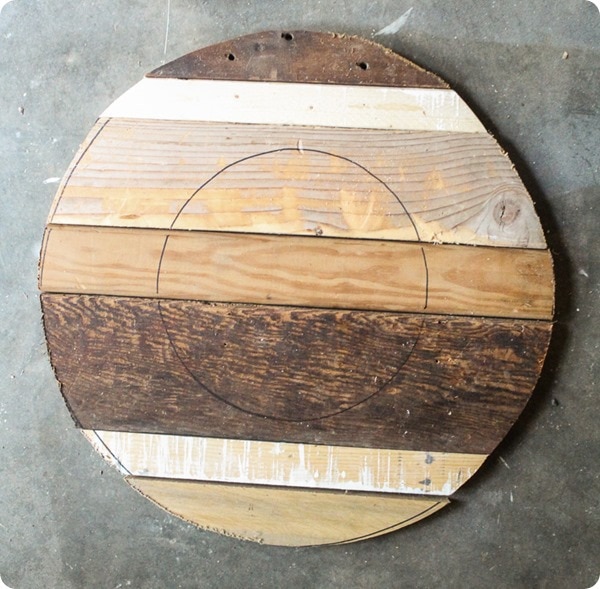 Then I pulled out my jigsaw and cut each board along the lines I had traced.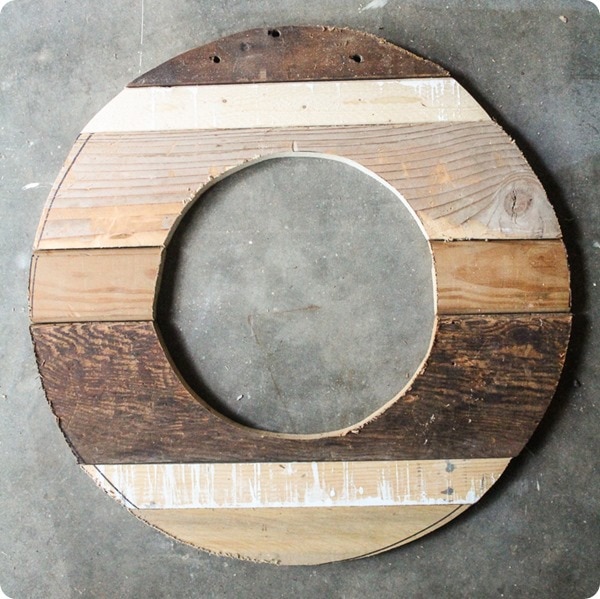 I used a piece of sandpaper to smooth any rough edges and splinters off.  I also sanded off some stray marks from when I drew my circles.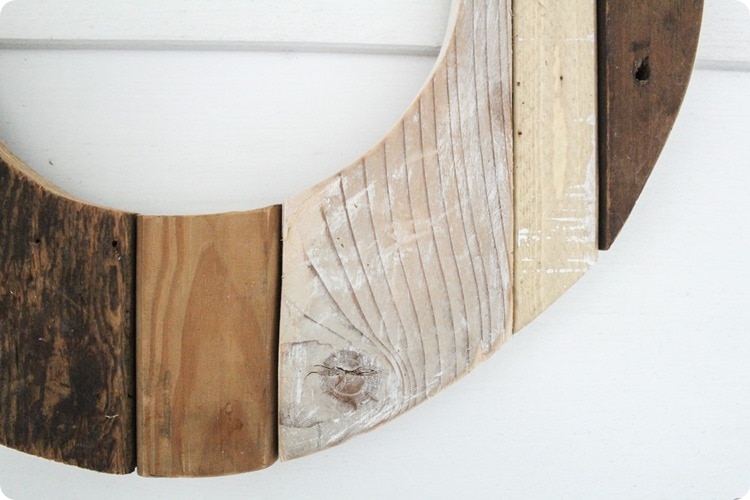 I wanted to add a little more character to a few of my boards.  I stained one of the raw wood scraps with weathered oak stain.  And I dry-brushed some light aqua paint onto the other one, lightly sanded it, and wiped weathered oak stain over top of everything.
Then I cut a backing for my wreath from a scrap of 1/4 inch thick plywood using my jigsaw.  I made my backing slightly smaller than my wreath so that I wouldn't have to worry about it showing along the inner or outer edges.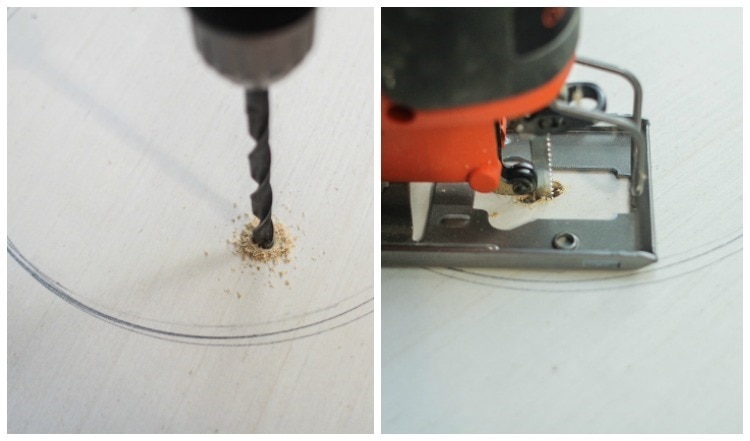 To cut the inner circle, simply drill a pilot hole using a drill and your largest drill bit. Slip the jigsaw blade into the hole and then cut as usual.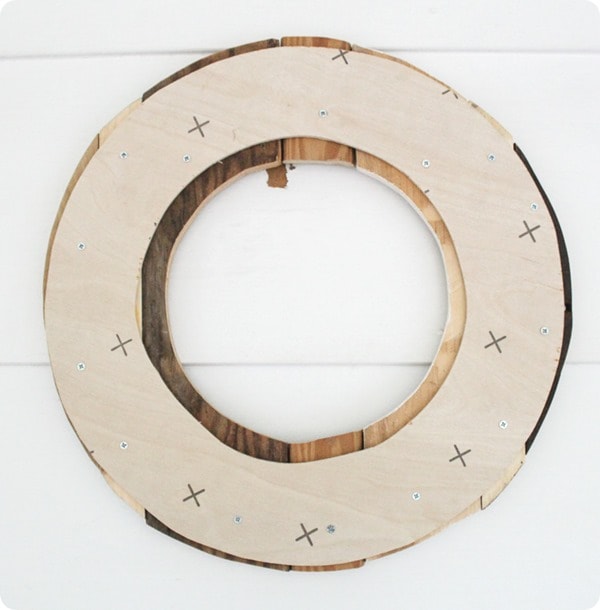 I made sure all of my boards were lined up well and then used wood glue and screws to attach the backing to the boards and hold everything in place.   (In case you are wondering, the Xs were already on my wood – they aren't part of the project.)
And you have a rustic reclaimed wood wreath!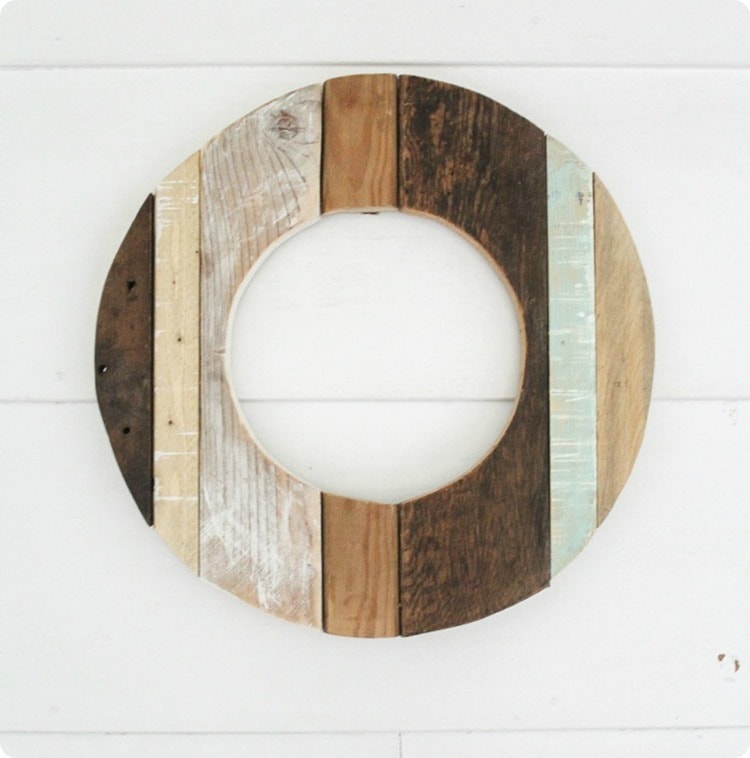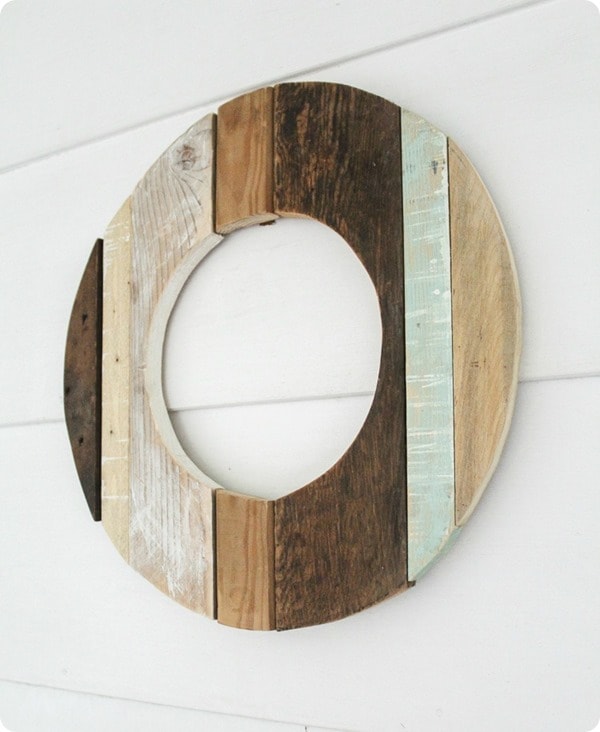 I think it looks pretty cool just like this but I really wanted to try softening it up a bit.  First I cut a strip from some scrap burlap fabric and tied on a bow.  (You can also buy burlap ribbon that's all ready to go if you don't have any fabric scraps.)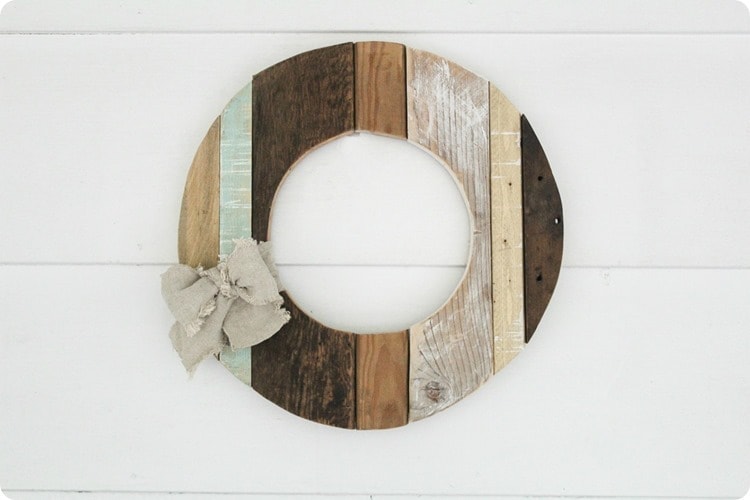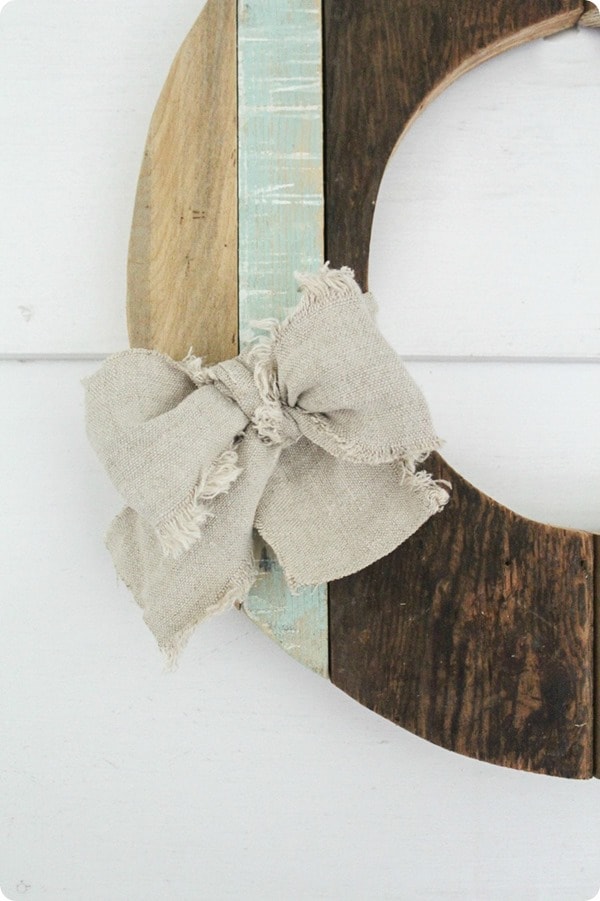 Pretty cute.
Then I decided to try adding some greenery and it was love at first sight.  I added a small leafy branch and layered a faux Chrysanthemum flower in the center.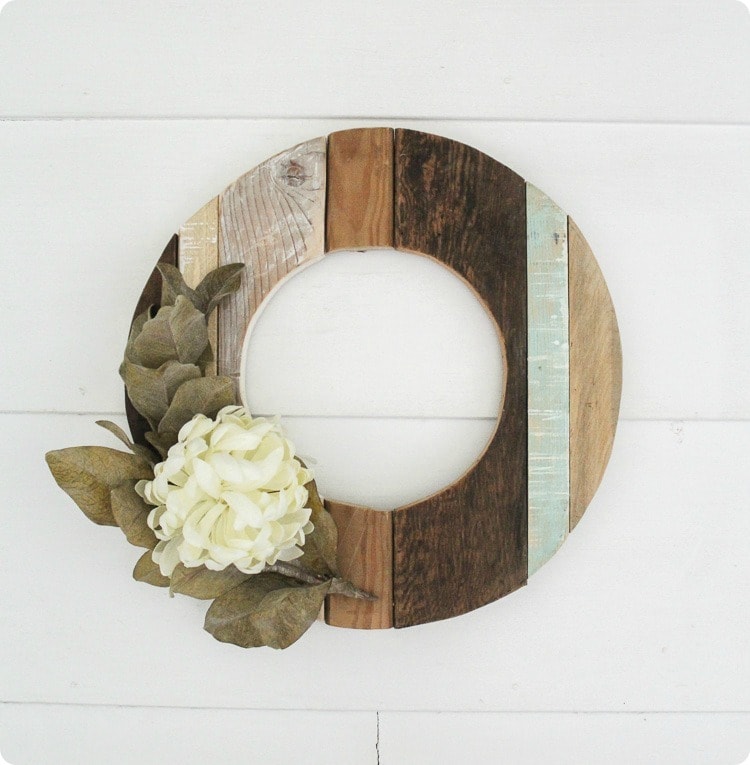 I didn't want to attach them permanently because I love the idea of changing this wreath up with the seasons.  So I simply used some fishing line to tie the flower and leaves to the wreath.  The fishing line is clear so it is nearly invisible but it holds everything on nice and secure.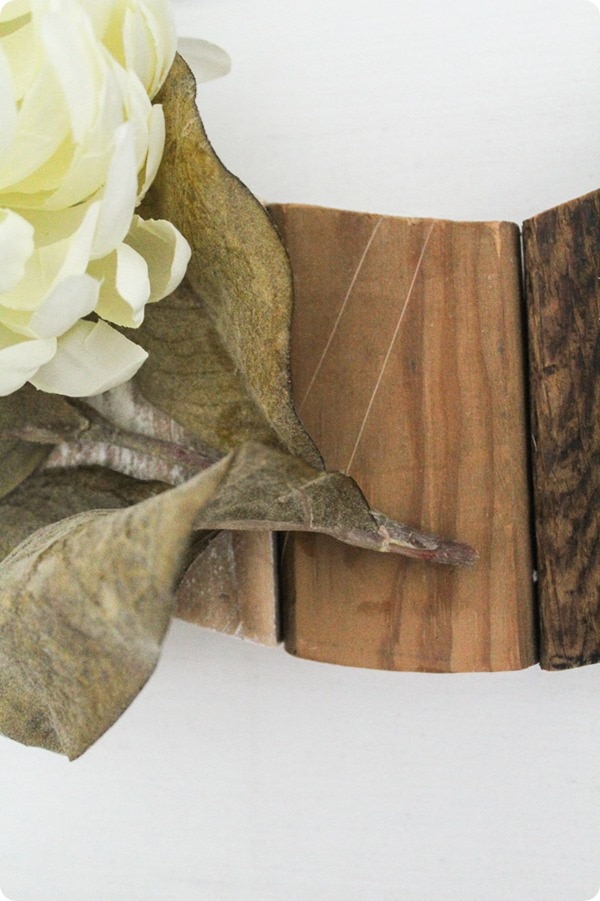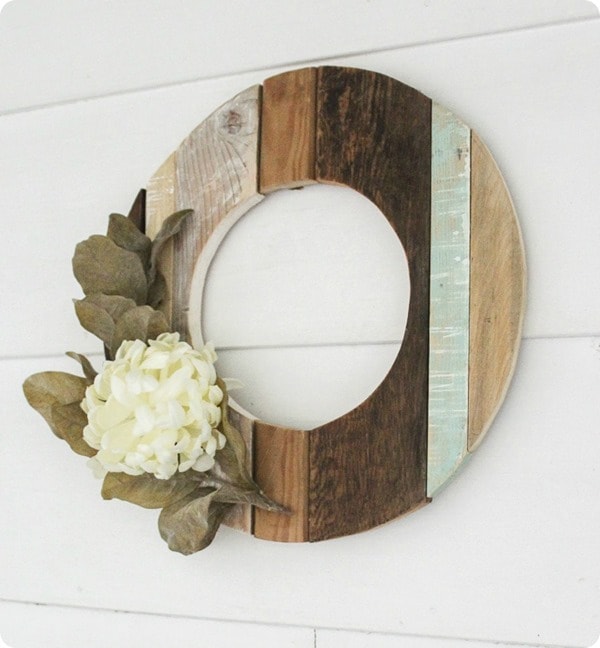 Gorgeous!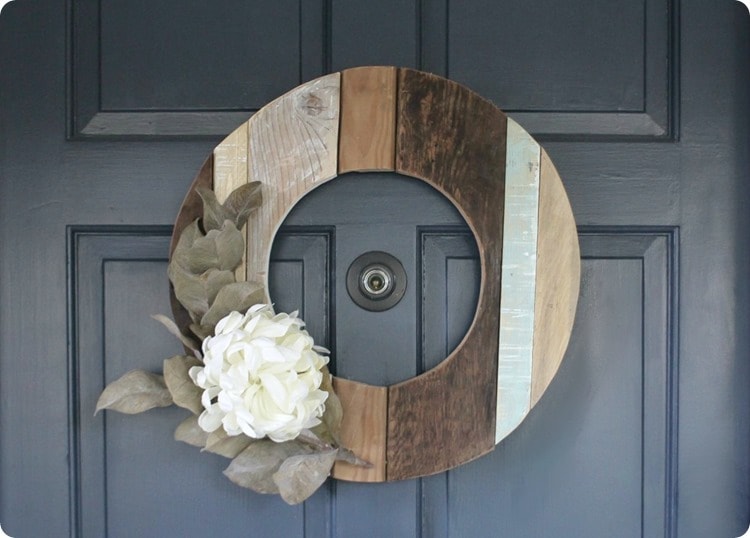 I'm loving it on my front door but I think it would look just as beautiful hanging on a wall inside or even as part of a rustic gallery wall.
Here are a few other posts I think you just might love:
How to make a stunning DIY plank wall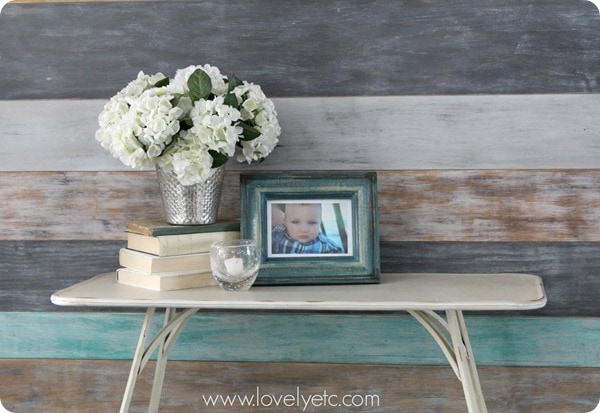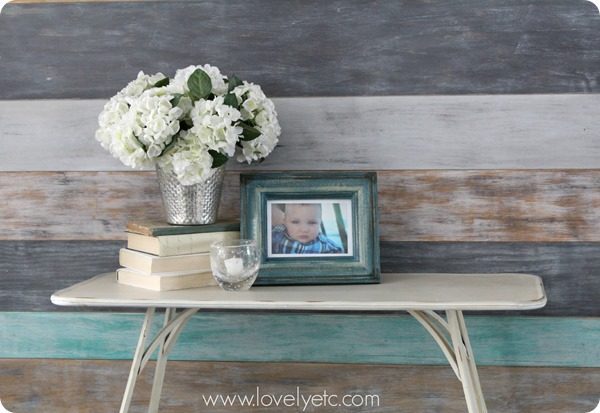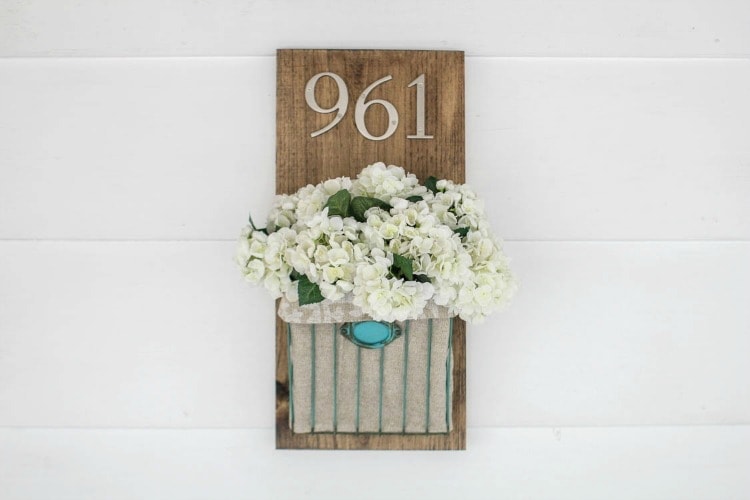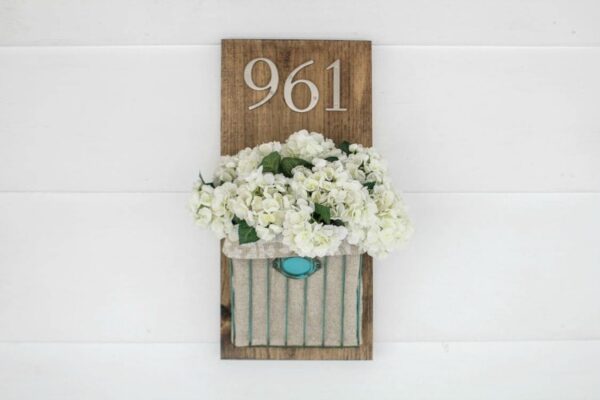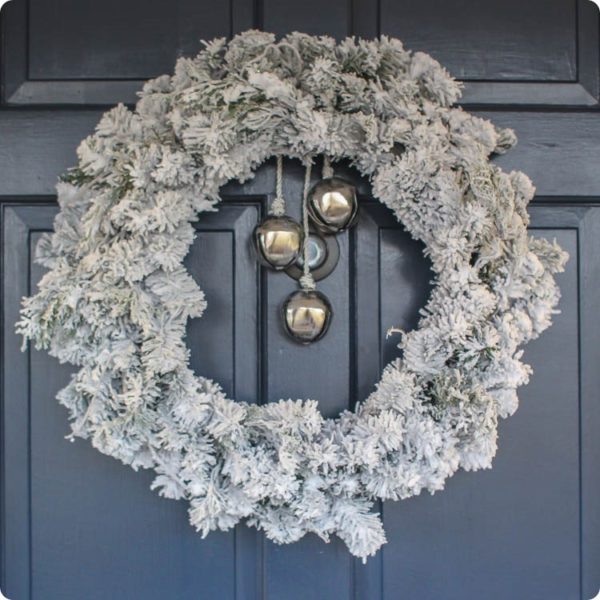 I'm linking this post at Remodelaholic Friday Favorites.