I flocked our artificial Christmas tree
and I am still completely in love with it. This year I decided to try something new and flock a wreath.
I wasn't completely sure how it would turn out, but it's even more beautiful than my tree! I can't wait to show how easy it was!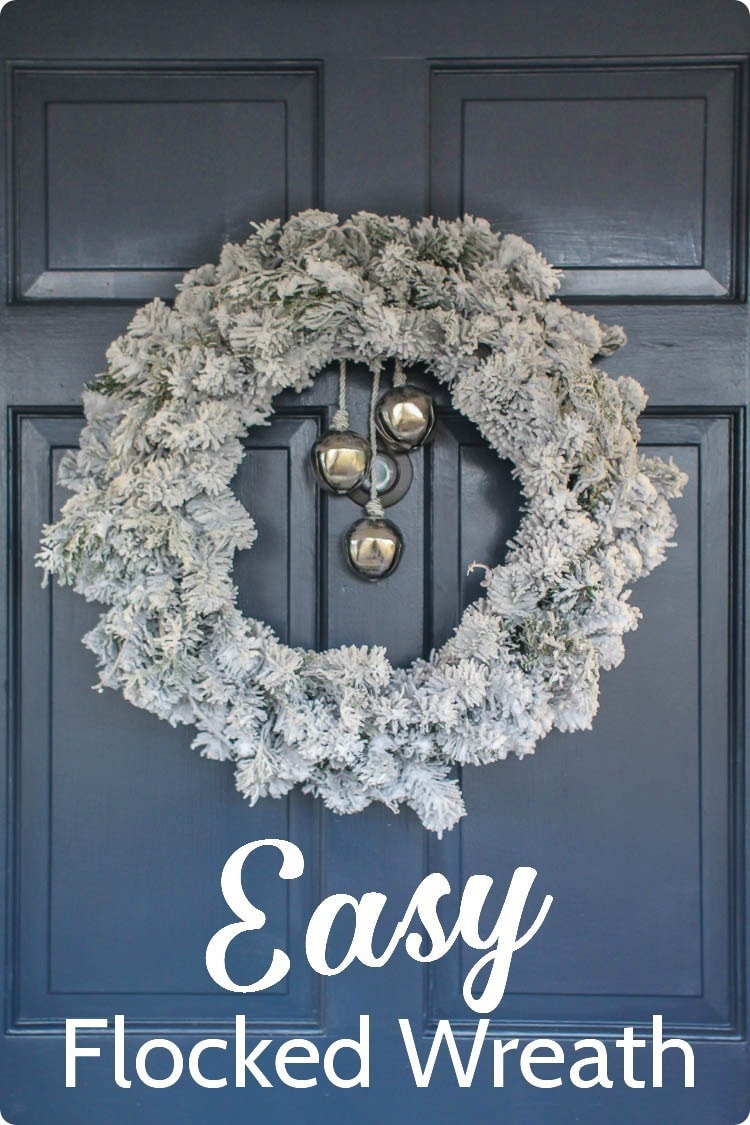 Also it is with much excitement that I join this year's Home for the Holidays blog tour sponsored by Sondra Lyn at Home! This is the 3rd year for her HFTH tour, and we promise to bring some of the most awesome decor, craft and recipe ideas you'll find anywhere.
But first, here's how to make that gorgeous wreath.
This post contains affiliate links. See my full disclosure here.
Materials for Flocked Wreath
Basic evergreen wreath

I used a plain 24 inch wreath that I got on sale at a craft store for less than $5

Flocking powder

I used Sno-Flock for both my tree and this wreath and it was fabulous

spray bottle of water
vines, sticks, or evergreen clippings from your yard
three large jingle bells and string
How to create your own Flocked wreath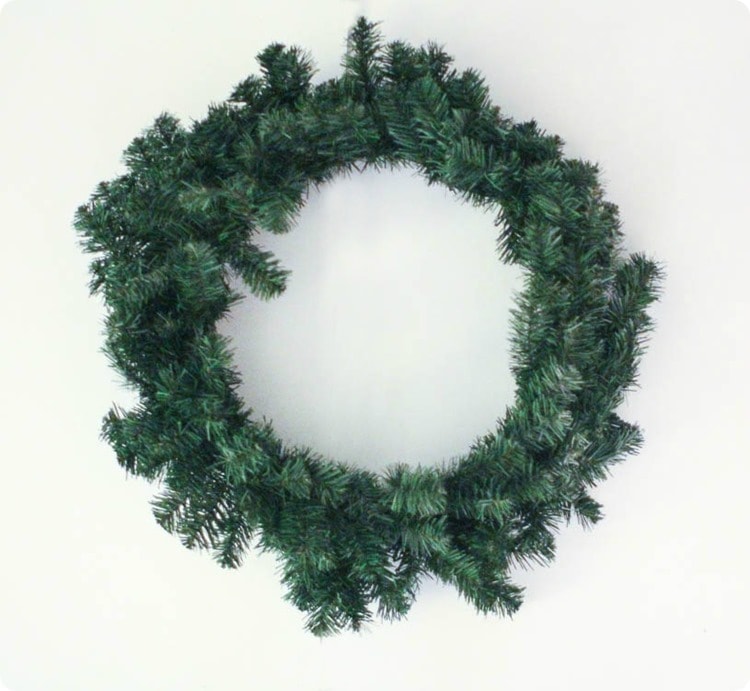 I started with a very basic wreath. It wasn't particularly attractive but the flocking made a huge difference.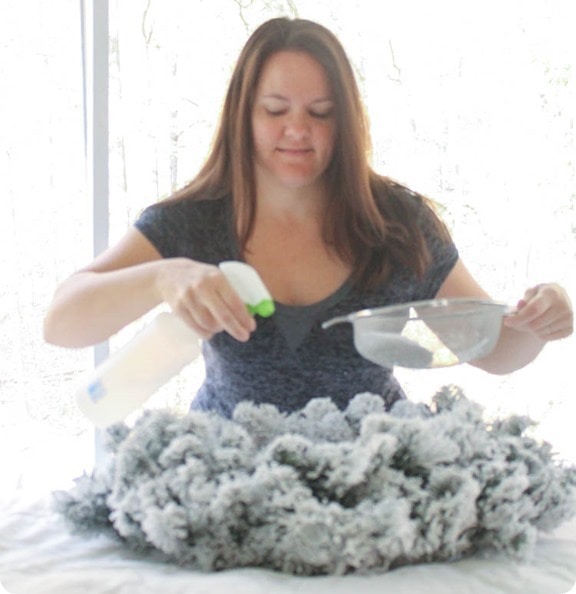 Flocking something is actually very easy. Be sure to put some type of dropcloth beneath your work area before you begin.
Then simply spray water on the wreath and sift flocking powder onto it. Give a few more mists of water to help set everything and let it dry for a few hours. It's that quick and easy.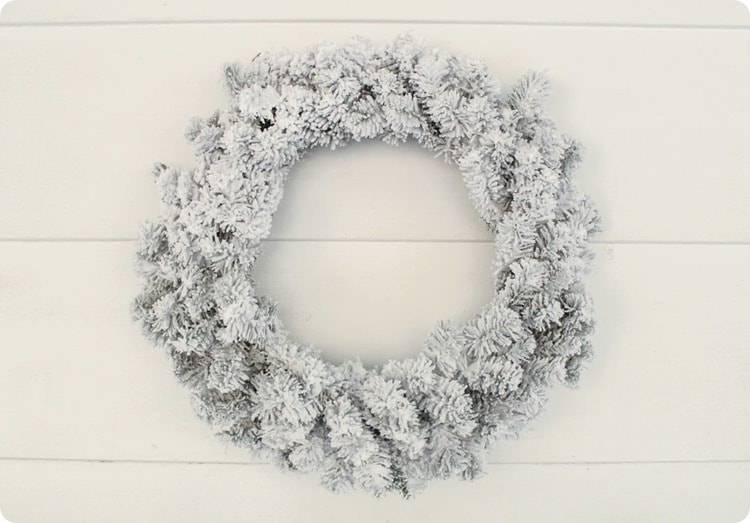 Without adding a single other thing, it already looked a million times better. But since I used a very basic wreath, I wanted to make it a little more interesting. You could easily buy some pretty Christmas picks to add, but I decided to go the free route.
I simply took my garden shears outside and cut some bits of vine and cuttings from some evergreen shrubs.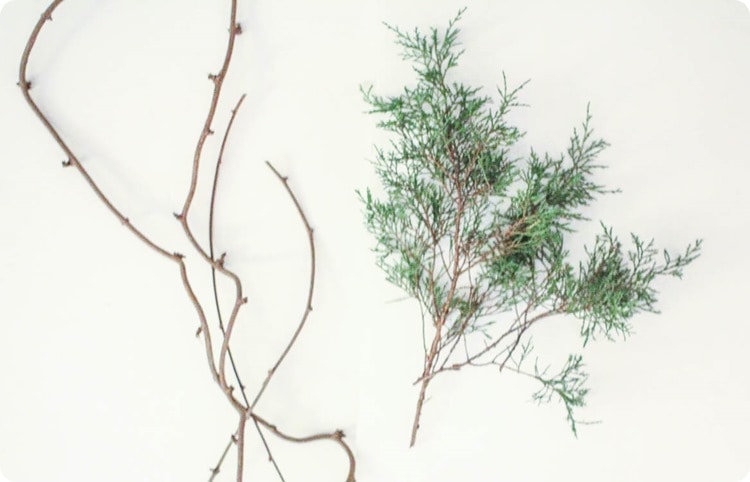 My husband laughed when I told him I used greenery and branches from the yard. But wasn't all Christmas greenery originally cut fresh from outdoors? There's no reason not to use what's in your yard, even if all you have is a few broken branches!
I flocked the vines and branches in the exact same way as the wreath.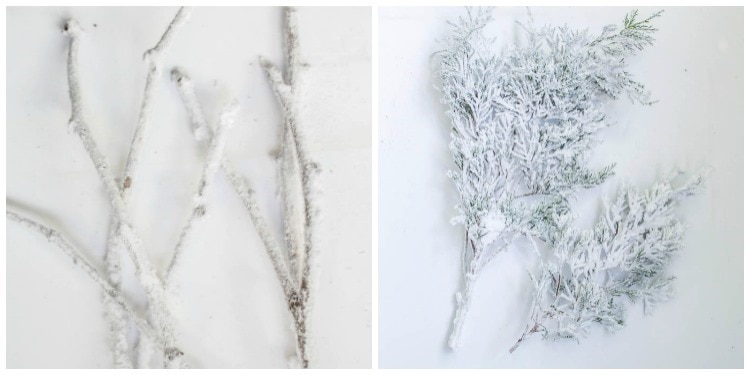 Then I simply stuck them in the wreath to give it texture. Because I flocked them separately, it will be easy to remove them later if they wilt as they dry.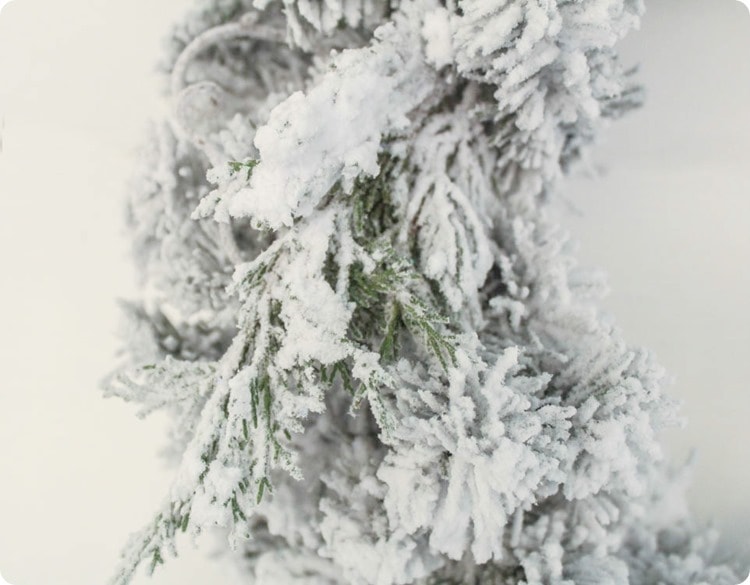 I've had people ask about using spray snow or something similar instead of flocking. I've seen others make their own concoctions using glue and glitter. And you could certainly use either of these methods.
But I can guarantee nothing is as beautiful as real flocking. It does cost a bit more, but I have used the same 5 lb box of flocking to flock my tree twice, flock this wreath, and flock quite a few branches and clippings and still have plenty left in the box so it goes a long way.
If you only want a small amount for a few small projects, you can also buy a 2 lb. box much cheaper.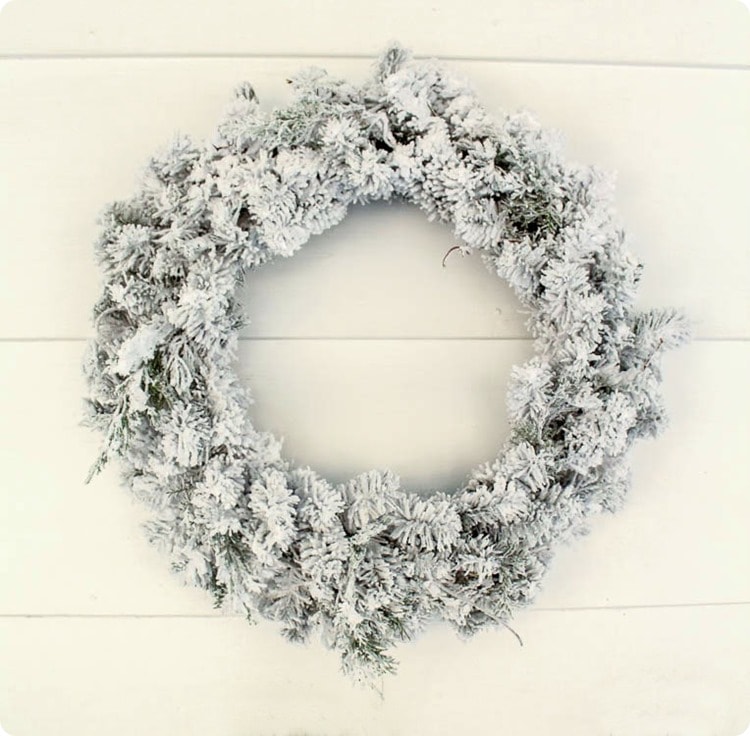 It was beautiful but it needed a little something more, so I added a trio of jingle bells to the center of the wreath. (My bells were originally part of a door knob hanger I found at Michaels, but any large bells will work.)
The wreath looks beautiful on my front door.
But I decided to hang it inside in my entry instead. I framed it with an old wood frame. It was originally part of a mirror with an old dresser but the mirror and the dresser were long gone when I found it at a yard sale this summer.
And it was the perfect match with my flocked wreath.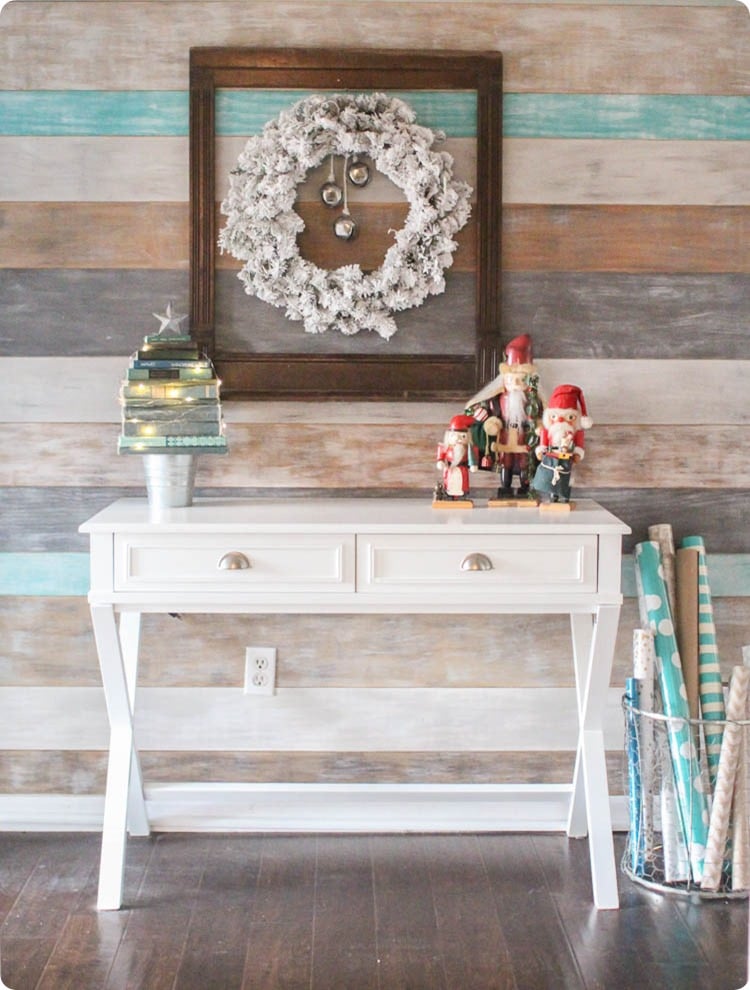 I love that this wreath is beautiful for Christmas but will also work perfectly the rest of the winter.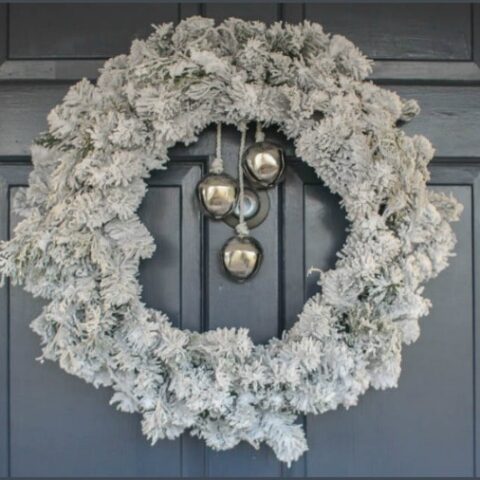 Easy DIY Flocked Wreath
Yield: One Flocked Wreath

Prep Time: 15 minutes

Active Time: 45 minutes

Total Time: 1 hour

Difficulty: easy

Estimated Cost: $10-$20

Make a gorgeous DIY flocked Christmas wreath using flocking powder and a water bottle. It couldn't be easier!

This year I used lots of repurposed and nontraditional colors in my Christmas decorating and I love it! You can see the rest of my home decked out for Christmas here.
And now for the fabulous projects in the Home for the Holidays Blog Tour!
Home for the Holidays 2016
Holiday Mantels
Holiday Recipes
Holiday Crafts
Holiday Decor
Holiday Tablescapes
I seem to be a bit obsessed with flocking at Christmas. A couple of years ago