Flocking your Christmas garland is an easy way to give it a fresh, new look. Learn how to flock any real or artificial garland with this simple tutorial.
Over the years I've flocked basically all the things.
If there's greenery in my house at Christmas time, it's flocked.
Partly because I love the look, but also because once I fell in love with my flocked Christmas tree, it just didn't make sense not to flock everything else. Or at the very least, everything else in the same room.
I love to set our Christmas tree up next to our fireplace, so having a snowy white Christmas tree right next to a green garland without a bit of snow just looks strange.
You can buy garlands that are already flocked, but I've noticed they tend to be pricier. And if you already have garlands you like, there's no reason you can't flock them yourself.
In the past I've shared tutorials for flocking Christmas trees and flocking wreaths and to be honest, flocking a garland really isn't incredibly different. But there are a few little quirks specific to garlands that it's helpful to know about.
So when I got ready to flock the new garlands I bought after Christmas last year, I decided this would be the perfect time to share all my tricks for flocking a beautiful garland.
What types of garland can you flock?
Garlands tend to incorporate a variety of different types of berries, pine needles, pine cones, and other miscellaneous greenery.
You can absolutely flock any type of greenery, but the flocking will stick better to some types than others.
It actually tends to behave fairly similar to real snow – it sticks quite well to more traditional pine needles and cedar branches. And it doesn't stick quite as thickly to large flat leaves like holly leaves and pinecones.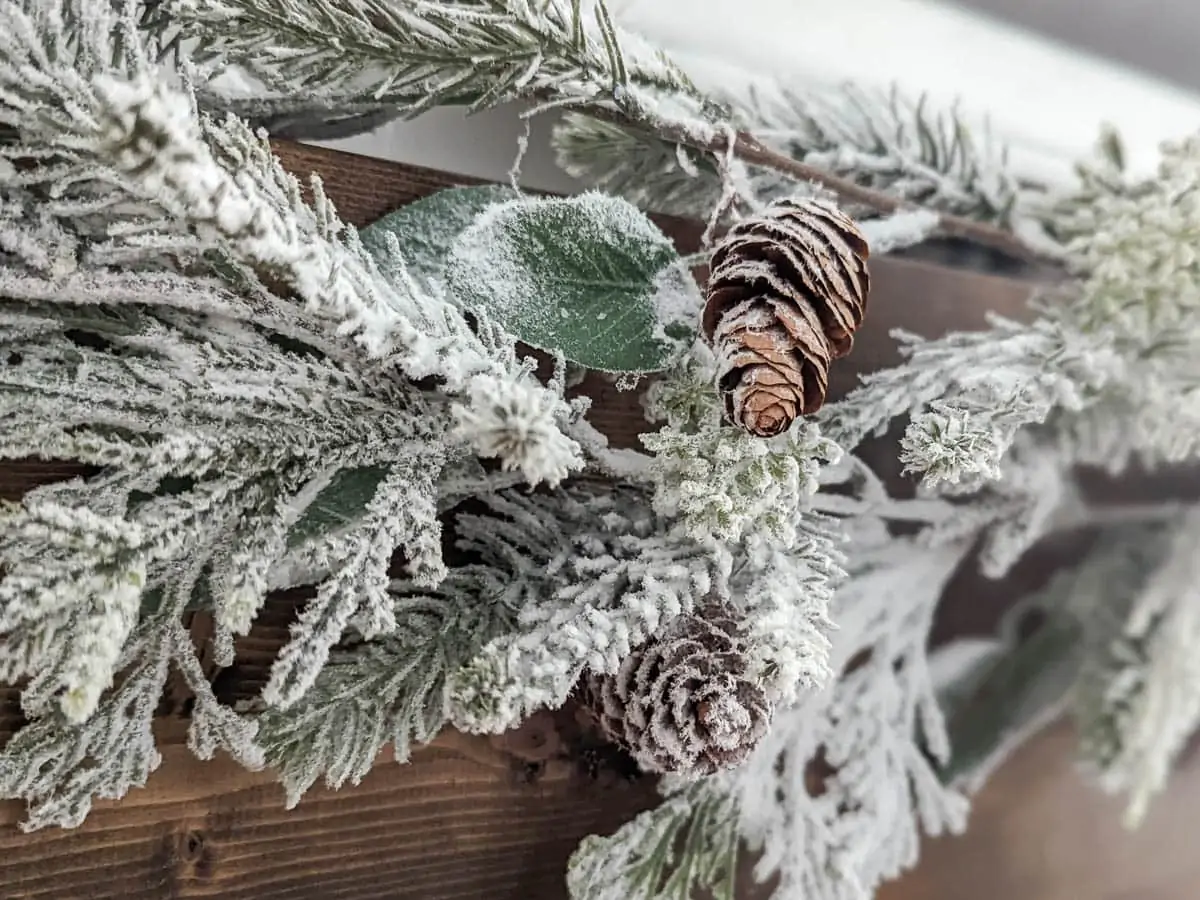 Since this is quite similar to how real snow looks, your garland will still look quite beautiful even if some areas are more heavily flocked than others.
Can you flock real garland?
I don't typically use real garlands so I've never personally flocked them.
I have, however, flocked various fresh greenery and branches from my yard to add to wreaths.
The flocking adheres to real greenery and branches just as well as artificial greenery, possibly better.
Eventually, the real stuff does dry out and die. At this point, the flocking tends to still look nice but you have all the normal problems of dying greenery – it becomes dry and brittle.
I've actually read that flocking can help natural greenery stay fresh longer as it locks in the moisture but I can't say for sure if this is accurate.
Can you flock a pre-lit garland?
Absolutely.
I've flocked several pre-lit Christmas trees and it works beautifully.
When flocking a pre-lit garland, some of the flocking will inevitably stick to the lights. However, it doesn't affect how the lights work at all – they will still light up well.
What is the best flocking powder to use?
If you want your garland to have the beautiful snowy texture of real flocked greenery, you have to use proper flocking powder. Spray snow, white paint, and other DIY methods are cheaper, but they don't look anything like the gorgeous flocked greenery you can buy in stores.
I've looked into this quite a bit over the years and I've found two flocking powders that are easy to use and give that beautiful flocked look: SnoFlock and Sno-Bond Flock in a Box.
I've used both of these snow flocks and they both give beautiful results. I even did a little test last year to see which one actually works the best and I found that they really are extremely similar.
I've never been able to find real flocking powder in stores, but both SnoFlock and Sno-Bond Flock in a Box are available on Amazon.
I've noticed over the years that the prices of each tend to fluctuate a bit around the holidays so you may want to check the current prices before deciding which one to use.
How much flocking do you need to flock garlands?
Flocking powder goes pretty far and you don't need a lot of to flock garlands.
A 2 lb. bag of flocking will be plenty to flock several small projects like garlands and wreaths.
Or if you are planning to flock your Christmas tree as well, a 5 lb. box of flocking powder should cover both a standard 7.5 foot tree and several garlands.
How to flock garland
Materials
Evergreen garland – this can be as cheap or as fancy as you want. The flocking powder can make even the cheapest, most basic garland look beautiful. I used a mixed pine, pinecone, and eucalyptus garland I picked up during Michaels' after Christmas sales last year (this one is similar).
Flocking powder – a 2 lb bag is enough for this and several other small projects

I used Sno-Bond Flock in a Box to flock my garland and it was fabulous.
I have also used Sno-Flock to flock my Christmas tree and other projects and it also works beautifully

spray bottle

of water
Protect your work area
Flocking is a messy process.
If you can flock your garland outside, that is ideal. (However, be careful on windy days! I've learned from experience that lightweight flocking powder and wind don't mix well!)
Wherever you are working on your garland, be sure to protect the surrounding area with dropcloth. It will make clean up afterward much easier.
And if you have a drop cloth that can just be thrown away when you're done, that's easiest of all because the flocking will stick to your dropcloth.
Prep your garland
Then you can lay your garland out on your drop cloth.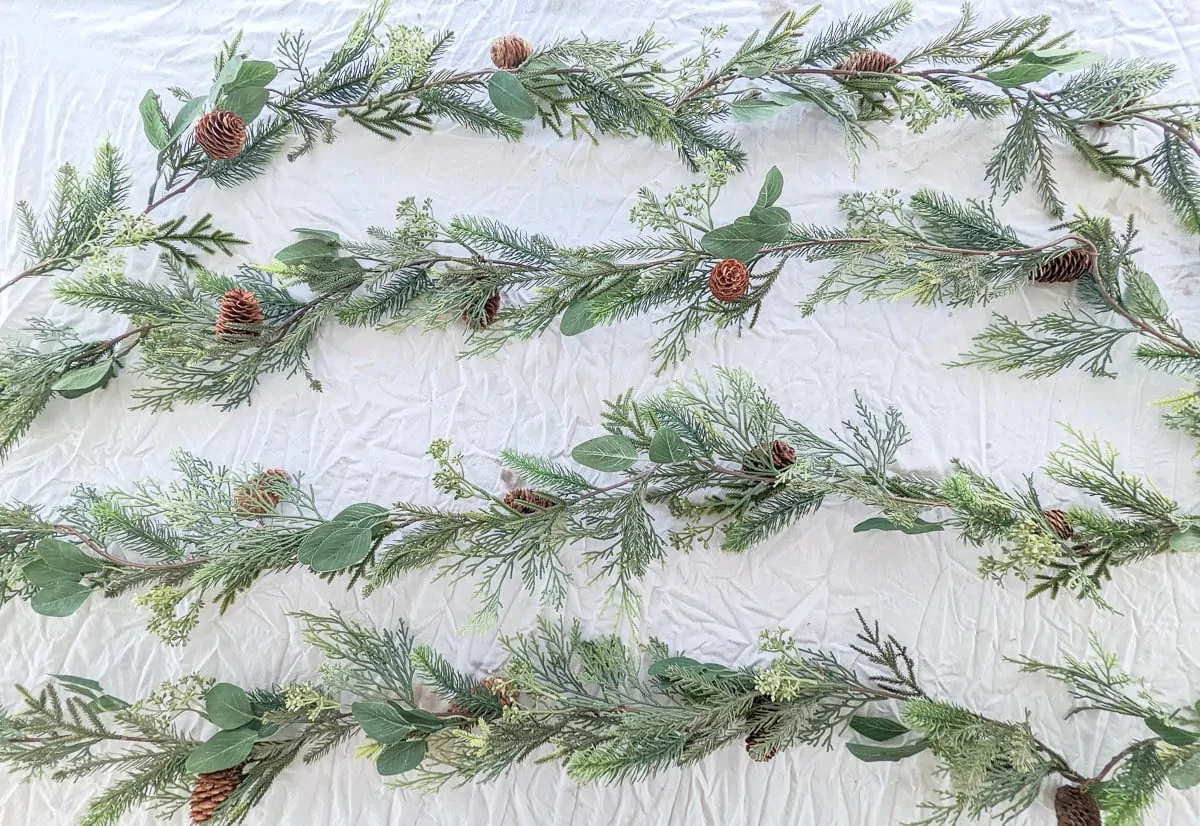 I would actually recommend you place your garlands much closer together than I did in this photo. That way you will have less wasted flocking left on your dropcloth in the end.
Be sure that everything is fluffed and shaped the way you want it.
For some garland, fluffing isn't really needed, but others may have mangled, smushed bits that need to be fixed up, especially if it's been stored away for awhile.
Add the flocking
Flocking something is actually super simple and only takes a couple of minutes.
Spray the garland with water first.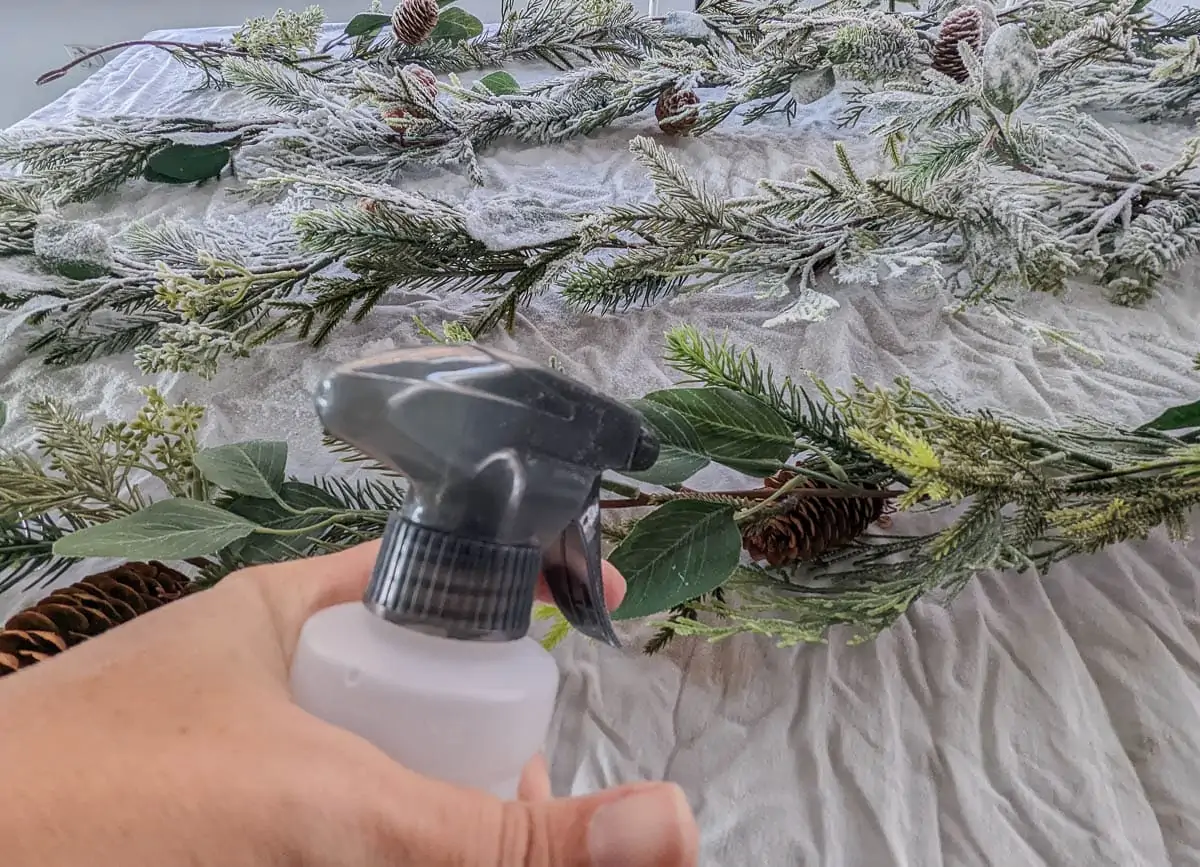 Then scoop a bit of flocking powder into the strainer and sift it down onto the garland.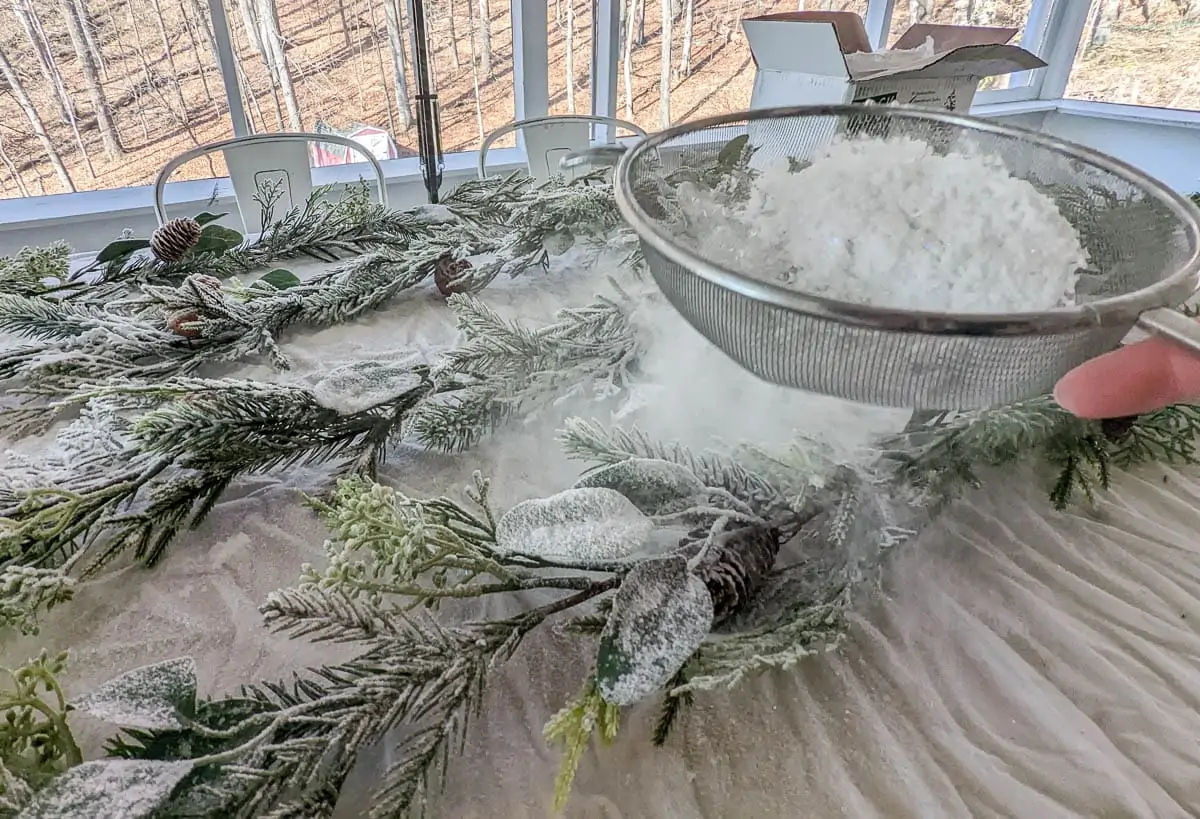 Finally, spray the flocked garland with water again. The water is important because it activates the adhesive that is part of the flocking powder so that it can stick to your greenery.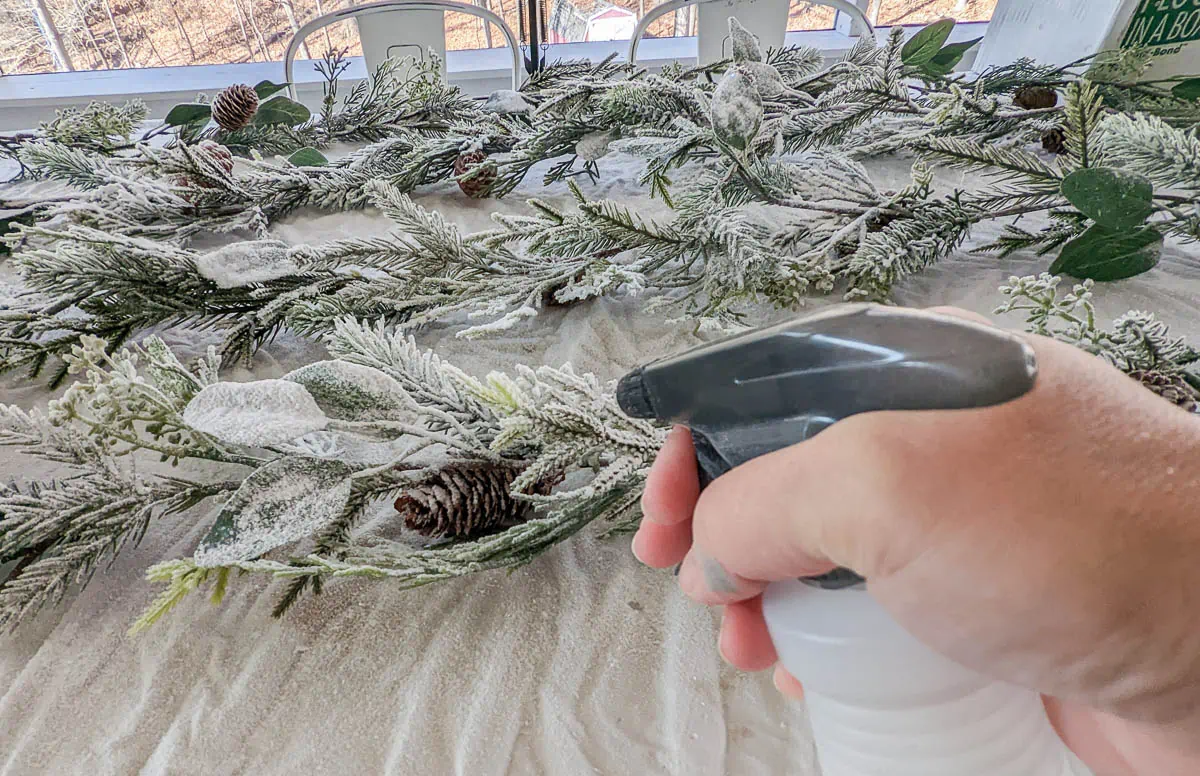 Once you've flocked your garland, go back and check for any sections that could use a bit more flocking.
If you find some bare sections, you can respray and reflock just those areas.
Flock the second side
Then you can flip the garland over to do the other side. Just repeat the same process on the second side.
It's important to let your flocking dry fully before bringing it inside to hang. Drying usually takes several hours.
Once it is completely dry, it should no longer be damp and be a bit firm to the touch.
At this point you can shake off any loose powder and bring in your garland to hang.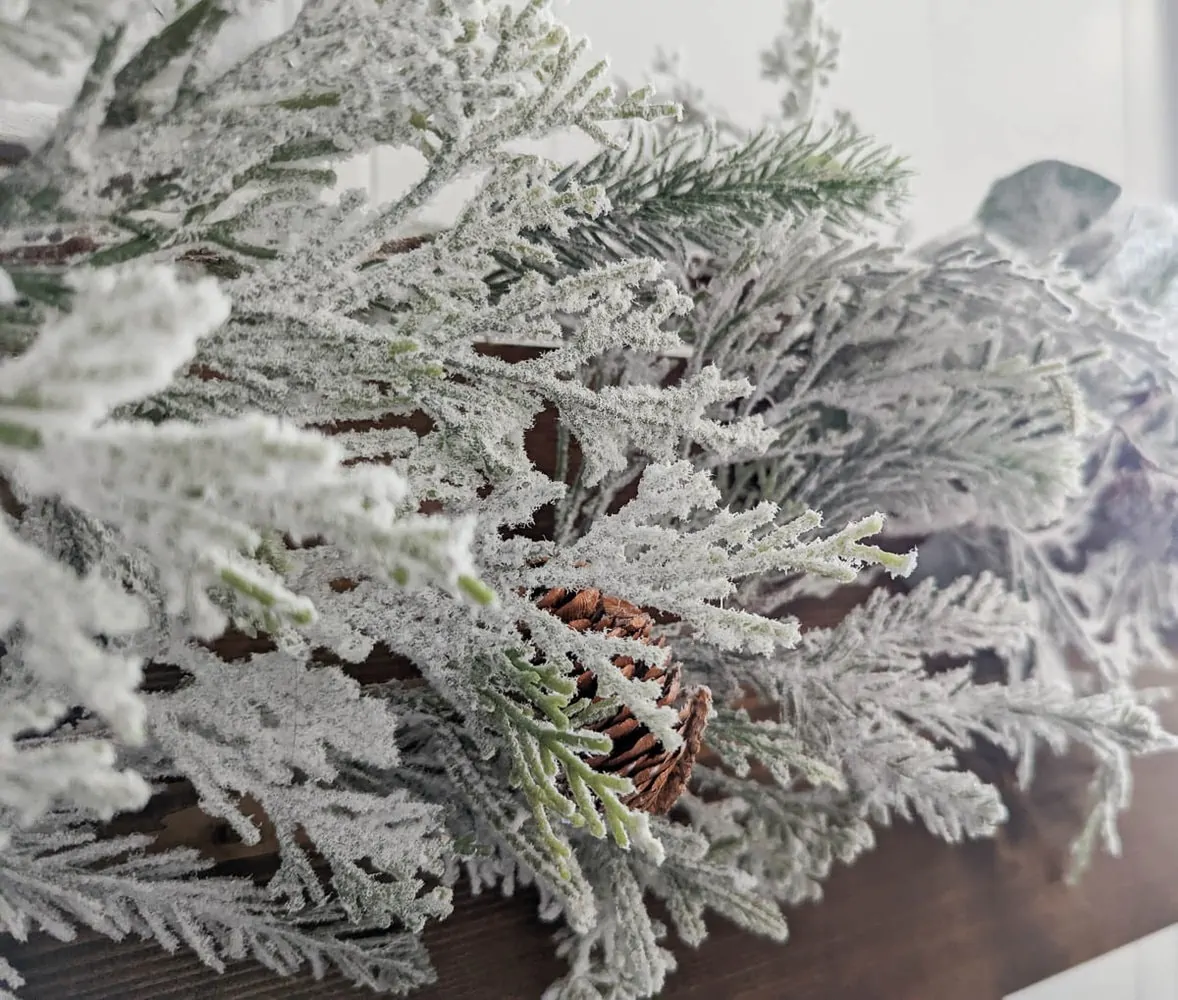 As you can see, the texture of the snow flocking looks just like real fresh snow. And it's so beautiful!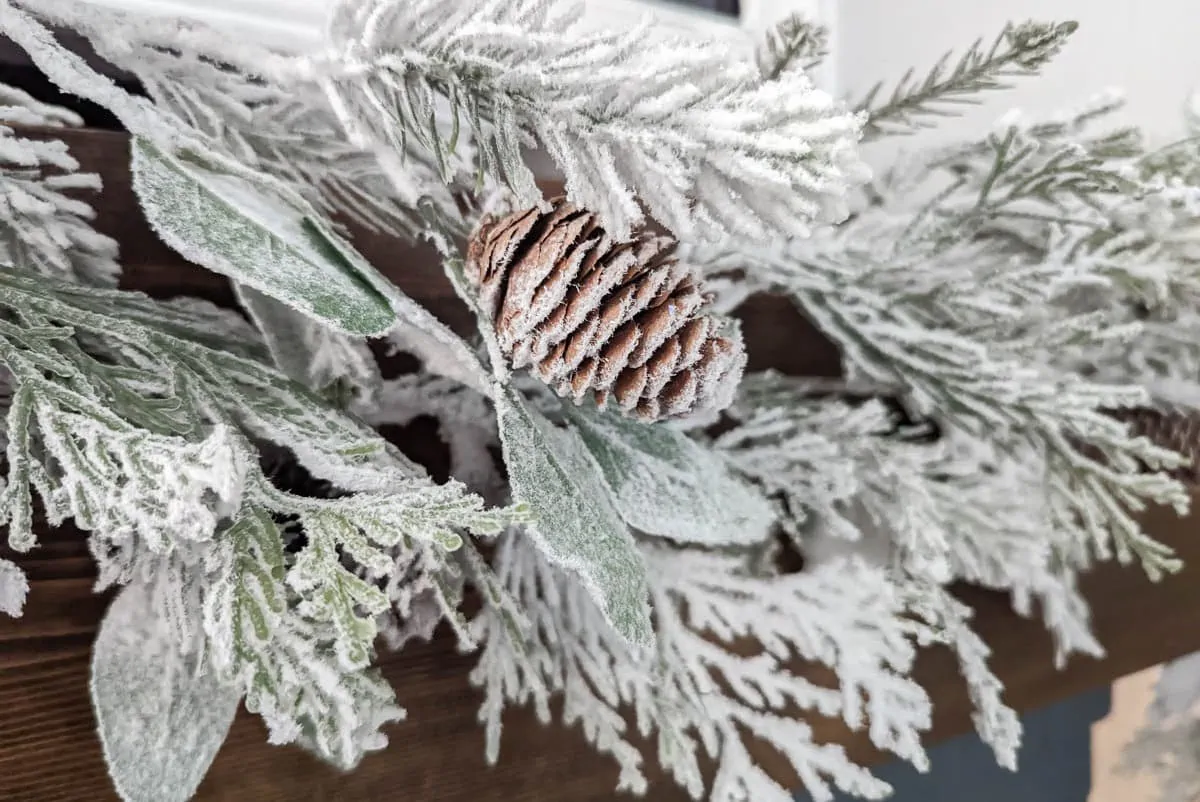 I love how this flocked garland turned out; the flocking really made the garland so much more beautiful.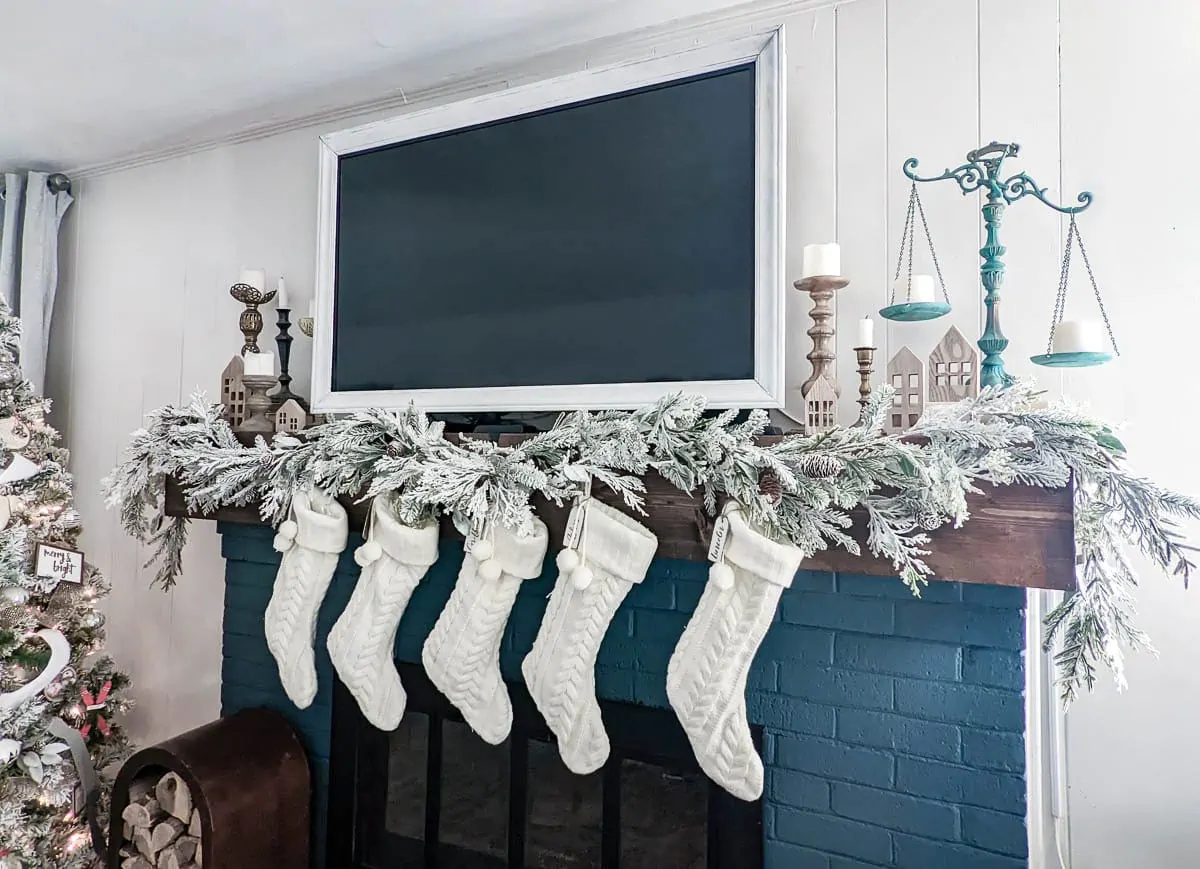 Plus, it looks gorgeous next to my flocked Christmas tree!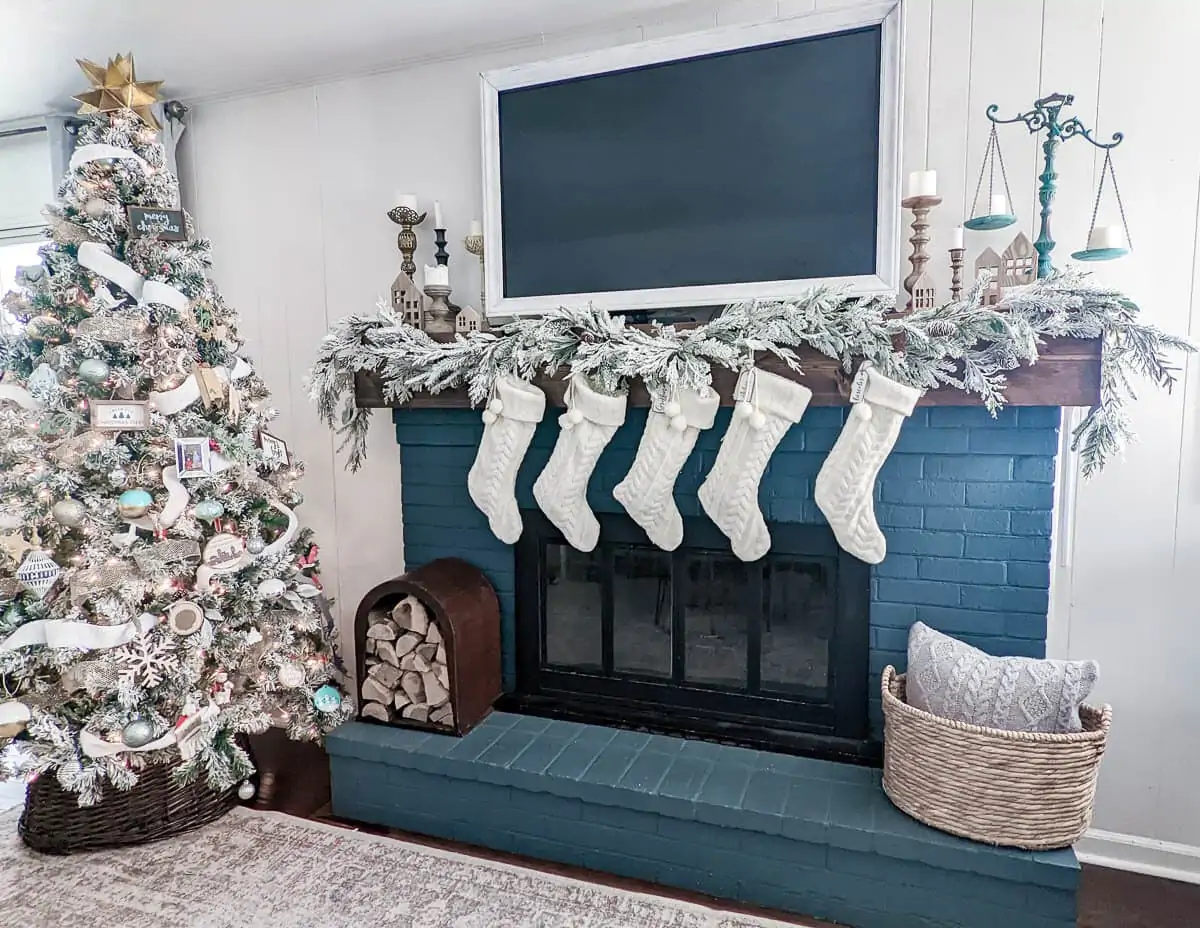 And while I just flocked this garland this year, I used the same DIY flocked Christmas tree for seven years, so I feel confident the flocking will hold up well!
If you're looking for more details on all things flocking, I've got you covered with the posts below:
I'd love for you to pin this post on Pinterest!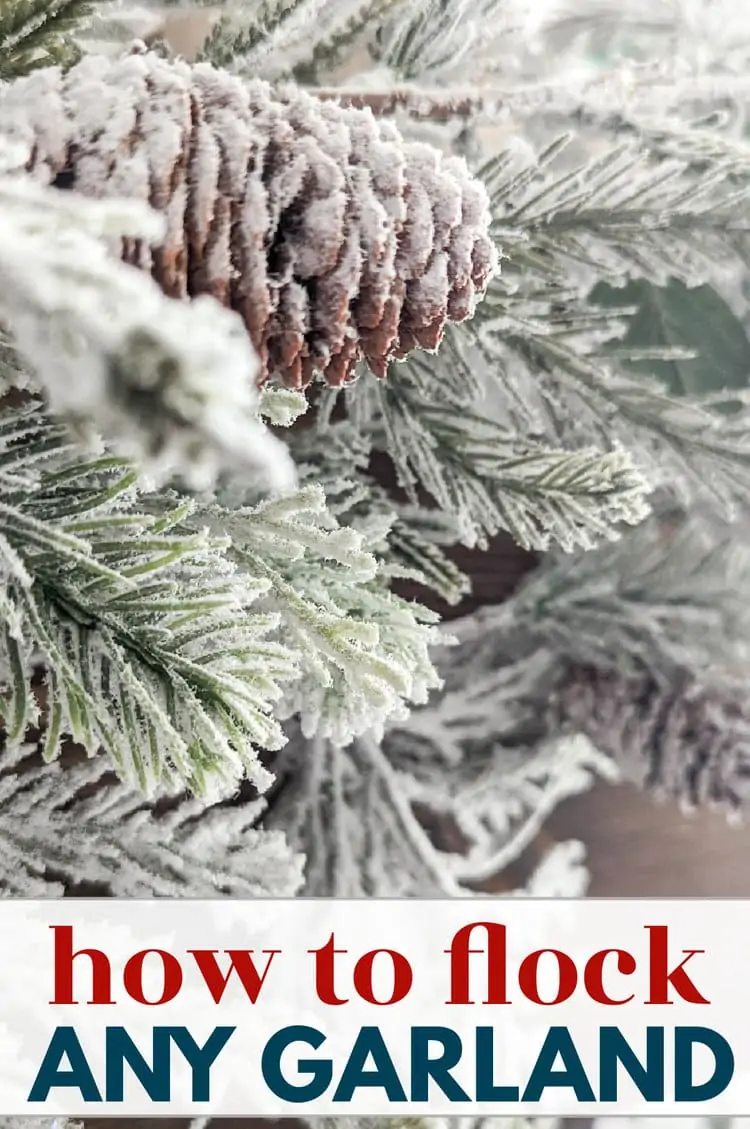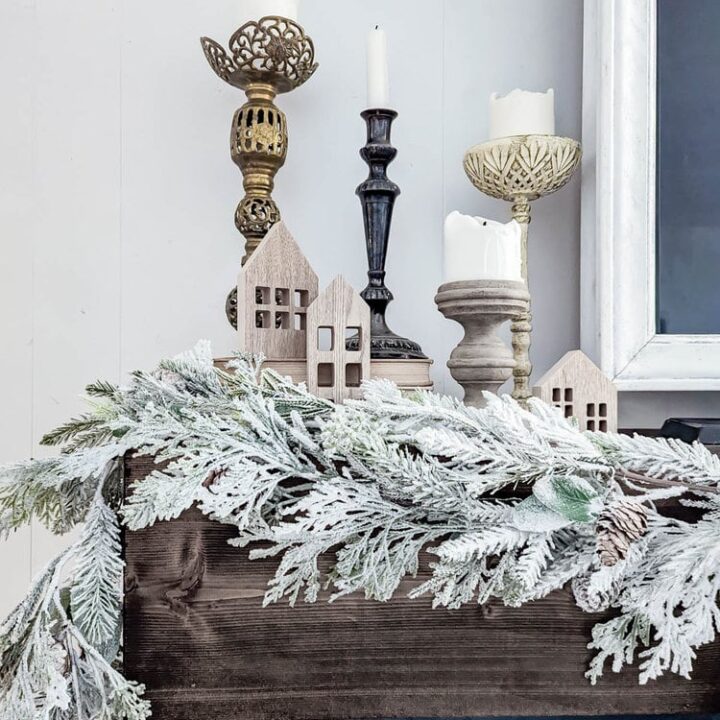 How to Flock Garland to Create Beautiful Christmas Decor
Learn the simple steps to create a gorgeous flocked garland using real or faux garland.
Materials
Evergreen garland
Flocking powder
Spray bottle of water
Strainer
Instructions
Start by protecting the surrounding area of your garland with dropcloth.
Lay your garland on your drop cloth close together and fluff the branches in the shape you want.
Spray the garland with water first.
Scoop a bit of flocking powder into the strainer and sift it down onto the garland.
Spray the flocked garland with water again to activate the adhesive in the flocking.
Flip the garland over to do the other side. Repeat the same process on the second side.
Let your flocking dry fully before bringing it inside to hang. Drying usually takes several hours.
Shake off any loose powder and bring in your garland to hang.
Recommended Products
As an Amazon Associate and member of other affiliate programs, I earn from qualifying purchases.