This simple step-by-step tutorial shows you how to age galvanized metal roofing and other galvanized metal. Give new metal a vintage patina with this tutorial that actually works.
Did you know you can turn bright, shiny new metal into perfectly aged galvanized metal that looks like has been around a few decades?
It's actually pretty easy to do as long as you know all the tricks.
And if you love rustic, farmhouse style, or industrial décor, once you know how to age galvanized metal roofing, you can make so many cool DIY décor pieces. From vintage metal signs to rustic magnet boards to unique wall treatments, you can do all kinds of things.
Personally, I used my aged metal roofing to make gorgeous farmhouse style window awnings for my sons' room.
(You can get the step by step tutorial for building the awnings right here. I decided to share this first step in the process separately to keep your eyes from crossing at my long, very detailed, super helpful tutorial for building the awnings. You're welcome!)
I did quite a bit of research online before starting this process and found that most people recommend using toilet cleaner to age metal roofing, specifically Clorox clinging bleach gel toilet bowl cleaner.
There are other ways to age metal roofing, but they mostly involve harsher chemicals and acids, so I decided toilet cleaner was definitely the way to go.
Unfortunately, all of those tutorials I found for aging metal didn't work for me at first.
I'm guessing that the climate where you are and the temperature outside makes a huge difference. It seems like sun and heat play a big roll in helping the toilet cleaner do it's job, and sadly, we have had a very soggy, mild spring here.
But after a few tries and some minor tweaks to the process, I was able to make it work and my metal roofing ended up beautifully aged!
In this post I'm sharing the exact process that worked for me so hopefully you can also create perfectly aged metal.
This post contains affiliate links which means if you make a purchase after clicking a link I will earn a small commission but it won't cost you a penny more. Click here to see my full disclosure policy.
Supplies for aging galvanized metal
Corrugated metal roofing (you can find this at any home improvement store)
Old towel or rag
How to age corrugated metal roofing
First, be sure to wear gloves. Even though we are just talking about toilet bowl cleaner, this is a chemical process at work so it isn't something you want to play around with.
Once you're all gloved up, take the steel wool and lightly sand the entire piece of metal.
In general, most people use corrugated metal as actual roofing so they want it to be weather resistant. To help with this, there is a protective coating on the metal to prevent aging.
Since we are trying to do the opposite and speed up the aging process, we want to weaken the protective coating as much as possible. This is what the steel wool is good for.
Don't worry about being too thorough at this point. Just a few minutes lightly sanding everything will be fine.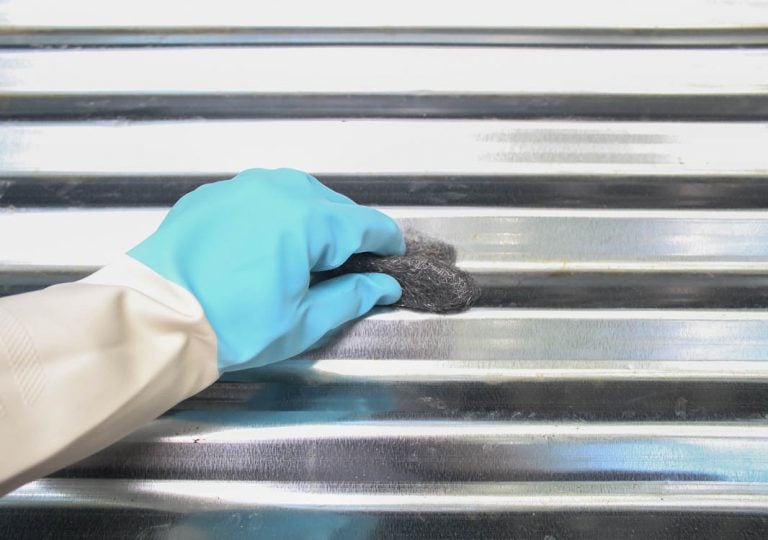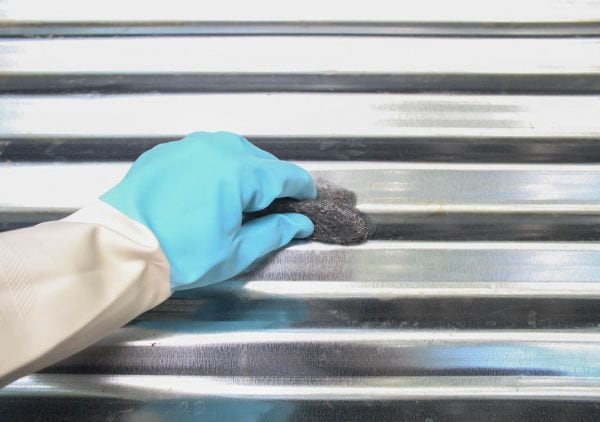 Then you are going to squirt the toilet cleaner all over the metal. I found the more you put on, the better it works.
(In my research, everyone recommended using Clorox Clinging Bleach Gel Toilet Bowl Cleaner so that's what I used.)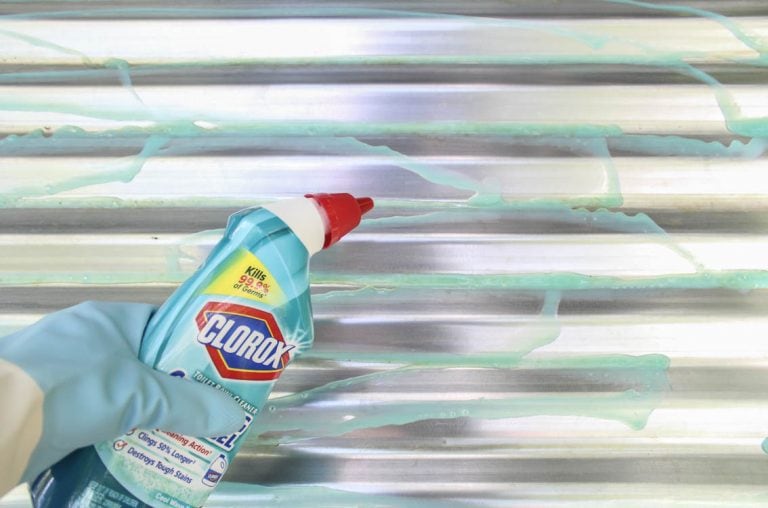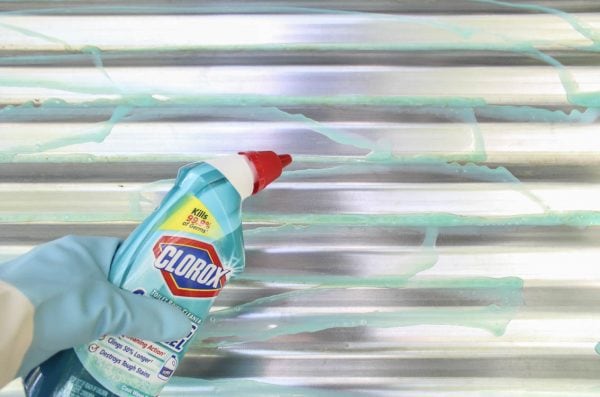 Take your steel wool again and use it to help rub the toilet cleaner everywhere.
It will naturally settle into all of the grooves, but make sure to rub it into all of the ridges as well.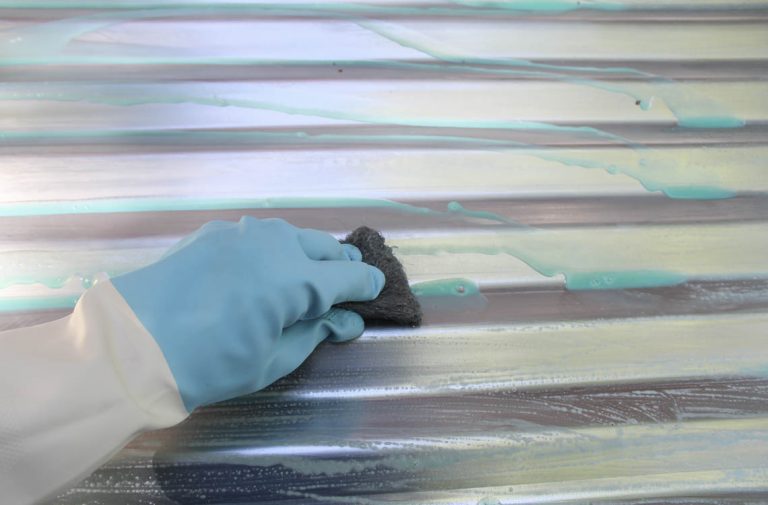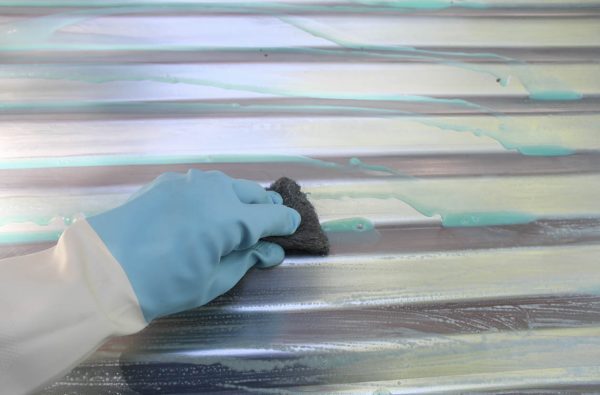 I accidentally discovered that you can add more age and wear by tearing off small bits of damp steel wool and leaving them to dry on the metal. You don't have to do this, but it really made a big difference in how weathered my metal looked.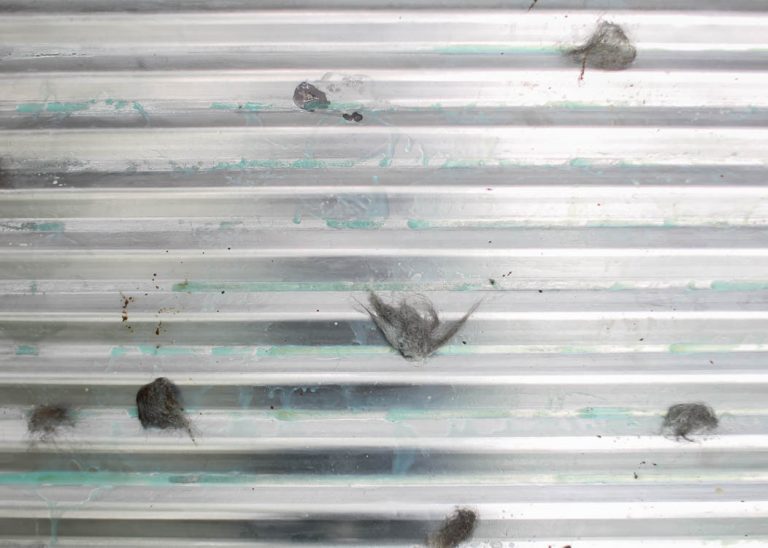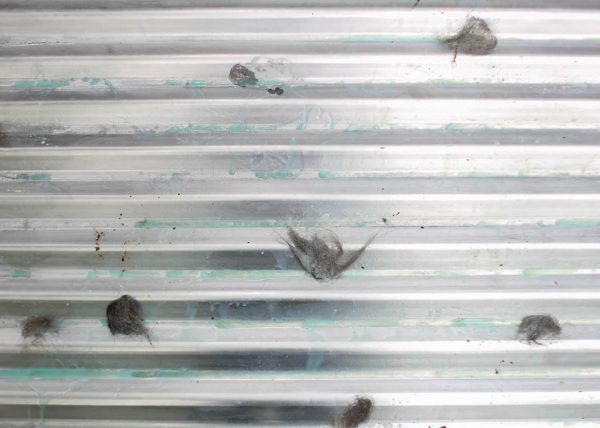 Then you wait.
I let my metal sit for 24 hours covered in toilet cleaner and steel wool. If you have a hot, sunny day, you may not need to wait as long.
When it seems ready, just use a wet towel or rag to wipe away the cleaner and steel wool. You should be left with beautifully aged metal!
But if for some reason your metal still looks too new for you liking, just repeat the process.
Here is a side by side comparison of the brand new metal and the aged metal. The aging process helped take the shine off of the entire surface as well as etching into the metal to give a nice patina.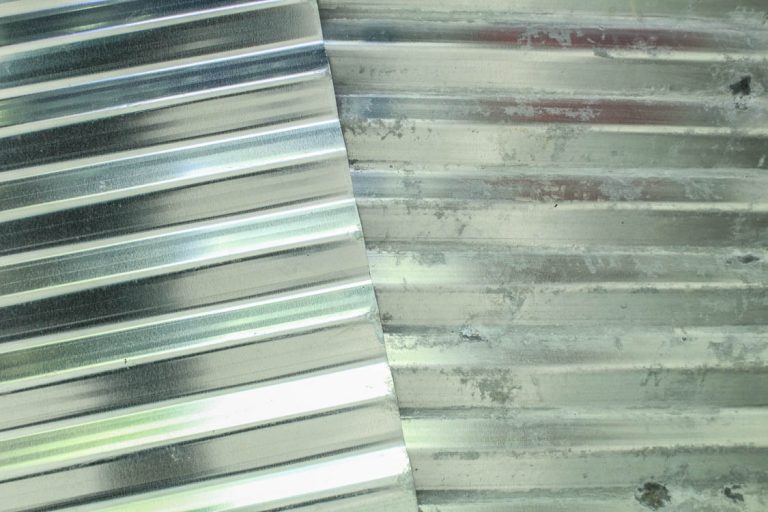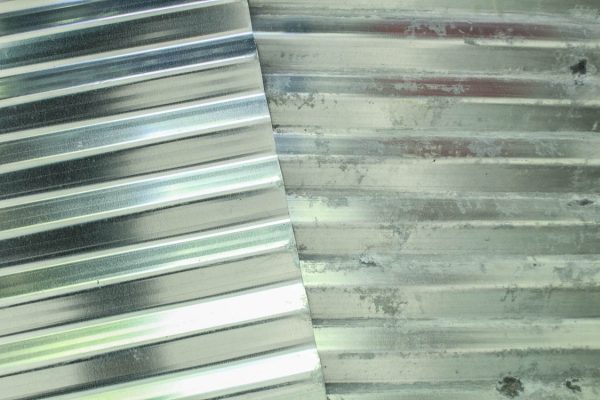 And here's a little peak at my window awnings.
See those really dark spots? Those are what happens when you leave the bits of steel wool on the metal. They definitely add a lot in my opinion.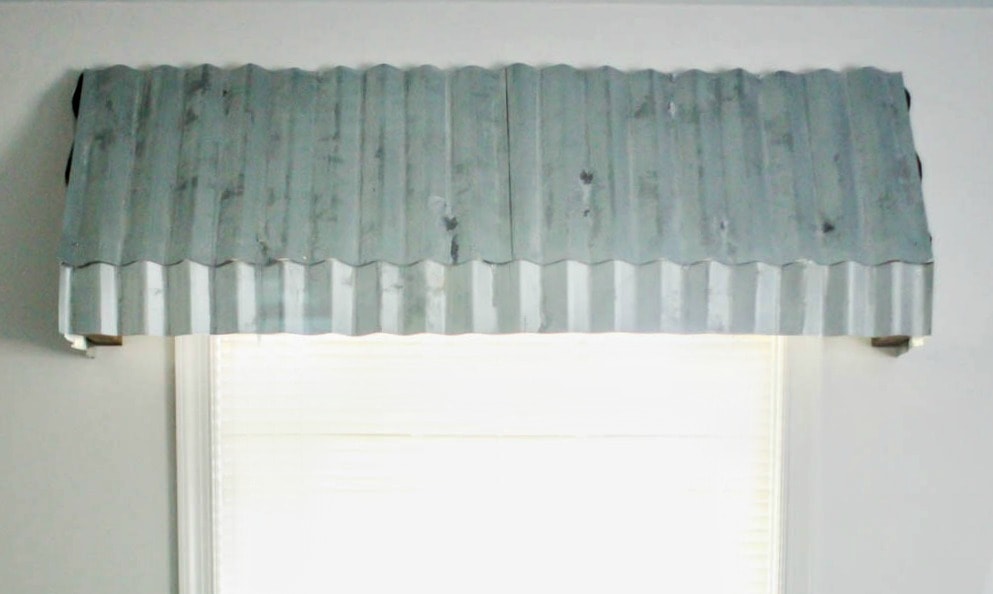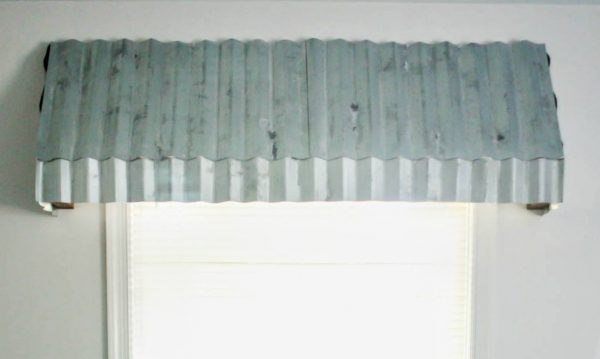 Once your metal is perfectly aged, odds are that no matter what project you are working on, you are going to need to cut those big sheets of metal.
I used to be super intimated by the thought of cutting metal, but it is actually really simple. All you need is a pair of tin snips which are basically just strong scissors.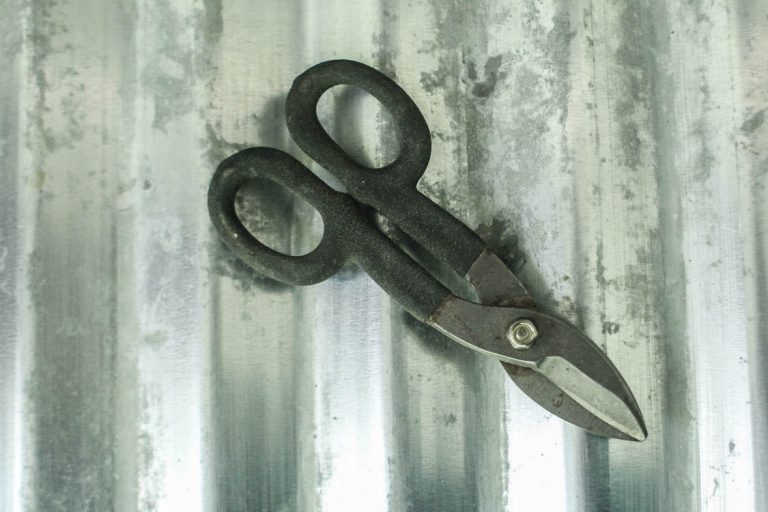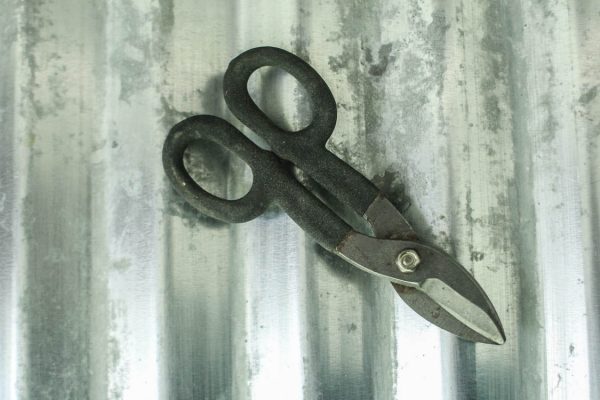 Use a straight edge to draw your cut lines onto the metal. You can draw your lines with a permanent marker, but I prefer to use a chalk marker. That way you can easily wipe away any stray marks that are left on your final piece.
Once your lines are drawn, carefully cut them with the tin snips. (Be sure to wear gloves because the cut metal will be sharp!)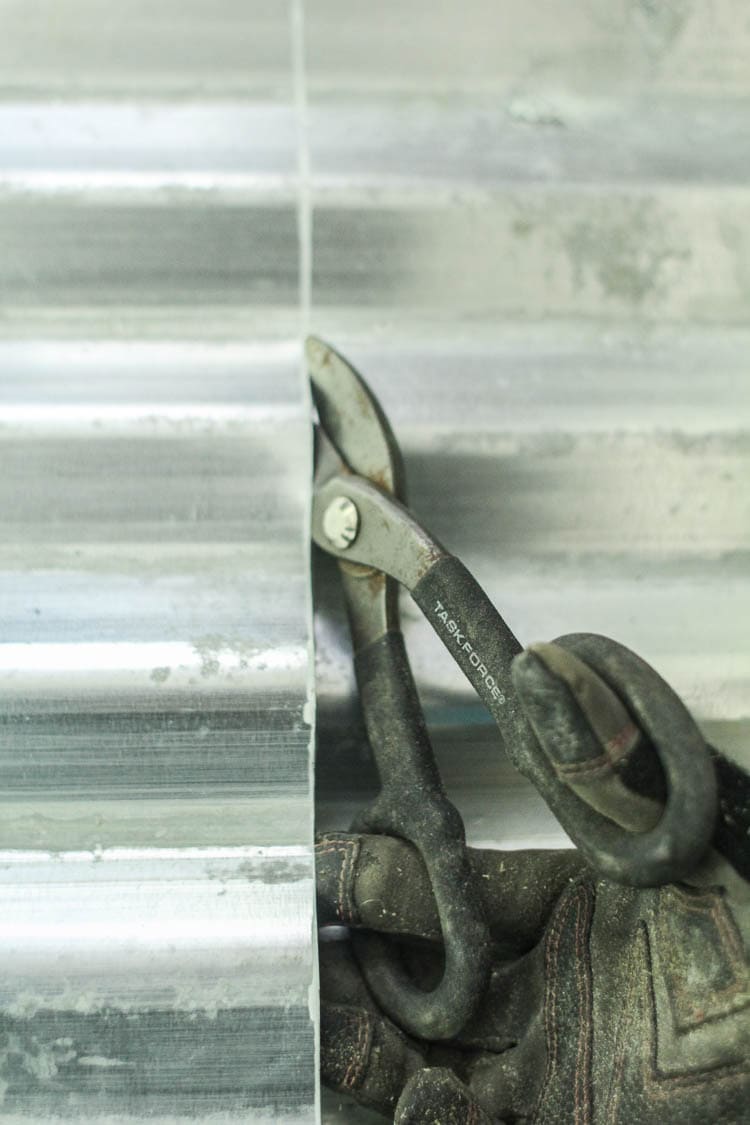 And that's it! You have perfectly aged corrugated metal ready to be used for whatever awesome projects you dream up!
I am absolutely in love with my rustic window awnings, so I can't wait to use some of my leftover aged metal roofing for more farmhouse style décor. And don't forget to head over and read the rest of my window awning tutorial!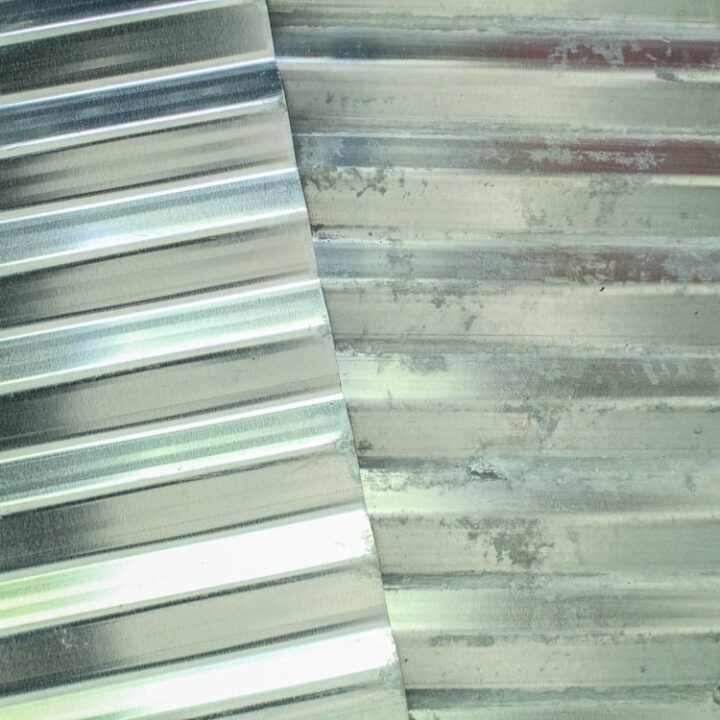 How to age galvanized metal: from shiny new to vintage perfection
Total Time:
1 day
15 minutes
Learn how to turn bright, shiny new metal into perfectly aged vintage metal with this easy DIY tutorial.
Materials
Corrugated Metal Roofing or other galvanized metal
Clorox Toilet Cleaner With Bleach
Sturdy Gloves
Rag
Instructions
While wearing gloves, lightly sand the entire piece of metal with steel wool.
Squirt Clorox toilet cleaner all over the metal.
Use steel wool again to rub the toilet cleaner everywhere.
Let the metal sit for 24 hours covered in toilet cleaner and bits of steel wool.
Use a wet towel or rag to wipe away the cleaner and steel wool.
I'd love for you to pin this on Pinterest!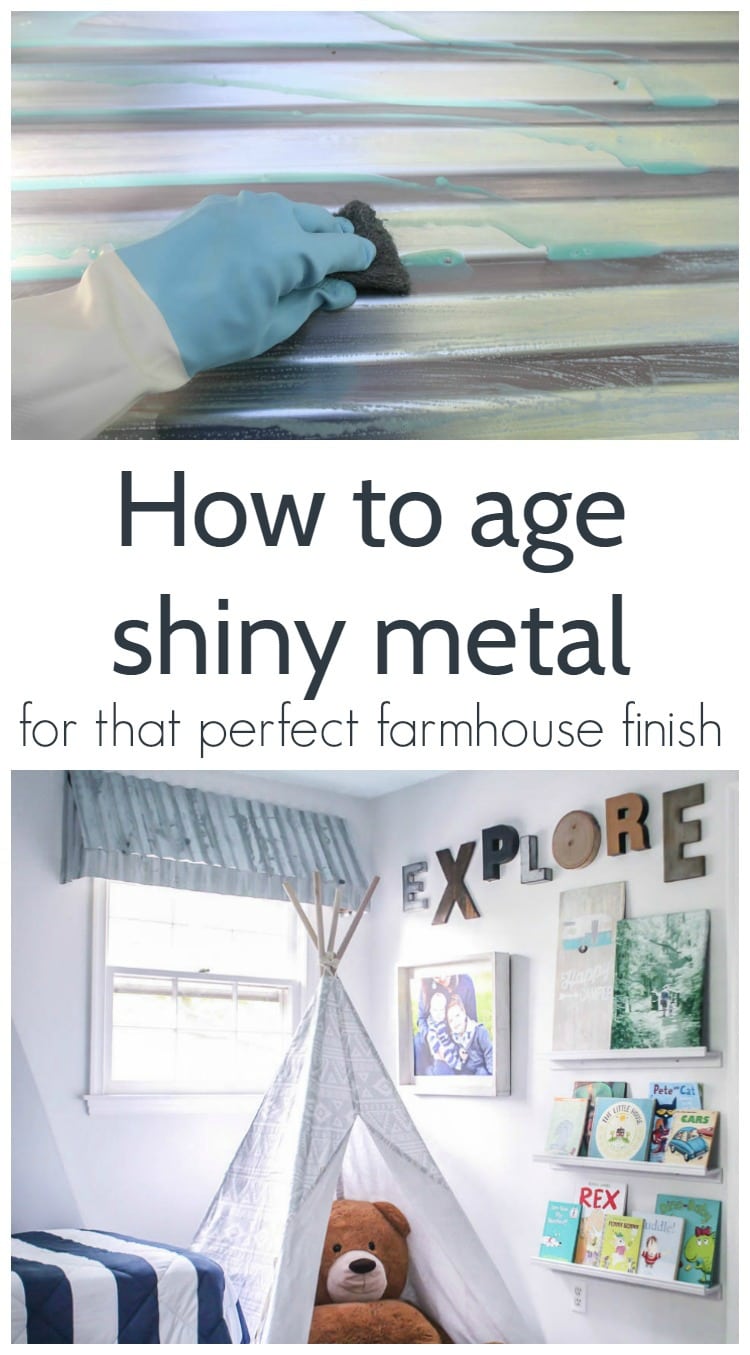 Here are a few more projects I think you'll like: