Over the past few years, I've started to really look forward to changing up our decor a bit each spring. I love Christmas decorating and every year when all of the Christmas decorations are put away, everything starts to look a little sad and dull. So I've started ushering in spring with a bit more color, lots of flowers, and a general refresh of the house. Some people kick off spring with a good clean; I prefer to decorate! (Not that I wouldn't love a nice spring cleaning, I just don't particularly want to have to be the one to do it!) This week Jenna from Jenna Kate at Home has gathered a group of fabulously creative ladies to share how we add spring to our homes. You can see lots more spring inspiration at the bottom of this post.
I don't redecorate every room, but there are a few spots that I love to change up with the seasons: our front door wreath, our dining table, and my absolute favorite: our entryway. Last week, I shared the latest updates to our dining room which I'm pretty sure is now my favorite room in our entire house. (If you missed it, you can see all the details right here.)
This week, I want to share the simple spring touches I added to our entryway. If you are coming over from Sand Dollar Lane, welcome, welcome! I absolutely love those gorgeous colors Leen used in her dining room!
This post contains affiliate links which means if you make a purchase after clicking a link I will earn a small commission but it won't cost you a penny more. Click here to see my full disclosure policy.
First though, let's talk about this gorgeous wreath! I made this wreath a few weeks ago from a plaid shirt that wasn't fitting so well anymore and I absolutely love it. Something about the pop of orange against the black and white just makes me happy!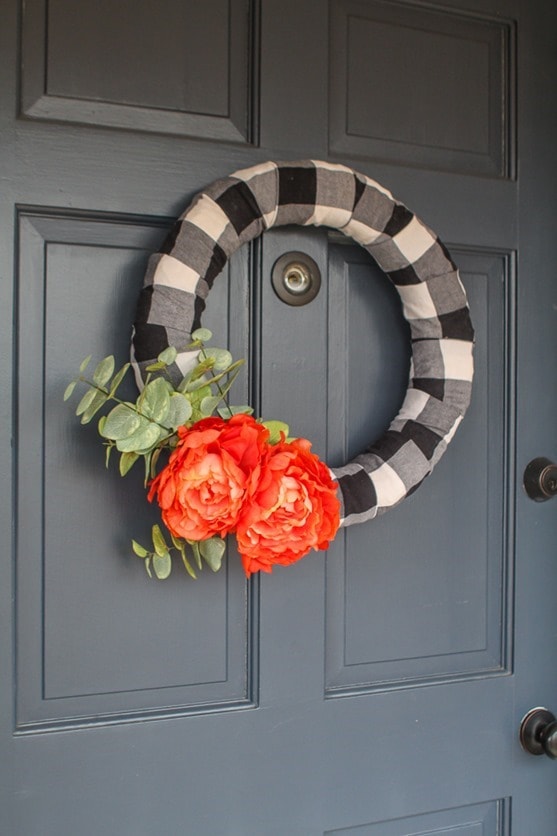 And it's perfect on our front door. You can get the whole tutorial right here. It's super easy to make and if you don't have an unflattering plaid shirt to use, don't worry, you can also use a small piece of buffalo plaid fabric.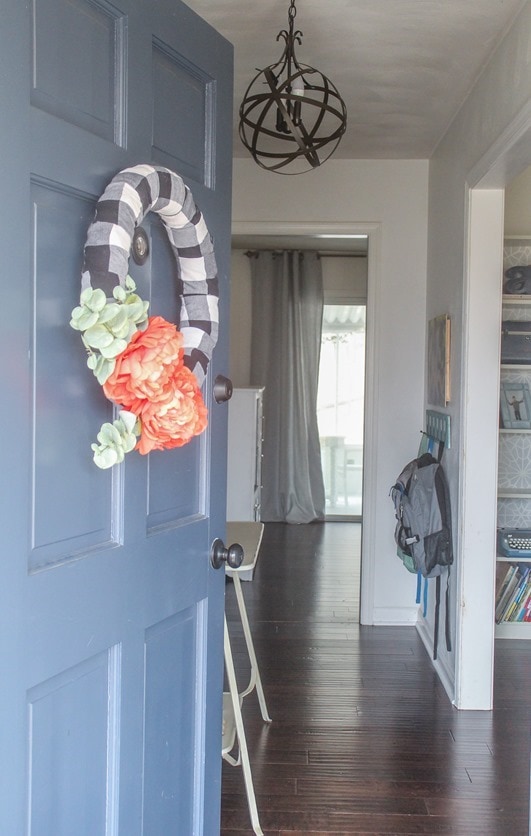 Once you come in the door, you're in my other favorite room in our house. Our entryway is always the most fun to decorate, mostly because pretty much everything looks amazing against that wood wall! (There's a tutorial for the wall including a quick video right here.) Also, it's a tiny space so redecorating is quick and simple.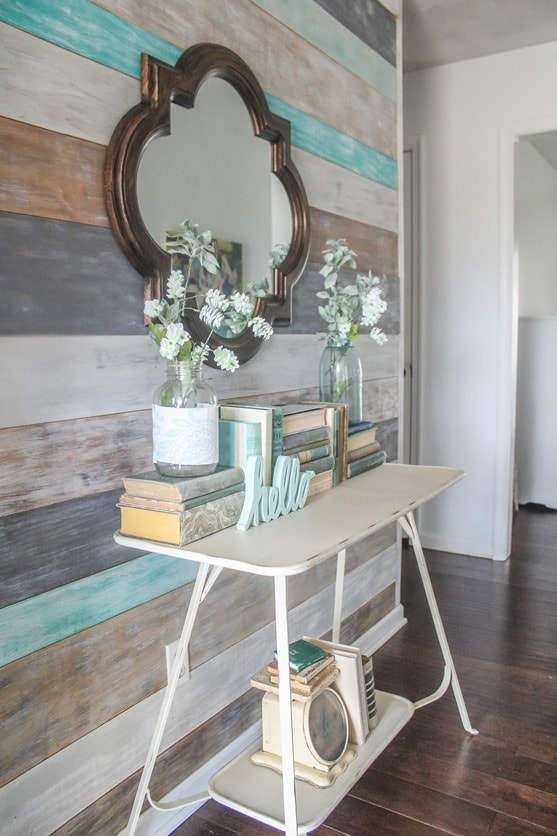 As I shared last week, we recently moved the white writing table that was here into the dining room. Luckily we had this fantastic metal table just hanging out in our basement. This table used to be in this spot a few years ago and I love it here. I bought it from Decor Steals, one of my favorite daily deals sites, a few years ago. I tried to find something similar to link for you guys, but I couldn't find anything like it.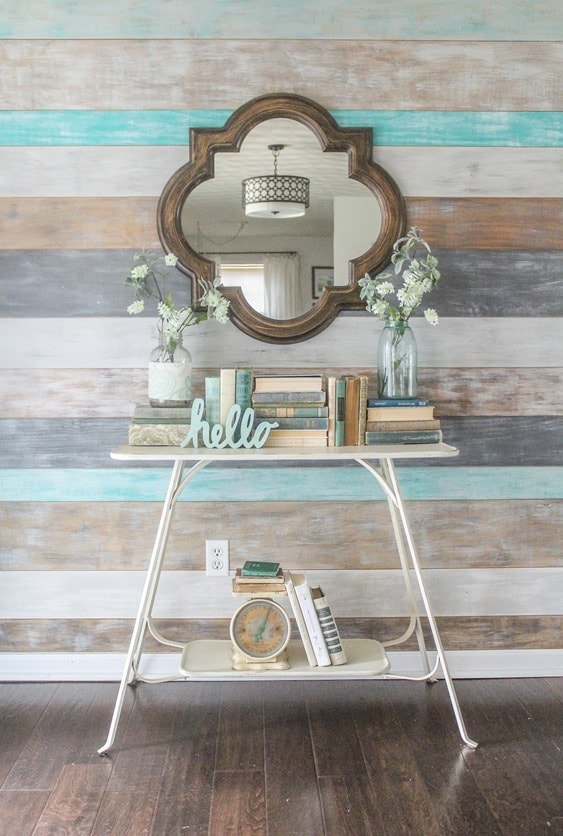 That quatrefoil mirror pretty much always stays in this spot. It was a fantastic find at Big Lots of all places a few years ago. (There is a similar one here for a decent price.) I love how the curves in the mirror contrast the straight lines of the wood wall. Last spring I turned this spot into a riot of beautiful flowers, but this year I went more understated.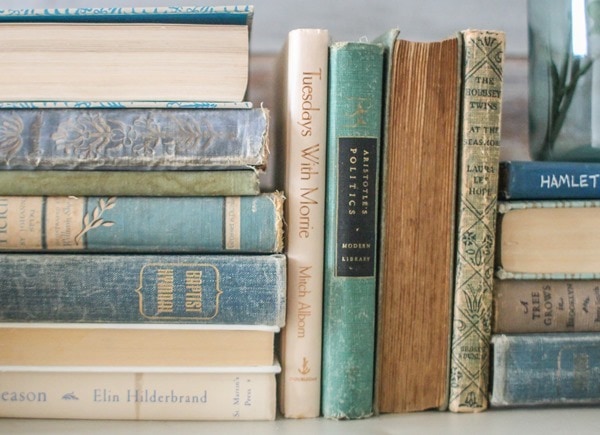 I have a thing for vintage books; I snap them up at yard sales and estate sales all the time for next to nothing. And no, I don't read them all; I just think they're beautiful. Is it weird that I buy up old books at yard sales that I have no intention of reading because I think they're pretty? Probably, but whatever, we're all weird in one way or another.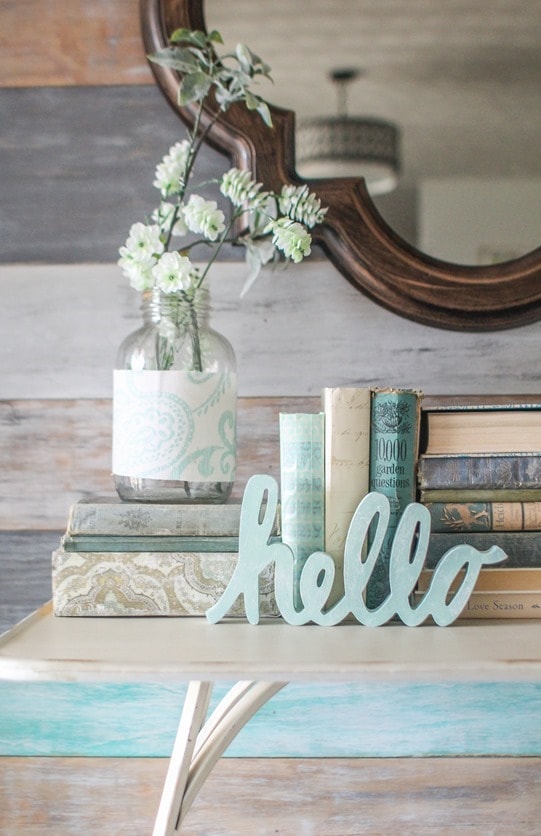 Along with all of my pretty old books, I added a couple of old jars filled with spring branches. The left jar is just an old vinegar jar with a scrap of fabric wrapped around it. The hello sign is from the Target dollar spot. They have these wooden script words a lot but they are usually bright colors that aren't so much my style. So I simply painted it; cheap and easy.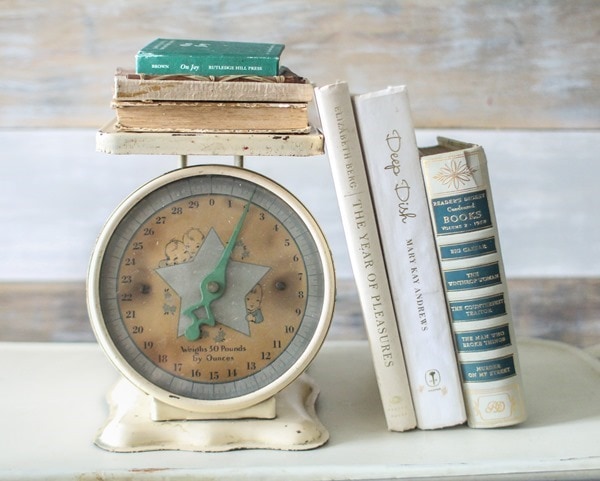 And on the bottom is a vintage baby scale that I scored at a yard sale for $5. Obviously the part a baby actually laid on is gone but I love those sweet little faces on the front.
So that's my spring entryway including an old plaid shirt, a bunch of books, and a baby scale! Which is a pretty good summary of how I like to decorate: collect things I love for cheap and then put them all together in a way I find beautiful.
Ready for some more ideas for adding a bit of spring to your home? Head over to Noting Grace next. You are going to love Jen's gorgeous home and her inexpensive spring updates! Then check out the rest of the links below for lots of inspiration!

Wife in Progress // Postcards From The Ridge
Sand Dollar Lane// Lovely Etc. // Noting Grace// Green With Decor
One Mile Home & Style // Create & Babble // My Thrift Store Addiction
Paint Yourself a Smile // Saw Nail and Paint // The Tattered Pew
Brown Dog Vintage // Red Cottage Chronicles // Savvy Apron
Aratari At Home // Home Made Lovely
Atta Girl Says // Inspiration for Moms // The Happy Housie // Farmhouse on Boone
A Blue Nest // Hashtag Blessed Blog
Bluesky at Home // The Frugal Homemaker // A Purdy Little House