Every spring it feels like the whole world comes alive again after a long rest. And even though I don't usually do a ton of seasonal decorating, I can't resist injecting a bit of new life into my home each spring as well.
And since this is my favorite time of year, I invited some of my favorite bloggers to join me in sharing how we are refreshing our homes for spring this year. You can check out all the fresh spring inspiration of the Hello Spring Home Tour at the bottom of the post.
But first, I'm excited to share what I've been up to lately!
As much as I would love to sprinkle a touch of spring in each and every room in my house, realistically it just isn't going to happen. At this stage in my life I just don't have the time or energy for a full overhaul. So instead I decided to focus on making a big impact in just a couple of spaces.
The simple succulent wreath I put together a few weeks ago welcomes you in the front door. (My curb appeal refresh is so close to being finished and I cannot wait to share the difference a few inexpensive changes made!)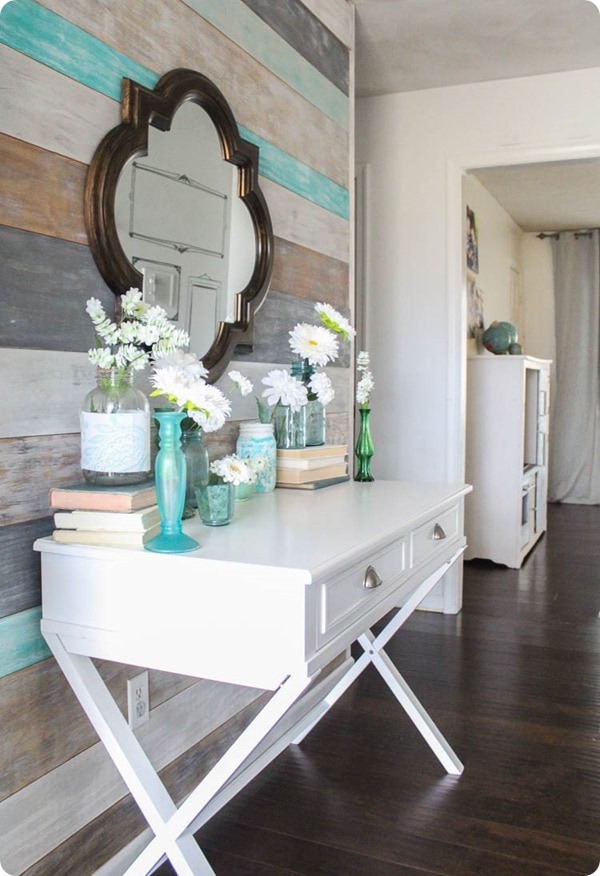 When you step inside, my painted plank wall is the first thing you see. This is my favorite spot in our entire house to decorate. Pretty much everything looks beautiful against that plank wall, so you really can't go wrong.
This cute little X-leg table is technically a writing desk but it's the perfect size for our entry. I love how the fresh white looks against all the color and texture of the wood wall.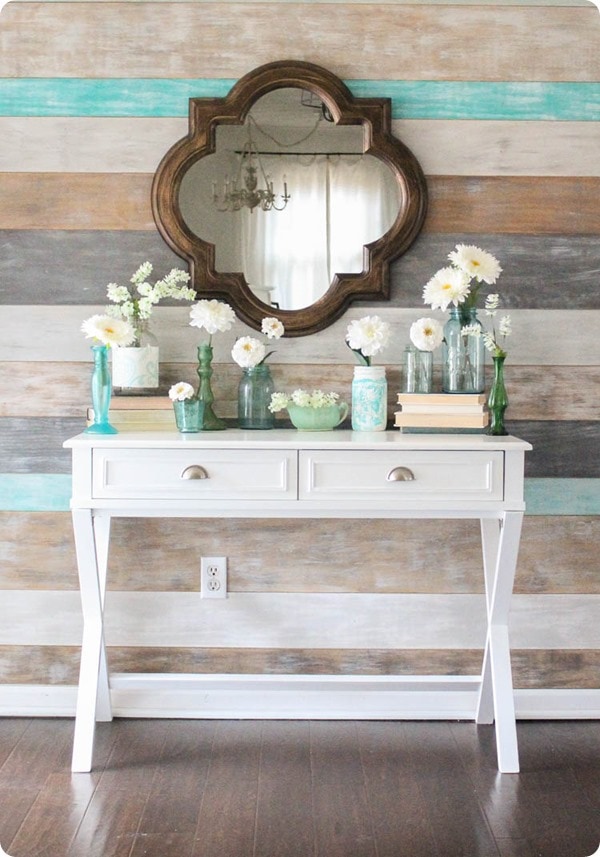 This year I decided to go a little wild in here with the flowers. It was super easy to do and I love how vibrant and relaxed it looks. I gathered all of my best flower-holding vessels – not just vases, but also mason jars, candlesticks, a gravy boat, basically anything that could hold a flower. I also added a few old books for height and loosely arranged everything across the table.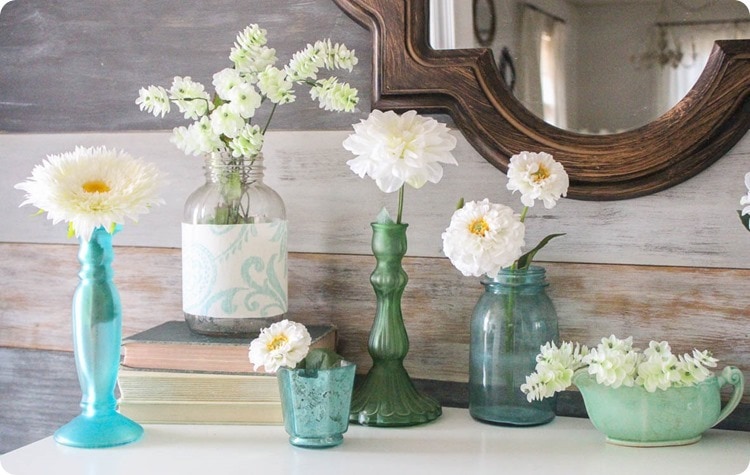 Since most of my vessels were blue and green, I decided to stick with all white flowers. Confession: I bought all of my flowers at Michaels; they are all fakes. But I still think they are beautiful and they are definitely going to last much longer this way! I know some people think fake flowers are tacky, but I completely disagree. There are some amazingly real-looking faux flowers out there these days and while fresh flowers will always be the most beautiful, faux flowers are way better than no flowers!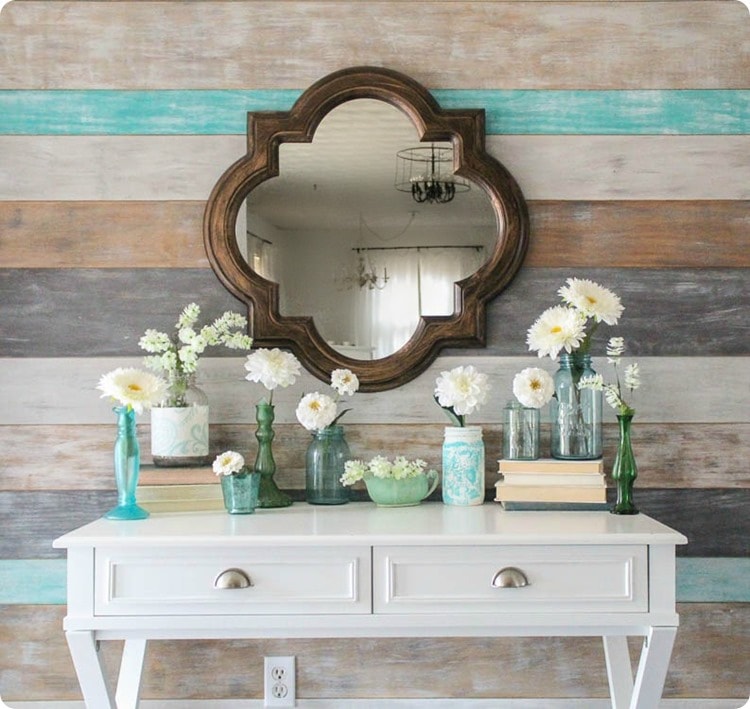 I chose several different types of blooms, because even though they aren't real, I wanted it to look like I had gathered a bunch of flowers at random on a beautiful spring walk. I absolutely love the eclectic, gathered look of all of my thrifted containers filled with all different types of flowers.
When I was deciding what other space I wanted to freshen up for spring, it was really a no-brainer. We have a huge screened porch across the entire back of our house. In the spring, this is definitely the place to be. My boys play out here most of the day and I love to relax out here as much as possible.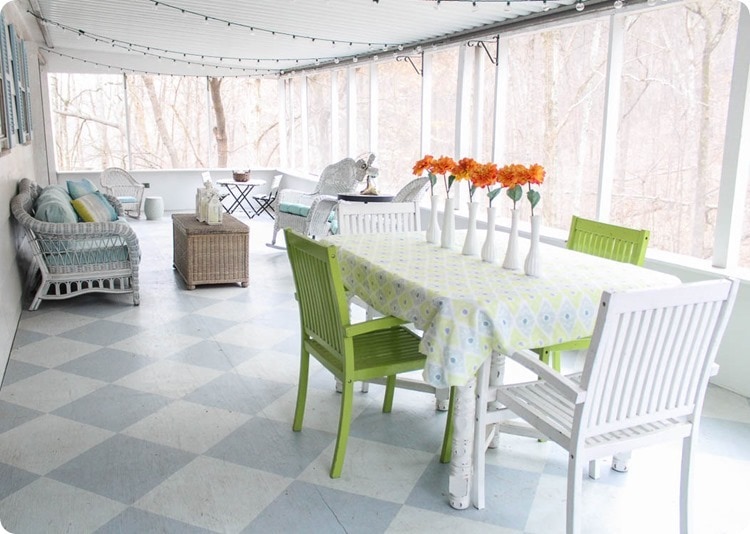 The first section of our porch is a nice little table that is the perfect spot for dinner when the days get longer. (There's also a grill out there that isn't pictured. Yum.)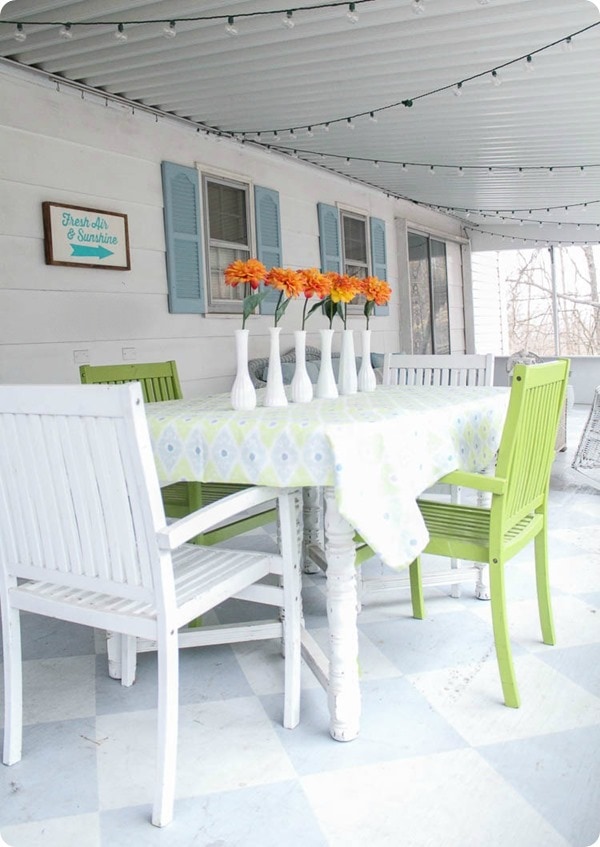 This spring I decided more flowers would be the perfect thing to make this space a bit more vibrant. An awesome reader gave me these simple milk glass bud vases and I added some beautiful sunset-colored flowers. The perfect pop of color against all of the white and blue out here.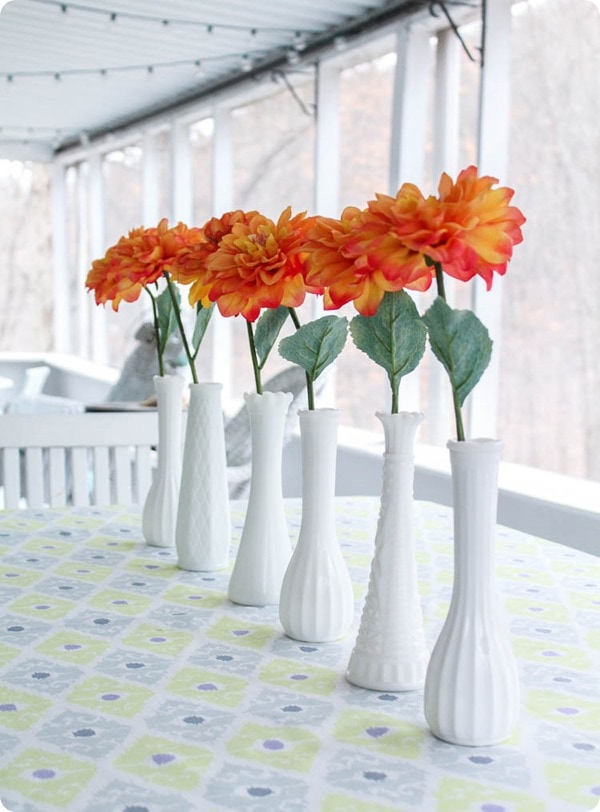 There's also a comfy seating area. Pretty much all of the furniture out here was a free hand-me-down or thrifted. (You can read more about how I furnished my entire house for less than $2000 here.) This spring the wicker rockers got fresh seat cushions. I would love to get new cushions for the couch as well, but they are pretty pricey; so instead I made the fastest slipcover ever. I simply tucked two curtain panels around the cushions. No pinning, no sewing, nothing, but it works!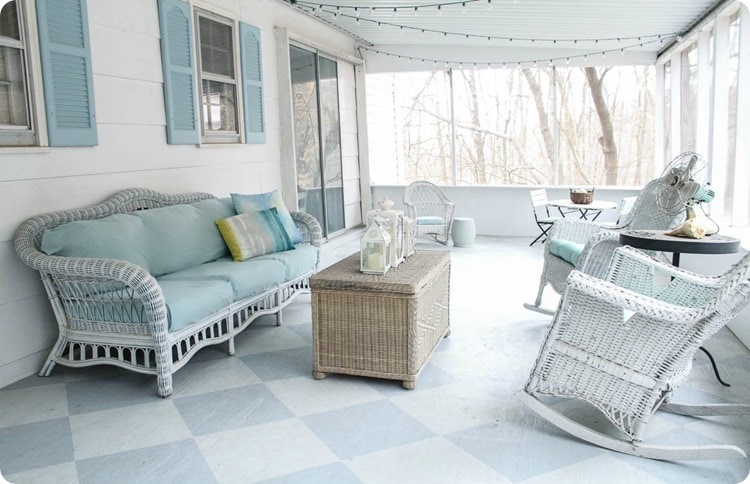 The vintage fan between the rocking chairs still works great and is a lifesaver in the summer!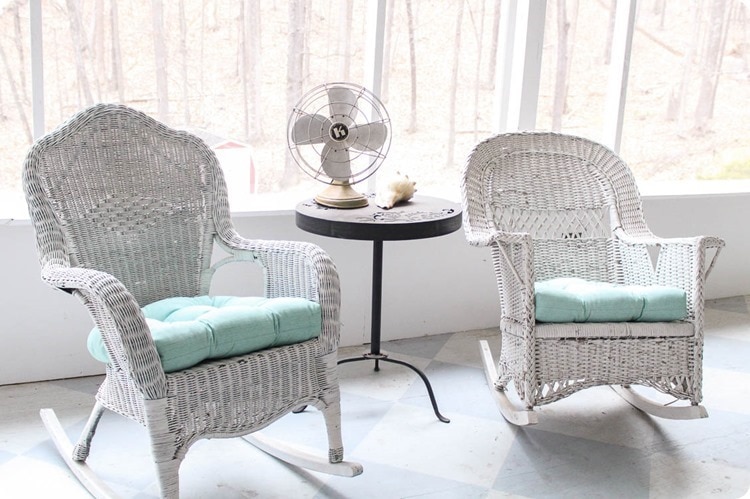 And finally, down at the end of the porch is the kids' area. Is there anything more precious than tiny kid-sized furniture? I find it nearly impossible to resist! My favorites are the tiny wicker rocking chair and pint-sized garden stool.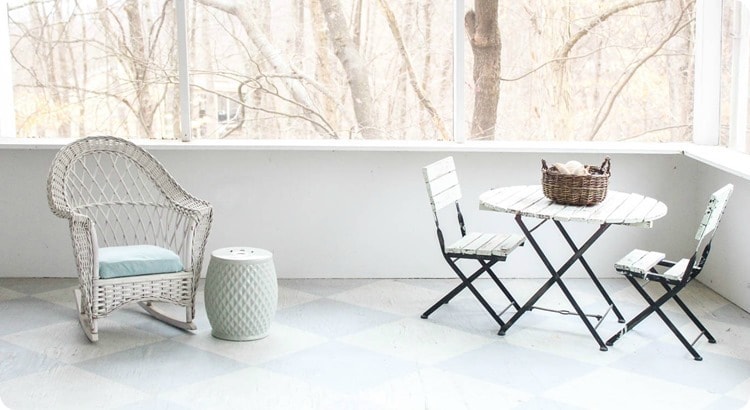 Of course in reality, this area rarely looks quite so spartan. My boys spend tons of time out here playing, so most of the time it looks much more like this: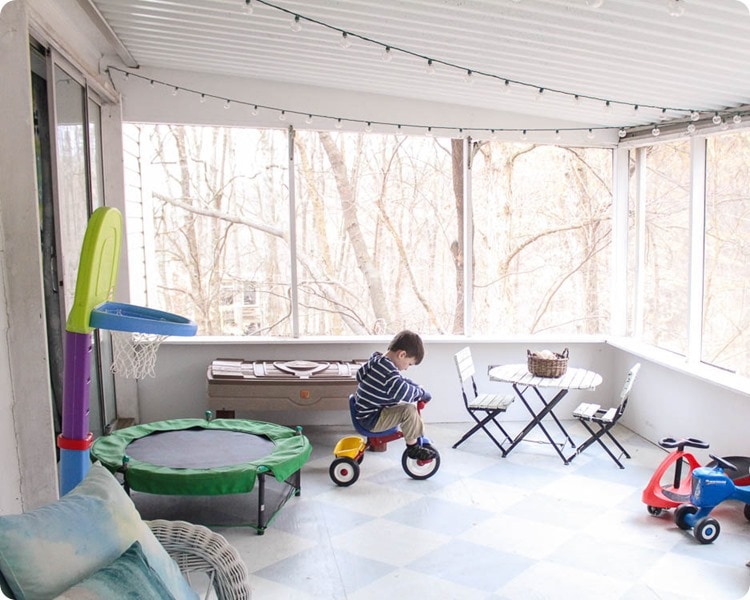 And even though this way isn't quite so pretty and coordinated, I think I love it this way even better. It's filled with color and toys and laughter and of course that is what really makes it a home, not just the stuff that's pretty to look at.
Ready to see more spring inspiration? These ladies really know how to decorate and I absolutely love that they each do it with their own unique style.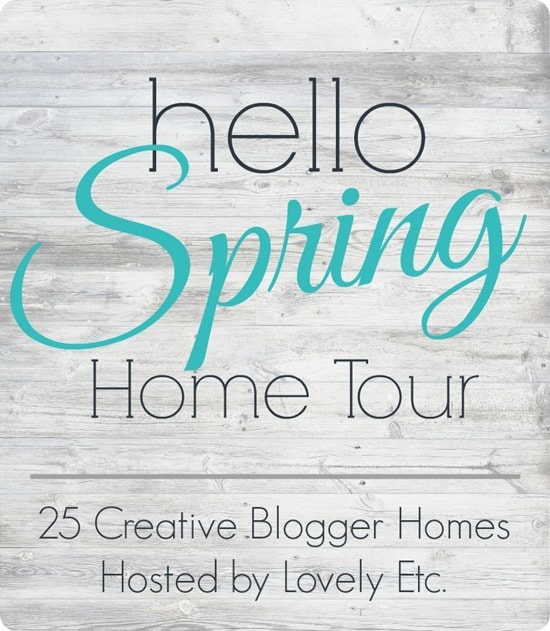 Be sure to check out all the links below – there will be fresh homes added every day this week!