Make a simple DIY house number sign with plenty of farmhouse character. An easy way to add curb appeal and personality to your home.
The last few years I've been working away transforming the inside of our home into a happier, fresher, and more welcoming place. But during that time I haven't done a thing to the exterior of our house. Curb appeal? What's that?
Seriously, the front of our house is incredibly dated and unwelcoming and I decided it was time to finally do something about it. For the last few weeks, I've been working behind the scenes to completely update our front entry. I'm almost ready to reveal the entire makeover, but in the meantime, I have a really fun DIY project from the space to share: my DIY house number.
But first, here's a look at where this all started.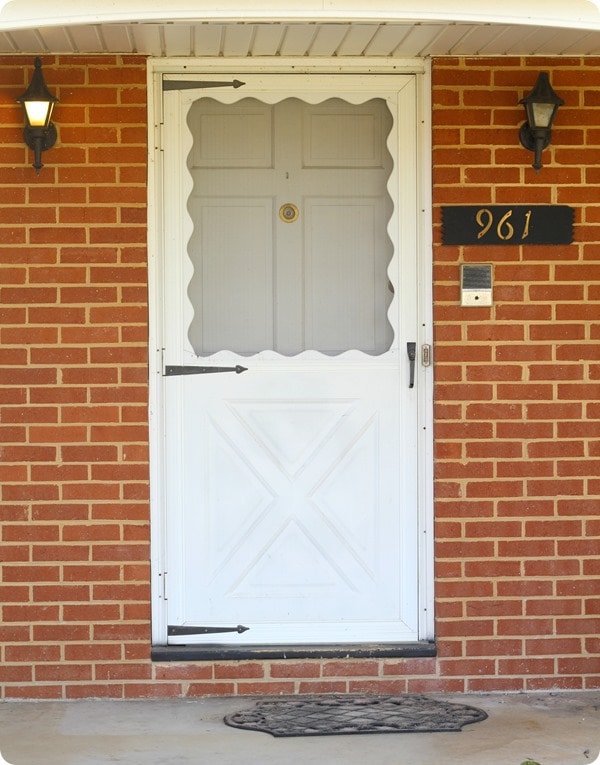 Sad I know. When I started this little makeover, I knew I definitely needed a new house number. I wanted to make something a bit more special and unique than simply sticking some numbers on a board. Plus, in my situation, I really wanted something large enough to cover that old intercom speaker. (Yes, it does still work, but since we haven't used it once in the eight years we've lived here, I feel more than ready to get rid of it.)
This is what I came up with. I'm kind of in love with it.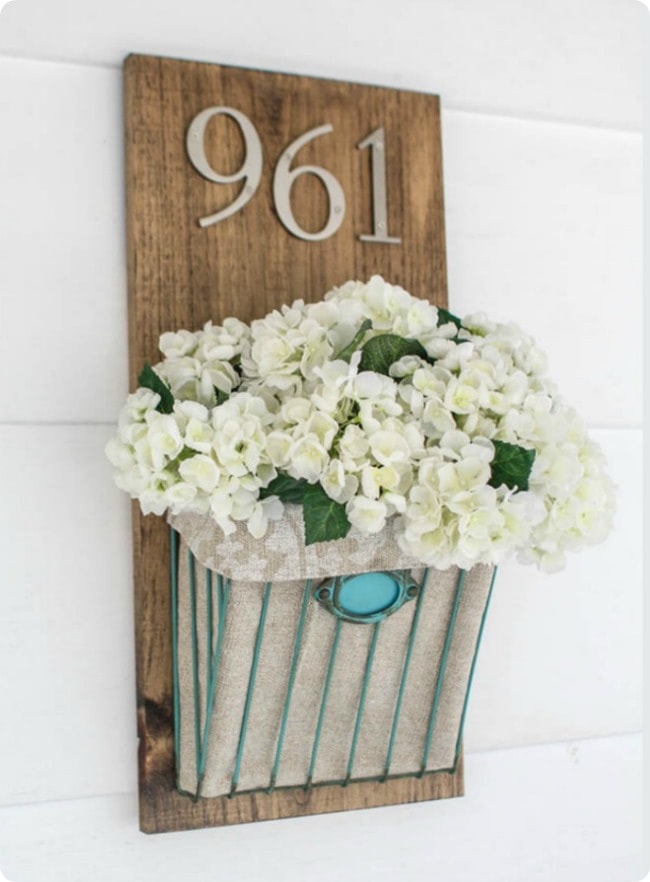 This post contains affiliate links; see my full disclosure here.
Supplies for DIY House Number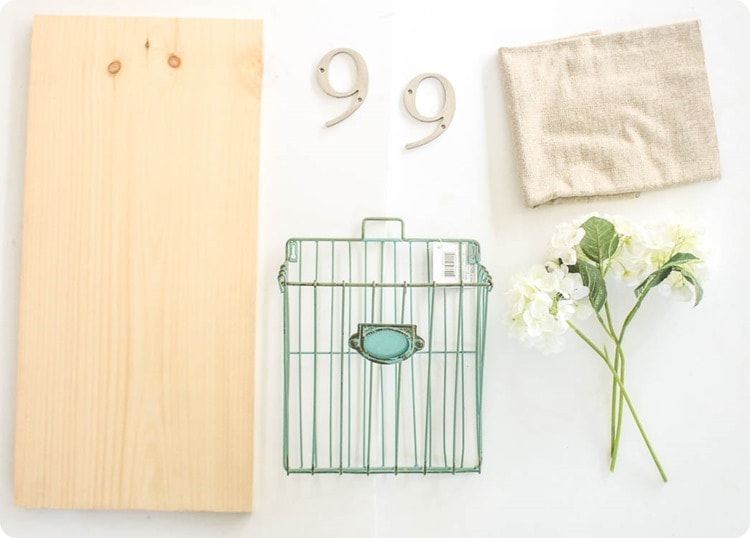 12" x 24" wood board
metal basket – I bought mine at Michaels a few years ago. I don't think it is still available, but there are a few other cute options from Amazon linked at the bottom of the post
piece of fabric for fabric lining
fake flowers – I used white hydrangeas but any realistic looking flowers will work.
wood stain and rag to apply it
How to make a DIY house number with flowers
Putting this together is really simple. First, stain your wood board. You can choose any color stain you like, but you want to make sure that your house numbers show up very clearly against whatever color you use. I ended up using a mix of Minwax Weathered Oak and Minwax Jacobean. (Those were the two colors I had on hand. One was too dark and one was too light, but together they were just right.) I wiped my stain on with an old tshirt rag, but you can also use a foam brush if you choose.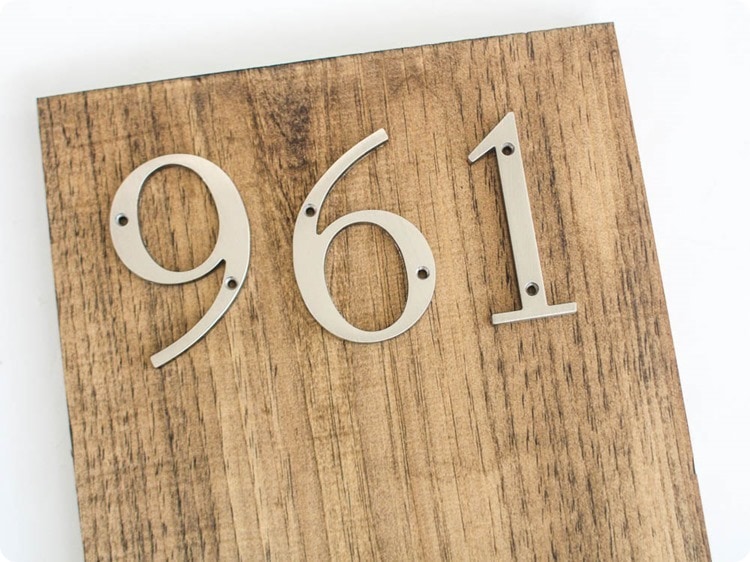 While the stain dried, I made a fabric liner for my metal basket to hide the flower stems. I'm sure it is probably pretty easy to sew a little basket liner, but I try to avoid sewing unless absolutely necessary. So instead I used fabric glue, to turn some scrap fabric into a nice little basket liner.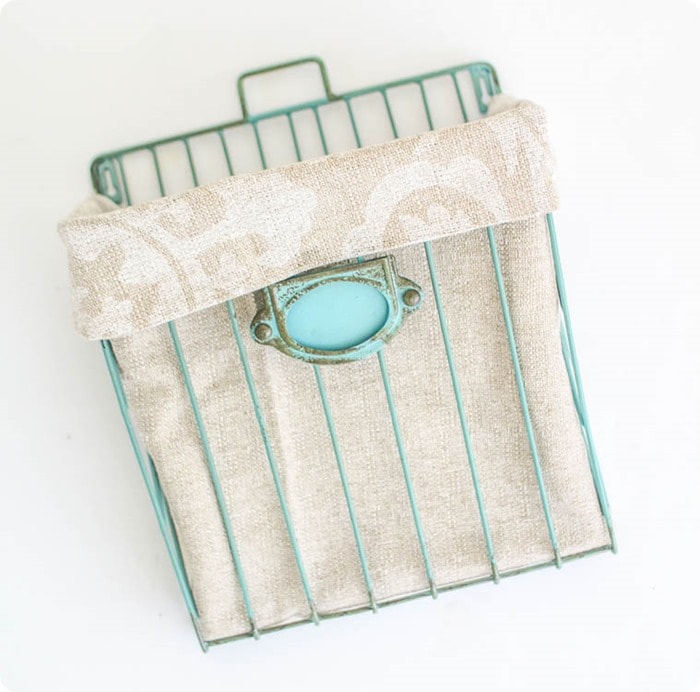 Then it is simply a matter of putting it all together. Attach the house numbers and basket to the board with screws. Add flowers or whatever you want and your done. Seriously, so easy.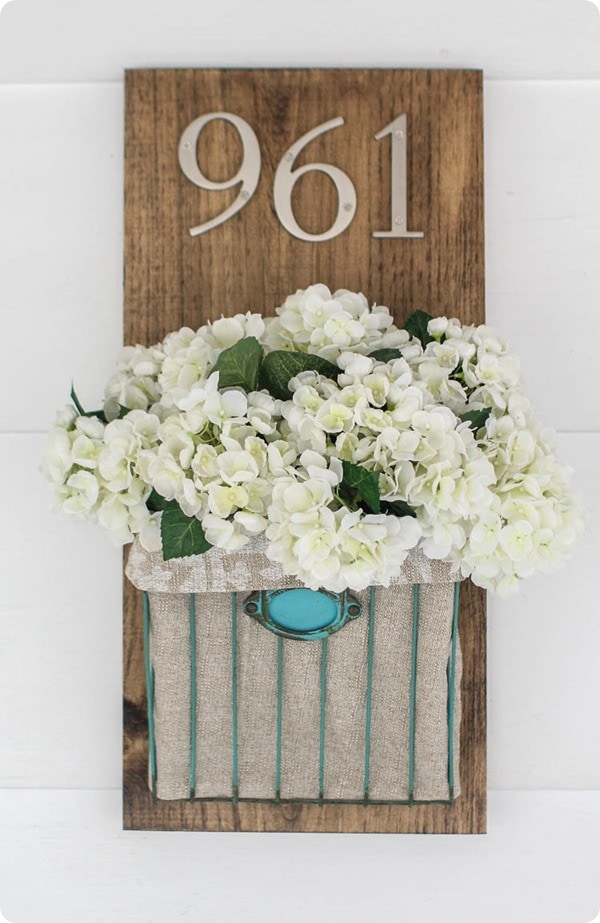 Okay, so a few things. Yes, I did choose to use fake flowers for this instead of adding a planter box and planting real flowers. That was my personal preference because I'm not great at growing things. Also I like the fact that I can easily switch out what's in the basket as the season's change. I'm thinking maybe some cotton branches or fall leaves in the fall, evergreen branches in winter, etc.
Also, I'm not worried about crazy wind or rain ruining my fake flowers. We have a long covered porch across the front of our house so the whole area is pretty well covered. If you live where wind is a concern, you could use a piece of florist foam to help secure the flowers a bit more. Or just use a different style of basket and plant real plants inside instead. Personally, I think a vintage mailbox would make an absolutely fantastic planter in this situation. (Assuming your actual mailbox isn't already by your front door. No reason to confuse the mail carrier.)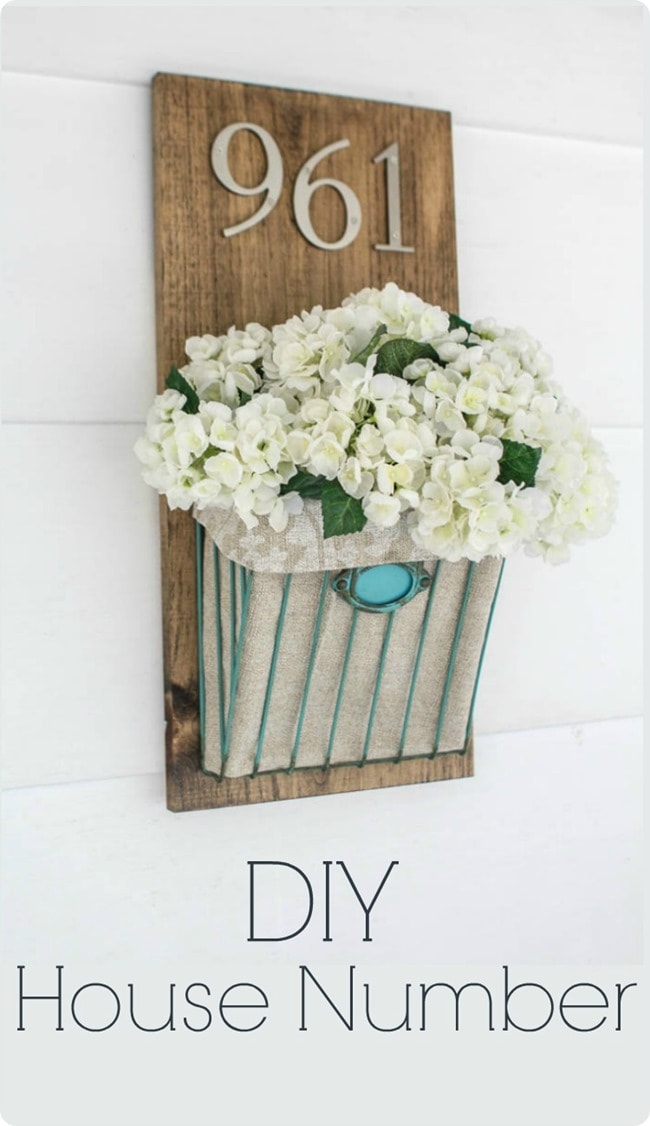 You probably noticed that my new house number is hanging on cute white siding and not the red brick from the before picture. I'm still working on the whole intercom situation, so for now I took photos of my new number on my much more picturesque back porch. But I am super excited to officially hang this out front and complete my front door refresh this weekend. This makeover is long overdue and it's going to be a good one!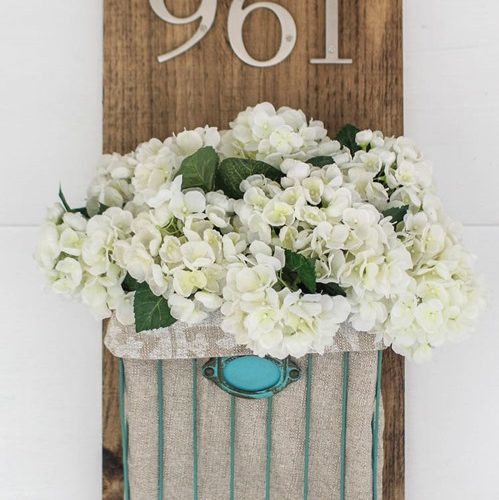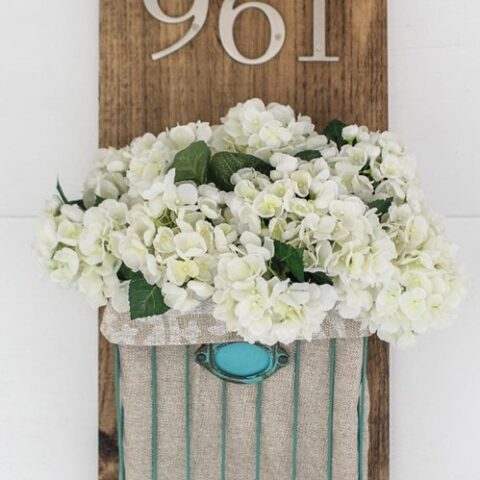 DIY house number with flowers
Yield: 1 DIY House Number

Prep Time: 10 minutes

Active Time: 20 minutes

Total Time: 30 minutes

Difficulty: easy

Estimated Cost: $5-$10

Add a pretty DIY house number sign to add instant curb appeal and personality to your home.
Materials
12" x 24" wood board
metal house numbers
metal basket
piece of fabric
wood stain and rag
fake flowers
Instructions
Stain your wood board with whatever color stain you like.
Use fabric glue to line the basket with fabric.
Attach the house numbers and basket to the board with screws.
Add flowers to the basket.
Recommended Products
As an Amazon Associate and member of other affiliate programs, I earn from qualifying purchases.

Want more DIY house number ideas? I have two more I think you'll like. (I just can't seem to stop making these!)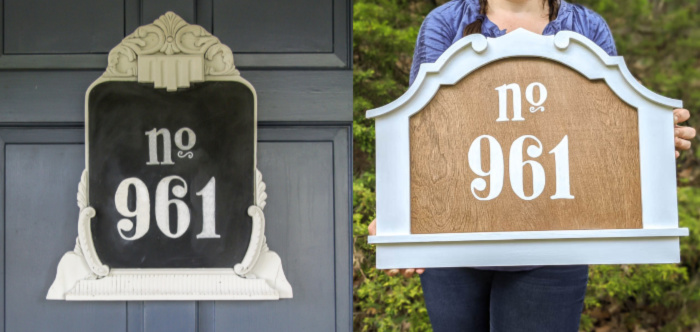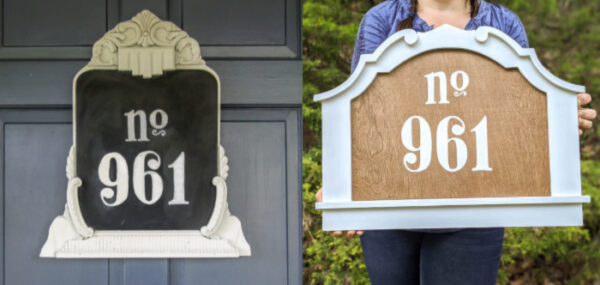 Upcycled Chalkboard Style House Number
Charming Stenciled DIY House Number